Wishes are possible!
Hi Wish Families! If you're interested in learning more about the types of wishes we can deliver, this page will help you understand some of the options.

First up
Create your own unique Wish Journey
We are committed to bringing every child's unique wish to life when it is safe and possible to do so. On this page, you'll find examples of the types of wishes that are happening right now for inspiration as you create your own unique Wish Journey.

How to use this guide
This page is designed as a thought-starter for Australian wish families and shares some examples of the types of wishes we can deliver. If you have any questions, please get in touch with the Wish team.
Wish type #1
A furry friend
Each year, we receive hundreds of requests for a new furry best friend to love, cuddle and join the family - be it a puppy, cat, horse or even a couple of chickens!
If this is your wish, we'll go on a mission to find your paw-fect pal and provide everything you need upfront - this may include your first vet visit, training and insurance expenses (depending on the animal), food and accessories as part of your pre-wish anticipation.
Here's some wish inspiration:
For Example - Ruby's puppy wish
13-year-old Ruby dreamed of having a fur-ever friend that she could train herself and teach new tricks.
Having lost her family dog to cancer during her own treatment for acute lymphoblastic leukaemia – Ruby knew she wanted a new companion and her heart was set on a Golden Retriever who she would call Luna.

Well, Ruby's dream came true the day that Luna was brought to her house – and it's been love ever since!

Ruby's mum Larissa says Luna has settled in beautifully, having successfully passed puppy school and having her first summer holiday with the family.

We hope Ruby and Luna keep having adventures and growing together! 💙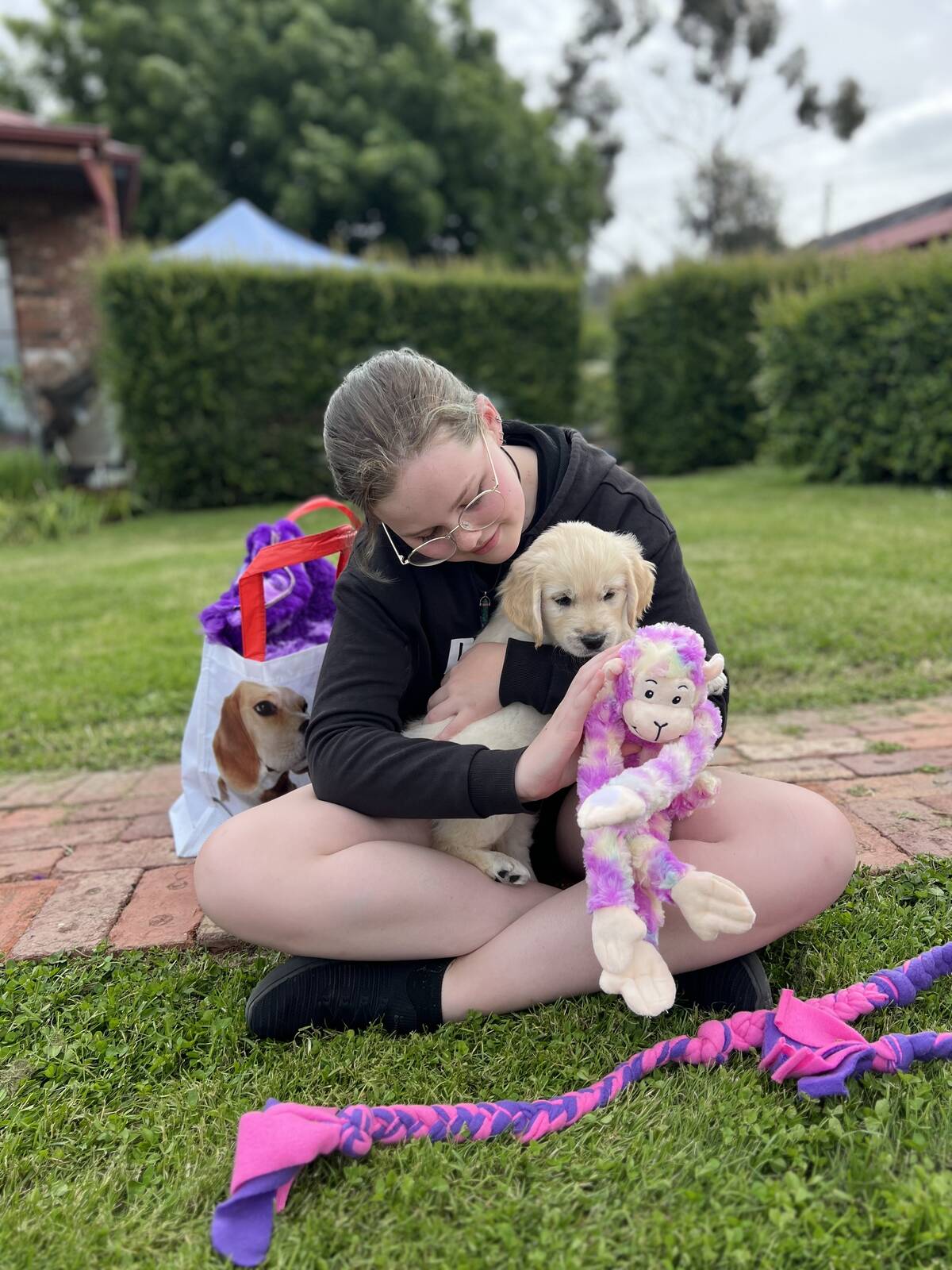 Top 5 wish types
Make-A-Wish Australia has been granting wishes in Australia since 1985 – more than 10,000 wishes and counting! Some of our most frequently requested wish types include:
To travel somewhere special with the family
To have a puppy best friend
To have a gaming computer, iPhone or laptop  
To meet a celebrity  
To have a cubby house, or special place of their own
Wish type #2
Gadgets, gaming & shopping sprees
Do you want to be the next gaming superstar, play a musical instrument, or learn a new language? If you need to upgrade your equipment or you're looking for expert advice, we can provide the things you need to take you to the next level - whether you're starting out or going pro.
This wish type could include:
A spending spree where you create your own shopping list!
The guitar, drum kit, or piano of your dreams.
The latest PlayStation or Xbox along with controllers and games vouchers - to help you game like a pro!
A purpose-built laptop or PC with monitor, keyboard, mouse, speakers, or headset, to transport to new worlds and complete challenges of your choice - all delivered to you at home.
An iPhone, Apple Watch, iPad, Mac-book, or Mac to help you feel more independent, be more creative or stay connected with friends.
A VR headset and games to explore the impossible or escape to faraway places - no day is the same when you visit a virtual reality!
Endless fun and independence with a new bike, scooter, or pogo stick!
Whatever your hobbies and talents, we would love to create a unique wish based on the things you love (art, photography, sewing) - just let us know.
Please note, we can't offer installation or ongoing subscriptions (including AppleCare+).
For Example - Gus shopped up a storm!
Gus's wish was always going to combine sport and his love of shopping.
Gus chose a shopping spree in Melbourne and asked to take three of his mates with him for his wish. "The wish was something to look forward to for Gus when he was really down," Megan said. "It was a bit of hope."
For his wish day, Gus and his entourage travelled in a Hummer and hit some of the best stores in Melbourne CBD.
"Gus bought Nikes and basketball jerseys - Kobe Bryant, Vince Carter, posters that match each jersey, shorts, t-shirts from Culture Kings, and AirPods and headphones for gaming," Megan said.
The highlight of the wish day for her was watching Gus and his friends order at a fancy Japanese restaurant - "Seeing them laugh and order things together, it gave me confirmation that we are in a good place now, as before he couldn't even get up and walk around," she said.
More wish inspiration: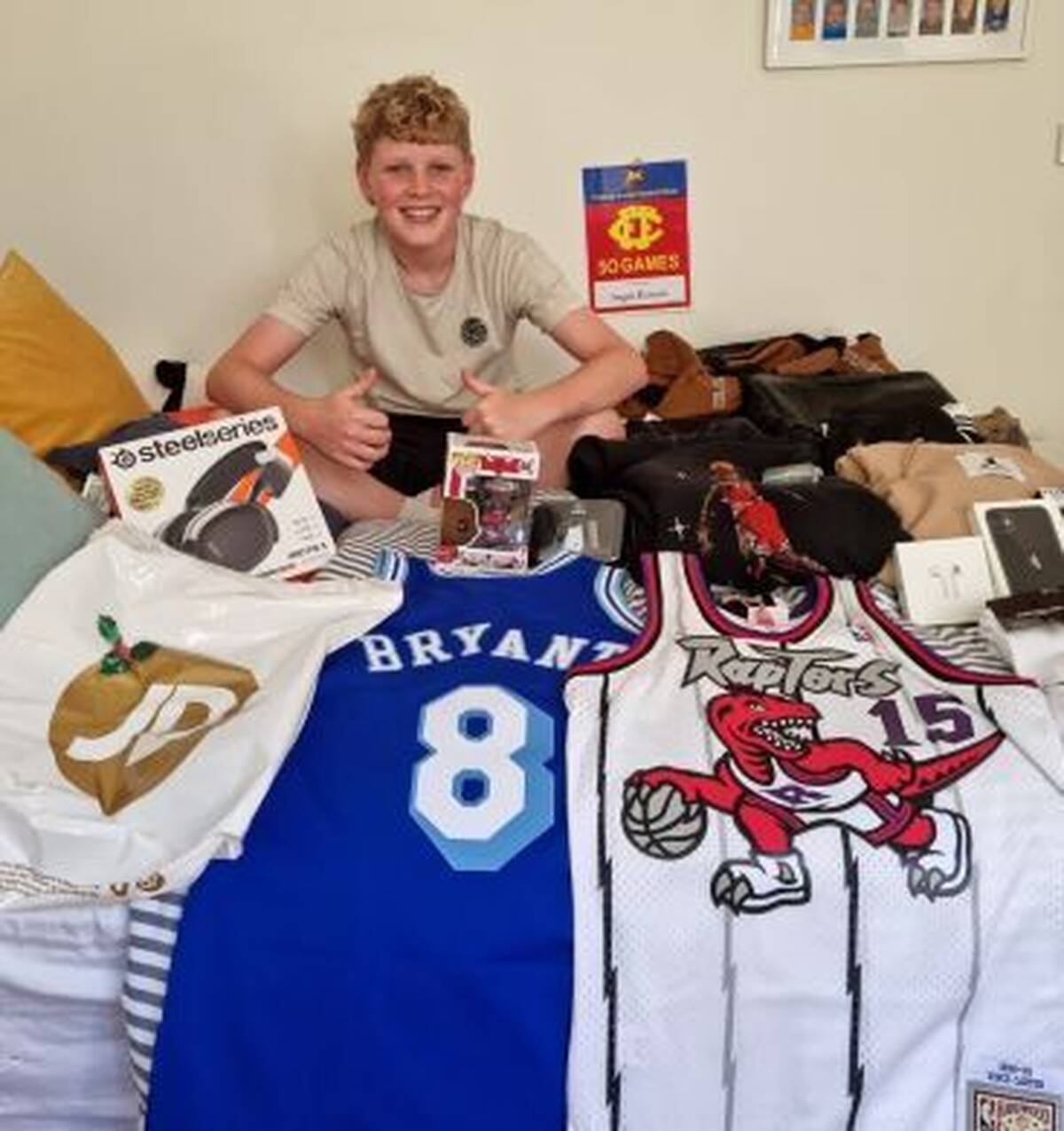 "Bailey's wish helped take the focus off the not so great memories of this past year and has brought him so much joy and happiness."

Carla, mum of wish child Bailey
Wish type #3
Imagination, play and fun
Sometimes, you just want to take the fun outside and have the best playground in your backyard like Levi? Or you might take inspiration from Maple's barbie dream house or Charlie's robot, which is making all his schoolmates green with envy. Whatever your playtime wish, it's our job to make it happen.
For Example - A Real Life Fairy-Tale for Manny
In the lead up to her day of fairy fun, Manny was sent letters and videos from Fairy Jenny on how to complete her fairy dust training before she visited – so you can imagine her delight when she met Fairy Jenny in real life!
"She was overwhelmed, she was star struck! She was almost nervous, like 'oh my gosh'," says Marie.
"Manny initially went across the footpath from Fairy Jenny first and got her beautiful head piece —then we all went in and got our fairy wings, had the fairy tea and then Manny, Wyatt and Audrey had special clues to find keys and conduct the next little task. They went to such an amazing effort!"
More wish inspiration: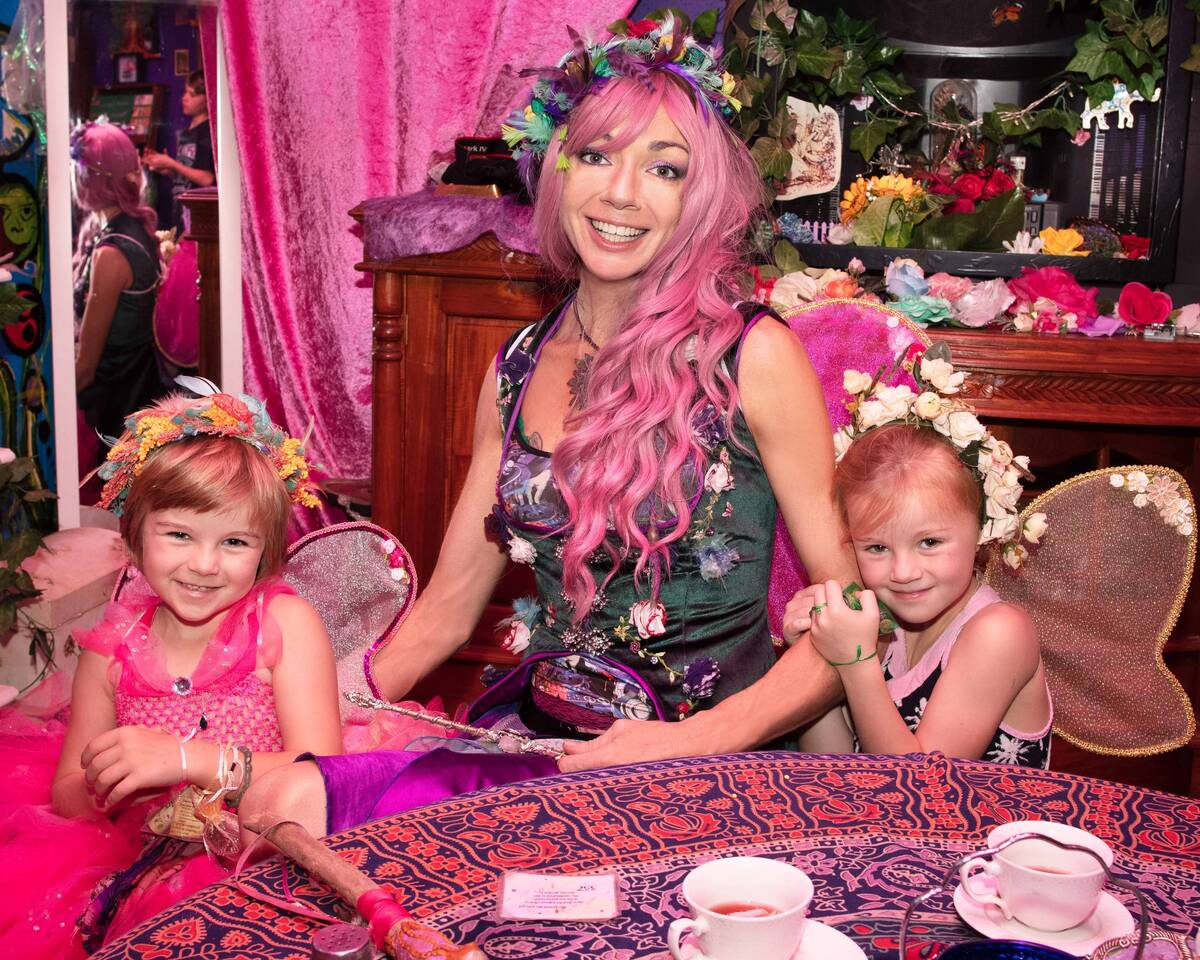 Be a superhero for the day
Lots of kids wish for the opportunity to transform and become the person who inspires them the most. An emergency services hero, amazing astronaut or pesky pirate may be your thing. Or maybe you'd prefer to be a princess, a handsome hero or a mesmerising mermaid. Whatever your dream, we can transform you into a star for the day!
Wish type #4
A space of my own
Another popular wish is for kids who want a space that's uniquely their own. Some wish for a veggie or fairy garden, others for a bedroom makeover or a cubby house. Whatever you desire, we'll help create your wish - a place to escape, a space to dream and play, a special sanctuary away from hospitals.

For Example - Ava's rainbow cubby
Once she turned 3, Ava's parents, Megan and Shawn, asked Ava what she would like to wish for.

"She loves playgrounds and had been to some cubby houses, so one day she came out and said 'I wish could have a cubby house,' and that was it," Megan said. Ava met with Wish Force volunteers at a local park and explained exactly what she wanted.
"I want two slides, and butterflies," Ava told them. "And my favourite colour is rainbow."
Ava's sister Maddy picked her up from kinder on the day her cubby was ready in her backyard.  Ava's extended family watched as she was led into the backyard by Maddy and her brother Denzel.
Ava bolted towards the cubby as Mum and Dad struggled to hold back tears. "It was beautiful," Megan said. "It was really emotional. I was just so happy."

More wish inspiration: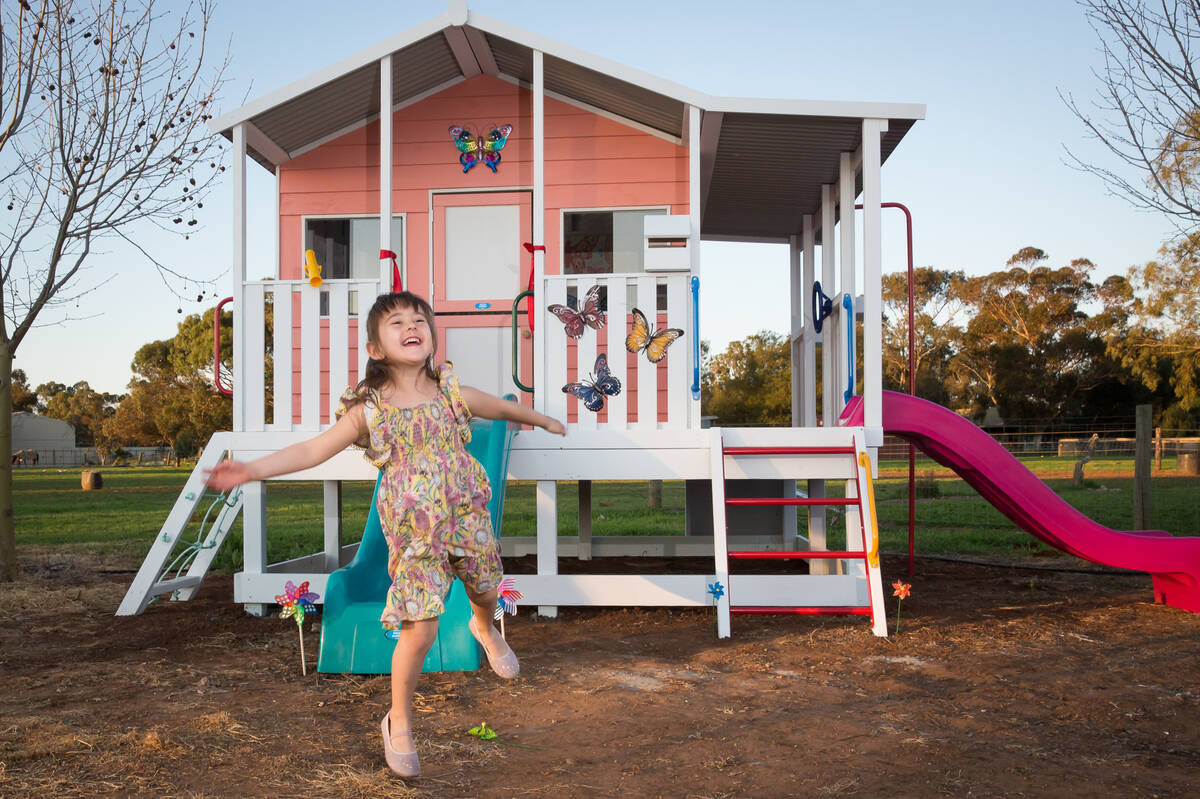 #5 Celebrity Wishes
Meet & Greet
Most people never get to meet their idols. But imagine you could... who would you pick?
Your favourite celebs may be available to answer your burning questions, let you in on trade secrets, or simply enjoy some time together.
While not ALL celebrities are available for wishes, we can often arrange a video chat, video message or phone call. If you have a favourite entertainer or sports personality, let us know and we'll do our best to make the impossible possible!

If your child choses a celebrity wish or experience our team will talk you through the options specific to that celebrity and whether the wish can be granted.
For Example - Haidar's Wish to be a Lion
Haidar loves everything about footy. He loves to watch, listen to, and play footy. In fact, Haidar's mum Lauren says he watches old games and then goes outside to kick the footy and will start commentating on himself, using the language they use in the games he watches.
Haidar's wish was off to a roaring start, as this brave little lion joined his favourite footy team - The Brisbane Lions!
Haidar was an honorary Lion for an entire week, taking part in the main training session – amping his teammates up and giving roaring-good match advice. He also joined his favourite player and team captain Lachie Neale as a special guest in his press conference.
More wish inspiration: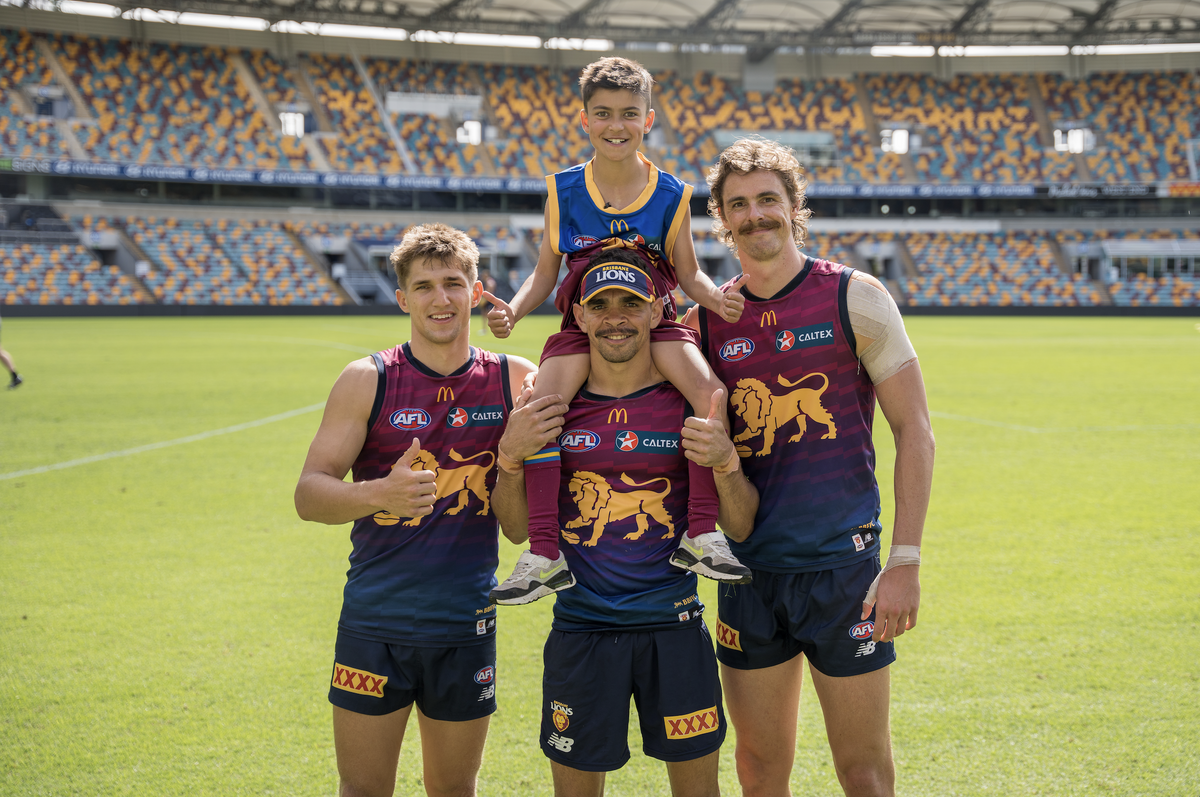 #6 Travel
Up, up and away
Travel wishes make up a large percentage of our program, with hundreds of children travelling as part of their wish each year. If you think a travel wish is for you, we're here to help!

For Example - Let's Quokka-bout Gracie's Wish
Gracie is a brave and fun-loving 7-year-old with a heart of gold – she also loves to make everyone laugh and smile.
So, it's only natural that Gracie fell in love with Quokkas and their infectious grins in the past year. Ever since she found out they existed; she has been obsessed.
Rebekah, Grace's mum, said: "We loved seeing the kid's absolute joy when interacting with the quokkas, the quality family time without the stress of medical appointments and our normal responsibilities, riding around on bikes exploring the island and just taking in the absolute beauty of Rottnest!"
Read more about Grace's story here.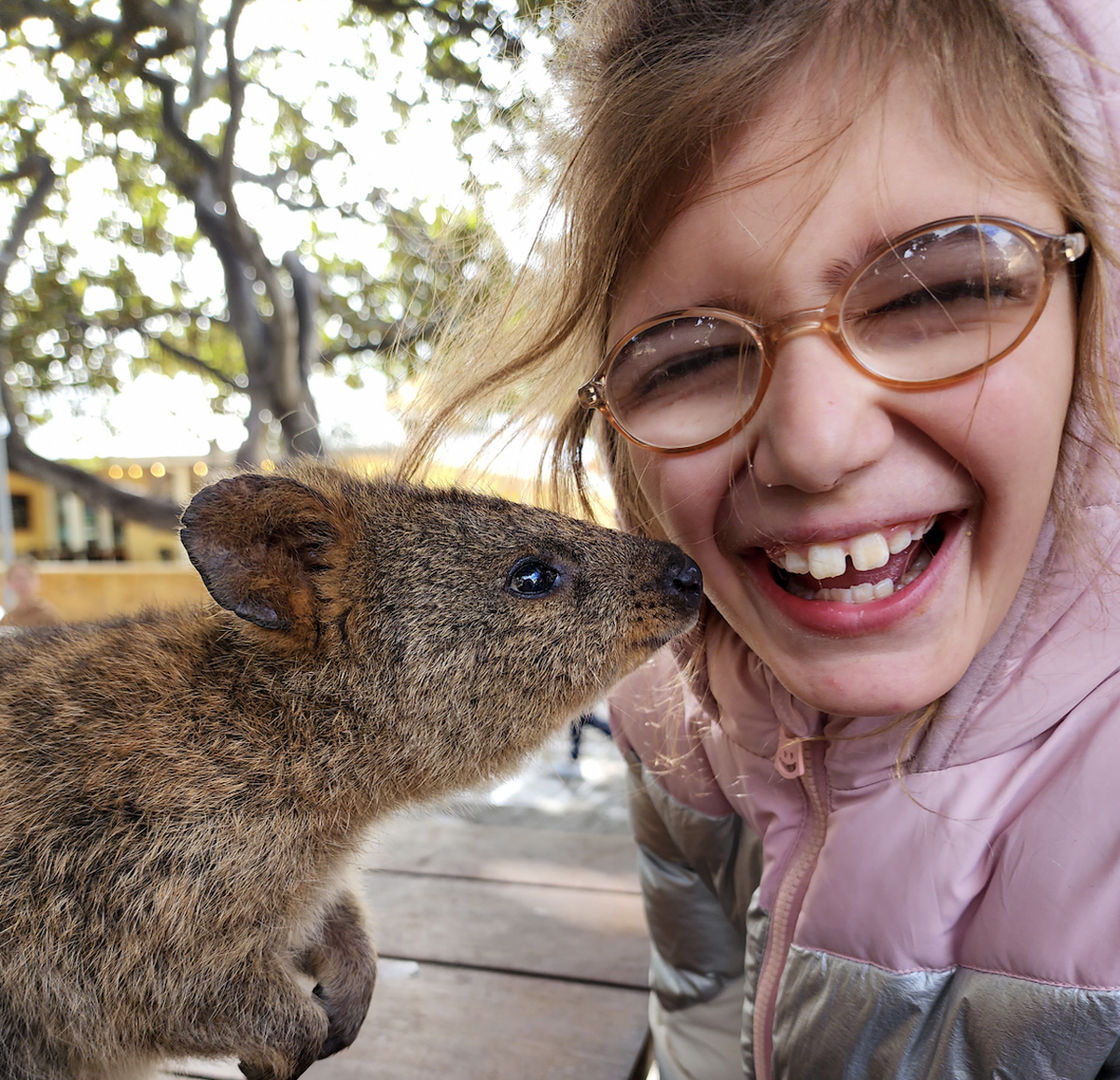 At Make-A-Wish, we have a single purpose and mission to grant the wish of every eligible child. We believe a wish should be limitless, which is why we encourage our kids to think big when capturing their wishes. Whether it's a wish to go to the moon or captain the Australian cricket team - more often than not, we can find a way to make it happen.
Whilst we encourage community support and participation, we are unable to accept any personal contributions towards your child's wish. To ensure the financial sustainability and continuity of our mission, child safeguarding and our Wish-Granting Principles always guide us on our Wish possibilities, some exclusions may apply (and change from time to time):

Make-A-Wish Australia does not currently grant international travel wishes, pools, cars, quadbikes, landscaping, structural renovations, electrical works, medical equipment or formal educational assistance. Please note this list is not exhaustive.
This Wish Journey has been such an amazing and positive thing for Hannah. Every small update along the way has really made her light up, and the happiness she has experienced has had such a huge impact on the whole family.

Beng, mum of wish child Hannah, 16, neuroblastoma - "I wish to create the bedroom of my dreams."
Our wish-granting principles
The wish child comes first.
We believe in the power of wishes to bring hope, strength and joy.
When it comes to the wellbeing of the child, we don't take risks.
We value fairness and equality.
We will not in any way jeopardise our mission, vision and values.
We will deliver wishes within our means today, and for a sustainable future.
We adhere to Make-A-Wish International policies and guidelines.
Your Wish Team can share more info on the principles that guide wish-granting and help with any questions.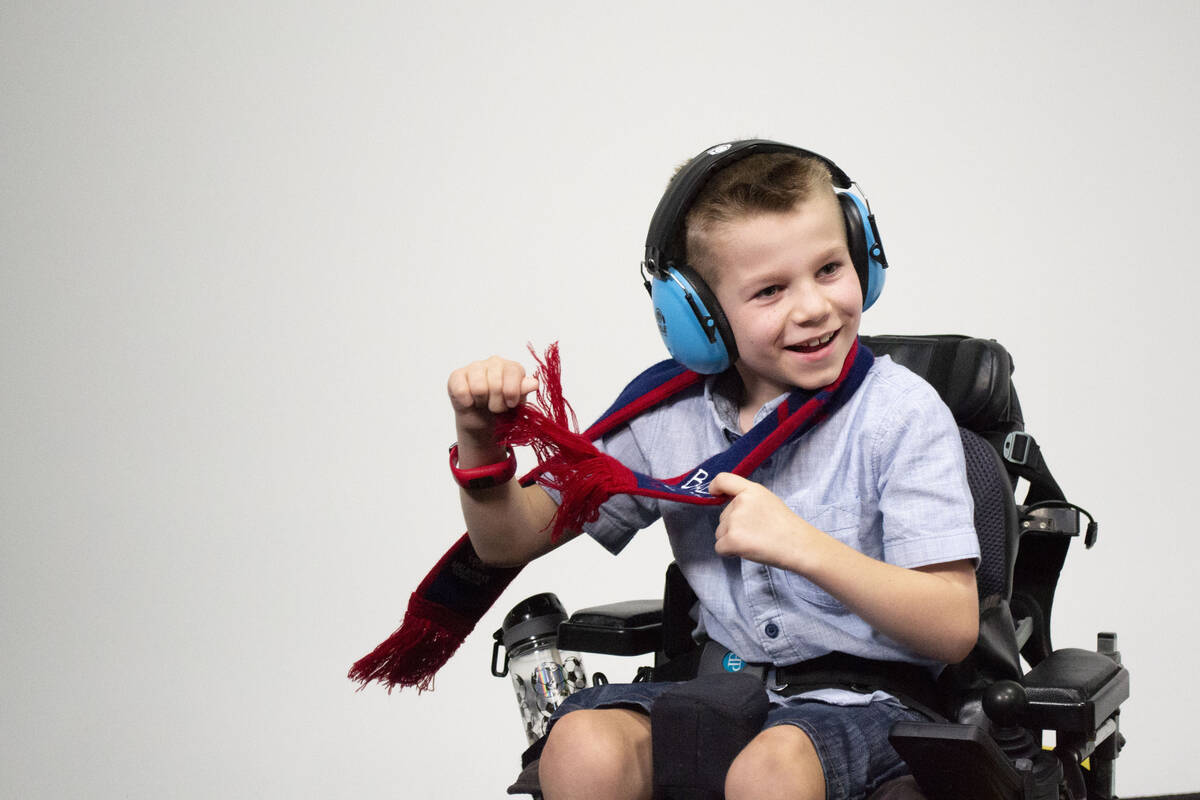 Wish children whose images feature on this page:
Dwayne, 10, Refractory epilepsy - I wish to go to the moon with Batman
Ruby, 13, Acute Lymphoblastic Leukaemia - I wish for my own Golden Retriever puppy named 'Luna'
Gus, 16, Burkitts Lymphoma - I wish to have a shopping Spree in Melbourne and buy new shoes
Manny, 6, Wilms tumour - I wish to visit Magical Lane where the butterflies and fairies live for a Big Fairy Adventure
Ava, 6, Wilms tumour - I wish for a special cubby with 2 slides and lots of butterflies
Haidar, 9, Hypoplastic left heart syndrome - I wish to meet my favourite footy team - The Brisbane Lions

Gracie, 7, Marfan Syndrome - I wish to see Quokkas and take selfies!
Cooper, 10, IFIH1 genetic Aicardi Goitieres syndrome AGS7 - I wish to go to the snow for the first time to throw snowballs