Nevaeh gets her rainbow at the end of the storm
Nevaeh wished for Cali and thanks to our supporters and donors, the two are now inseparable.
Wish day
Presents take back seat to a puppy
August 23 2021 started like any other day at Nevaeh's home. The sun broke through early morning as Nevaeh enjoyed a sleep-in.
But the day quickly turned into one to remember. It was Nevaeh's sixth birthday. And mum Narelle had an online job interview. But it was a pint-sized pup that stole the show.
Much to Nevaeh's surprise, her wish for a French bulldog came true. However, first mum had to get through her job interview.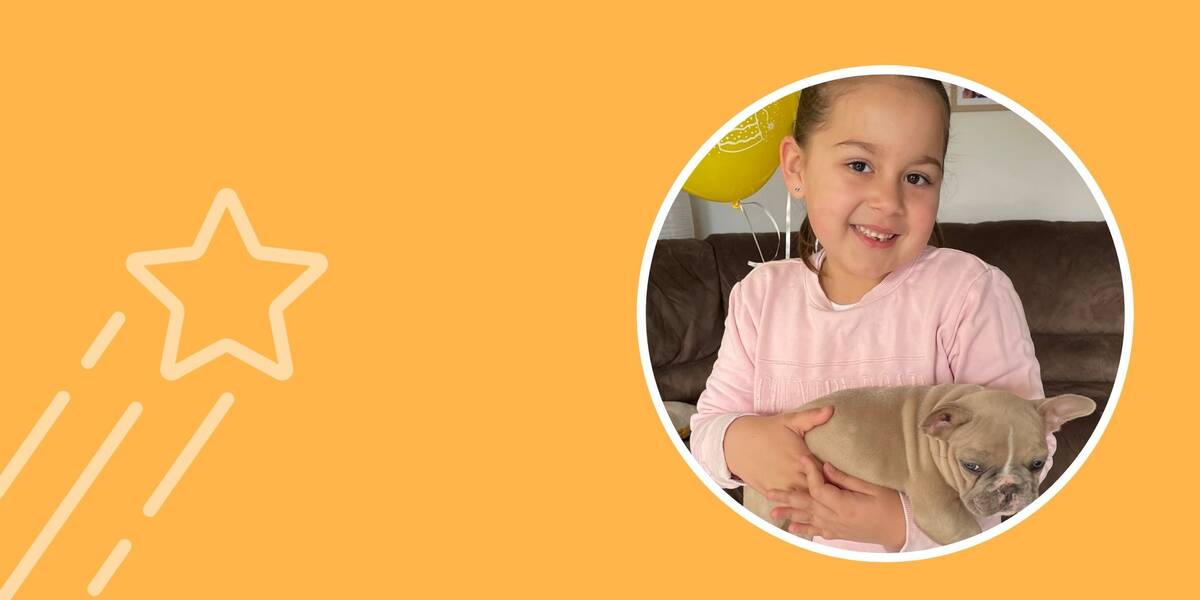 "The puppy was delivered at 9.30am, so Nevaeh's dad kept her hidden while I did the interview at 10am. I didn't want to have kids running around in the background screaming about a puppy," Narelle said.
"After the interview, I took her upstairs where Nevaeh was still half asleep. She opened her eyes to find this tiny, little puppy in her bedroom and was so shocked! She had no idea she was coming. Nevaeh jumped out of bed, picked her up and gave her the biggest cuddle. They've been inseparable ever since."
And what about Nevaeh's birthday presents?
"Every birthday, she is so into opening all her presents, but this year she opened the first one, and the rest sat there," Narelle said. "She said she'd open them later. The presents could not compete with the dog at all!"
Cancer shock
'I couldn't stop crying'
Nevaeh – the little girl whose name written backwards spells 'heaven' – had her life turn upside down in 2018. In the space of a week, she went from having a runny nose to acute lymphoblastic leukaemia.
Narelle rushed to the hospital one night after work as doctors did tests on Nevaeh.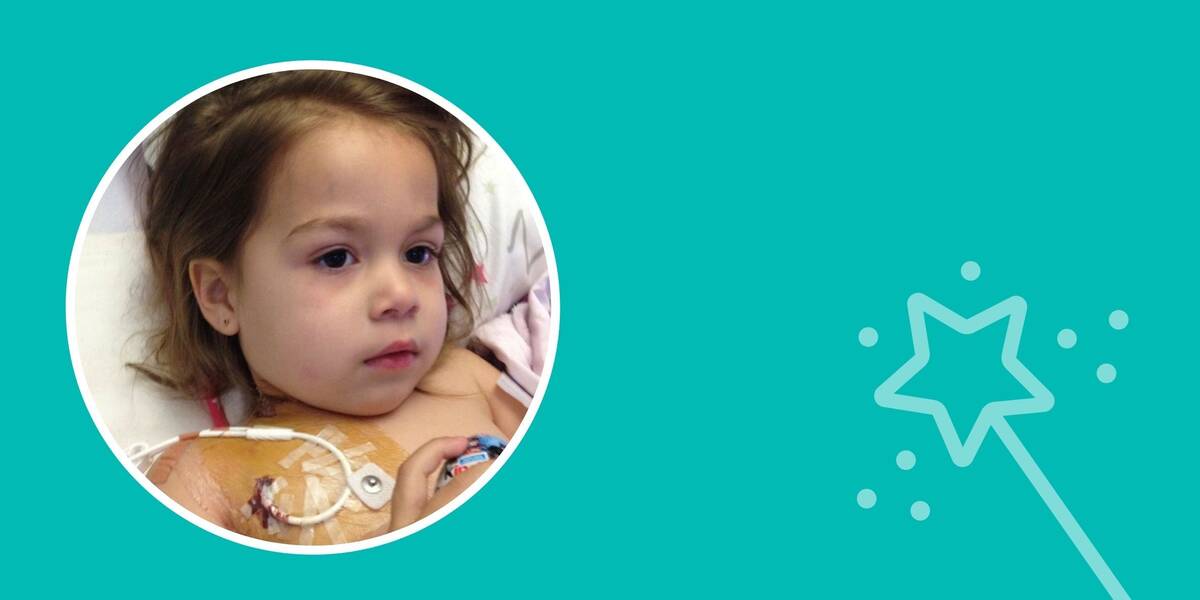 "They were taking bloods, and she screamed the whole time; she just wanted to go home," Narelle said. "She was like a pin cushion for what seemed like an eternity."
The next day Narelle was taken into a small room in the hospital and told her little girl had leukaemia.
"I remember holding her, and I couldn't stop crying," Narelle said. "It was heartbreaking. Then I walked back to where my three other girls were waiting in the hospital, and I couldn't stop crying. I said, 'sorry, she's got cancer' and they started crying."
Puppy hope
Face lights up when talking about wish
For about nine months, Nevaeh received intensive chemotherapy.
Apart from affecting her pancreas on a couple of occasions, Nevaeh's treatment worked. In April 2019, doctors removed Nevaeh's central line, and things returned to normal for her and her family.
Nevaeh had been helping babysit a French bulldog belonging to a friend of her older sister's. The friend soon got two of the dogs, and Nevaeh's love for them grew. She asked mum if they could get their own but Narelle, having quit work to look after Nevaeh, said they couldn't afford one.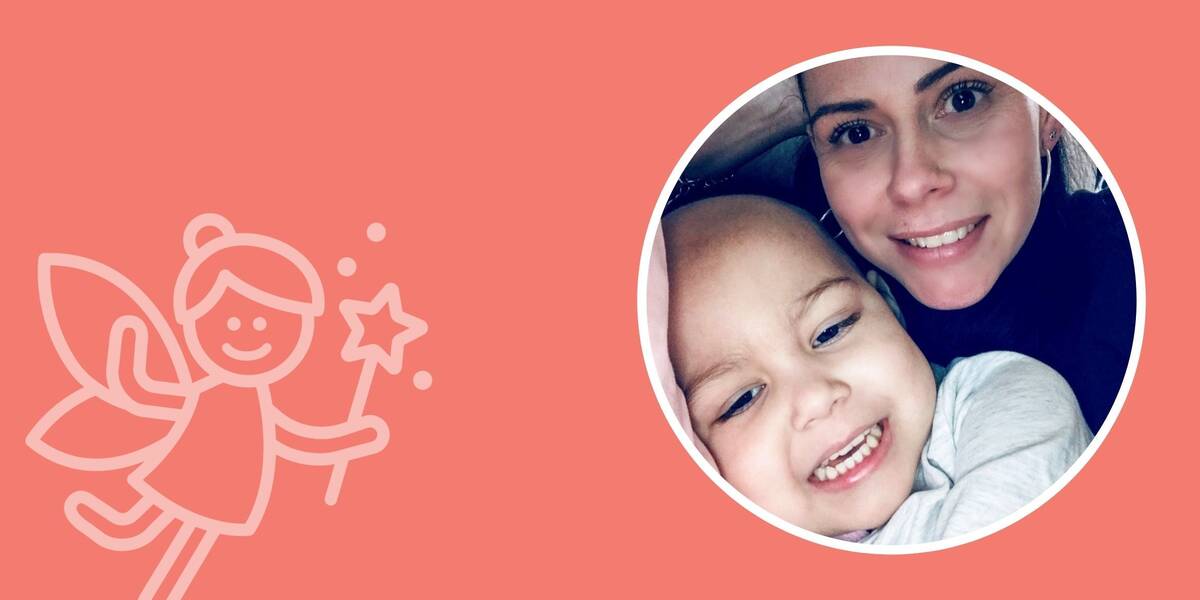 "I was talking to a social worker, and she said 'you can have a Make-A-Wish wish'," Narelle said. "I spoke to a few other parents who had gone through Make-A-Wish, and they said their experience was unforgettable."
After receiving Nevaeh's application for a wish, Make-A-Wish's volunteers – known as the Wish Force – swung into action.
Louise Borg from Make-A-Wish's Western Sydney Branch made contact with Nevaeh over a Zoom call.
"Nevaeh seemed like a very shy and quiet little girl, but when she talked about her wish for a French bulldog, her face lit up with so much excitement," Louise said.
"You could tell that this was her one true wish. I knew getting her puppy would bring so much happiness to Nevaeh and her entire family."
Wish effect
Bond grows between Nevaeh and Cali
Things have continued to improve for Nevaeh and her family. Her health is good, her puppy Cali cuddles up with her every night she goes to bed, and mum Narelle has the job she interviewed for the day Nevaeh's wish came true.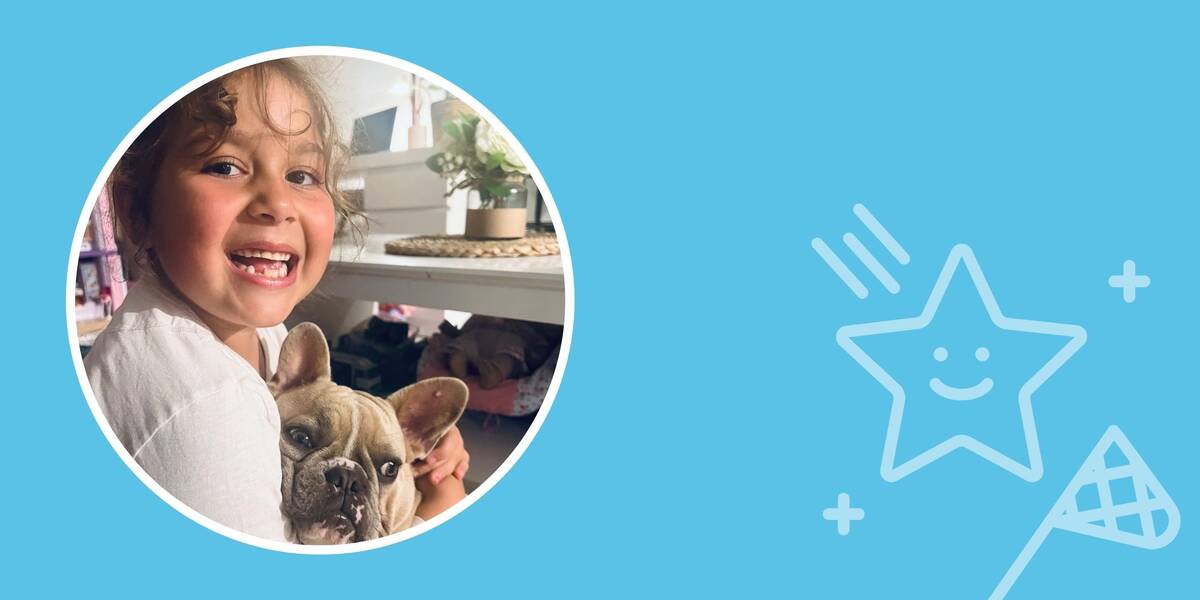 "There are not enough words to express how grateful I am for Make-A-Wish," Narelle said. "Watching Nevaeh be so happy and seeing her face light up is something that will stay with me forever.
"Just knowing that Nevaeh and Cali will grow together is a wonderful feeling.
"The wish is like the rainbow at the end of the storm."
Watching Nevaeh be so happy and seeing her face light up is something that will stay with me forever

Narelle, mother of Nevaeh

leukaemia