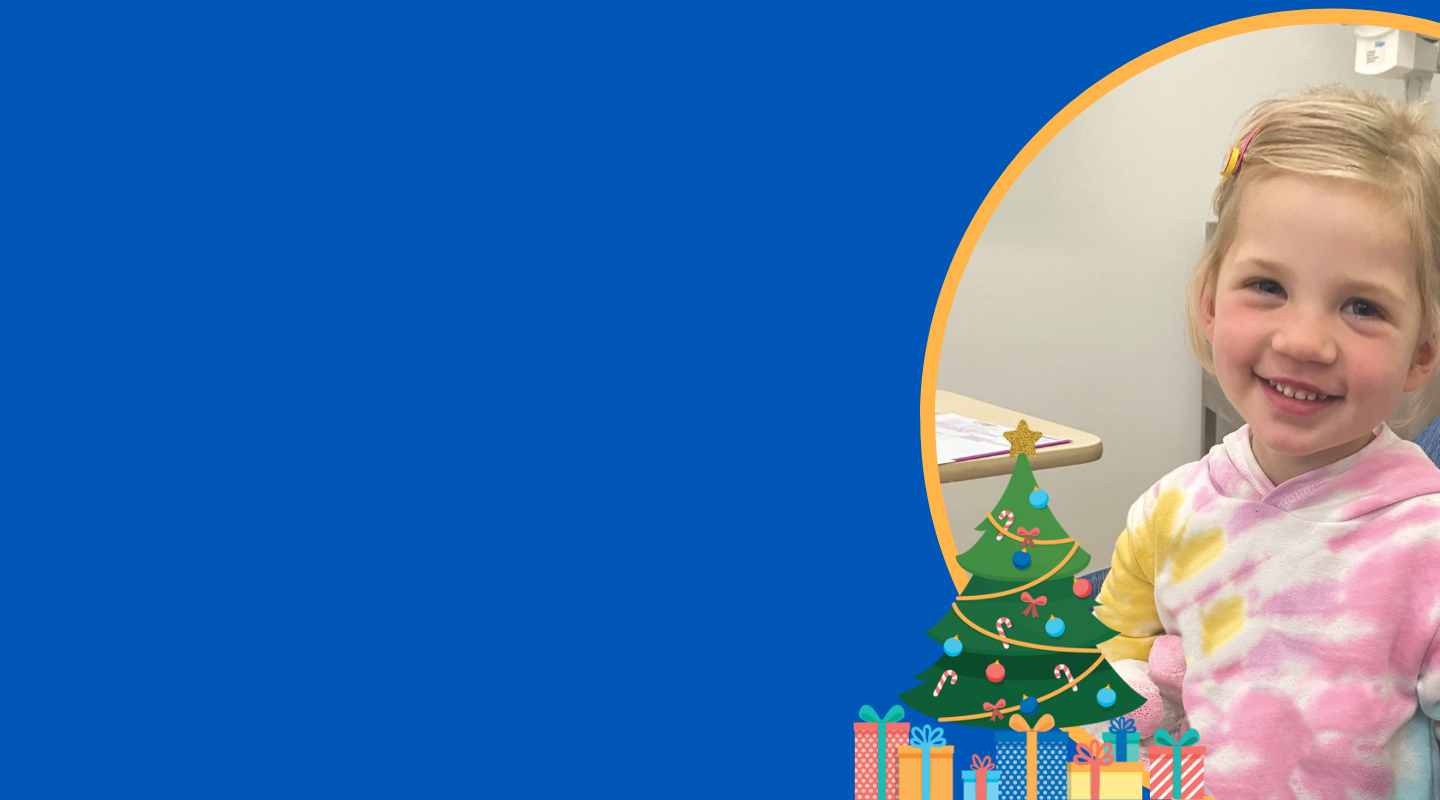 Give kids like Bonnie Christmas joy that lasts a lifetime
Bonnie is wishing for the perfect family Christmas after years of hospital and treatments.
Please give a generous gift this Christmas to help more children like Bonnie experience the lasting joy of a wish come true.
Bonnie's story
Bonnie's medical journey
The festive season is such a special time. It's a chance to think back to happy memories from your childhood; and share family traditions and special moments with loved ones.

But for five year old Bonnie, Christmas has always been a challenging time. Bonnie and her family have never been able to enjoy a Christmas together, free from illness, hospital and treatment.
"At 2 years old, Bonnie was diagnosed with a very severe brain tumour," says her mum Kellie, "Ever since then, our lives have been consumed by treatment sessions and hospital visits. Bonnie's illness has cast a shadow over everything – even Christmas."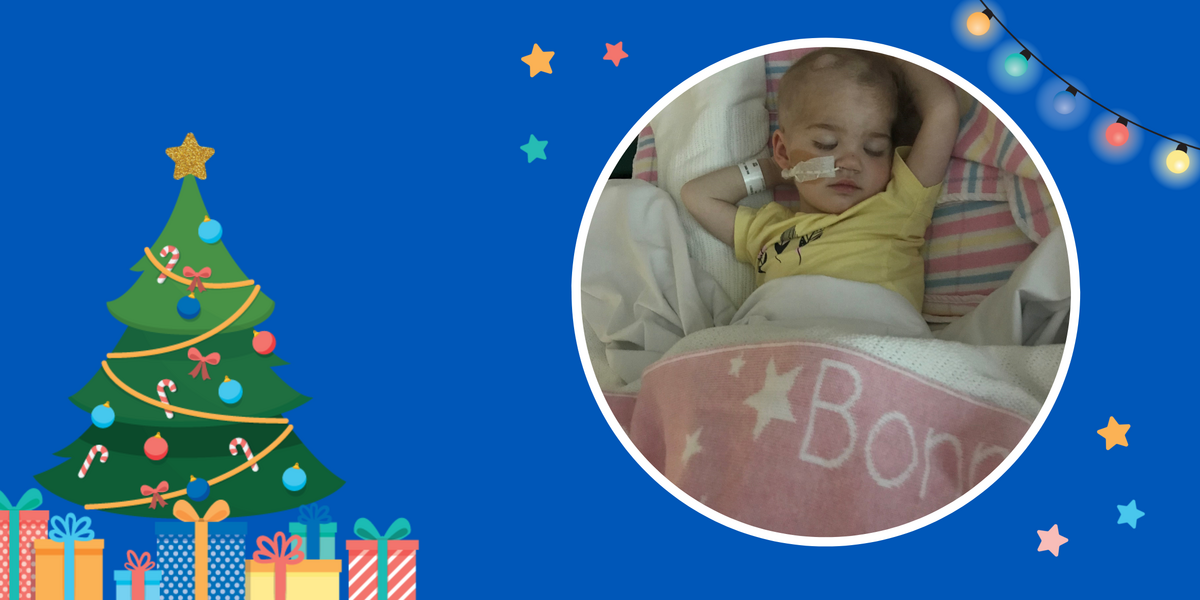 Kellie recalls that Bonnie was always a bubbly little girl, full of energy and positivity.
But when Bonnie was 18 months old, she started to notice that Bonnie was getting tired and lethargic in the mornings. Kellie took Bonnie for a check up, and at first the doctors kept saying it was nothing to worry about.
But then Bonnie started getting really ill, vomiting heavily. She lost weight and her eye started flickering.
By now, Bonnie was just over two years old and she had been struggling with her health for a long time. Kellie was extremely concerned and took her to hospital insisting on further tests.

The results were devastating. Bonnie had a brain tumour. As soon as I heard, I just dropped to the ground. My first thought was, 'my little girl is going to die'.

Kellie

Bonnie's mum
A long road ahead
Bonnie's tumour was pressing against her optical nerve – which explained why her eye kept twitching. It was also causing a dangerous build-up of fluid in her brain.
But the tumour couldn't be removed with surgery – it was too large. Bonnie's only hope was to try and reduce the fluid build-up, then treat the tumour with chemotherapy.
Before the treatment could even begin, Bonnie needed a biopsy. Tissue was removed from her brain, to fully assess the tumour.
"Sadly, there were complications during surgery. Her brain suffered swelling and bleeding, so some of her functions became impaired. Bonnie lost her ability to speak. It was devastating to see my bubbly, chatty girl – lying there in a hospital bed, trapped in silence."
For two months, doctors worked to reduce the damaging swelling. All the while, Bonnie was in a desperately critical condition – unable to leave her hospital bed or say a word. But finally came a breakthrough.
"At her bedside, we were reading a book about farm animals. Out of nowhere, Bonnie started making animal noises. 'Moo!' 'Baa!' At last, a sure sign she was getting better."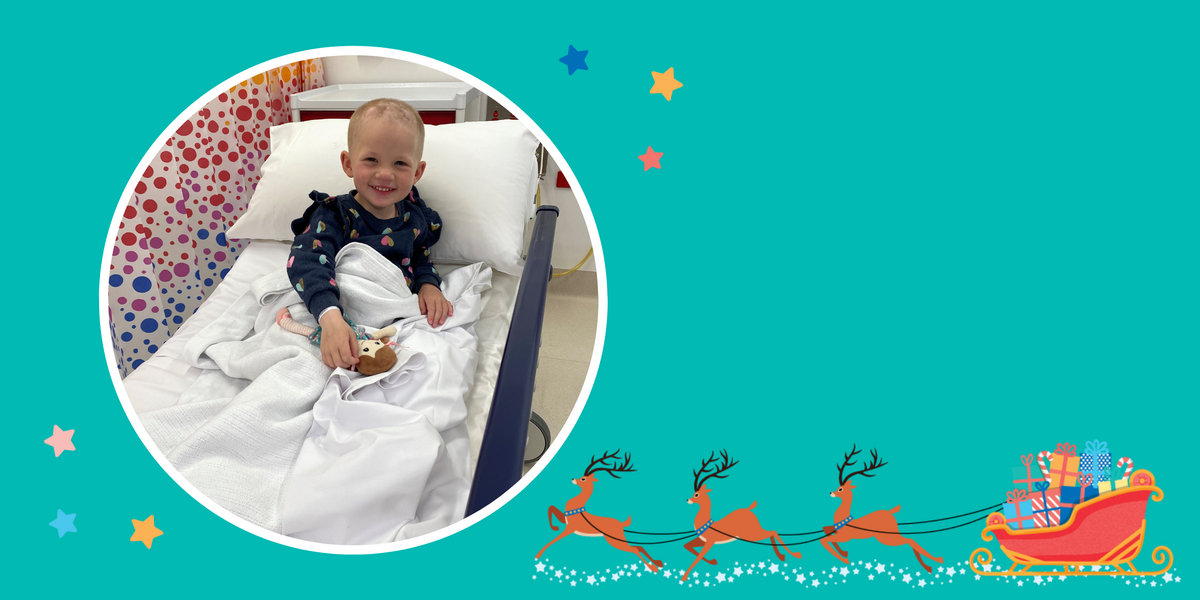 Soon Bonnie was able to begin treatment for the tumour. For 12 long months, she had weekly sessions of gruelling chemotherapy – with a port delivering high doses of strong drugs straight into her chest.
It was brutal. Bonnie's childhood was taken away from her. She missed out on going to kindergarten and doing all the things that every child should – like making new friends, having fun in the playground, learning and developing."
The illness overshadowed life for Bonnie's little sister Lucy and big brother Judd too. There was no chance of days out or holidays – never mind a proper Christmas. It was a dark time.

Kellie

Bonnie's mum
A rollercoaster of challenges
Gradually, a glimmer of hope appeared. Bonnie seemed to be responding to treatment and the tumour started to shrink. She even went along to kindergarten sometimes. Then, at last, came the joyful moment that the family had been waiting for.
Bonnie had the port removed from her chest – to signify the chemotherapy was finished and the treatment was over. No more long drives to hospital. No more disruption and distress. No more feeling scared and terribly, terribly sick. But all these hopes were short-lived.

Just a few weeks later, the family got the worst possible news. Bonnie's tumour had started growing again. She needed to have another 12 months of chemotherapy.
As you can imagine, this was a very long and intensive process. For more than three years, Bonnie and her family have been going back and forth to hospital.
Each year, Christmas has been a challenging time for them. But this year you can change that.
Bonnie's wish
Wishing for the perfect Christmas
Bonnie has wished for a perfect Christmas – including a fun festive trip to Melbourne to celebrate with her family. But wishes like hers can only come true with your help.
This time of year is full of excitement for any child. But just imagine how thrilling it is for Bonnie and her siblings Judd and Lucy, as they look forward to having a special family Christmas all together.
"The anticipation is already building in our house," says Kellie. "There's a lot to look forward to about Bonnie's wish – decorating the tree, going down to Melbourne, enjoying Carols by Candlelight, seeing the Christmas windows at the Myer department store."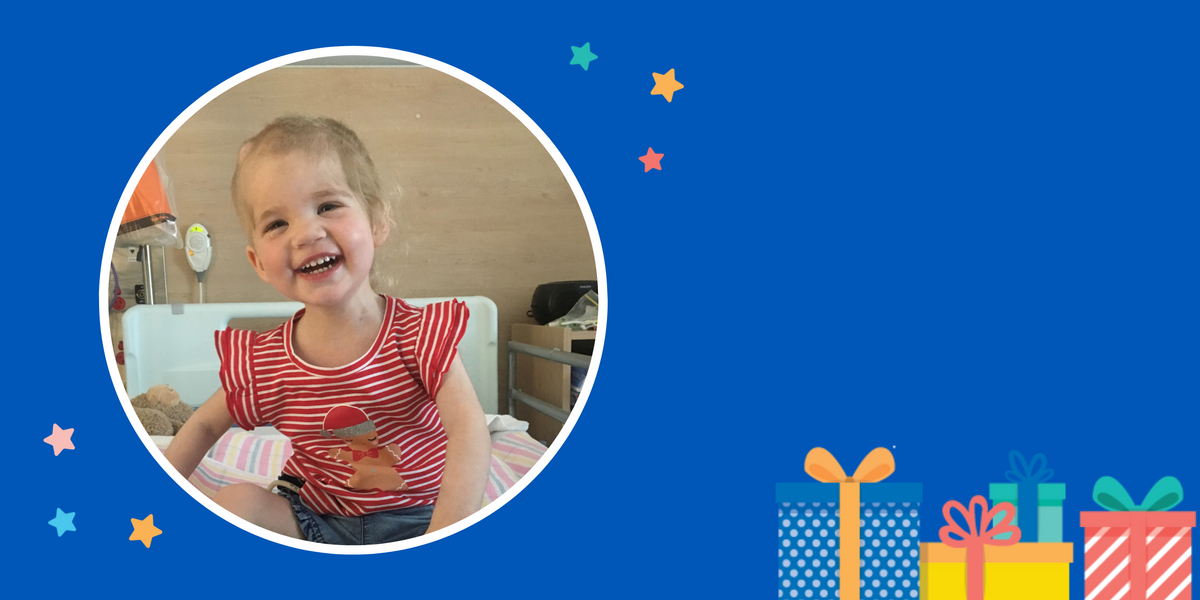 After such a challenging few years, it will be priceless to spend some quality time together as a family, including Bonnie's grandparents – catching up, relaxing, and of course, spending Christmas day together.

Kellie

Bonnie's mum
Lasting Joy
Your support is vital this Christmas
There will be so many cherished moments – for everyone involved. And those feelings will continue long, long after December. When you think about your own childhood memories of holidays with family, you can see how Bonnie's wish will be an experience that never fades.
Make-A-Wish receives no government funding and wishes are only possible thanks to the generosity of people like you. Right now there are 856 children on a wish journey. Your generous gift today, can ensure more of these children can experience the joy of a wish as soon as possible.

Bonnie is wishing to spend a special Christmas with her family this year, and we need your help to make that possible.
Please make a generous gift this holiday season and help children like Bonnie experience the lasting joy of a wish.