Behind The Wish - Monique le Roux
Meet Monique le Roux - an amazing Make-A-Wish volunteer of 13 years.
Monique has been one of the driving forces behind the Perth Branch and the recently-established Perth North Branch, helping deliver life-changing wishes to sick Western Australian children.
Behind The Wish is our series of inspirational reads diving into the everyday superheroes involved in creating life-changing wishes.
SOUTH AFRICAN ROOTS
Job lures family to Australia
I was born and grew up in Johannesburg, South Africa. I moved to Australia in 2007.
My heritage is Scottish. So, my parents were Scottish and at the time in the 60s, they were trying to get people to go to Canada, Australia, New Zealand and I think South Africa at the time and so they were pretty much paying people's fares if they wanted to go and live in all of those countries.
So, my mum and dad weren't married at the time, but they were together and they said, well, why don't we do this?
And they applied to Australia, New Zealand and South Africa.

They applied to all three and they said whichever one comes back first, that's the one we'll go to.
So the South African offer came first.
And then a few days later, I think the Australian one came, but that already made the decision that whichever one came first, that's the one that they were meant to be.

And so they moved to South Africa in the 60s and got married there and then. My brother and I were born there.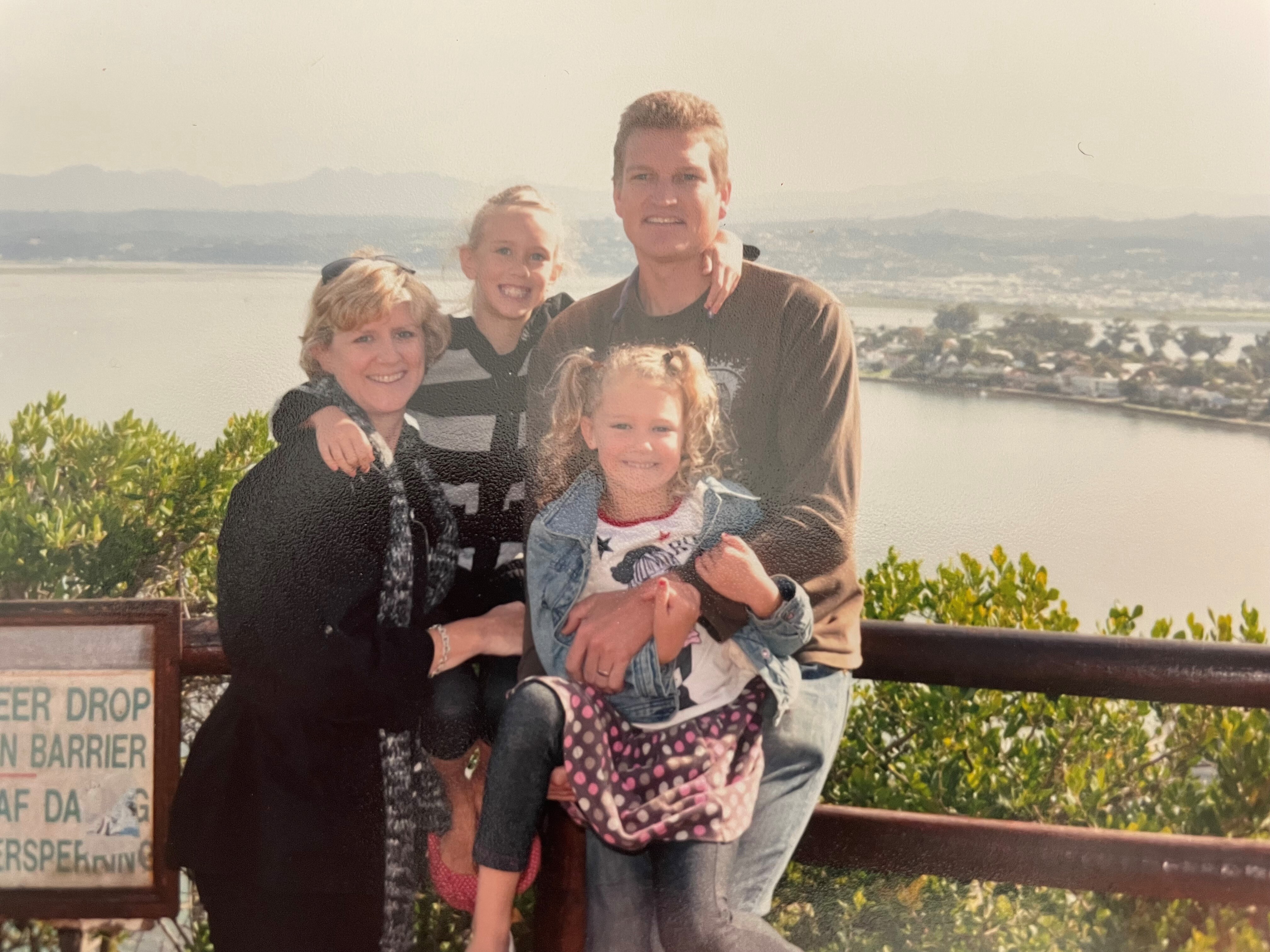 I was brought over to Australia for a job when I was 37. I came here with my husband and two little girls (pictured above in South Africa).
My eldest was four and my youngest was one.
We were very lucky and we moved straight to Perth and we haven't left since.
It was a job in the life insurance industry, and the role was state manager.
My husband and I had actually travelled to Perth before we moved and fell in love with Perth.
We bought a car in Perth and we drove all the way around, you know, got all the way up to Cairns eventually after about six or seven months, sold the car and then went back to the UK where we were living at the time.
So out of all the places that we went to, we absolutely loved Perth.
It was funny, actually, because a friend of mine who had moved over to Australia when I was working in South Africa, I said to him 'Right, Mark, when you get there find me a job in Perth as the boss in life insurance'.
And within a year, he called me and he said, 'you're not gonna believe this, but there's a job going in Perth as the state manager in life insurance'.
I said 'of course I'm interested in it' so I applied for it.
They flew me over and offered me the job the same day.

So then we moved over.

TURNING POINT
Make-A-Wish speaker inspires Monique
I remember I was part of an insurance industry committee organizing an event and we were looking for a keynote speaker and one of the guys on the committee said:
'I know this lady and she is heavily involved in Make-A-Wish in Perth'.

So she ended up getting the Police Commissioner for the event, and he was a brilliant speaker, but before he came on, this lady got up and spoke about Make-A-Wish and what Make-A- Wish do. Just hearing her story made me think.
I had been wanting to do some volunteer work, but I just wasn't sure what that might be.
And this speaker from Make-A-Wish, she just inspired me.

And I thought that is such a beautiful cause and I have very healthy children and I just thought that it would allow me to do some volunteer work.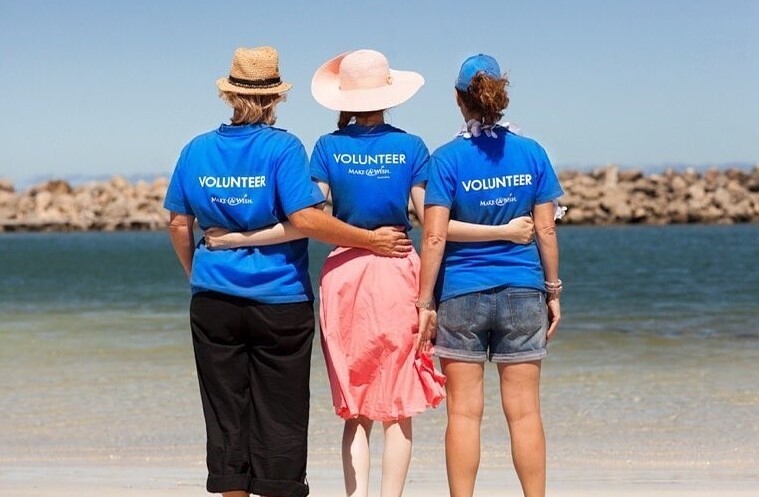 I am one of those people that think 'if it's got to be, it's up to me'.
So if there's something going on, you can't just be sitting in the bleachers talking about it.
You gotta be doing something about it.
So I joined Make-A-Wish 12 years ago.


WISHES
Snow wish lifts everyone
It was probably after my first wish visit, with our legendary volunteer Rambo, that I knew Make-A-Wish was right for me.
Nathan was the cutest little boy you've ever met in your life and he wanted to sing the Essendon song at an Essendon AFL game.
So going to that home visit with Rambo (full name Mohammad Mustapha Ramdianee), who was like the King of Wishes in Perth because he had done so many, and it was just such a beautiful first experience to go through.
And it wasn't long before I was leading wishes.
One of my earliest wishes was for a little boy.
It was one of those urgent wishes and they really do stay with you and you know, it's a sad thing.
Those wishes are incredibly special because families are digging so deep for their children.
This boy wanted it to snow in Whiteman Park, in Perth. So within 5 days of meeting the family, we had organised snow machines in Whiteman Park.
It was spring actually, so it was quite warm in Perth and he wanted to see snow. He had never seen snow and he had seen Peppa Pig playing in snow, so he wanted to see snow.
The problem was the snow machine broke, and then we had to get another. Twice it broke and we had to get two snow machines.
And in the meantime, we had the wish boy in a fire truck driving around Whiteman Park and they were calling us and saying 'Can we bring him in yet because we're gonna run out of petrol'.
Eventually the snow machine started working and everybody started high-fiving each other.
We had Peppa Pig there and an Elsa.
And the thing that made it so special is that his whole family, cousins and aunts and uncles were all there.
The wish boy was there, right in that moment.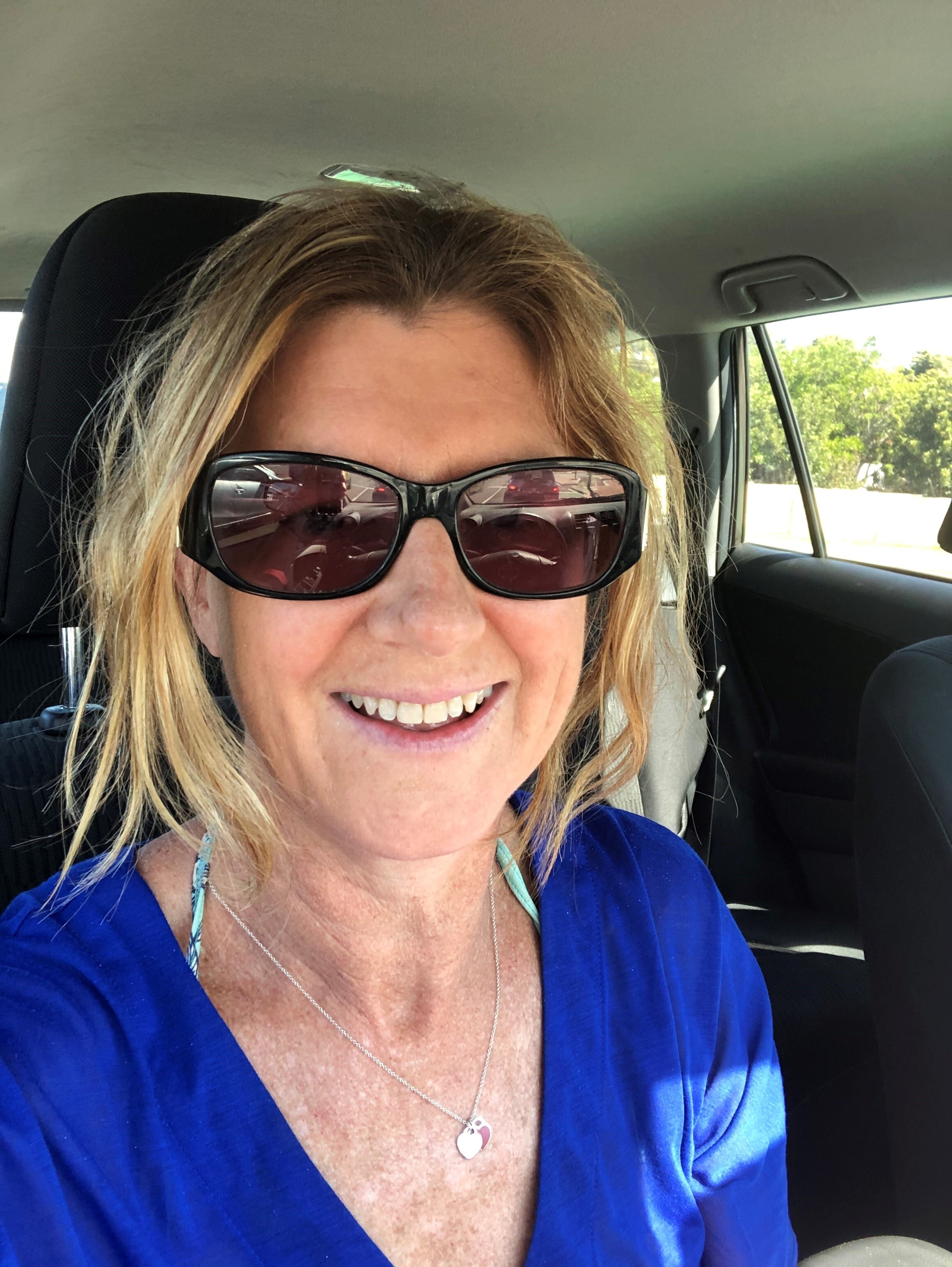 I remember thinking, that's it, this is why we do what we do, because everybody got it.
They got why it was so important that it snowed and that it worked and that it just needed to come together.
When he got there, he was so excited.
He and his big sister, they were both so excited and we had gloves for them and, you know, and Wellington boots and they had snowball fights and you'd never know then that he pretty much was only going to have maybe two weeks left of his life.
Prior to the wish day, his doctor had sent them home because there was nothing more they could do.
They took him off all the treatment and just make him comfortable.
You'd never have known it on the wish day, because the family were there with big smiles on their faces.
And they just had the best day with this young boy.
We had some photographs taken and they just captured such stunning photographs of the relationship that the family all had with him.
So that wish will sit with me for a very, very long time.
BALLET WISH
Little girl finally got to dance
I had another one, an urgent wish again, that was also pulled together very, very quickly.
The little girl was sent home by her doctor because the treatment just wasn't helping her heal.
She always wanted to do ballet lessons.
And she had never been able to go to lessons, and she also wanted a cubby house where she could sell pets.
She wanted to be a ballerina but never could because from when she was little, she had been sick.
She was about six years old.
Anyway, we got hold of her school even though it was school holidays, they said 'we'll open up the library, we'll decorate it for you and we'll have a birthday party for her' because she had never had a birthday party.
And it was a party for her friends, and there was a cubby house that she could sell pets out of.
Everybody brought a plate for food and we got a real ballerina to come.
We had little ballet shoes and everything for her to wear on the day.

And it was just so incredibly special.

It was one of those urgent wishes where the community comes together because they all get it and it's all about the wish child and it's a happy occasion, even although it's also a very sad occasion because of their illness.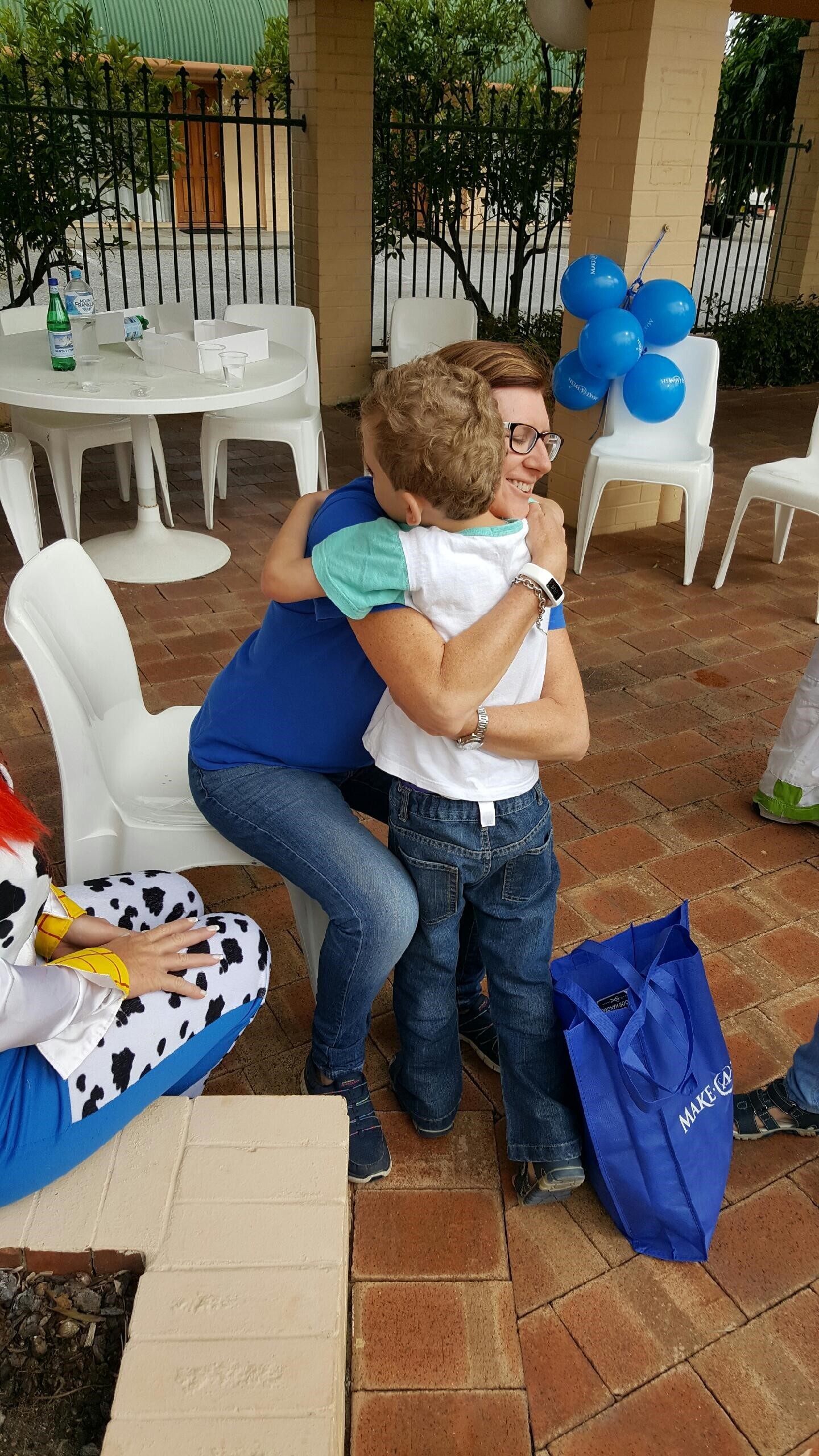 (Picture: Monique embraces wish child Ethan)
Those are my favourite wishes as when it all comes together you look over at mum and dad and you can just see that joy.

When we actually do the presentation of a wish is when you look across to mum and dad and you just see it, you just know how much they've been through because you can see it in their eyes. You can see in the expressions on their faces how important the wish is to them.
And that just that's the best part of wishes right in that moment where you can look across and just stop for a minute and take that all in.
That's my favourite part of a wish.
EXPERIENCE TELLS
Appreciate the journey of parents
It is so overwhelming what wish parents go through. I haven't gone through that with a child, and that was why I got involved with Make-A-Wish, because I was so lucky that I've got healthy children.
It was almost as if I wanted to get involved because my children didn't actually understand what it was like to suffer, ever. They have never had to suffer, and so I felt like I needed to counterbalance that with helping others.
Sometimes you can't get hold of parents and they don't come back to you and you just say to yourself 'oh man just come back to me this is for your child' but you know what, until you walked in somebody shoes you don't know what they're going through.
You don't know if they're trying to hold jobs down, if they're trying to hold relationships down. A wish is not their focus at that stage. At that stage it's just about getting their child through an illness.
I think you learn that through experience. I've texted parents before going 'I don't want to be the person who's being a badger here so please just tell me off if you want me to stop but I just want you to know we are here when you are ready there is absolutely no rush'.
It took me a few years to kind of get to that point of being confident I suppose enough to say 'we're here for you this can take as long or as little time as you want'.
(Picture: Monique with wish child Izabel)
I remember we lost a young boy and he was a Sydney Swans supporter.
And he went over to Sydney to see them play and they won.
And he had lunch with the coach and he trained with the players.
It was just the most amazing wish and I remember his mum saying 'Monique, we weren't to know at the time because he was better, but it was our last family holiday'.
And she said 'I remember him saying this is the best holiday ever'.
For that week he was on the wish he was feeling better and he didn't have to think about illness and his mum said it was just the most amazing holiday.
Anyway, he they sent me a thank you card afterwards.
It was so beautiful.

But then a few years later, I was at Little Athletics with my youngest daughter and I looked across and I thought, I recognize that lady. I am sure it was the wish boy's mum.
I went up to her and I said hi to her, and she looked at me and I said 'it's Monique'.
She said 'I know, from Make-A-Wish?'
She put her arms around me and I said 'I'm so sorry'.
And she went 'no'.
And she sort of held onto my shoulders.
And she said to me, 'you'll never, ever, ever know how much what Make-A-Wish did meant to us because we were never to know that that was going to be our last holiday and it was his favourite holiday'.
She said 'that meant the world to us, and we think about it often and we think about all of you'.

WAIT FOR WISH
Wish on the way for girl with 'biggest, softest heart'
Some kids have to wait a long time, like Aroha (pictured below). She's waited seven years for a wish that she didn't know that she wanted.
We've been with her through thick and thin, I think five wish visits until she decided that only a wish for someone else would do! Her wish is to hold a party to raise money for Make-A-Wish.
She baked cupcakes for our second home visit and the last time (fellow volunteer) Carolyn and I visited she had organised 'Halloween' badges for us to wear and made us tea to enjoy the cupcakes we brought for her.
Aroha has the biggest, softest heart, a little mummy in the making; always looking after her siblings and she cannot wait until she is 18, so that she can become a Make-A-Wish volunteer and help others!
Seven years is a long time to be in a wish family's life, we've watched her grow into a gorgeous teenager, her youngest sister was a baby when we met them and Charlie wasn't even born!
There hasn't been a time I can remember when Aroha wasn't smiling, she really is an inspiration and I can't wait for her to join us as a volunteer one day, what a difference this kid is going to make!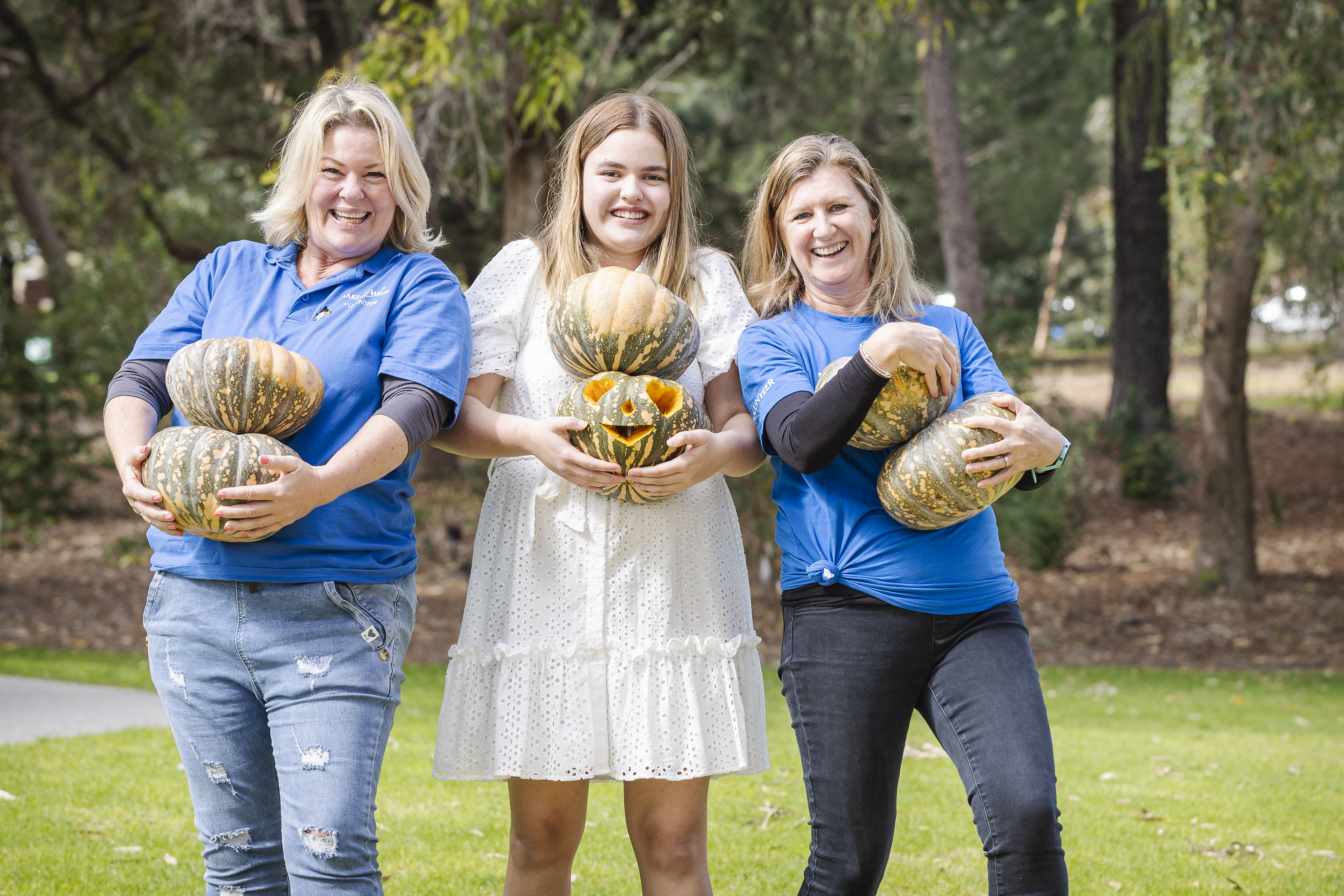 The Wish Journey is something good to look forward to for the wish kids.
The Wish Coin is also important. If you think about the coin, the significance of the coin it's powerful, I try and make sure whenever I'm in a wish meeting and I'm talking about the coin that the coin isn't just a coin, that coin is a promise of a wish that we will happen.
When a child is not feeling great, I say to them 'remember to get your coin and hold it in your hand and think about what that actually means to you and think about what that is going to give you or give your family' and that those are the happy thoughts to be able to get you through the tough times.
ANTICIPATION
Happiness from helping wish families
I've got a text message from a father whose little boy was going to the snow for his wish and he had waited a while because it was over COVID.
So what we did was a countdown for him.
We put together 10 bags and in each bag was something different. So in one was a beanie, in one was a scarf, and in one was carrots.
So, every single day he had something different and all the items were in a big box.
We told the dad every morning to put a bag on the step outside the door, and then wake his son up and say 'somebody's just knocked on the door and they've left something outside for you' and let him go and find it.
You cannot believe how that little countdown got him out of bed every single morning and how excited he was.
It was almost more exciting than the wish itself.
And again, when you talk about community, when the family got to Mount Hotham, there was like a Christmas snow theme in July and they decorated the house in a Christmas theme and people from around the area all gave presents and put them under the tree for him when he got there.
And all those people involved are touched, they all feel really great and involved in some way, shape or form.
Make-A-Wish just lifts you, lifts your heart. For me the giving is what it's all about. By giving you're actually getting so much back because you know just in your heart what it does.
It just makes you happy.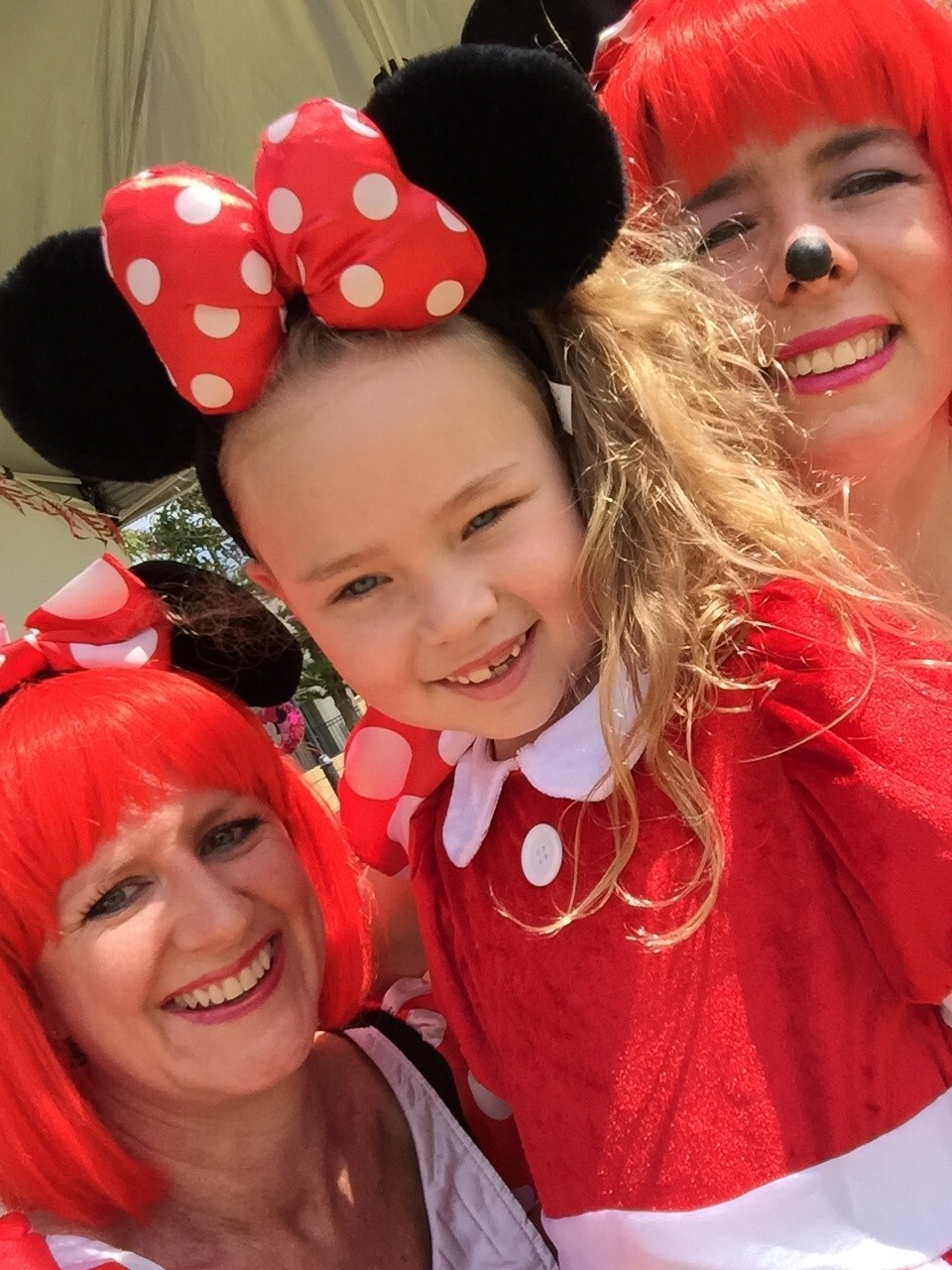 (Picture: Monique with wish kid Willow)
It makes you happy that you've done something for somebody else, that somebody else has had this joy, that you've been able to create for them and that has nothing to do with getting something back from, there's no reciprocal anything.
One of my own values is to make a difference.

If I have a business meeting or if I'm with a volunteer, I want to know that when I walk away, I've made a difference.
That I've made an impact on them in some way, shape or form, whether they've learned something new or whether I've put a smile on their face, but it's something that I've left with them and that that is probably part of my legacy that I want to be remembered for: having left something positive with people.

I tell anyone that you have to experience what Make-A-Wish is.
That first time you've met a wish family is significant: when you walk out and you get what they've been going through and you've been able to put a smile on somebody's face.
And you're sitting in somebody's home, you're talking to their daughter or their son about a wish.
Everybody else is giving them bad news. Everybody else is making them take medicine.
But you are the person that's come into their life and given them really great news, and something to to look forward to.
Like that is such a privilege, that you are the one who can give them joy.
BRANCH TIES
Commitment to the cause
When I joined Make-A-Wish I started with the main Perth branch, with volunteers such as Marilyn and (pictured, centre) Rambo.
It was a pretty big branch, and I think people got lost in the branch.
We had got so big that when people didn't come to meetings, you kinda didn't notice as we still have 15 or so at the meeting.
So then head office decided that we needed to break up the branch. Because people would go 'it's too far to travel to a branch meeting'. So, they just weren't engaged.

So we broke the branch up into three branches: North, Central and South.
The Central Branch is probably the biggest. I am in the North Branch and I was quite lucky because I've recruited quite a few of my girlfriends that wanted to be involved.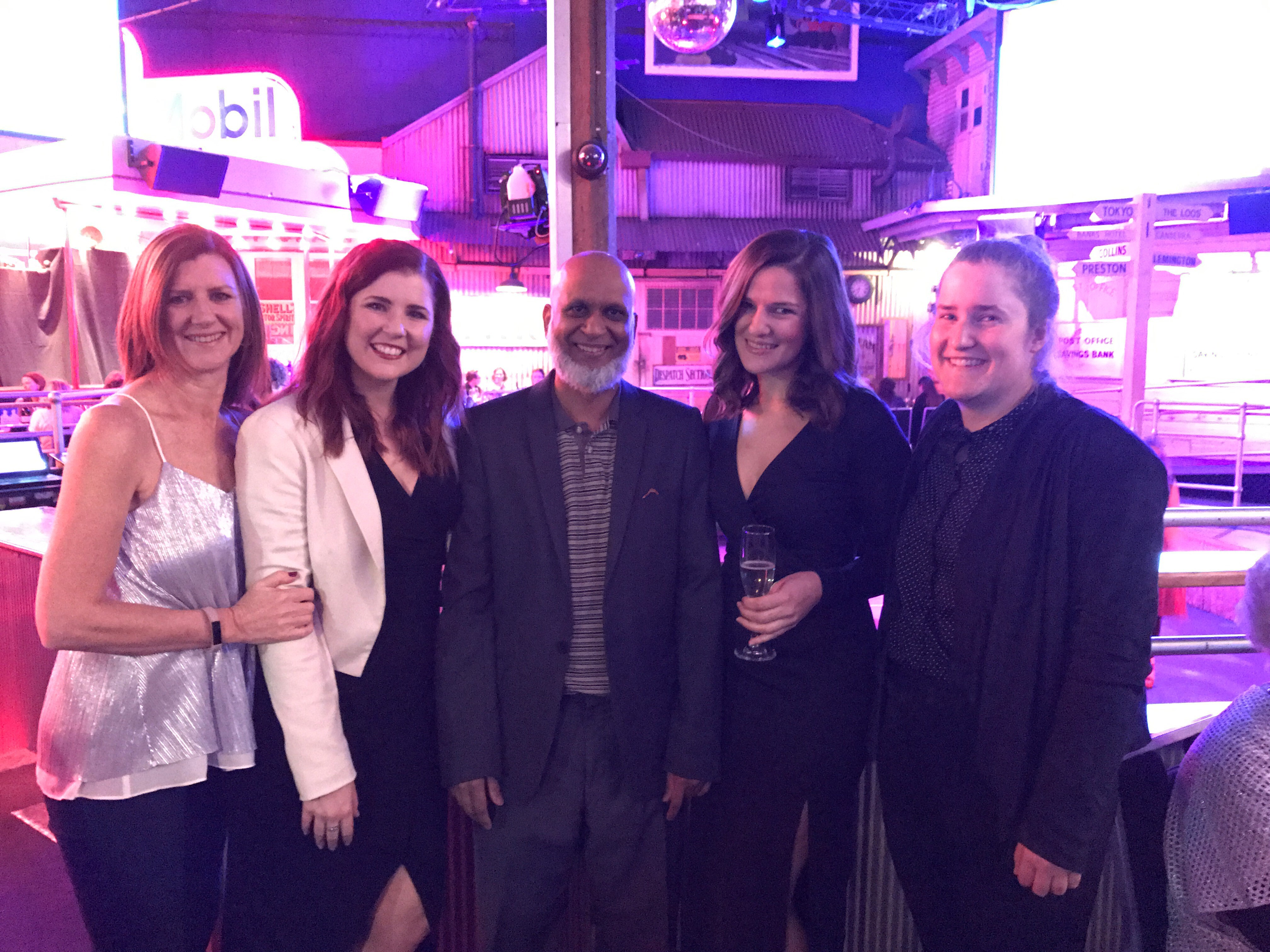 I have been Wish Granting Coordinator and now I'm Vice-President. One of my friends said 'Monique, I'm really happy to be the president' but she said 'I only want to do it if you'll be my vice president'.
She said 'Let's build it together'. Luckily, I'm not working, so I've ended up probably taking on quite a lot of that responsibility because I have had the time to do so.
Everybody gets so much joy out of wishes. So it's not just the wish child, or even just the wish family, that reaps the joy from wishes.

It's actually a full community and as volunteers we get so much out of it.
If I'm really, really busy, I'll just pull back on some of the wishes or some of my commitments and if I'm not, then I actually just gear it up, which is what I'm kind of doing at the moment as I'm trying to reimagine our branch and lay some foundations so that we can be better at what we do.
I still love it.
But you know, every time you think about maybe moving on, then think about what that actually means, you just go to yourself 'Well, why would I do that? I'll just stay'.
Monique has been proudly volunteering since 2010