Behind The Wish - Amanda
Meet Amanda French - an amazing Make-A-Wish volunteer of 10 years.
Amanda has been one of the driving forces behind the Hobart Branch, helping deliver life-changing wishes to sick Tasmanian children. Since 2019, she has also been on the board of Make-A-Wish Australia.
Behind The Wish is our series of inspirational reads diving into the everyday superheroes involved in creating life-changing wishes.
INNER DRIVE
Natural instinct to help others
I have always lived in Tassie and always lived south of Hobart, not too far out of the city.
I went to the local primary school and high school and to university following high school. I was working that whole time, I always wanted to have independence and to drive myself to all the things I liked to do.
My first job I worked at a newsagency, doing a paper round.
My dad used to drive me around every Sunday morning. He would pull up in the street I was delivering the papers to and I would deliver in that street and he'd meet me around the corner. So, it was a very supervised paper round and it turned into a job at the newsagency.
During university I always worked in multiple jobs, I really enjoyed the customer service focus and helping people. Which then led to working on restaurants and bars.
I wanted to be a lawyer and I got three years into the degree and I really liked the structure of the law and how it's fairly black and white, you can learn what you needed to learn then turn up to an exam and regurgitate it.
But I guess the bit I didn't quite gel with was the flexibility around why do people get to a position where they have an interaction with the law.
That's the bit that interests me the most and I guess I was studying that alongside sociology and so I was looking at all the social determinants of health, and where people grow up and what their background is and how it can impact on how they live and what they do and all those sorts of things.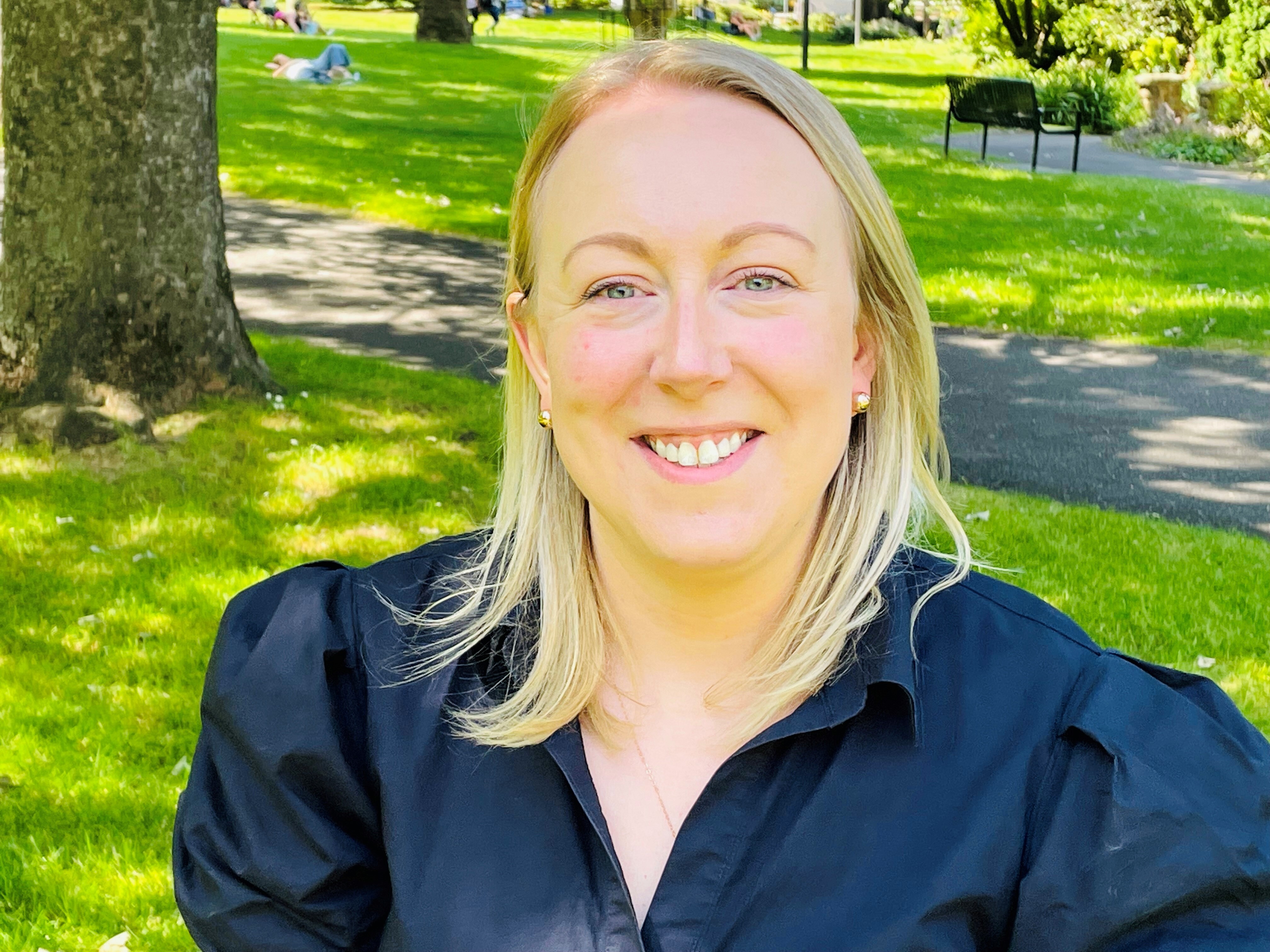 So, criminology then became something I got interested in and they started a new degree at the uni that year so I decided to switch and drop the law subjects and study criminology instead.
I graduated with a criminology degree and then wanted to go out and get work and I guess that is where things started to tick over for me with (what would be my future business) Dress For Success.
I had finished uni, I was in my early 20s and I had grown up with a mum and dad, a great home life, access to every educational opportunity that I needed, never kind of struggled in that capacity and I found it really difficult to find work.
So it wasn't that there were no jobs, it would be that I would go for an interview and be interviewed and it would go really well and then I would be told I didn't have enough experience or that I was too young and that I should go off and get some work experience and come back and apply again.
The challenge was I had spent five or six years at uni and paid for quite an expensive uni degree and I wanted that job and couldn't get it.
At that point I realised how much your confidence can be impacted when you start to believe you can't do something you really want to.
And how if I was struggling with that and finding it really difficult it must be really hard for other people who don't have the role models, who haven't grown up in families where work has been something that's been part of their lives, right down to not feeling confident about what they are wearing and how they present.
So that's where the idea started to bloom. I eventually got a job. I absolutely loved it in the drug and alcohol sector. I took every opportunity to learn everything I could. I was starting to do a little bit of events work, organising conferences and setting up training for people and I got a thrill out of setting up events.
That's when I started looking for a volunteer opportunity that would let me do that in a meaningful way.
DRESS FOR SUCCESS
Amanda sets up women's charity
I could really see the benefit particular services and organisations could have. Even in my early adulthood, I would love to go to a charity event. I was always really impacted by the stories you would hear.
Mum and dad are very giving of their time to family and friends so I think they instilled in me a sense of giving back, and I chose volunteering to be the thing I wanted to pursue.
I knew there were a lot of charities doing great work but I realised an organisation – Dress For Success – was doing exactly what I thought there was a need for here in Tasmania.
I did some research and realised they ran a kind of franchise model and you could apply to bring it to your local area but you needed the resources, you needed to find funding and find volunteers.
I did the initial reach out in the first job, in the alcohol and drug sector, but it was another 5 or 6 years later I progressed it to the next stage.
I participated in the Tasmanian Leaders Program and as part of that they break into groups and each group had to deliver a community project.
I wanted it to be Dress For Success. I needed people who weren't my friends, family or colleagues to be the start up committee. They needed to be from different backgrounds to me to give it the best chance of success.
It took nearly 12 months to convince my project group that it should be the project we do. In the end I showed them a video from Dress For Success worldwide that showed millions of women impacted since it started. It really had legitimacy and they could see that.
That was back in 2016. In 2017 we incorporated the organisation and set it up as a charity and we agreed that we would be the start up committee and try and source funding.
In 2019 we got funding from a philanthropic trust.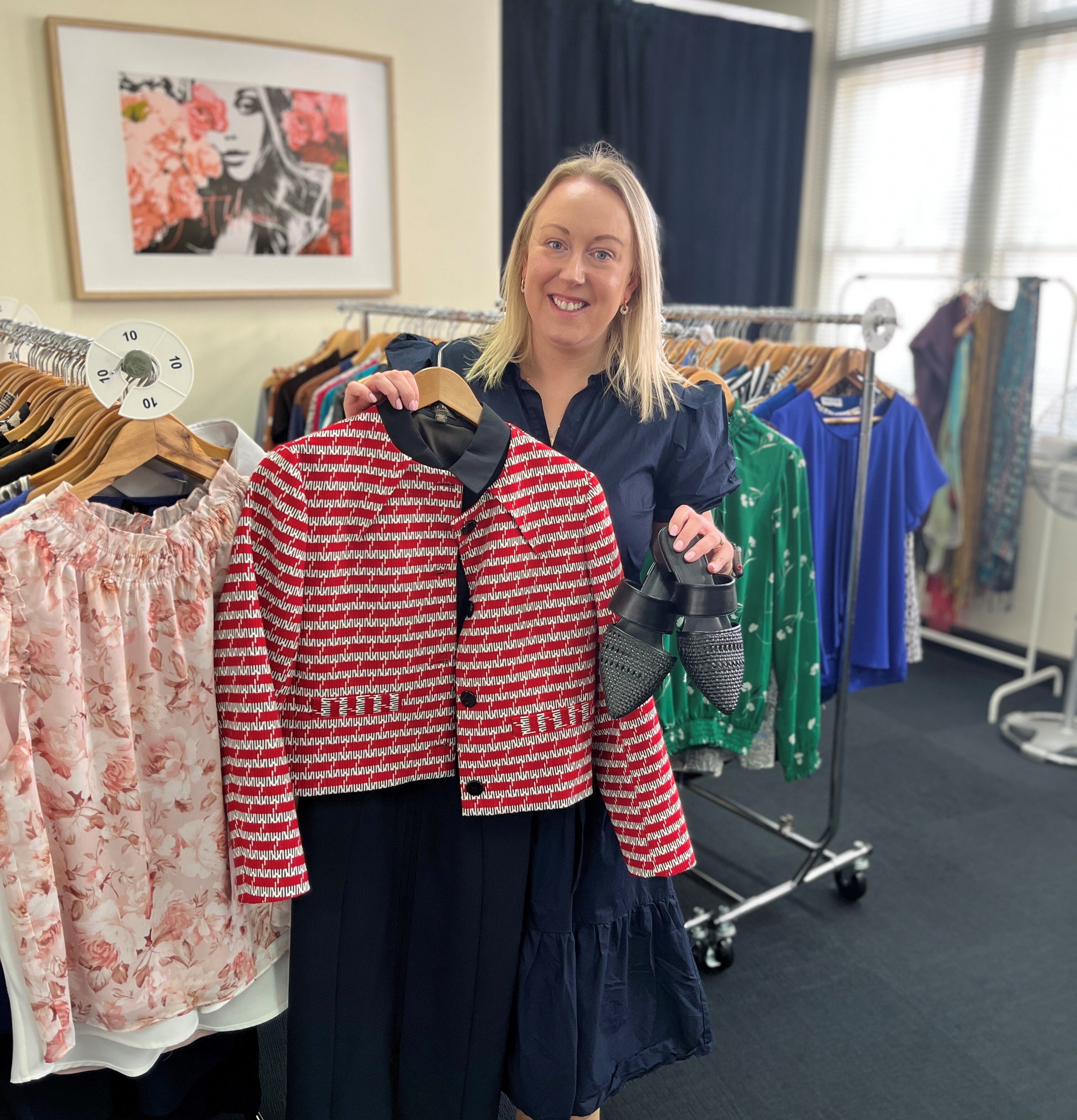 When push came to shove to recruit someone to run it, I kind of realised it was me … it was a very formal process and I was successful in that.
I was working in suicide prevention at that point and really loved that work. It was hard to make the call to essentially work by myself for the first 12 months to get it started.
Only three months in COVID hit, that was really tricky to navigate.
Thankfully the funding we had wasn't impacted so we were able to keep doing things in the background while the world was changing around us.
We knew there were going to be more women facing barriers to employment following the pandemic and we've seen that.
It's not too simple to say it's about getting women into jobs. But it's also a step back from that. We don't do that hand-holding piece to find people jobs.
We are there to help them feel their best so they are then able to get into work.
We help them prepare for their interview, dress for their interview so their confidence and self-esteem are at an all-time high.
We exist to build confidence and then the rest happens after that. Over the last three years we have supported 400 women.
That's through our core programs but we also now have another program where we supply backpacks for women coming out of prison.
To be able to see the true impact and hear the stories is what keeps me going week in, week out.
There's an impact on our clients but also our volunteers, which is similar to Make-A-Wish.
FAMILY
Grateful for 'full cup'
I am happily married with two kids under four and a half.
They are both girls and the light of our lives. So, life is good. I have such great connection to what I do, my work, and then to have my volunteer work with Make-A-Wish and the board responsibility too,
I feel so grateful that I have a very full cup.
I think family for me is absolutely at the centre of everything.
And making sure that I guess they are happy and fulfilled and have all of the things I have been so lucky to have.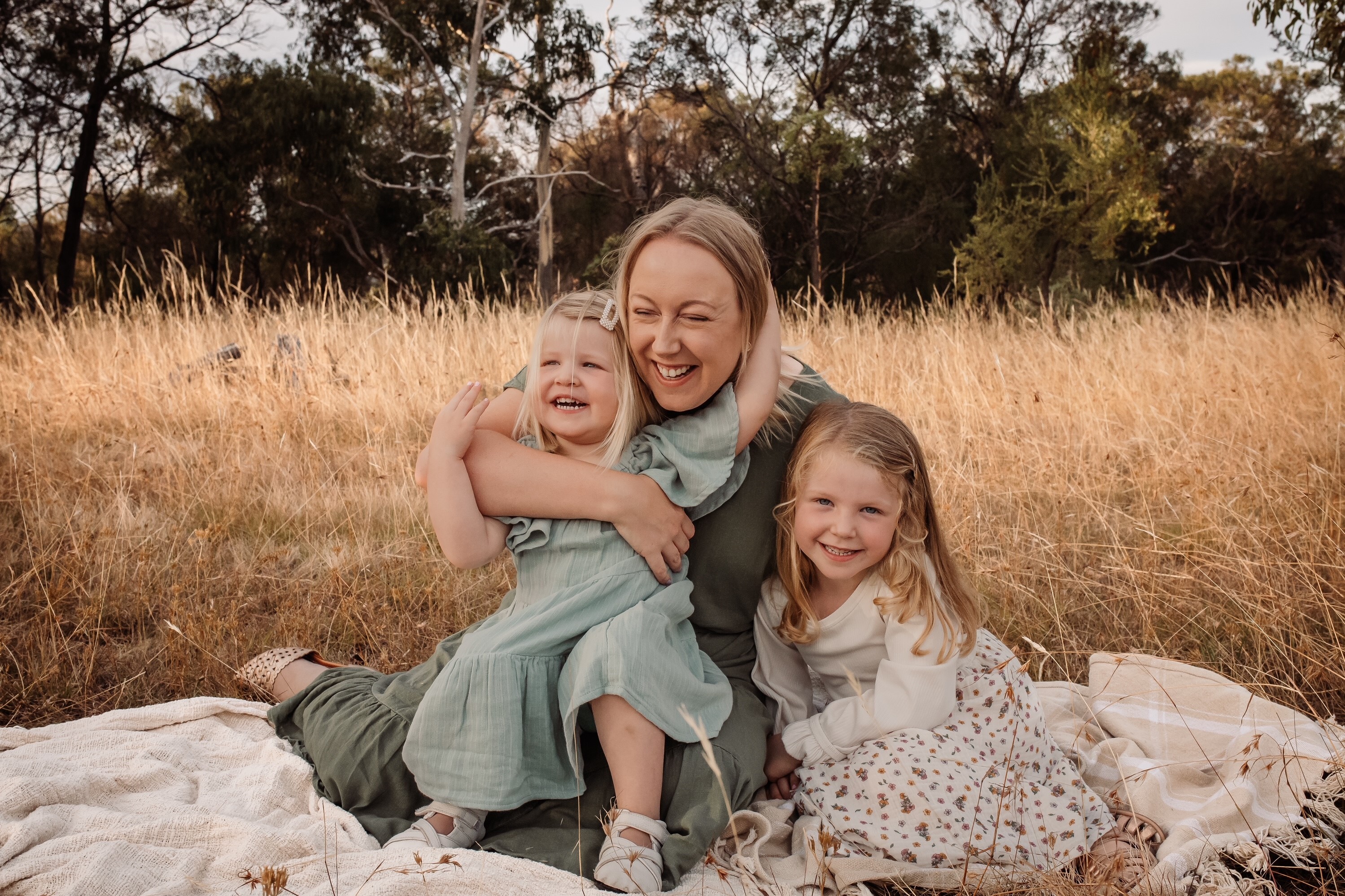 How I would describe my personality is probably different to how others describe it! (laughs).
I know my friends describe me as somebody that never stops.
Someone who is always looking for another adventure. I guess that's a true reflection of who I think I am, too.
I do like to be busy; I do like to contribute and feel like I have a connection to my community.
JOINING WISHFORCE
Wish child strikes a chord
I joined Make-A-Wish about 10 years ago.
It was on the back of attending a quiz night over at Bellerive. Robyn Moore spoke and there was a wish child there and they shared their journey and I was a blubbering mess.
I remember just being there thinking I have to join this organisation; I am just really drawn to it. It makes me emotional thinking about it now. It felt like such a pivotal kind of moment.

I was taken by the impact it had on the wish children and their families but I was also taken by the fact this was something quite simple to do. Fundraising events that could have an impact.
I had looked into other charities but this was the first time I felt the real connection between the work the volunteers do and the end product or outcome.
I wasn't a mum back then. I think if I went to an event now as a mum and didn't have the context going in, I think gosh I would be affected even more.
At this event, it was just a story of resilience and what they had gone through and they were still standing.
It was just a quiz night and I didn't expect to go there and feel those things.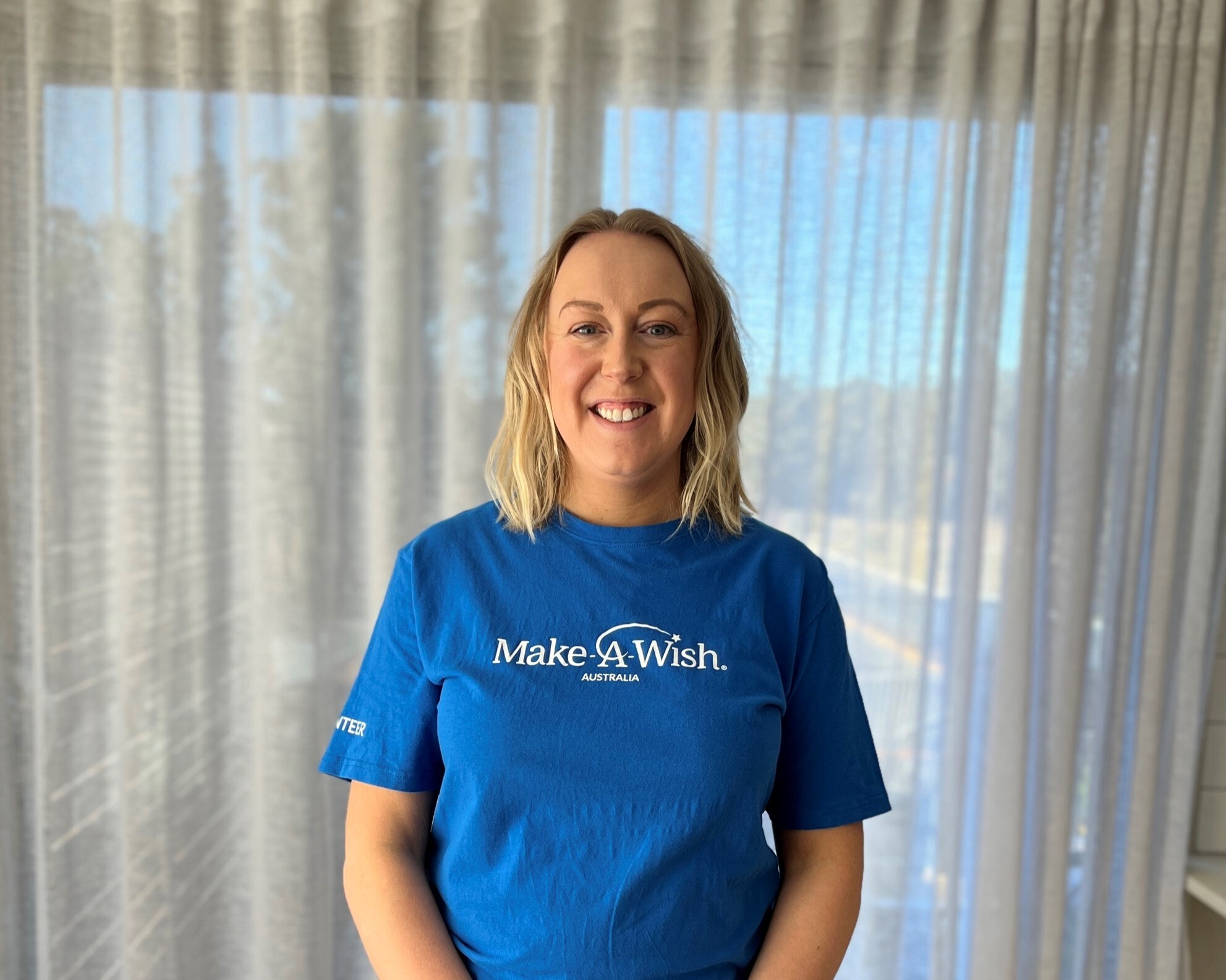 I didn't know what I thought Make-A-Wish volunteering was going to be like back then, I don't think I went in with very many expectations.
I think that it's more than what I thought it would be because I definitely didn't go into the branch thinking this is a leadership opportunity for me.

It's been an absolute ride. I came to my first meeting then two meetings later I was the secretary. I was in the vice presidency role for a couple of years.
Learning about the branch at an operational level, seeing how the volunteers contribute.
When I stepped into president role it was a whole another experience,
I look back on fondly and in a lot of years to come I will look at it as one of those formative moments, some lessons learned there I really carried for the rest of my lives.
I am a very big believer in things happening for a reason and of things presenting at the right times so when the president role presented itself as a possibility, I was in a really good point of my career to take it on.
I had a flexible job which allowed me to take on work and a lot of hours.
BOARD MEMBER
Learning from 'incredible' people
A couple of years after a position was coming up on the Make-A-Wish national board.
I remember reaching out to a couple of people from the branch or who were former volunteers and asking 'would I be ok at this' and the feedback was really positive.
I had been on couple of boards and I thought I brought that age contribution to the board and the volunteer group – I did think I brought that different age perspective and I had worked in the NFP sector my whole career.
I put my name forward and went through the process and was shocked when I was appointed. It has been the most incredible learning experience.
I feel like I have got so much more out of it than I have given and I feel really uncomfortable having any recognition for what I have done because I feel like I have got so much more than I have put in. The board are such incredible people.
Not only do you get to be part of an organisation that is really well-led and well-managed and to see the impact of that can have in your community, but you also have access to these incredible people in the Make-A-Wish head office and how they are so giving of their time to help you to work through things you are working on at a wish level.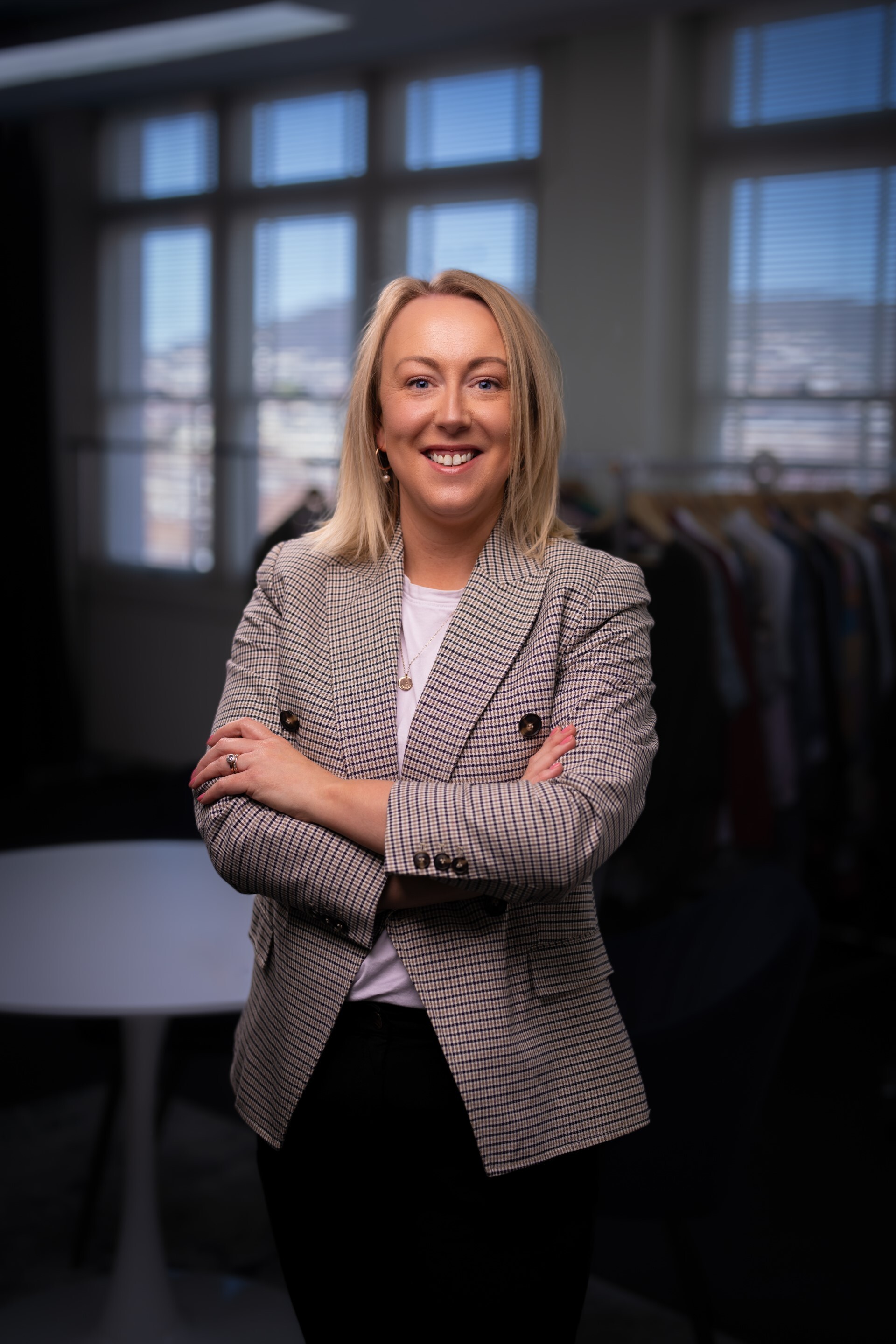 I would say there is definitely value placed on the role of volunteers.
As the volunteer rep I guess people would think I might be in a position where I have to raise the volunteer aspect of the organisation as something that should be considered but I don't feel like I ever have to do that because they are so connected to the importance of volunteers in the organisation.
They are all so connected to what we do at Make-A-Wish and the impact we have.

They are also so giving of their time, I think that's a huge element particularly Stephen Sharp as former chair and current chair John Armstrong, they do so much behind the scenes in representing the organisation.
WISHES
Resilience shown by wish kids and families
All the wishes are great for one element or another. They all have a special part to them.
So, I don't think I could categorize one over the other.
I think the great thing about Make-A-Wish and the Hobart Branch is that the whole branch gets involved in so many wishes so even though I have got great stories about some of the wish kids I have worked with directly,
I think about Andrea's art wish and how that's still actually being lived out through her design of that Sass & Bide necklace recently – and I just think that's amazing.
There is another wish child who recently spoke at an event, I can't remember her original wish, I think that's something unique to Make-A-Wish. That ongoing connection.
I guess it's once a wish kid, always a wish kid. You are never not part of the organisation. As much as you want to be, you can still be involved.
There's another wish at the moment where a young child wants to do something with the Great Barrier Reef around conservation and I think gosh how amazing that they care about the environment.
I think that's a beautiful part of the organisation that no matter where the wish child is and what they want, there is a way for all volunteers to be engaged in that beautiful process.

Our wish kids have this resilience. Their ability to bounce back and they do bounce back every time they go in and have treatment or have a setback in terms of their progress to getting better.
I actually think it's also a level of mental toughness that even grown adults don't have.
That they are able to just have this hope for future even though they don't know what that future looks like. I think it's really special.
I think it's just what they have been through is what some kids don't ever go through in their lifetime.
And they are facing it as such young children.
I think the other thing is some of the wish families we have worked with have not just faced one adversity they have faced multiple and life keeps throwing these curve balls at them and they keep bouncing back from it and it's just incredible to watch, to bear witness to this incredible determination and grit.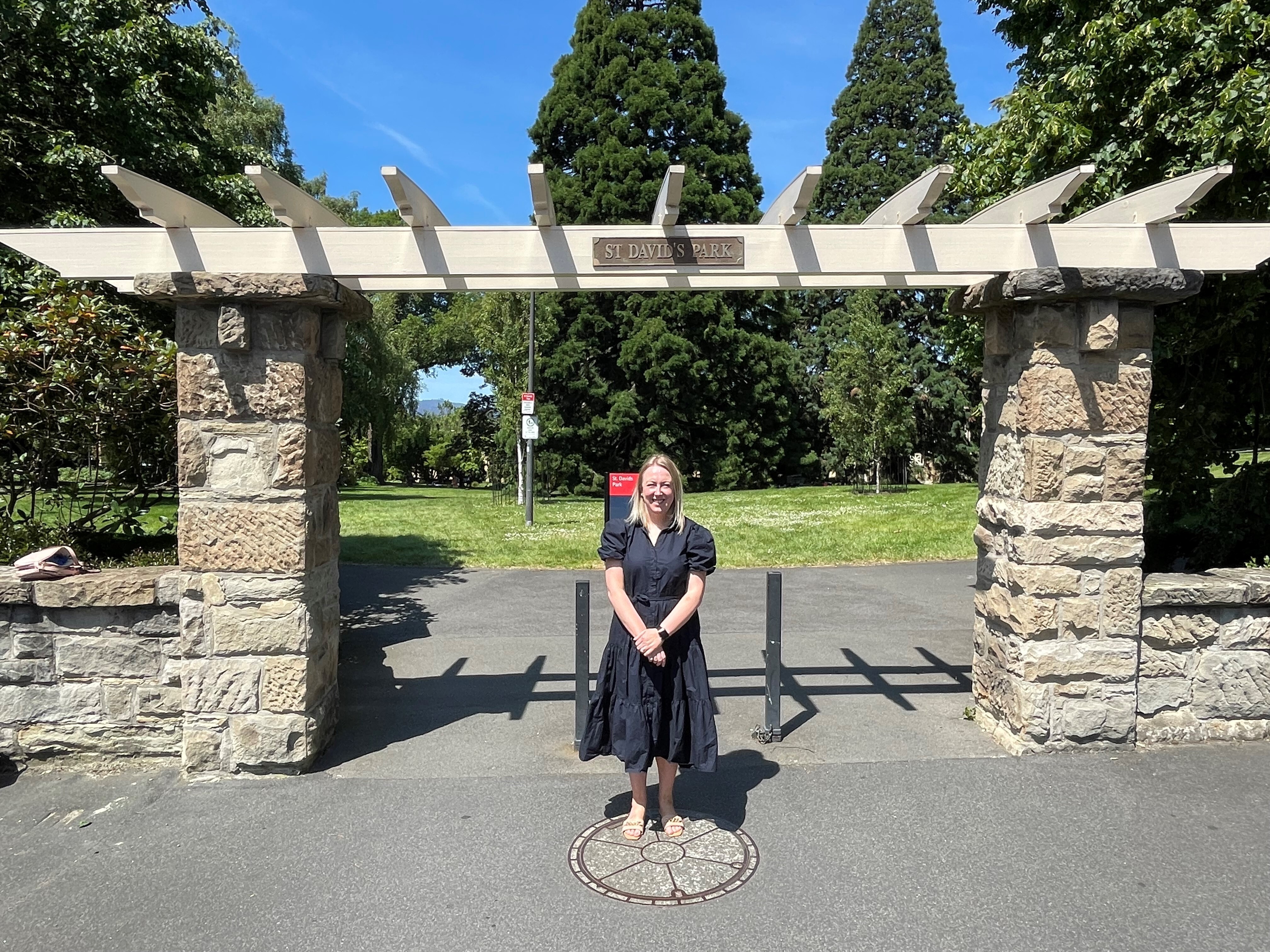 I really think Make-A-Wish is about the word 'hope'. I have always connected to that word.
It is hope for the future. And it is something to look forward to and it is about the joy they get from whatever we deliver for them.
To see the look on their face, to see the magic be created so they can enjoy something that without Make-A-Wish they wouldn't be able to enjoy. It's about creating an experience they would not have without us.
It's about the magic that Make-A-Wish can create.
It's also about the power of stories.
I love hearing those stories about when the Wish Team are making a call to a supplier and someone introduces someone else and then it all rolls from there and it's this beautiful butterfly effect of people coming together and had it not been for our organisation it wouldn't have happened for that family.
The development of the anticipation phase for wishes has definitely resonated with me and I can see the purpose in why that has been built up to what it is now.
You have this great opportunity to build excitement, and a longing for what they have asked for. All the steps along the way to get there just builds more and more anticipation.
Those little steps along the way can make all the difference especially if the child is in treatment or just come out of treatment. And I have had wish families tell me that at the end of a tough week, they've had that to remember. And that's what has got them through.
They hold onto that and know something great is coming.
As volunteers we don't always get to see what happens after the wish. I do know families always tell us at the end of the wish they will hold that with them.
But I have been involved in a couple of wishes where the child has passed away and I know that the memories of that wish and time spent together and the photos that Make-A-Wish organised, are just the most precious things they have.
FUNDRAISING
Quizzes, gala balls and colour runs
I really think – and it might sound a little over the top – that for me Make-A-Wish is a life-changing impact.
Because it's changed the way that I approach my life because it does make me so much more grateful for what I have and to live in the present.
But it's also the volunteering aspect that has probably influenced the way I plan to parent my kids.
I will make sure they will always have some connection to their community whether it be through volunteering or giving back in some kind of way.
Not just because it's the right thing to do and a good thing to do, but because of the positive impact it can have on their lives too.
The kind of crossover effect is that volunteering gives back to your community and makes a huge difference and to the people you're volunteering for but it it also had that effect on you that is just so powerful and can really shape the way you live your life.
I think that there's a real pride in being a Make-A-Wish volunteer and what that represents in the community in Tasmania, Australia and internationally because the organisation is global.
Being president and being on the board, I have had opportunities to speak to media and other PR opportunities to be that representative of Make-A-Wish and I am very proud of this.
I would say to anyone thinking about joining to come and join us.
Whatever you think you are going to get out of it you are going to get that but so much more. You can never truly understand that you are going to give so much but you're going to get so much in return.
I do have so much self-identity wrapped up in the Make-A-Wish brand but it really goes to the core of my values of giving back. It is such an integral part of our branch members' lives.
It is their social network, it is their reason for being, they are connected to the core of their being and their role in the branch is wrapped up in all of those things. I imagine that is the same all around the country.
The Hobart Branch's success is because of, I think, the Tasmanian effect. I think if you chatted to the volunteers in Launceston and Burnie, they might say the same thing.
They say six degrees of separation but in Tasmania it's one and a half.
So therefore, the beauty of coming into a meeting and chatting about things and everybody knowing each other. I think I invited people from the branch to my wedding and baby shower.
And that's not uncommon. People have got married, had babies … the significant life moments in our branch are celebrated by the whole branch not just by individual people and I think that's what makes the branch unique and special.
We have people with lived experience of Make-A-Wish and that seems like a strong driver why people choose Make-A-Wish.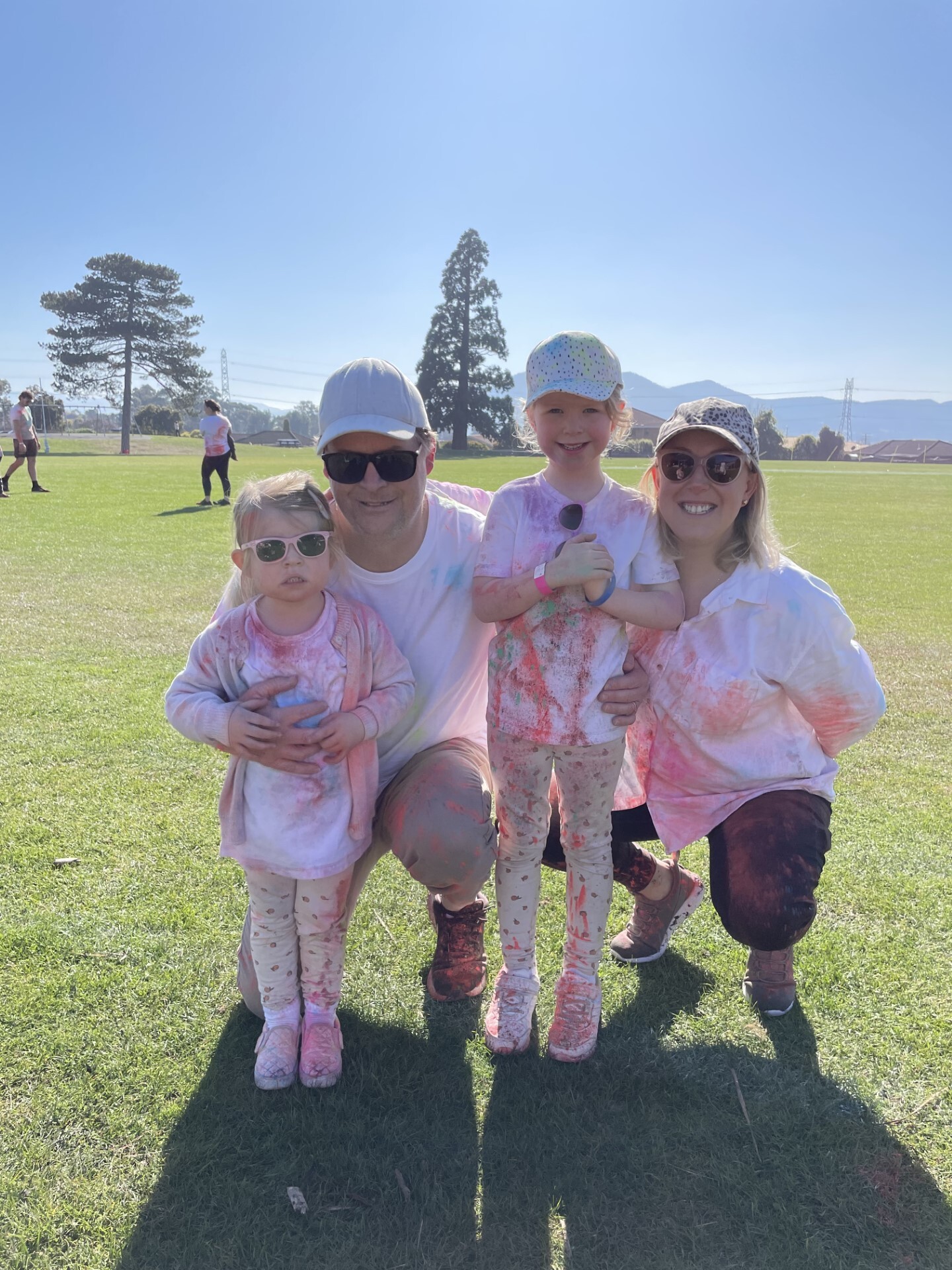 The Hobart Branch has a long history of doing gala balls very successfully. For a while we were very consistently rated one of the highest fundraising branches because of the ball. In 2022 over $100,000 was raised, which was phenomenal.
We are able to put on fundraisers at low cost because so much stuff is donated. We get most of the food donated. We always get alcohol donated.

So I think the fundraisers that we hold in Hobart are good bang for buck because of the generosity of the community here in Tasmania.
We also run quiz nights. There's a real commitment from the volunteers to give things a go.
The colour run has become a core fundraising event for the Hobart Branch for the past couple of years.
My husband and I decided it would be a great event to participate in as a family this year (pictured above) - rather than me be on the other side helping organise or run the events - and I'm so glad we did it, it was such great fun!
Our girls were the perfect age to interact and engage with the activity and I just think it's so important for them to see the work Make-A-Wish does in the community for these families.
They know mum is a volunteer with Make-A-Wish and they love hearing the stories I share with them about all of the incredible wishes I get to be involved in.
I think there are such strong links with the community.
That's evident by some of the local partnerships that have turned into national partnerships. I do think it comes down to Hobart being a small city so I think it operates similar to some of those regional towns on the mainland.
When we share stories about our wish children, then a business owner you are chatting to goes 'I know that family' or 'I went to school with that wish kid'.
There is support from local politicians and people generally.
The last couple of years we haven't been able to do many events but still we are front of mind for many people, so that was a highlight.
Seeing so many volunteers in attendance at the 30th gala ball was nice, including people from the past who have played really significant roles.
Amanda has been proudly volunteering since 2013