Sullivan meets the Adelaide Crows
As little Sullivan spent six months in hospital fighting leukaemia, it was the Adelaide Crows footy team that kept him smiling. Thanks to generous donors and supporters like you, Sullivan's wish to meet the team came true. This is his story.
Background
Meet Sullivan
On and off the footy field, 8-year-old Sullivan has resilience in spades! The midfielder bravely puts his head over the ball regardless of how much bigger his opponents are.
Off field, he takes on leukaemia with the same sort of courage.
"He is not the biggest kid on the footy field, but he is the most determined," mum Chantelle said. "He just gets in there, tackles and has a go."

Photo credit: Tony Lewis / InDaily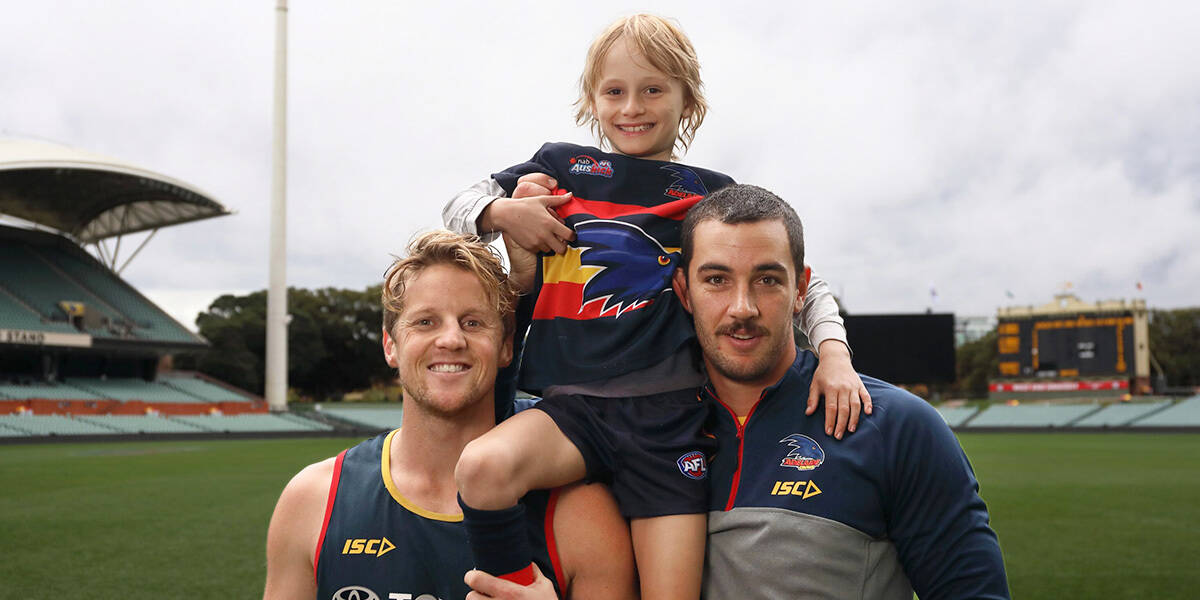 All throughout his treatment he has shown how determined he is. If you are going to tell him he can't do something, he does it.

Chantelle

Sullivan's mum
The wish
His beloved team
When Sullivan was diagnosed in August 2017 on his seventh birthday, the Adelaide Crows were storming towards the finals and ended up playing in the Grand Final.
Sullivan kept his Crows gear close in hospital and his wish was to meet the team.
He was preparing to fly to Adelaide to watch a game and watch training.
But a couple of days before Sullivan got on the plane, a video message from Adelaide star Rory Sloane broke the news he would also get to run through the banner with the Crows at the game thanks to Bendigo Bank.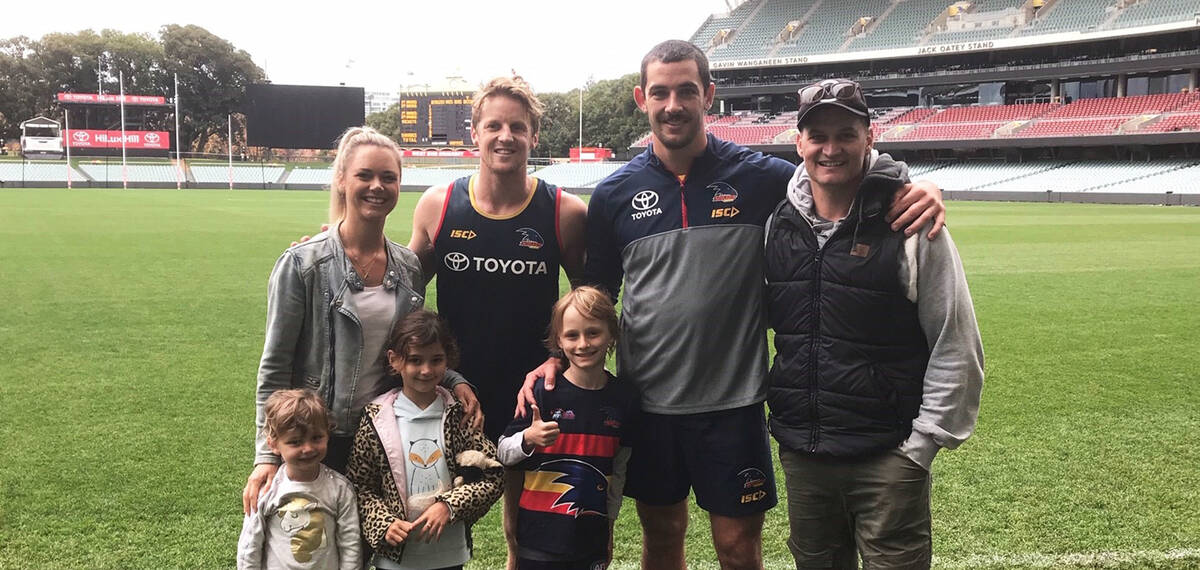 Make a life-changing difference
You can help other seriously ill kids like Sullivan experience an unforgettable wish.
Game Day
Meeting the team
On game day Sullivan visited the rooms as well as running onto the ground with his heroes.
"He was just soaking it all up," Chantelle said.
"His little eyes were taking it all in. All the players were so kind to him - they were preparing for a big match but would come over and give a high five.
"Back in the rooms after they won, Eddie Betts brought Sullivan into the players' circle to sing the song. An Adelaide official who had worked at the club for 14 years told us she'd never seen anyone brought into the circle before."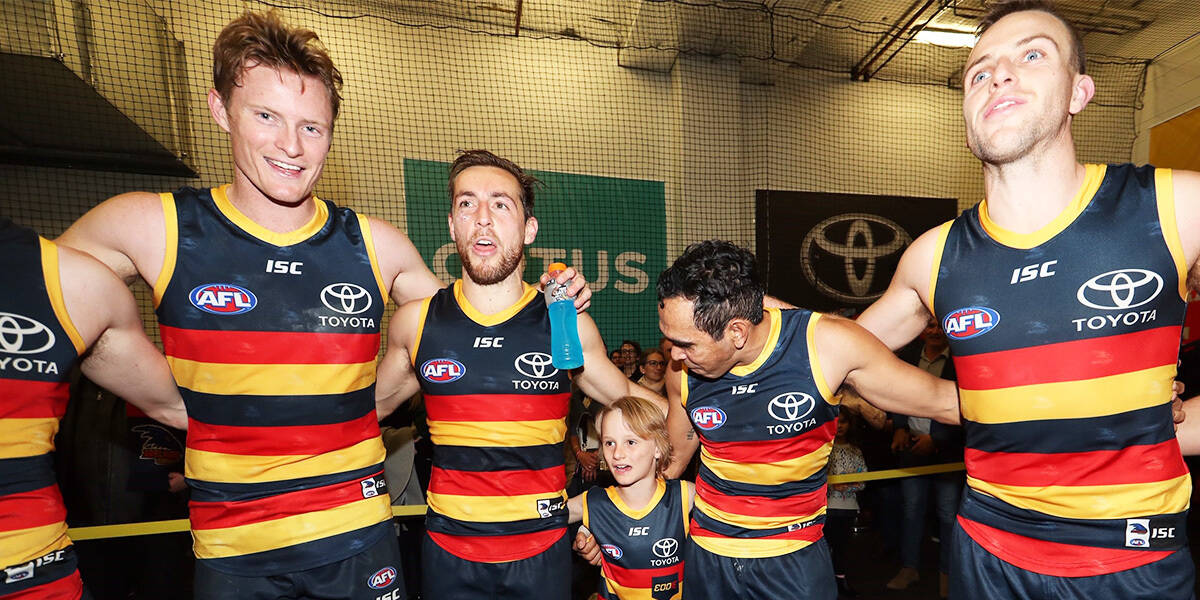 Wish Effect
A life-changing moment
Chantelle said the memories of being up close and personal with the Crows players will stay with Sullivan forever.

"Knowing he was being granted a wish put his imagination into overdrive and for it to come to fruition will inspire him for a long time."

Now, as well as the memories from his Make-A-Wish journey, Sullivan is feeling healthy.
Recent blood tests pleased doctors and put smiles on the faces of Sullivan's family.
"He is great. He is doing all the things other eight-year-old boys are doing," Chantelle said.
"It was a really life-changing moment for him. He will remember it forever."

Sullivan's mum, Chantelle
Help more life-changing wishes come true in 2019
The Wish Journey
How a wish comes to life
Make-A-Wish volunteers visit each child to capture their greatest wish, getting to the heart of what kids truly want and why. This profound insight is part of what makes Make-A-Wish unique, giving children full creative control and helping to shape their entire Wish Journey.
Back at Make-A-Wish HQ, we partner with families, volunteers and medical teams to design the ultimate wish experience - and start rallying our partners and supporters to help make it happen.
In the lead up to the wish, we take each child on a journey designed to build excitement and provide a welcome distraction from medical treatment. Anticipation can be incredibly powerful, helping to calm, distract and inspire sick kids at a time they need it most.
When the moment finally arrives, children get to experience their greatest wish come true - it's everything they've imagined and more. Pinch yourself, and don't forget to take a breath and enjoy every precious moment!
Wish impact studies show that a child's wish lives on, long after the moment. A wish gives more than just hope – with an incredible and lasting effect on the lives of sick kids, their families and wider communities.
More inspirational stories