Samuel's Better Homes and Gardens wish
A one-of-a-kind backyard project took shape, thanks to our friends at Better Homes and Gardens. But it was meeting his idols Adam Dovile and Jason Hodges, and being part of their team, that really made the wish for Samuel. This is his story.
Watch Sam's wish
Background
Meet Samuel
Samuel, now 18, has cerebral palsy and is vision-impaired. He is also in a wheelchair, although he doesn't let that slow him down.
Samuel loves anything to do with building and construction, and often has a DIY project on the go - his mum thinks because Sam has low vision, the noise and feel of the tools stimulate his other senses.
Like many a home handyman, Samuel also loves watching Better Homes and Gardens, and his favourite part is always seeing builder Adam Dovile and landscaper Jason Hodges at work.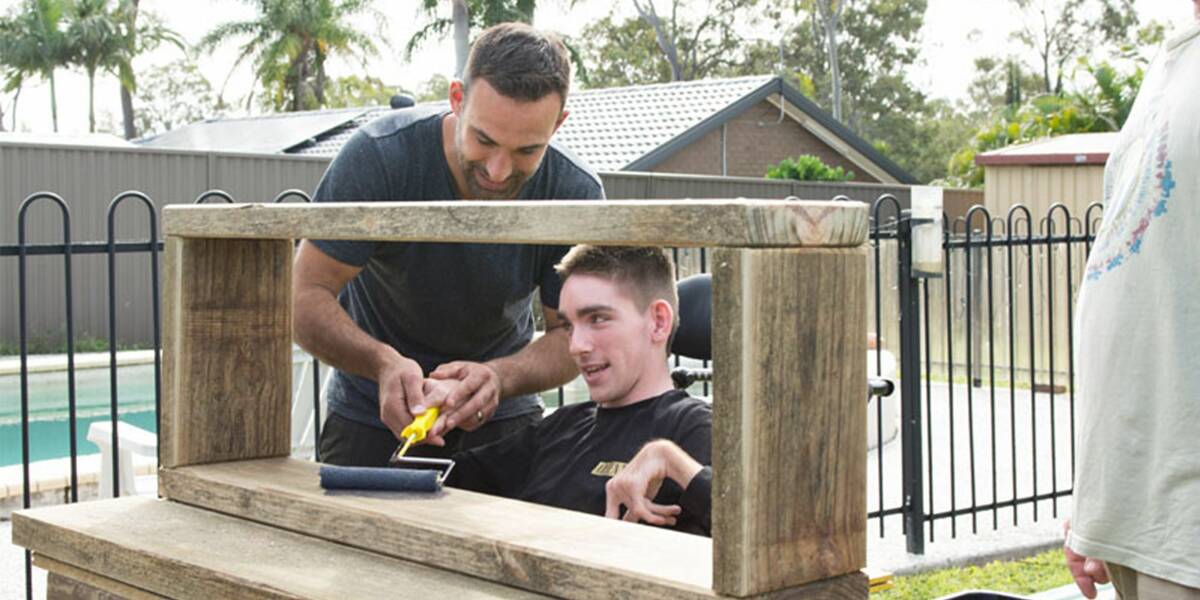 The Wish
Samuel's wish to meet Adam and Jason
When local Make-A-Wish volunteers visited Samuel to capture his wish, he knew exactly what he wanted - to meet Adam and Jason from Better Homes and Gardens.
Samuel wanted to be part of their team and work on a project together, so long as he could be the one in charge of the tools!
Samuel likes taking the lead, and was keen on the idea of being their foreman for the day.
When he found out his Better Homes and Gardens wish was coming true, Sam's mum said he couldn't sleep that night - he was just so excited!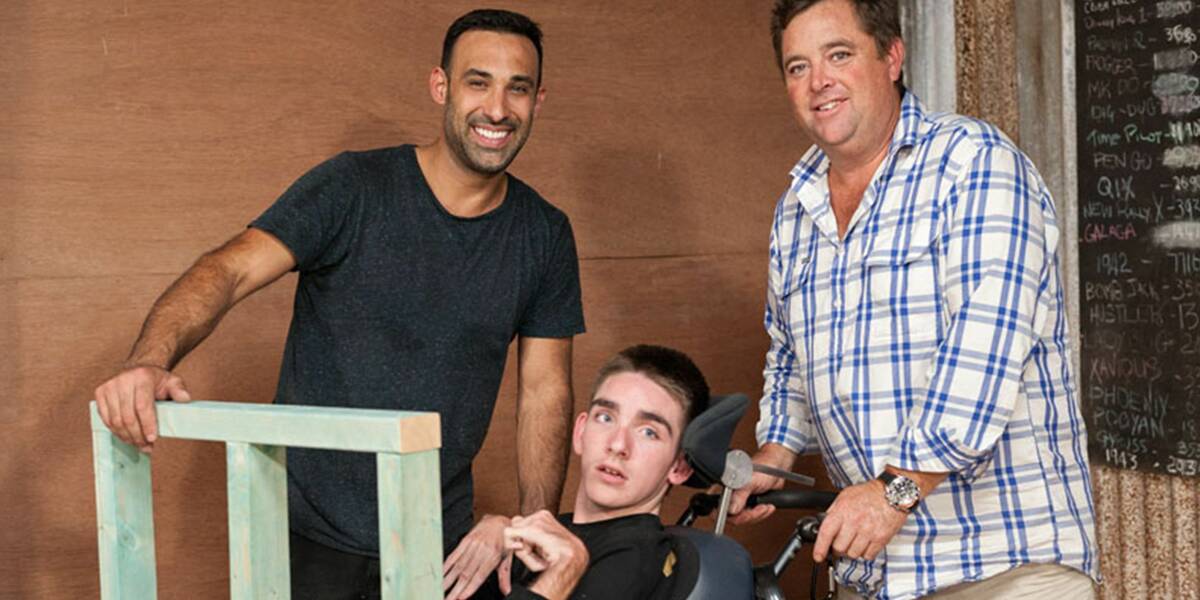 While Samuel knew his wish was coming true, his family kept the details vague - until one day, there was a knock at the door and his heroes Jason and Adam were there!
As they explained, they were going to work with Samuel over the next couple of days to create his very own fire-pit area to enjoy with his family. They had also designed a 'man cave' space, with made specifically to size, so that Samuel could access his workbench and tools from his wheelchair.
Following a trip to Bunnings for supplies (and a sausage!), the team soon got to work on turning their design to reality. They also managed to add a new path through the backyard enabling Samuel to navigate more easily.
Wish Effect
An emotional reveal
On day three, Samuel's family managed to coax him away for a few hours while Adam, Jason and crew made the final finishing touches.
With the hard work finally done, and a new garden oasis complete, it was time to get Samuel's family and friends around for a celebratory BBQ!
Watch Better Homes and Gardens to see Samuel's project and experience unfold.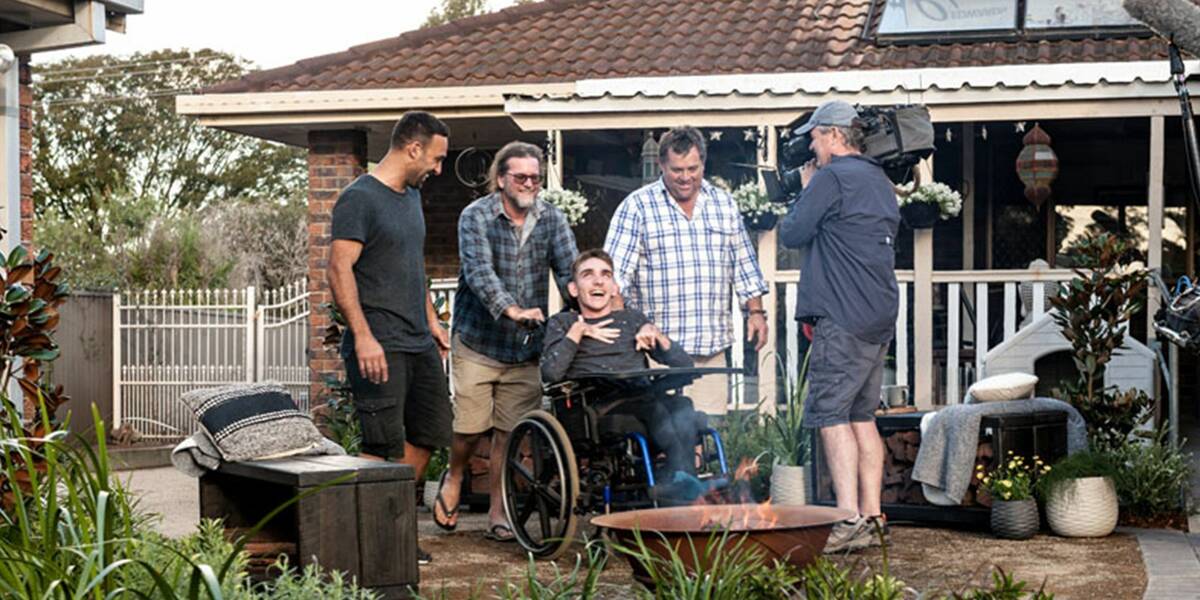 You can make the impossible possible
As one of Australia's most trusted charities, we couldn't make wishes come true without your help. Please give what you can - every dollar counts.

The Wish Journey
How a wish comes to life
Make-A-Wish volunteers visit each child to capture their greatest wish, getting to the heart of what kids truly want and why. This profound insight is part of what makes Make-A-Wish unique, giving children full creative control and helping to shape their entire Wish Journey.
Back at Make-A-Wish HQ, we partner with families, volunteers and medical teams to design the ultimate wish experience - and start rallying our partners and supporters to help make it happen.
In the lead up to the wish, we take each child on a journey designed to build excitement and provide a welcome distraction from medical treatment. Anticipation can be incredibly powerful, helping to calm, distract and inspire sick kids at a time they need it most.
When the moment finally arrives, children get to experience their greatest wish come true - it's everything they've imagined and more. Pinch yourself, and don't forget to take a breath and enjoy every precious moment!
Wish impact studies show that a child's wish lives on, long after the moment. A wish gives more than just hope – with an incredible and lasting effect on the lives of sick kids, their families and wider communities.