Wish kid Claude vs. basketballer Ben Simmons
A heart condition means Claude, 12, needs to slow down on the basketball court. But he was quick to nominate meeting hoops star Ben Simmons as his wish. Thanks to generous donors and supporters like you, Claude's wish came true. This is his story.

Background
Meet Claude
When Claude, 12, was born doctors sensed he may have the same heart problem as his mother, a condition called hypertrophic cardiomyopathy.
His mother Tina passed away from the condition when Claude was 5, and a few short months later he had a seizure and was air-ambulanced to hospital where he had a defibrillator placed in his chest.
As he has grown up, Claude has fallen in love with basketball but doctors firmly advise against him playing competitively for a team.
"He's certainly been an active kid but he can't play competitive sport," dad Matt said.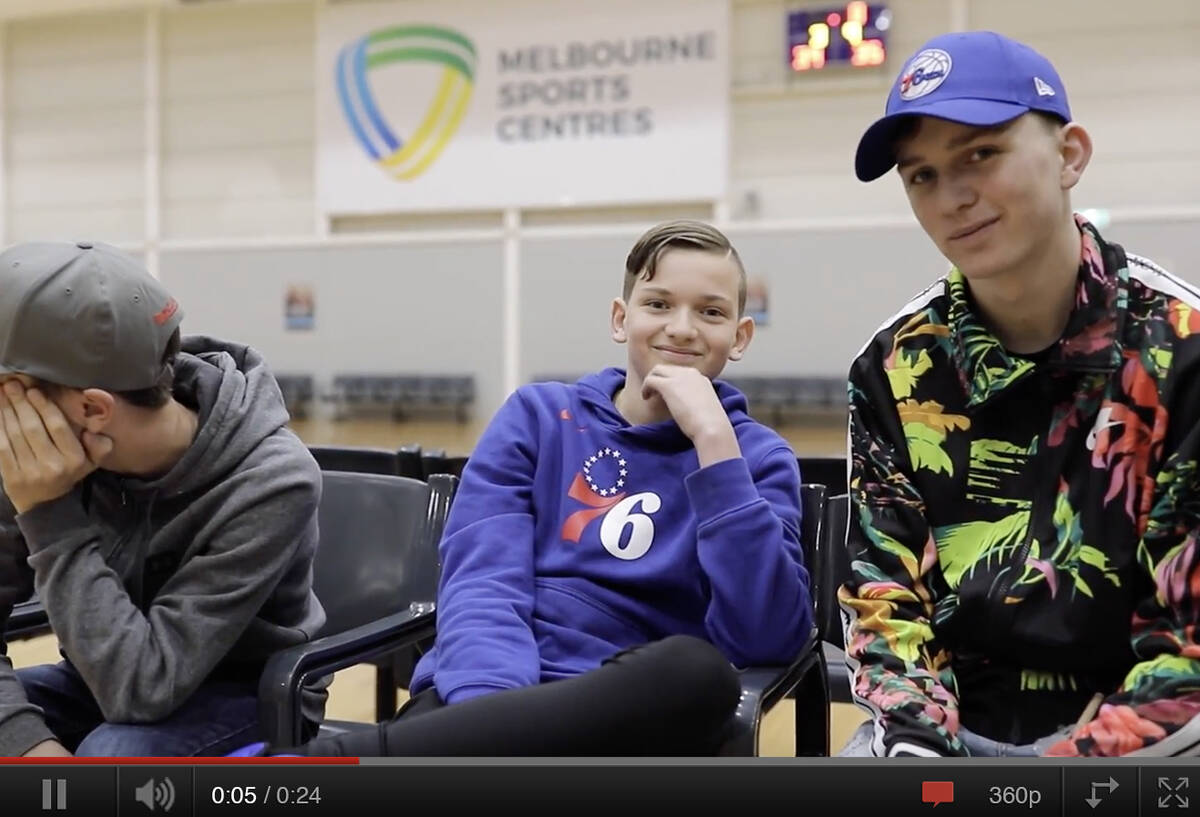 The wish
A basketball hero
While he can't play competitive sport, Claude can still practice his trick shots on the basketball ring at his family's home.
His wish was for Philadelphia 76ers star Ben Simmons to teach him some more tricks.
Claude was shooting some hoops after school one day when his dad Matt came to tell him his wish would be granted later that week.
Claude says he didn't sleep much over the following nights leading up to the big day.
"I was nervous thinking about 'will I make a good impression?', or will it end up being bad and him thinking that it's not a good impression," Claude said.
He needn't have feared, of course!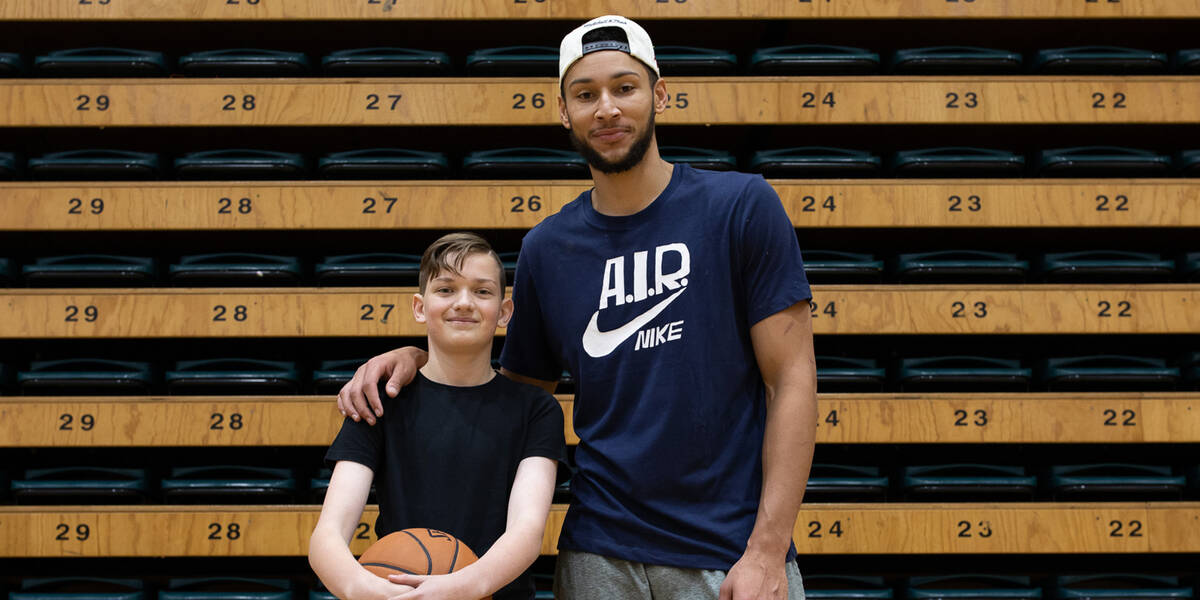 Help more kids like Claude
Wishes create moments of pure joy for families when they need it most. Become a wish-maker and help bring more to life today.

Wish Day
A special moment
Heading down to Melbourne to meet Ben, Claude and Matt were joined by older brother Hamish - who has the same life-threatening heart condition, and had his own wish two years ago - as well as Claude's best mate, Patty.
As Claude entered the court with Ben, he put up a shot from near the free-throw line. It was nothing but net (also known as a 'swish'), causing Ben to offer an approving "okay!".
Claude, Hamish, Patty and Ben then played two-on-two, with the three boys enjoying every moment with the Melbourne-born NBA star.
Claude said the thing that stood out about Ben was his laid-back nature.
"When you think of it, he's just your casual Australian chill-out guy," Claude said.
"If your car gets broken down or something, you'd just walk up to him and he'll be an 'oh yeah, sure' type of person."
To see the smile on their faces meant a lot to me, and hopefully gave them a little bit of strength to keep pushing.

Ben Simmons - on what it was like meeting wish kids Claude and Charlie when visiting Melbourne this August
Wish Effect
Best day ever
Following the wish, Matt said it was without question Claude's best day ever.
"This is easily the best day of his life. It's a memory that he can cherish in the future. Especially if he goes through difficult times, he can look back on the day and it'll give him positivity and inspiration, but will also keep him focused on the future," Matt said.
For Claude, it was an experience that he will cherish forever.
"I'll remember it for the rest of my life, it'll stay in my memory for a really long time," he said.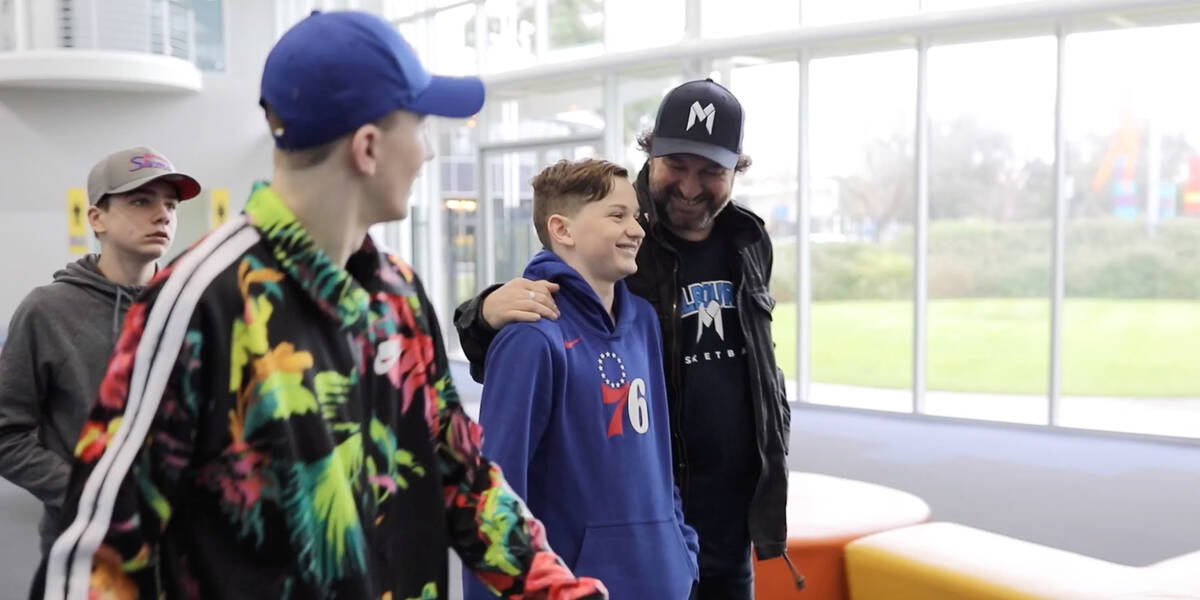 It's just amazing what Make-A-Wish can do and I just think that they are miracle-workers.

Claude - 12 years old, wished to meet Ben Simmons and play some trick shots together
Thanks, Ben Simmons and team!
"We're incredibly grateful to Ben and his team for giving both Claude and Charlie unforgettable and unique wish experiences in recent weeks. Claude's family have been through so much, and meeting Ben and having the chance to play one-on-one, is something they'll remember forever."
Sally Bateman, CEO, Make-A-Wish Australia

You can make the impossible possible
As one of Australia's Top 20 most trusted charities, we don't receive government funding. Please give what you can - every dollar counts.

The Wish Journey
How a wish comes to life
Make-A-Wish volunteers visit each child to capture their greatest wish, getting to the heart of what kids truly want and why. This profound insight is part of what makes Make-A-Wish unique, giving children full creative control and helping to shape their entire Wish Journey.
Back at Make-A-Wish HQ, we partner with families, volunteers and medical teams to design the ultimate wish experience - and start rallying our partners and supporters to help make it happen.
In the lead up to the wish, we take each child on a journey designed to build excitement and provide a welcome distraction from medical treatment. Anticipation can be incredibly powerful, helping to calm, distract and inspire sick kids at a time they need it most.
When the moment finally arrives, children get to experience their greatest wish come true - it's everything they've imagined and more. Pinch yourself, and don't forget to take a breath and enjoy every precious moment!
Wish impact studies show that a child's wish lives on, long after the moment. A wish gives more than just hope – with an incredible and lasting effect on the lives of sick kids, their families and wider communities.