Charlie meets Ben Simmons
Through three years of treatment for lymphoblastic lymphoma, Charlie's love of basketball kept him going. His wish to meet Australia's number one basketballer Ben Simmons today was a dream come true.
Watch 7NEWS video clip
Background
Meet Charlie
Charlie, 12, has B lymphoblastic lymphoma – an aggressive cancer that occurs mainly in children and adolescents, with two-thirds being male. The good news is Charlie is currently well, having recently completed three years of treatment.
However Charlie's parents still remember the shock they felt when he was first diagnosed, not long before his ninth birthday. His mother Jane said Charlie didn't even feel sick before he got the news.
"He was playing basketball, playing footy, just a normal 8-year-old. And then they did a biopsy and said it was lymphoma," she said.
"It was very hard to explain to him at that age."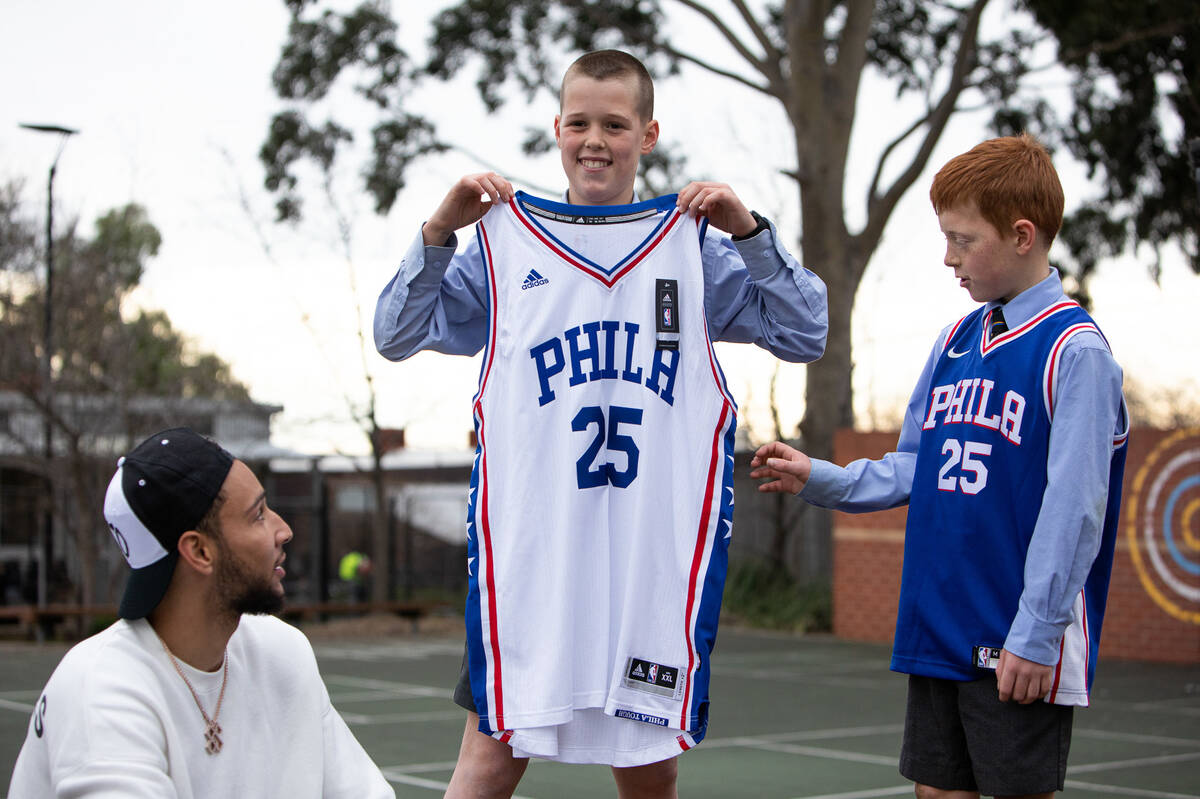 The wish
A basketball hero
Charlie is passionate about basketball – throughout most of his treatment, he continued to play for two teams, and has no fear of taking on players one-on-one.
But the guy the 12-year-old dreamed about facing up to was Ben Simmons, the Australian who is quickly becoming one of the best players in the National Basketball Association (NBA) in America.
Charlie watches Ben play for the Philadelphia 76ers and his greatest wish was to play with Ben, and get some tips and tricks on how to be a better player.
Charlie knew Ben was in Melbourne, but his parents played down the chances of his wish coming true.
"We said Make-A-Wish are doing their best but Ben Simmons is a very busy guy and it may not happen," Jane said.
Watch 7News clip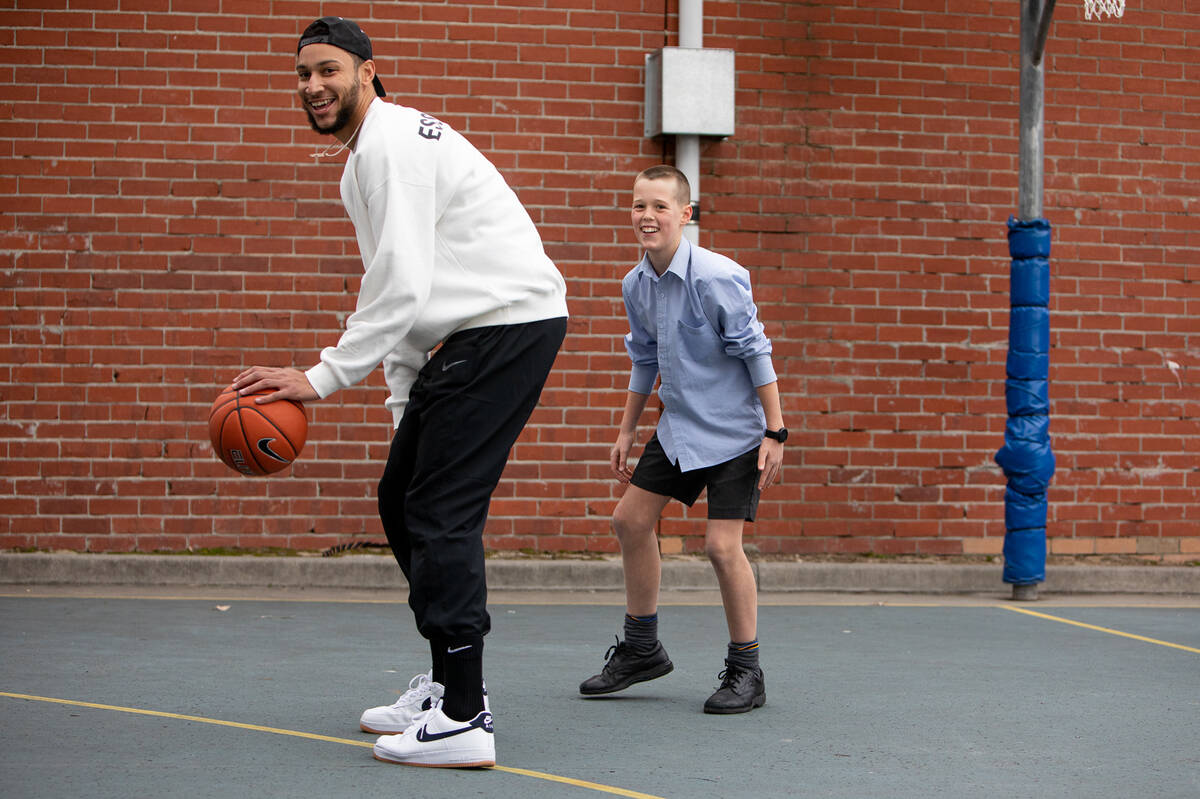 Wish Day
A special moment
Charlie thought Tuesday 6 August was going to be just a regular school day. But instead of normal classes in the afternoon, the lesson turned out to be basketball - and the teacher was NBA superstar Ben Simmons.
When Charlie first saw Ben in his classroom he was gobsmacked: "Oh my God," he said.
"Ben said 'do you think we can get out of class' and Charlie said 'I don't really like Chinese anyway'," Jane said.
"The two of them and Charlie's younger brother Lachie went to shoot some hoops, Ben put some moves on them, and they teamed up to put some moves on Ben.
"It was amazing. Someone you have as a poster on your wall suddenly is there shooting hoops with you."
Awesome, that made me feel so good – I'm glad I could do that for him and his family. When kids go through so much, if I can support him and show him I'm there for him, you know - it's amazing.

Ben Simmons - on what it was like meeting Charlie and seeing his reaction
Wish Effect
An unforgettable day
Jane said seeing Charlie's reaction was priceless.
She said Ben presented Charlie with an autographed 76ers singlet and basketball, the latter "going straight to his room, never to be bounced".
"He has been through so much so just to have those moments with Ben Simmons will be memories he will have forever.
"The Make-A-Wish team have just been amazing with all the behind-the-scenes stuff that has gone on to pull this off. And credit to Ben Simmons too, he's a busy man.
"He was great and really engaged with the boys.
"I have a smile nearly as wide as Charlie's on my face. It's just amazing to see that happen."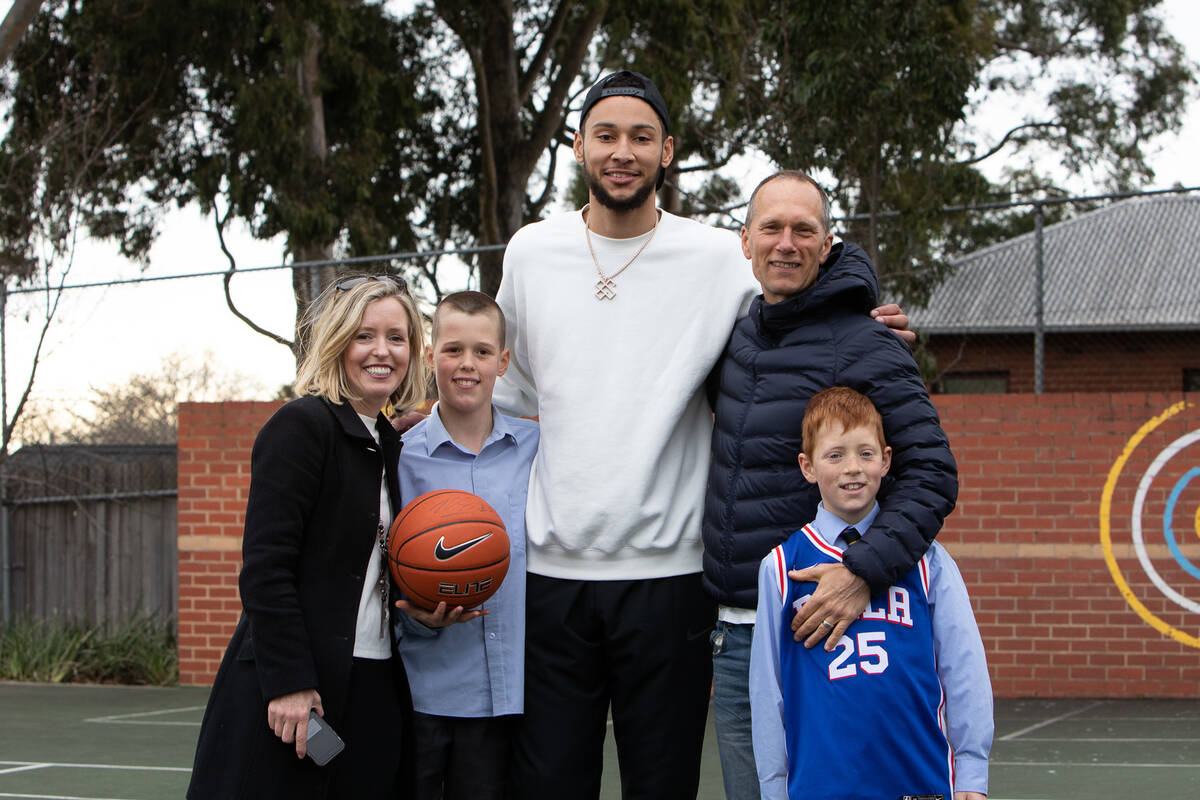 He just went back to class with a spring in his step and a smile on his face and he's going to dine out on this for a long time to come. It has given him a massive boost not to mention a lot of cred at school!

Jane, Charlie's mum
Thanks, Ben Simmons and team!
"We're incredibly grateful to Ben and his team for giving Charlie an unforgettable wish experience today. Meeting Ben, and having the chance to play one-on-one, is something Charlie and his family will remember forever."
Sally Bateman, CEO, Make-A-Wish Australia

The Wish Journey
How a wish comes to life
Make-A-Wish volunteers visit each child to capture their greatest wish, getting to the heart of what kids truly want and why. This profound insight is part of what makes Make-A-Wish unique, giving children full creative control and helping to shape their entire Wish Journey.
Back at Make-A-Wish HQ, we partner with families, volunteers and medical teams to design the ultimate wish experience - and start rallying our partners and supporters to help make it happen.
In the lead up to the wish, we take each child on a journey designed to build excitement and provide a welcome distraction from medical treatment. Anticipation can be incredibly powerful, helping to calm, distract and inspire sick kids at a time they need it most.
When the moment finally arrives, children get to experience their greatest wish come true - it's everything they've imagined and more. Pinch yourself, and don't forget to take a breath and enjoy every precious moment!
Wish impact studies show that a child's wish lives on, long after the moment. A wish gives more than just hope – with an incredible and lasting effect on the lives of sick kids, their families and wider communities.