Behind The Wish - Debbie
Meet Debbie Velez - a former Wish mum and now a Make-A-Wish volunteer with the Sydney South Branch.
We reveal the emotional medical journey of Debbie's daughter Leticia, and years later, Debbie's decision to join Make-A-Wish to help deliver wishes just as impactful as Leticia's.
Behind The Wish is our series of inspirational reads diving into the everyday superheroes involved in creating life-changing wishes.
This extraordinary story will take you approx 10 mins to read, so grab a cuppa and prepare to be inspired ⭐️
DAUGHTER'S JOURNEY
Fighting for her life
I joined Make-A-Wish because my daughter Leticia had a wish. Her name is from a city in Colombia, my husband is Colombian. I picked the name from the map of Colombia. It is in the Amazon and we plan to go there this Christmas.
Leticia was diagnosed with acute lymphoblastic leukaemia in 2010.
She really struggled with treatment, she had a really bad run and ended up on life support for over six weeks.
It was at that point that even the ICU doctors were saying 'we are just waiting for her to fight for her life. We can't do anything else'.
I was speaking with the outreach nurse, Donna, and I remember her saying to me 'look, we can take everything else away but not her hearing', she said 'she still has her ears'.
I started thinking about her wish from Make-A-Wish. I knew she always wanted a dog.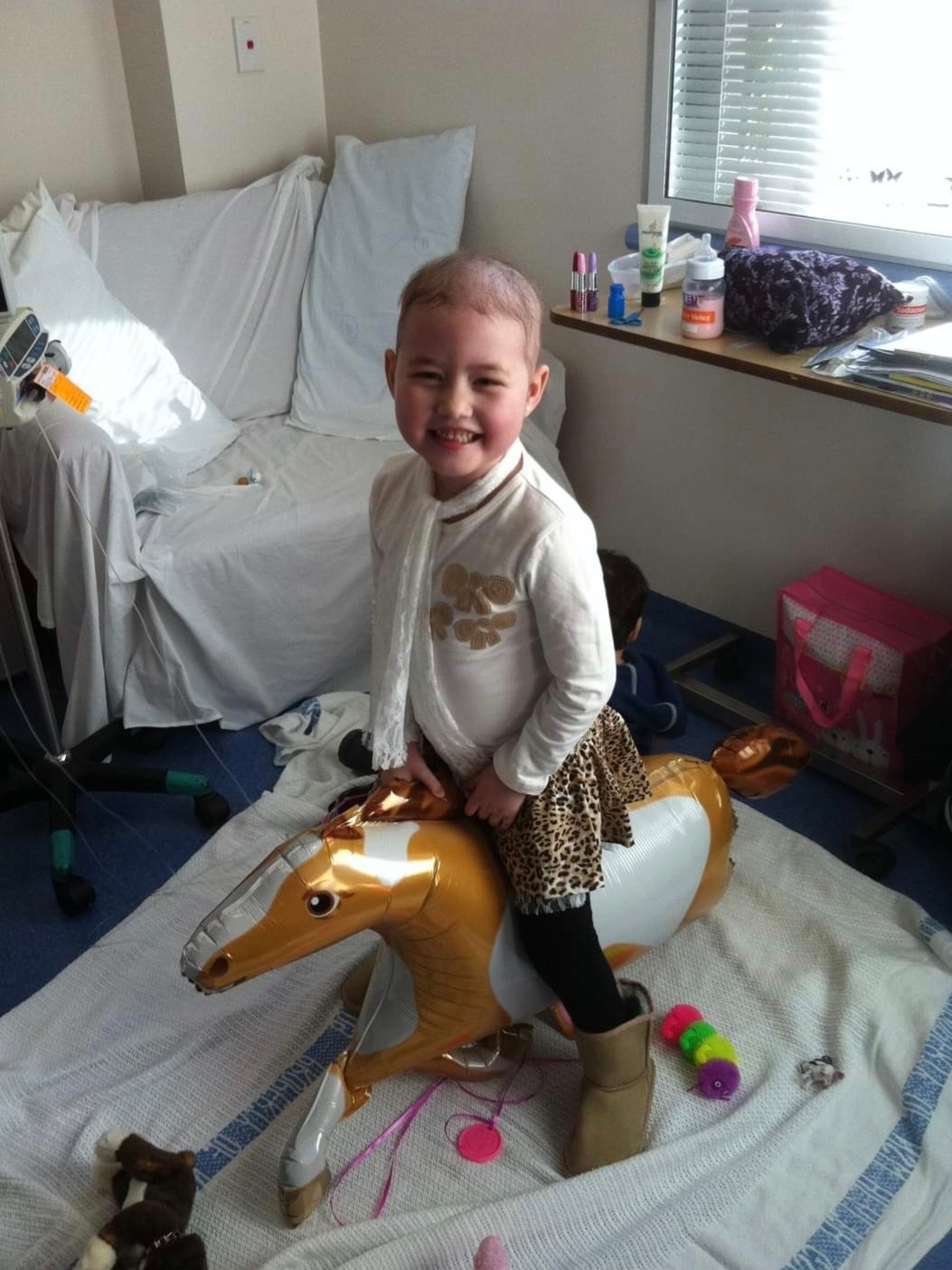 So, I would say to her 'you need to get up and fight' and 'you have a wish to look forward to'. So basically, I would tell her she needs to think of her wish.
And that really helped me to see the future. And having a wish to hold onto was important for her too.
We had talked about a wish before she went to ICU so I just thought I would keep that going and get her to focus on the wish.

ICU STINT
Heartfelt words were heard
It was very hard to stay optimistic. I was there as much as I could, all hours of the night.
We slept in the ward on level 3, the hospital let you stay there for x amount of money a night. We would be running down to ICU at all hours when she would try to wake up.
When she did, I would just reassure her and tell her to think of something nice. The focus was on her, just to get through it.
Giving her hope. I would say 'you gotta get up and get out of this bed' and 'you got to fight'. I would sing to her. I would play CDs. Read Barbie books and just keep telling her she really needed to fight.
I know all my words in ICU got through to her. 100 per cent they did. The most amazing thing happened after her stint in ICU. She had Influenza A and we were on the ward and she was sitting on the bed and she was watching Play School on the television and she said 'mum, mum that's the song you sang to me in ICU'.
I nearly fell off the chair. It was the song 'Morning town Ride'.
She remembered.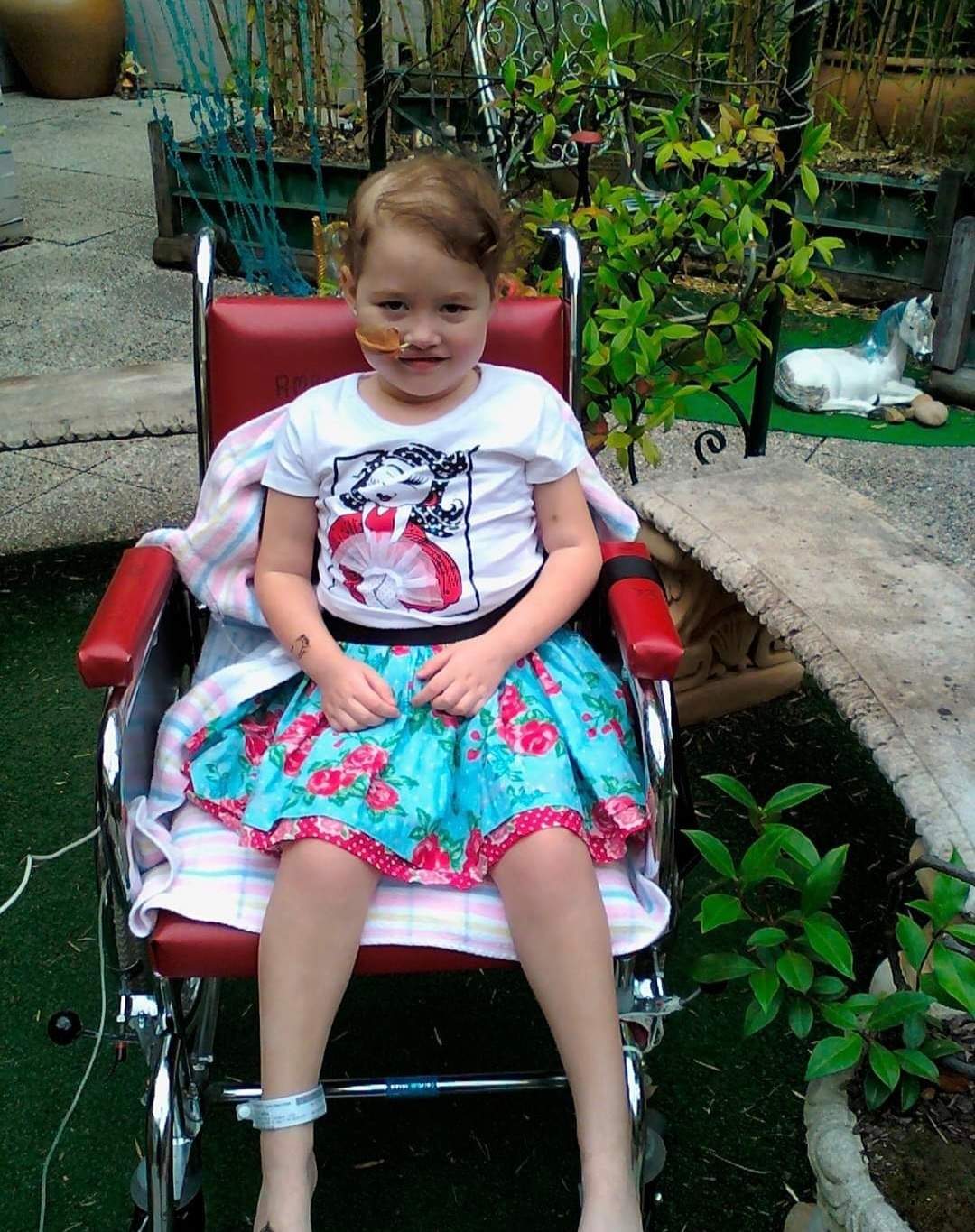 I remember her trying to open her eyes in ICU, but she was heavily sedated.
She couldn't really move much. Plus, she was intubated and had 28 different medications through her arterial lines.
I really think me telling her to wish for something, it definitely gave her that strength to hold on and keep on going.
That's why I am really a true believer of the wish. Even though she was only 5, I remember her personality.
She withdrew. I would be strong and tough on her and say 'the nurses are coming' and they would come with these long needles.
They would jab in her thigh. I would say 'you have got to have it; they can't go away till you do'.
I saw other parents delay, delay, delay injections. I just did not want that extra drama for my daughter. I would see her face and she would accept it and never complain.

FINDING HOPE
Religion and wishes
I needed to find some way to give her some power. And that was the wish.
Every opportunity we had I would teach her on the whiteboard the clock and how to read, because I would say to her, we were going to get her to the first day of school.
And we did. She went for like an hour, with a walker, but she did it. She drew a rainbow. We got there. I tell her these things; tell her she can do it.
Like my mum would say, I was fighting with her.
A lot of people don't have a religion, so the next best thing would definitely be a wish.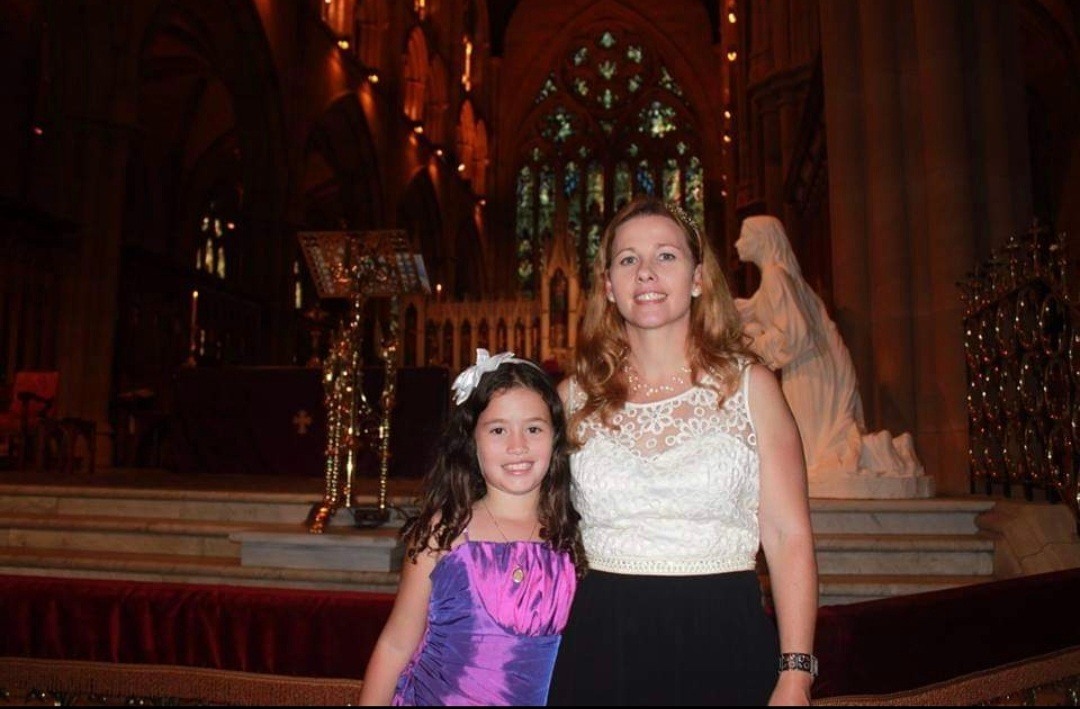 The Randwick Catholic Church up the road from the hospital does masses so I would go up there to pray.
That definitely helped me as well. I did speak to God and say 'if you're going to take her, just let me know'. But I tried to make her fight.

BUMPY YEARS
Resilient Leticia wants to work with animals
Now she gets intermittent infections, like chest infections, and she's had shingles four times. She has had random leg pains, and had a lot of trouble walking.
She's come a long way. During COVID she had a lot of mental health battles. She told us that lockdown was a memory of being in isolation and being by herself.
She went to an all-girls school. It was that isolation, of not being able to see her friends and not having a connection. And that just gave her memory triggers.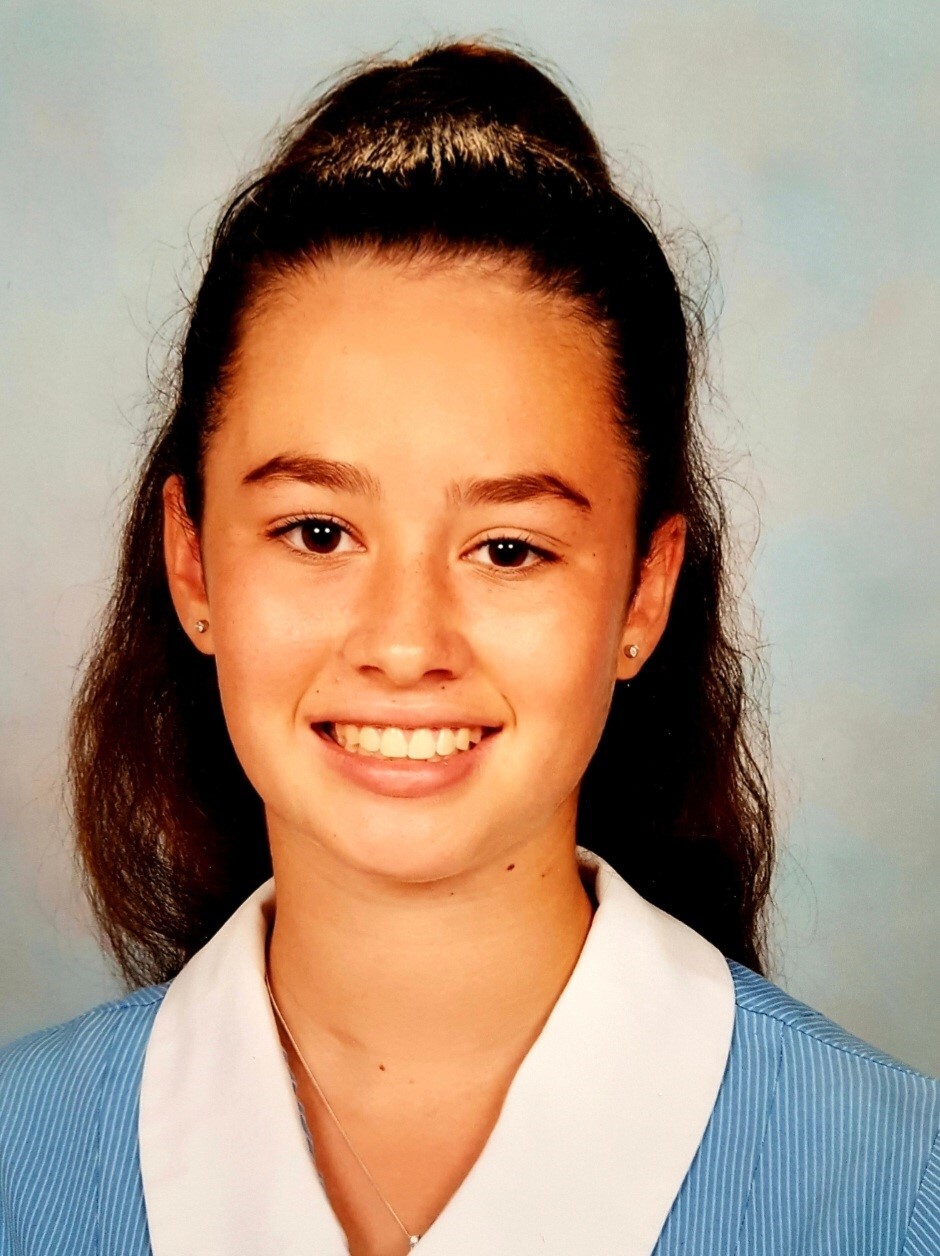 You think when they are that little, they are resilient and they won't remember much, she remembers a lot more than I ever imagined.
A lot of hard memories too. She lost a lot of friends.
She wants to go university in Wollongong to study Marine Biology. If not, maybe Queensland and work out of Heron Island with the turtles. She is very passionate about animals.

WISH TIME
Dog tale short-lived as snow trip comes alive
After she got better and got out of ICU, she wanted a dog. That was her wish. But I wasn't sure, I mean she was in and out of hospital all the time. Even when she was on oral chemo. I just couldn't risk that chance of having a little puppy.
So, I told her to think of another wish. By that time, she was around about 7 and she wanted to make snow angels.
So, I thought Make-A-Wish would do some kind of little show with snow or maybe a snow machine in the backyard or the park.
But I was blown away: they put us up for five nights' accommodation at Thredbo with ski lessons, all food paid for.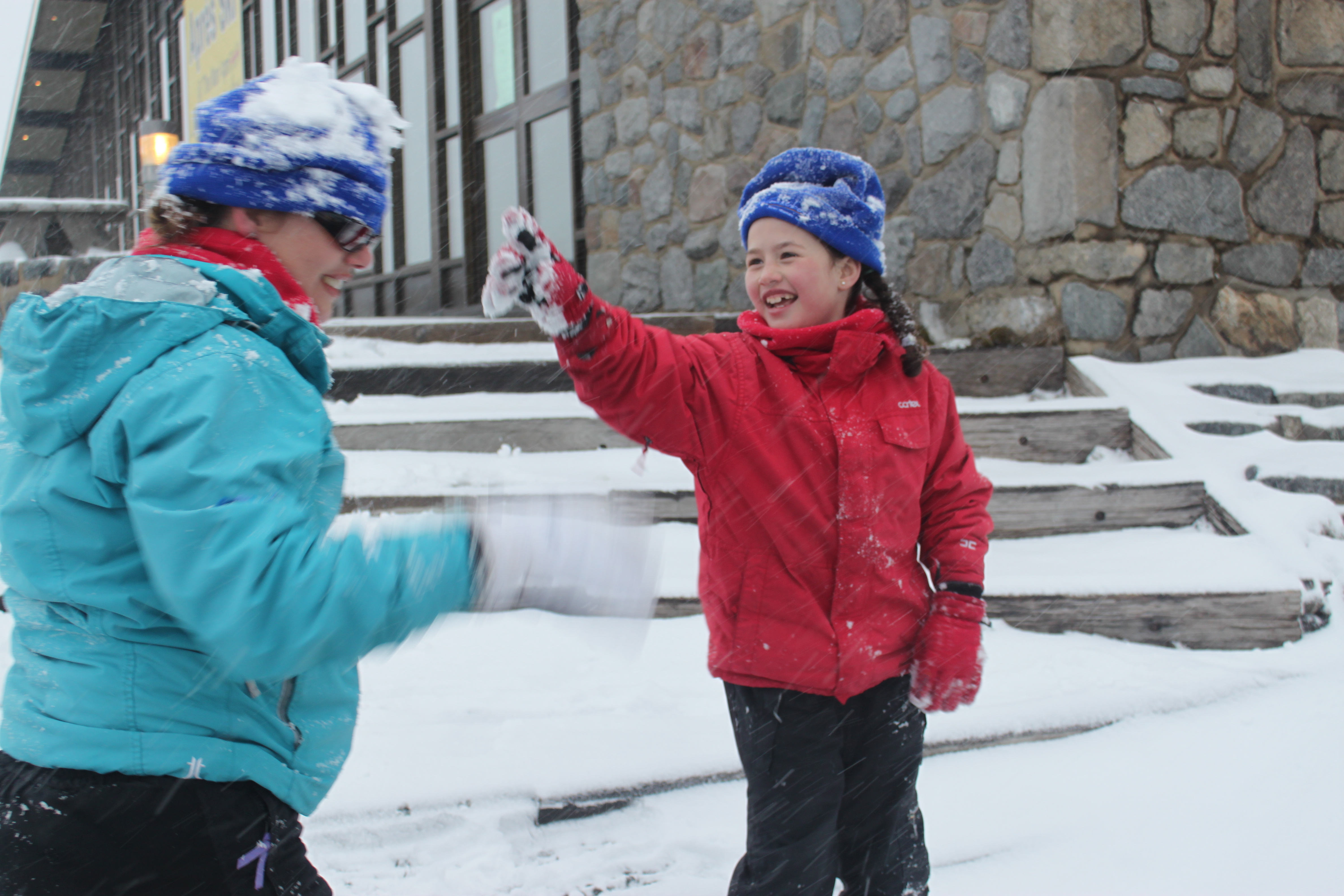 It was absolutely amazing. I was blown away. It is something we always talk about.
We did make snow angels and had snow fights. I am not a fan of the snow but we had never been to the snow and we had the best time. The wish was huge, it was something we could hold onto.
The wish is everything. It's something to focus on. It was something she had control of, she could own. She had to get the needles whenever the nurses came in, but this was her wish and on her terms.
No one else could tell her what she was going to wish for. I really made her own it.
To be honest, the wish was a game-changer. It even helped me to give her that ownership and give her the ability and power to make a decision.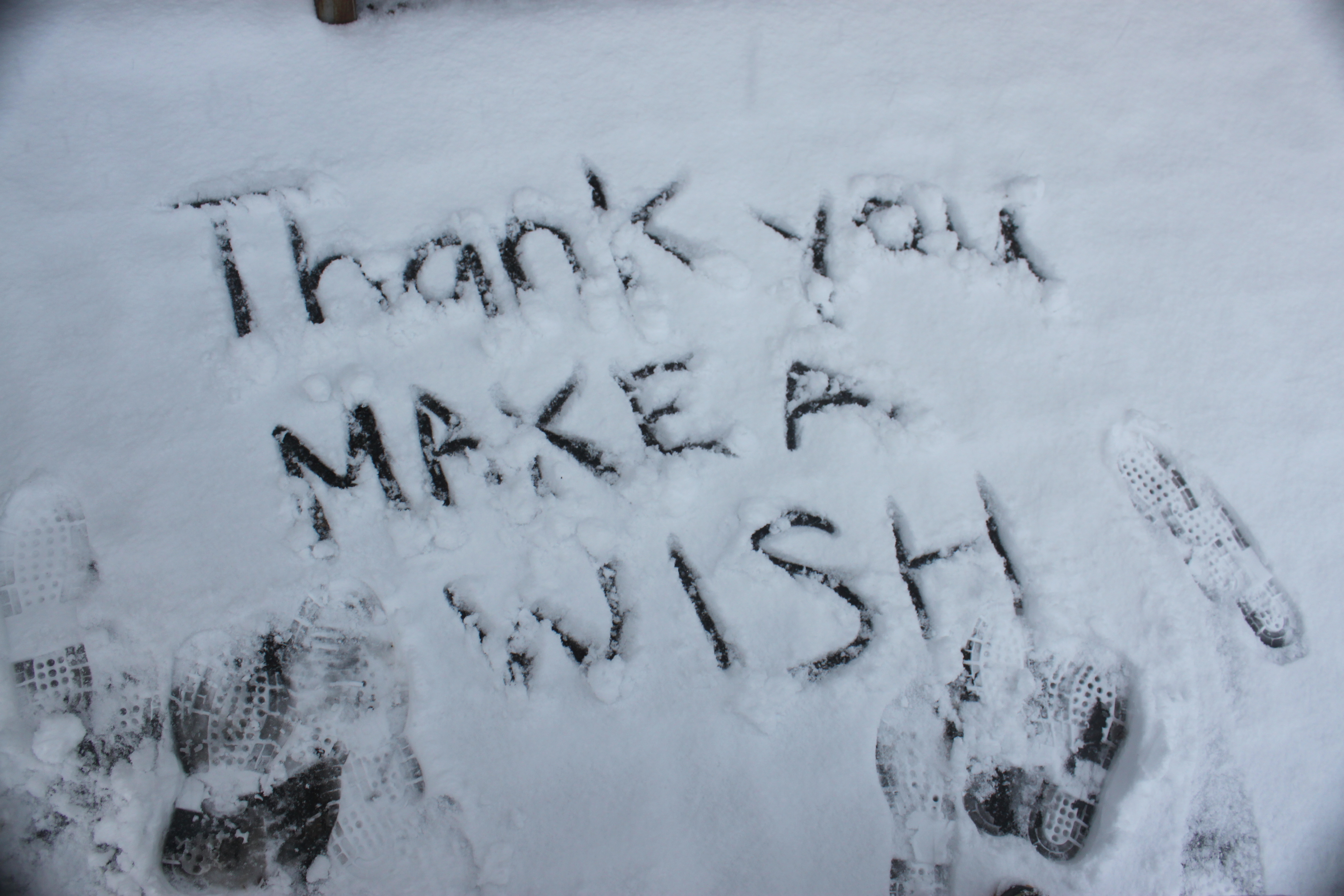 EARLY DAYS
Days of dough leads to food career
I was born in Fairfield, NSW. I grew up in Bankstown and my parents are originally from Newcastle. They moved to Sydney in the 60s because they knew that BHP was closing and there wouldn't be many jobs for us as kids.
My dad is a baker by trade, so he opened up bread shops. The largest one was in Bankstown. It was called The Bread Factory - McNamara's Bread and they had another five bread shops. It was like Baker's Delight.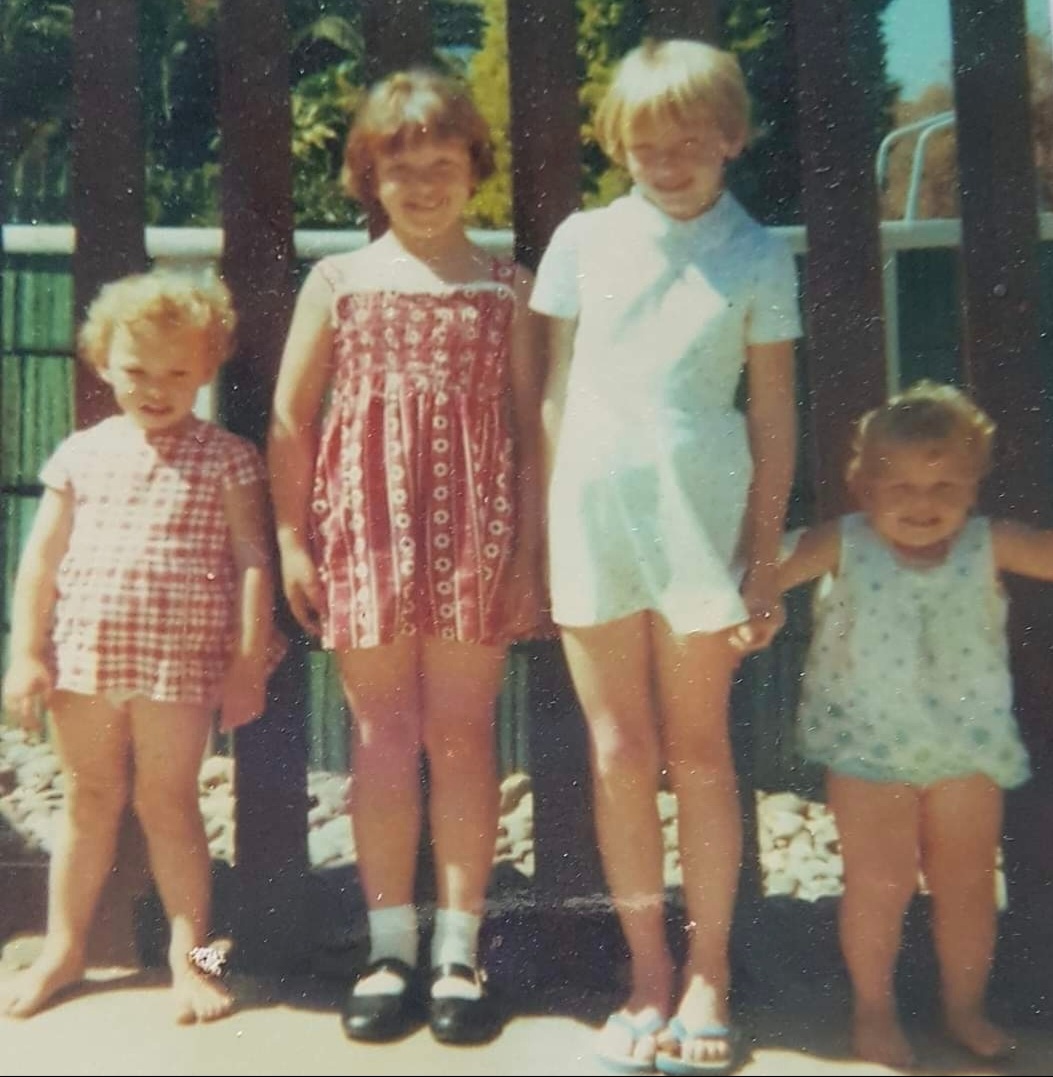 It was a big business. My mum went to work in the main shop and she'd walk my three older sisters (pictured: Debbie far right) and I to school every day to the Bankstown public school.
I had a lovely, fun childhood running around our shops eating what I wanted.
Lots of hot bread straight out of the oven, with vegemite and margarine. There is nothing better. I still have a bread machine today and two weeks ago myself, my husband and kids made fresh pizza.
Believe it or not, I am actually in food today. I ended up working at George Weston Foods. I did R&D testing for Tip Top Bakeries.
In my early days, I worked with all the different wheat growers around Australia to optimise the wheat varieties for the Tip Top Bakeries.
It was very in-depth working with organisations like CSIRO.
Then I went into quality roles, becoming Quality Manager in one company. Now I am in sales, I sell food ingredients to multinationals. I love it.

ROCK ROMANCE
Couple cook up relationship at work
My husband and I actually met at George Weston foods.
He was doing his fourth-year Uni work experience, he was doing Chemical Engineering.
We would both go out as friends. We both liked grungey bands like Powderfinger and Grinspoon, and in the end, it was just us two with our Doc Martens going to these gigs.
That's how we connected. We got married when I was 24, and he was 24. So, we have been married for 23 years this year.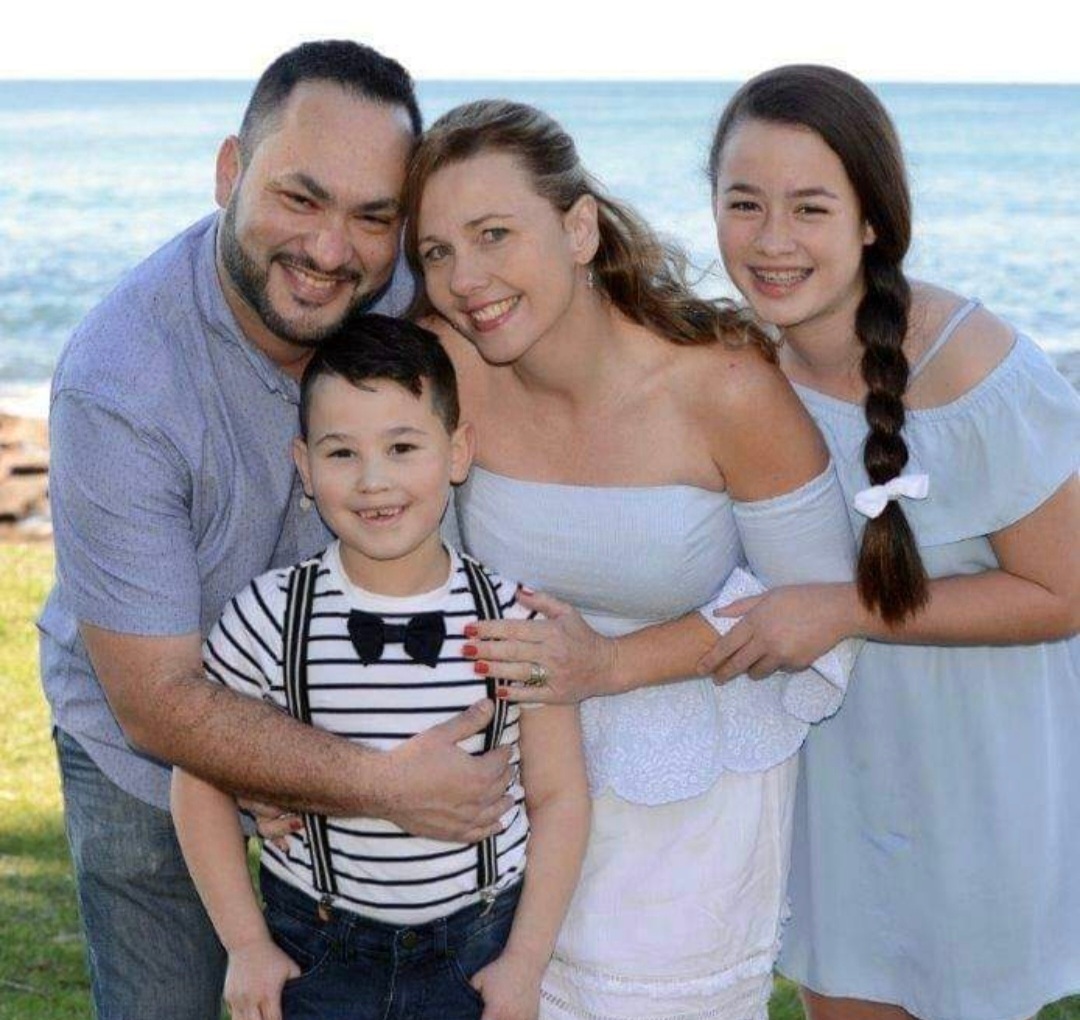 We had a major car accident, a drunk driver hit us.
The car pushed us into oncoming traffic and I broke both my feet, my back, had plastic surgery and my husband had major injuries too.
I think that, as well, is why we are so resilient. That was the year 2000, June 2, it was a winter's night.
It was very cold and I was working two jobs and I remember my dad telling me 'no, you're not going out' and I said 'no I need to go give my boss her present, it was her birthday' and I remember (my husband) Andres saying 'we don't need to go' but I said I told her I would.
I thought it would be rude not to do it. I was literally going to just drop off the present and go home.
But unfortunately, we had that accident and I think that actually helped me prepare for the journey with my daughter.
It made me strong and helped me get my priorities together. From every negative you can find a positive.

JOINING WISHFORCE
'It empowers me to give them some light'
It took me quite a while to join Make-A-Wish. I did get the paperwork, I think, about two years after we were home.
And then I just rang up and said no I can't do it. I did know a child from Leticia's journey and she was a Make-A-Wish ambassador and that made me want to join up.
That girl was always passionate to give back.
I knew I had really good ideas. I raised close to $30,000 by myself while my daughter was sick. Just after ICU, I put a calendar together of her drawings. I easily raised the money.
I had so much passion and so many ideas, so I thought why not be part of something bigger like Make-A-Wish. I wanted to give back. I think it was about 10 years after that she had been in remission that I joined.
I think I felt safer and could face it again. It is a struggle, there are times when I don't want to do any wishes. Because I am scared that, yeah, that the child might pass away.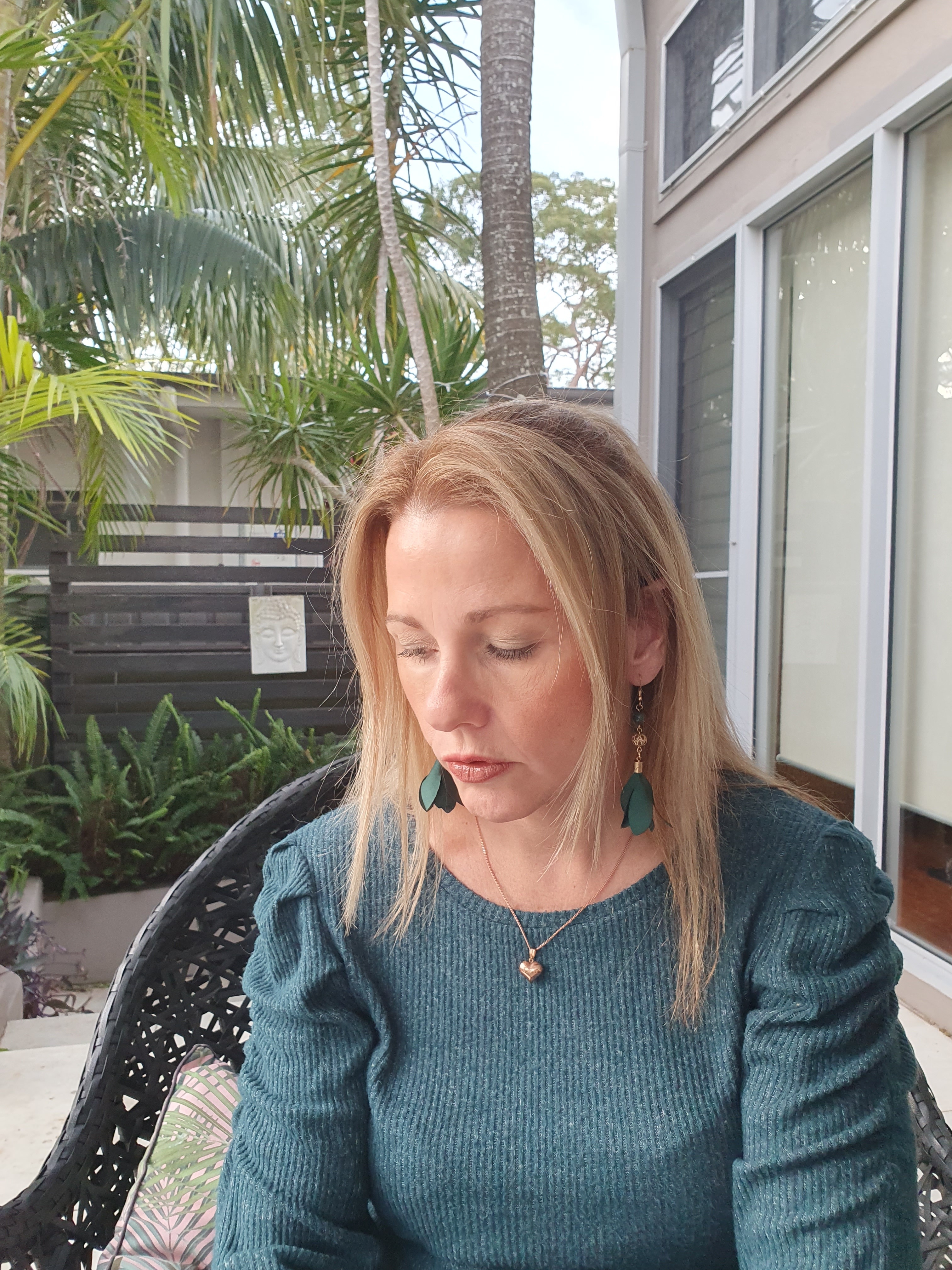 I do have survival guilt. A lot. I knew a lot of kids that passed away.
When you meet the wish family for the first time, you talk a little about yourself because you want to connect.
And as soon as I say my daughter had a wish and she's been off treatment for like 10 years, they are so happy.
And for me to say that, it really empowers me to give them some light. To give them some positivity, some focus and to have them know they can do it too. They are not alone.
We get chatting and I'm always very careful what I say. I tell them it's their journey and every wish is different.

WISH JOURNEYS
Spreading the message on the power of a wish
I always try and point out that it's their child's wish. I say to people how the wish helped my daughter.
It gave her some light when things were hard. When doctors were coming to see her or she had to have a procedure, we used the wish all the time.
We would say 'you need to think of your wish now' and give them little ideas about the power and the magic of the wish.
I tell wish parents it really helped me. It gives them strength to know someone who has been through it.
I say to them they know what works best for them and that the timing has to be right for them. I say 'don't rush it if the time is not right'.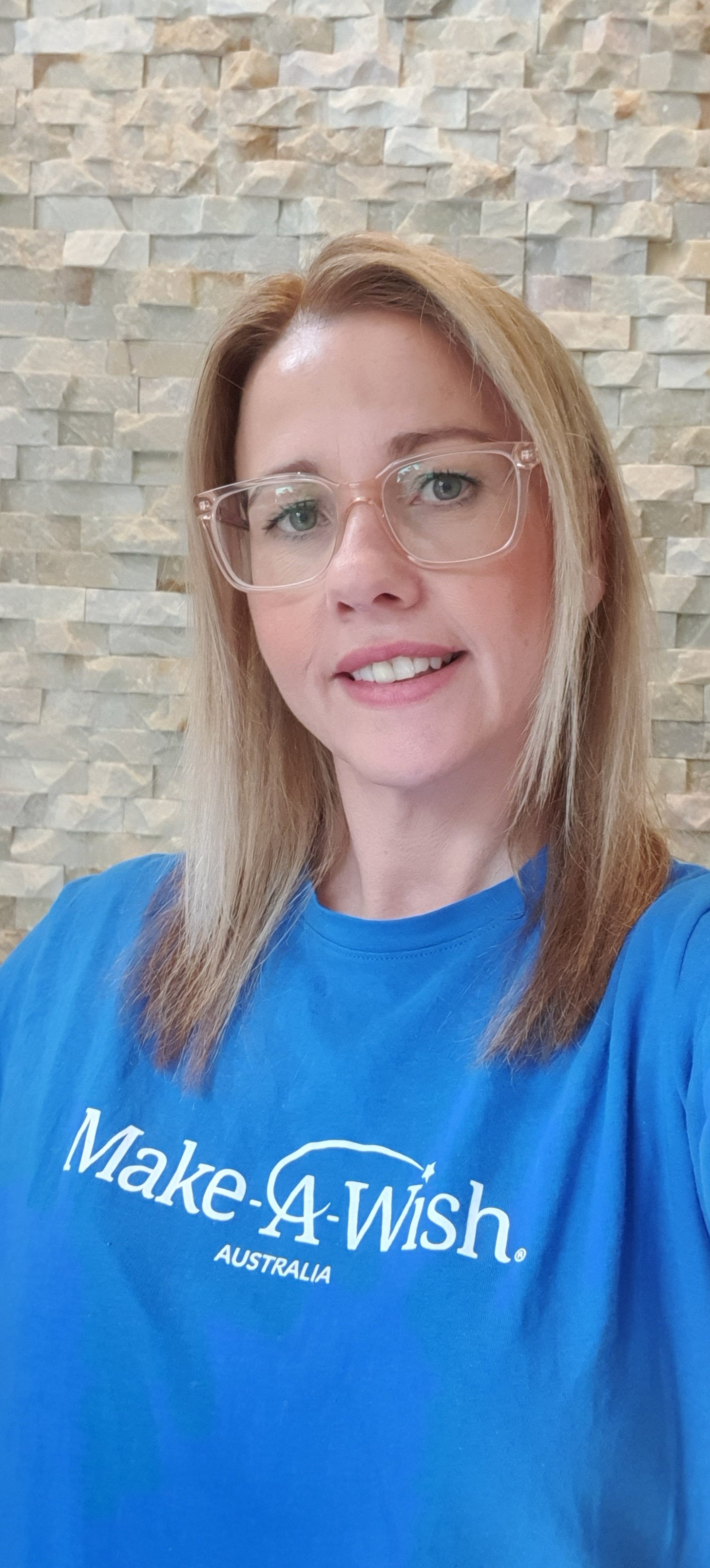 For example, one wish I have now the girl had a tumour on her spine and she couldn't walk.
I remember the dad was really stressed, he would say 'I don't know if it's the right time for the wish' and I told him he was right and it was his decision.
The wish is her wanting to swim with dolphins and maybe now isn't the right time. But you can still keep talking about the wish.
We can go and buy them little gifts and drop them at their door, to keep their anticipation going.
That then prompts them to keep thinking about the wish. It keeps them inspired.

FIRST WISH
Snow memories come back
My first wish, believe it or not, was almost identical to my daughter's wish.
And they live not too far away from us. And the wish boy was a similar age to my daughter.
I remember going with the other wish volunteer from the Branch and he didn't even know my daughter had cancer.
It was during COVID and we were sitting there outdoors and we were just talking, and they were a little embarrassed and didn't want us to wear the Make-A-Wish gear in the park. Which I understood.
They were a bit guarded, which I totally get, because you're with strangers. You're opening up a part of your soul and it's a part that's so hurt.
So, I had all these gifts including these balloons I made and was talking to the family and I just said 'my daughter (pictured below) had leukaemia like you' and the little boy's eyes lit up.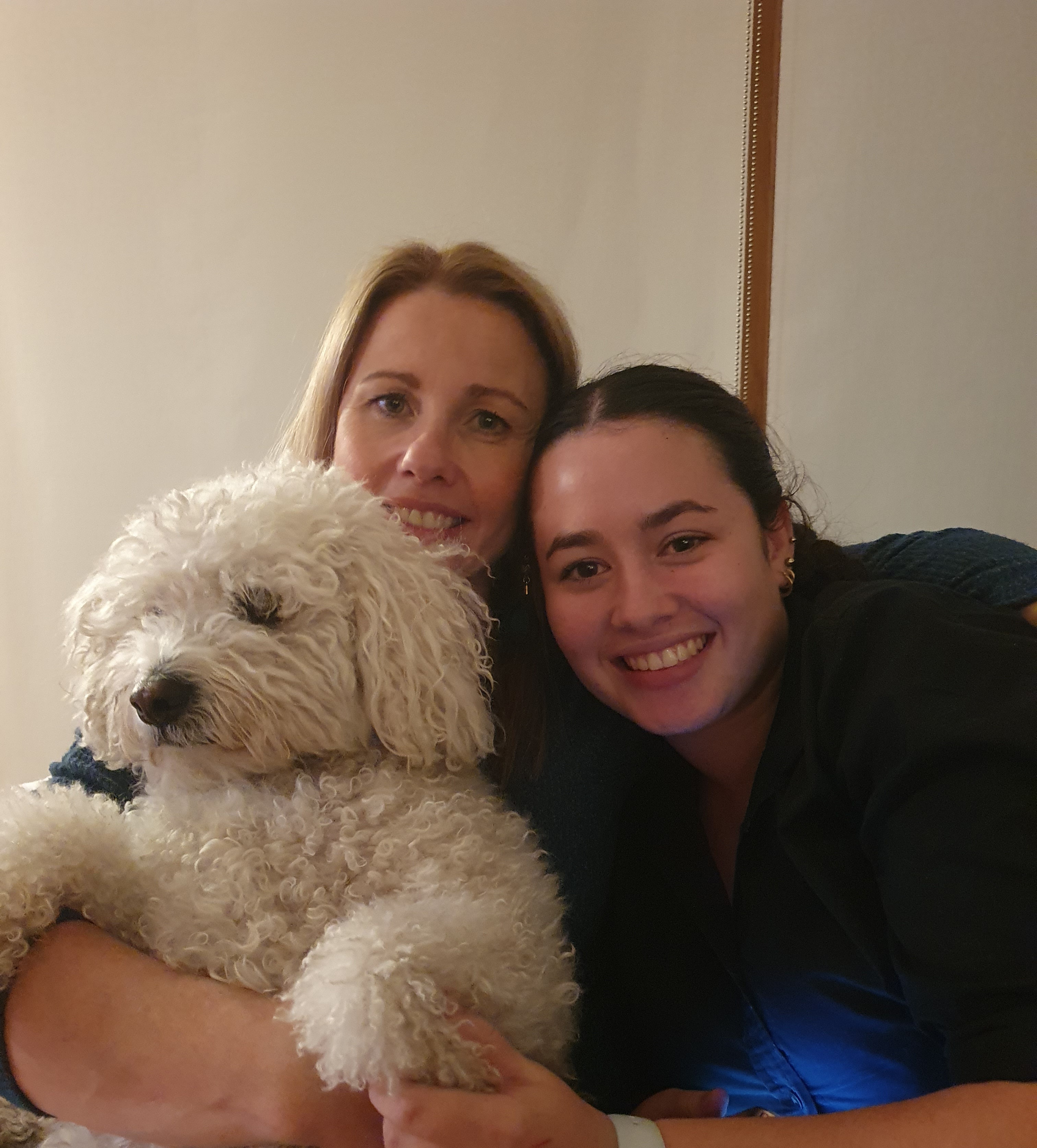 And the mum was like 'woah' and was really taken aback. So, I said 'have you been thinking about a wish' and was getting him excited.
He was so engaged. He said he didn't really know what to do.
And I said to him he can think about lots of things and I asked him what he liked. I asked him if he liked cars and trucks. Or if he liked dolphins.
I was saying all these things and then I said 'my daughter loved snow and making snow angels and she had never seen snow'. And he said 'I have never seen snow' and so we ended up getting the wish.
He wanted to have a snow fight in the snow and that was the wish. It was just amazing that that was my first wish and everything fell into place so easily.
I still chat to the mum today and she sent me all these photos. We had the anticipation wish party at McDonald's which my daughter did as well.
I made a video and put it together and thought they were not going to watch it.
But they watched it over and over again. I made a cake as well, a snowman cake. It was fantastic.
Everything fell into place and they had the best time. They went to the Victorian snowfields and it was the first time he had been in a plane.
I went to Kmart and got a big suitcase and filled it with gifts and made sure I got his brother a colouring-in pack for the plane.
Every time I took him a gift, I got one for his brother. I would tell the parents about trying to include the siblings in the Wish Journey.
I just helped them, held their hand along the way and told them they can get through it. I told them to keep looking forward and they'll get there.
PATIENCE
Finding the right wish
To give a wish is magical. It's so rewarding and fulfilling.
That first wish mum would message me and text me even when they were on the wish trip, she was texting me photos. To be able to give back was really special.
It was more than satisfaction; it was thinking about what life is about. It was a 360, I had my journey and I was helping someone on their journey and giving them inspiration, courage and some light at the end of the tunnel.
I just thought wow this is really what life's about.
The current wish I am on has been a lot slower. A lot harder. There's a lot more challenges with the child. It's a girl who is very sick, she is better now.
It's Ewing's Sarcoma. It's been hard for me because one of my closest friends in hospital, her daughter died from that.

The dad and I are very close, we talk a lot. He will ring me a lot at one stage when she was very ill and not able to walk. Their journey was hard but I would keep reassuring them, telling them to push through and focus on the wish.
It is still ongoing. Initially the wish was to meet a YouTuber but it has changed so many times.
I think they are not sure what to do and want to get the best out of it for her. I can read between the lines what's going on. They want to make the right choice, which is 100pc normal.
I said to him 'there's no pressure, if she doesn't know exactly what she wants then you have time, and keep the magic of the wish going'. I can't wait for the wish to happen, it's really close to my heart.

Fundraising
Helping bring funds in to make wishes happen
The other thing I have really loved is the fundraising. We had our High Tea last year and I managed to get so many prizes.
I got a 10 people whale watching cruise from Cronulla. I got a motorbike ride up or down the coast. Then Revlon donated, and Lindt. A friend of mine is a senior manager at Hoyts so she gave tickets. I was happy to ring around and do what I could.
I am Treasurer now. I love going for it, one thing after the other and trying to get people involved in Make-A-Wish.
For our trivia night, I sold three or four tables. I could have got more but I went on a holiday and they actually said there was no more room for tables. I was really keen to sell more.
It makes me happy because I feel like I am contributing to other kids getting wishes. I am helping to ensure there's sufficient funds for wishes.
It's a charity so the money for wishes is coming from the goodwill of people.
It's a reality that some kids have a wish and pass away. I know one boy who was in hospice, he was my daughter's age.
And he had relapsed three times. Make-A-Wish organised a snow machine for him and he got to see the snow. He passed the next day.
His mum showed me photos and he was so happy he got to play in the snow. He wasn't moving much but he was moving his arms. Just to have those last happy moments together was everything for him and his family.
That was touching and made me want to raise funds because if Make-A-Wish has the ability to do that for kids, then it's well worth it.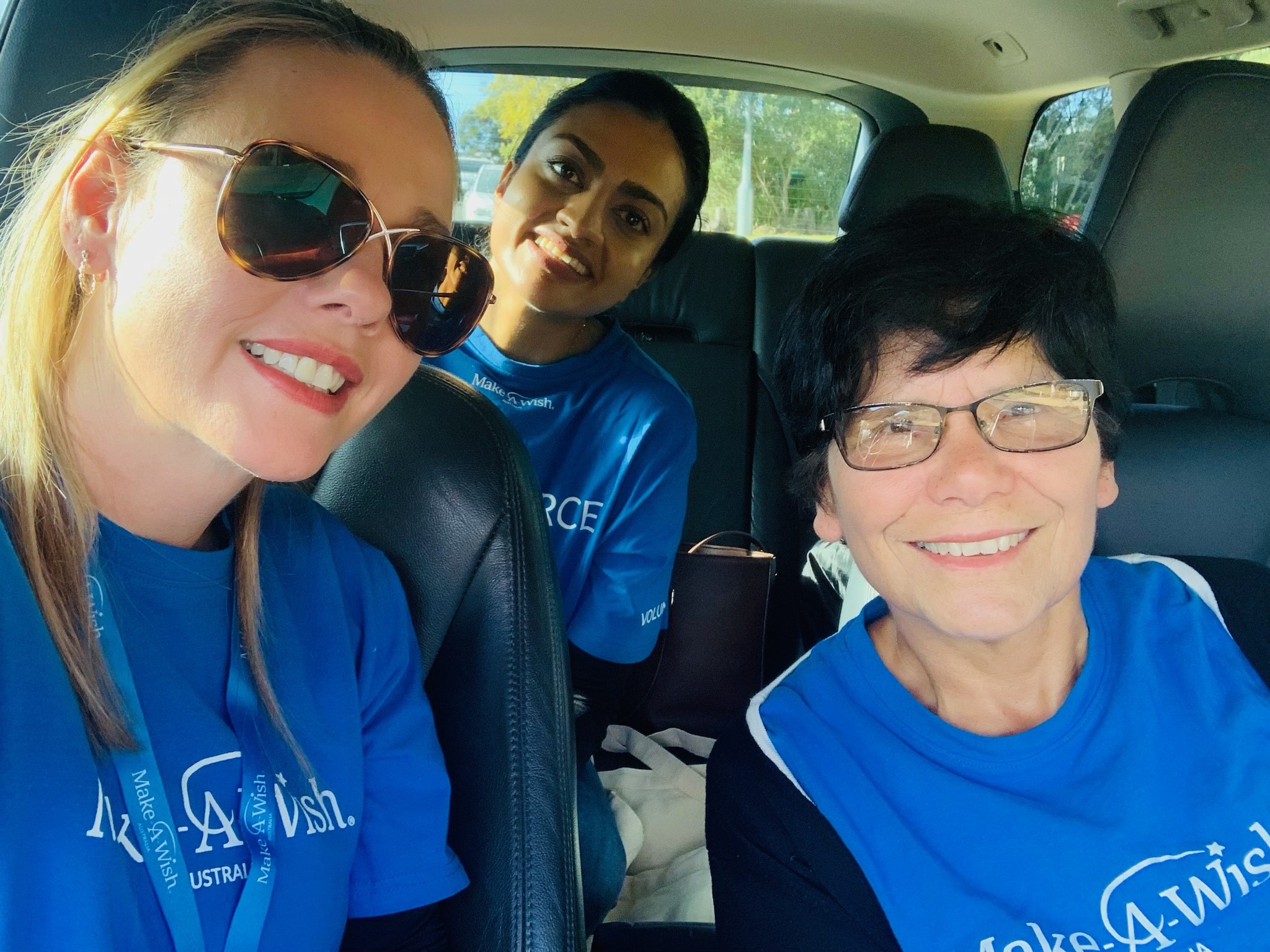 I feel special with the Make-A-Wish t-shirt on. That I am helping to give back to the community and helping others who are in real need of some happiness. And spreading the word.
I try to share everything on Facebook to do with Make-A-Wish. I have always promoted the Hungry Jack's Wishmaker campaign.
A lot of my friends come to whatever Make-A-Wish fundraiser we have, it really creates awareness.
They understand that it's more than just a wish. It's light at the end of the tunnel, it's happiness.

Wish passion
'The wish is magic: I saw it first-hand'
The wish pulls you, your family and friends through the tough times. I remember being told 'Leticia deserves her wish so much' and it means a lot to hear those words.
There are so many lonely times and isolation. It felt like the world stopped still for us and we were trapped behind the glass window looking out.
Everything still goes on on the other side, birthday parties and celebrations. Your child misses out. It's hard.
And then you just wonder if you are going to get through it. Thank God we did. For the ones that didn't, the child went through all that pain for nothing.
We talked about Leticia's wish for so long and we got there. We go on lots of holidays but the wish wasn't like a holiday. It was like a huge treat.
I felt a lot of relief, I felt a sense of achievement, I felt an accomplishment and there were no worries. We didn't have to think. Everything was done for us. We just had to relax and we still always talk about the wish.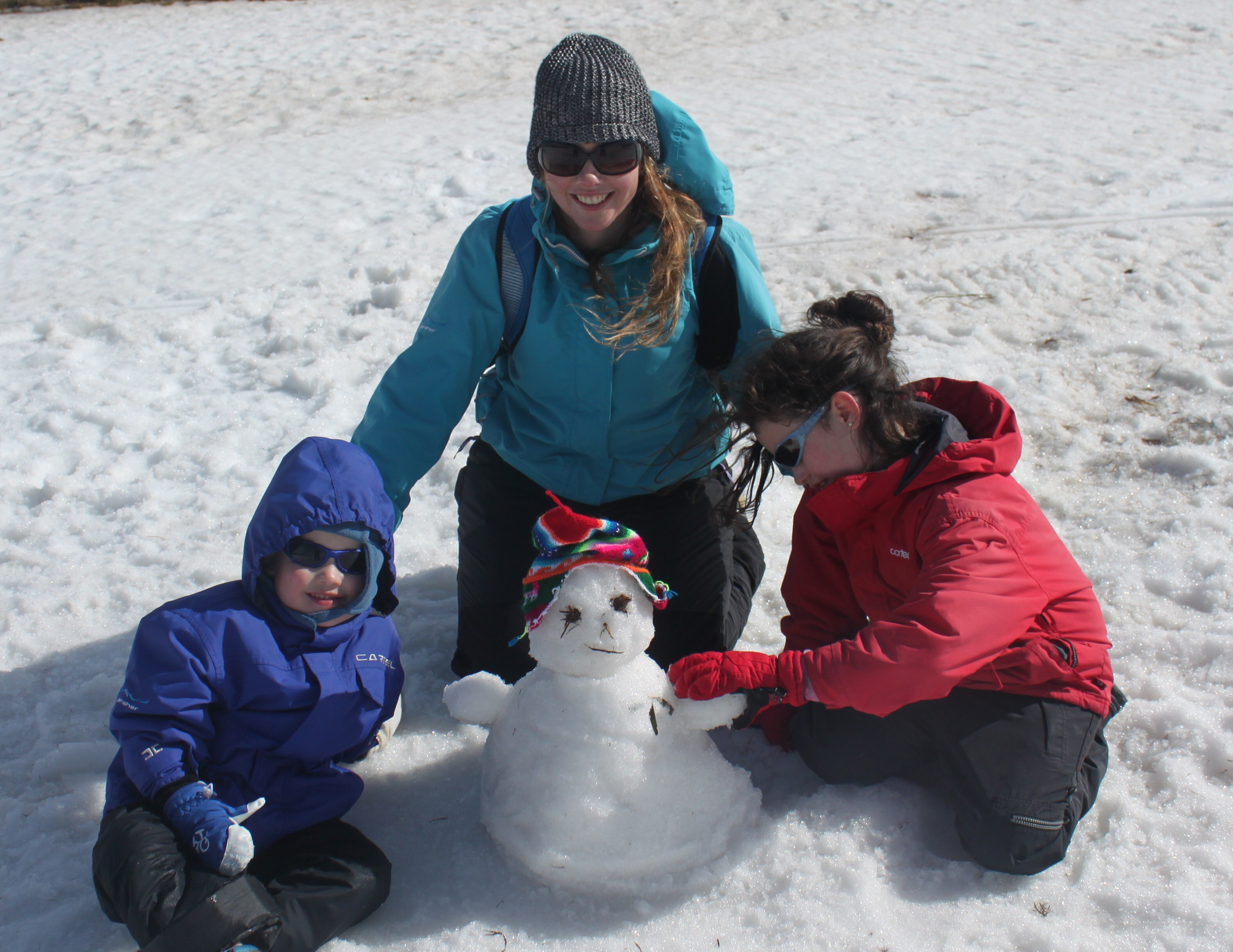 We have the booklet the Wish Team gave us before the wish. I took it to the Make-A-Wish Branch meeting to show everyone, this is what the wish booklet looks like. Everyone was like 'wow this is amazing'.
We still have framed photos of Leticia and us in the snow. For us it was a 'back to being us' time.
Still, I remember that feeling of 'oh my gosh we are really going, we have made it'. We still talk about going back to the snow, to where we stayed at Perisher. She is turning 18 this year and really wants to go back.
We will do similar things to last time. Make some snow angels, tobogganing and tubing. She will be skiing but I don't think my husband and I will. We had the best time, it's something that we always talk about and laugh about.
You think about it a lot and are very grateful we were able to have that.
I am just passionate that Make-A-Wish continues. I know that it's not easy to get people to contribute, a lot of people maybe don't understand the importance of the wish and that's something I really try and point out and explain.
I want Make-A-Wish to grow and be stronger. I would love celebrities to help out more. A wish for a child in such a desperate time can mean life or death.
That's how it was for my daughter. It gave her hope, and gave her something to think of and something to look forward and to not give up. The wish is magic. I really believe that because I saw it first-hand.
Debbie has been proudly volunteering since 2020