Xavier's pure puppy joy
A caramel-coloured puppy is all Xavi ever wanted. And thanks to our wonderful partners such as Hungry Jack's, Xavi's wish has come true and he and his puppy Vinci are now inseparable!
Background
Meet Xavier
It was during a joyous occasion - a wedding - when little Xavier's life would change forever.
Xavier, then 4, was dressed in a smart chequered shirt, with a black vest and black tie. His two sisters in pretty white dresses and mum and dad also looking stylish.
"It was about 8pm, and he was dancing," mum Mel recalled.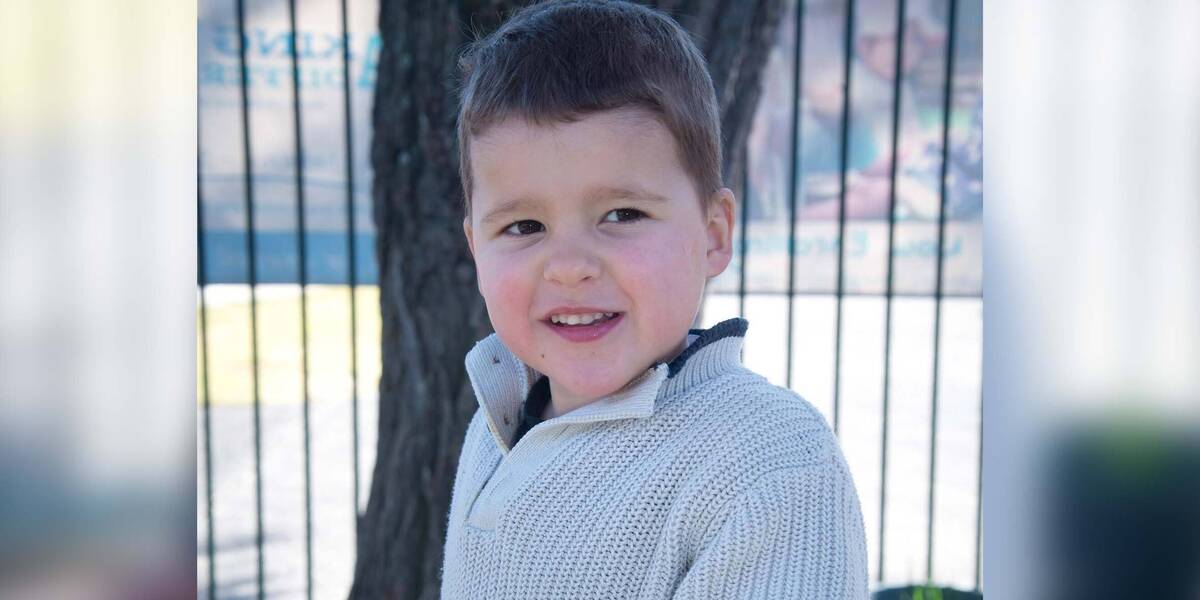 "We were laughing at him because he was doing this movement with his arms, going around and around like a Pac-Man and he looked like he was having a great time.
"But then something odd happened, he came up to me and didn't look well. I found a couch near a fire, and I was holding him like a baby."
That night when he went to bed Xavier, or Xavi as he's called, was so hot his pyjamas were drenched. It was the first of many nights of sweating and stomach aches. Doctors told Mel it was probably a virus.
Diagnosis
A real shock
Alarm bells started sounding one day shortly after when Xavi couldn't walk on his left leg.
When he was taken to the hospital, there were no immediate answers until the diagnosis came through.
Doctors told Mel that Xavi had systemic juvenile rheumatoid arthritis. The "systemic" means Xavi's entire body would be in pain.
"That was a real shock because up until then he was a normal kid," Mel said.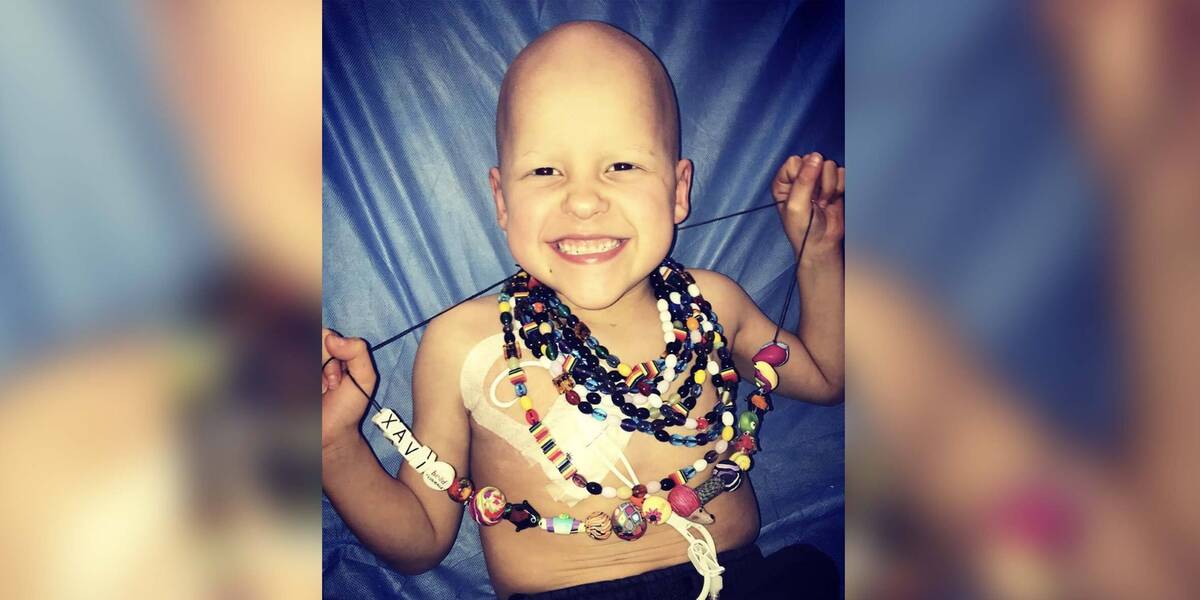 "He was in pain; it was hard watching him in pain. You want it to be you, not them. Also because he was on steroids, he would get really fluffy cheeks, and he didn't look like himself and that upset him."
Xavi's condition was soon managed with medicine and Xavi, and his family was able to go away on a holiday.
But not long after his return, a blood test showed something irregular.
Xavi's haemoglobin was low, and tests eventually showed he had a massive abdominal tumour and lesions on his kidney, lungs and knee. Xavi had Burkitt lymphoma.
Treatment
Chemotherapy starts
Xavi's chemotherapy started immediately and his aggressive treatment plan of seven rounds of chemo – each lasting three to five days – attacked the cancer.
"I explained it to Xavi in a way that he was very sick, and like the cartoons, it was all the bad guys, and we needed all the superheroes to go in as the medicine," Mel said.
"If he were feeling better he would say 'the good guys are winning' or if he were feeling bad he would say 'it feels like the bad guys are winning, I need more good guys'.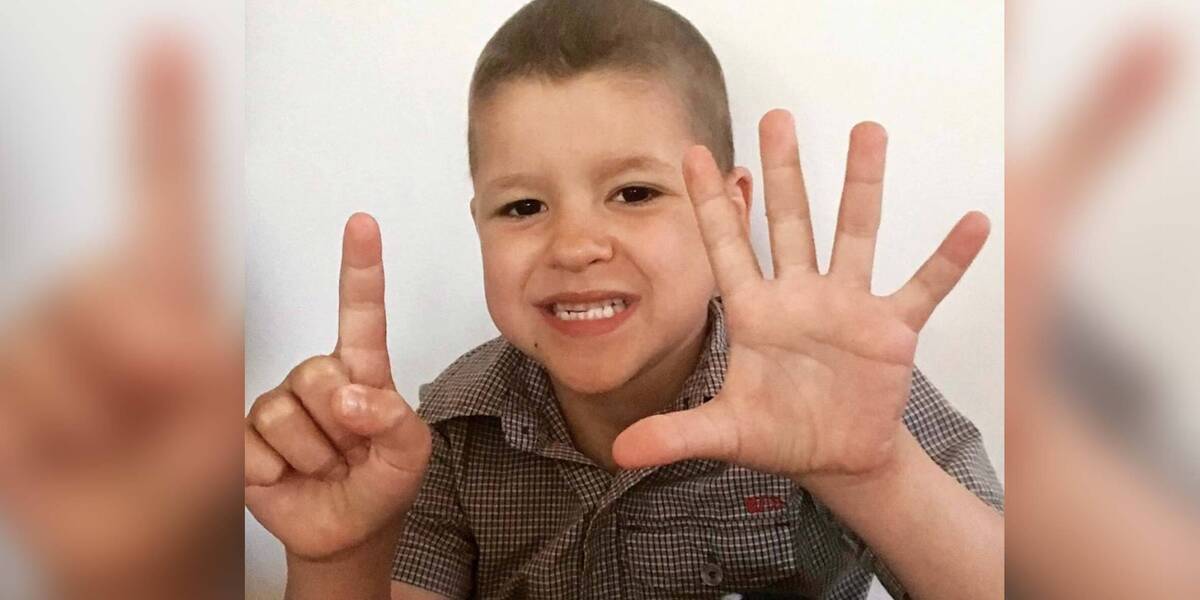 "It's a lot for one little person to have to go through. It makes no sense. It's a lot to take on, almost mind-boggling."
Mel said it wasn't conclusive Xavier's two conditions were linked but it was possible.
"We will never know for sure," she said.
"You are fighting for their life. You're always talking to doctors, feeding him …. there is always something to do."
The wish
Xavi's new friend
Xavi, now 8, has been in remission from cancer and is also in unmedicated remission for his rheumatoid arthritis. So, after years of battling, it's time for Xavi to enjoy his childhood and look forward to a lifetime of smiles!
Mel said since Xavi was a child he has always taken the opportunity to pat a dog when the family are out and about.

Because of COVID-19, Xavi's wish had to wait. But recently it came true.
Mel said that Xavi loves his puppy, named Vinci, immensely.
"They both get so excited to see each other," she said. "Xavi helps with Vinci all the time.
"Xavi's favourite thing about Vinci is that Vinci tickles him and that he's super, super cute."

Laraine Finlay from Make-A-Wish's Sydney North branch said Xavi was a warm-hearted boy and the branch volunteers did what they could to build his anticipation and keep him positive while he waited for his wish to come true.
"To keep Xavi engaged until his wish, we sent him a new page for his puppy booklet every Monday with info about looking after puppies," she said.

Hungry Jack's and Make-A-Wish have joined forces this month to bring hope to Wish kids like Xavi. Get involved by purchasing a $1, $2 or $5 Wishmaker star at any Hungry Jack's store, online and via the HJ's app.
Xavi's favourite thing about Vinci is that Vinci tickles him and that he's super, super cute

Mel

mum to wish child Xavier, 8, arthritis & Burkitt lymphoma
Make wishes come true
Despite being one of Australia's most trusted charities, we don't receive government funding. Please give what you can - every dollar counts.
The Wish Journey
How a wish comes to life
Make-A-Wish volunteers visit each child to capture their greatest wish, getting to the heart of what kids truly want and why. This profound insight is part of what makes Make-A-Wish unique, giving children full creative control and helping to shape their entire Wish Journey.
Back at Make-A-Wish HQ, we partner with families, volunteers and medical teams to design the ultimate wish experience - and start rallying our partners and supporters to help make it happen.
In the lead up to the wish, we take each child on a journey designed to build excitement and provide a welcome distraction from medical treatment. Anticipation can be incredibly powerful, helping to calm, distract and inspire sick kids at a time they need it most.
When the moment finally arrives, children get to experience their greatest wish come true - it's everything they've imagined and more. Pinch yourself, and don't forget to take a breath and enjoy every precious moment!
Wish impact studies show that a child's wish lives on, long after the moment. A wish gives more than just hope – with an incredible and lasting effect on the lives of sick kids, their families and wider communities.