Kapow! Here's Rory
Rory doesn't think of his tumour when he puts on a Batman costume. His wish was to hang out with the real Batman for the day.
Thanks to generous donors and supporters like you, Rory's wish came true.
*Image courtesy of Richard Dobson / Daily Telegraph
Background
Meet Rory
Wish mum Gemma knew something was amiss with her 4 year old son, Rory.
He was unsteady on his feet and he would take himself to bed at 9am for a nap.
Gemma and husband Josh took Rory to their GP, then Geelong Hospital where fluid was discovered on Rory's brain.
The next day he had an MRI at The Royal Children's Hospital.
"The neurologist came out halfway through the scan and took us into a little room and Josh said straight away 'I don't feel very good' and she said 'We have found this mass' and I didn't sort of hear a lot more after that," Gemma said.
"That expression 'all your blood drains from your body' – that's exactly how it felt."


*Image courtesy of Richard Dobson / Daily Telegraph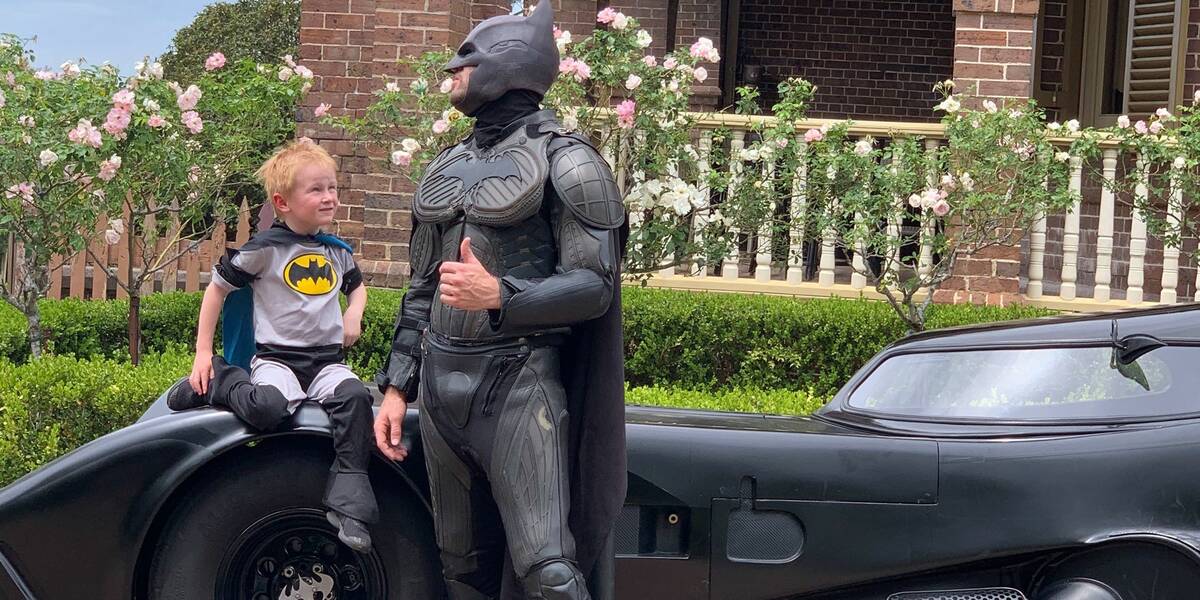 The wish
Rory answers the Batphone
Diagnosed with a Disseminated Glioneuronal Tumour, Rory had spinal surgery within a few days to decompress the tumour.
What followed was 68 weeks of chemotherapy.
Whenever he was well enough, Rory – who is "full of personality" according to his mum – would dress up as Batman, Superman or even a policeman.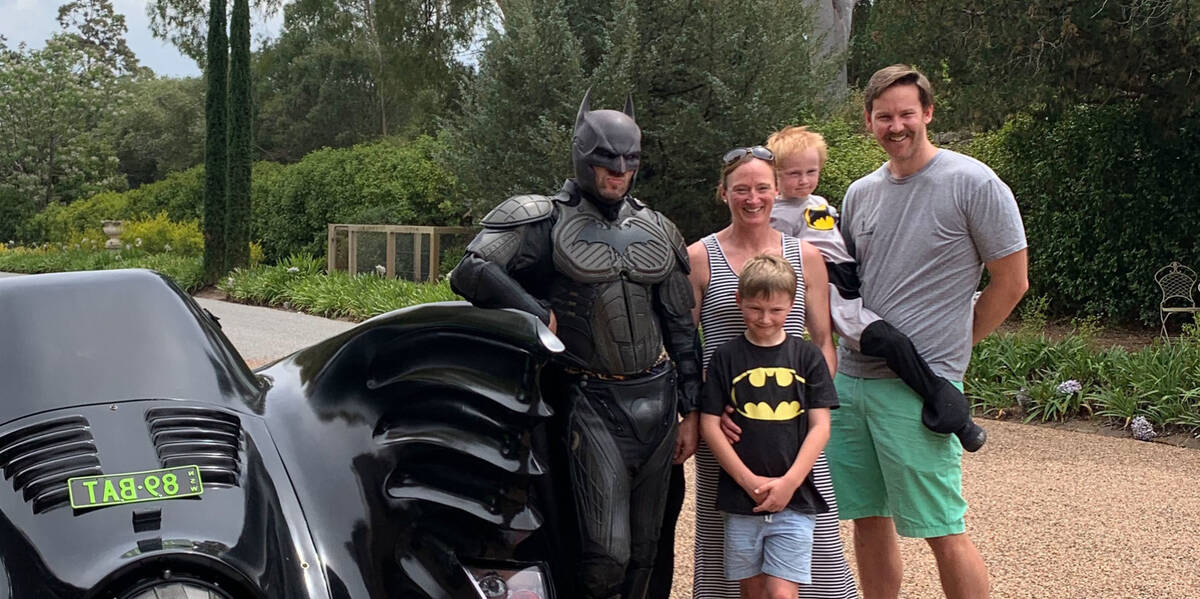 But it was the caped crusader he really wanted to meet.
Batman's friend - Make-A-Wish volunteer Glenn - would drop into Rory's house in the lead-up to his wish giving Rory a toy bat and a Batman suit.
"He also got a Make-A-Wish coin which Rory slept with under his pillow most nights to know his wish was coming," Gemma said.
Make-A-Wish coins are given to wish children in the lead-up to a wish to help build their anticipation.
I wish to spend time with my friend Batman

Rory, 5, Disseminated Glioneuronal Tumour
Wish day
Batman's new partner
Rory and his family flew up to Sydney to meet Batman, just two weeks after Rory finished chemotherapy.
Batman and Rory hung out at 'Wayne Manor' and even had surprise visits form Wonder Woman, Cat Woman and policemen.
Gemma said being able to interact with Batman was the best part of Rory's day.

*Image courtesy of Richard Dobson / Daily Telegraph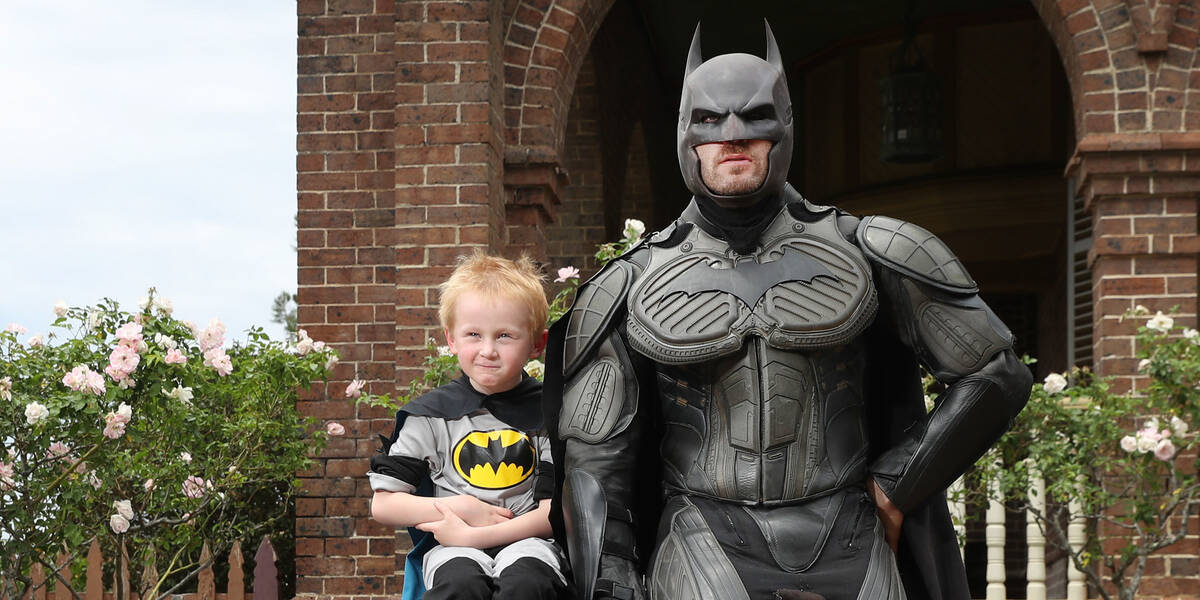 "Rory has always been very much about interacting with people, he's very personable," Gemma said.

"Rory is more about the people than the things. But he and his brother did love the fact Batman gave them presents. That was a big highlight." Rory and brother Hayden's presents included bravery medals and Batman 'hero certificates'.
Gemma said Rory was in awe of 'Wayne Manor'.
"Batman told him he gets a bit lonely growing up in such a big place but he found things like these secret tunnels from Wayne Manor to the stables," Gemma said.
Wish effect
A heroic memory
Just like the superheroes he idolises, Rory has a special power – an exceptional memory.
"He has the most amazing memory. He will tell us about something that happened when he was just 3," Gemma said.
"This will definitely stay with him. We have talked about it since and he will recount all the things Batman talked about."
Gemma said the wish day was a boost for the whole family.
"It was the first time we had been on a plane since he was diagnosed," she said.
"Our oldest son Hayden was able to have his birthday while we were away so it was a magical day for him too.
"It was a great celebratory trip for all of us."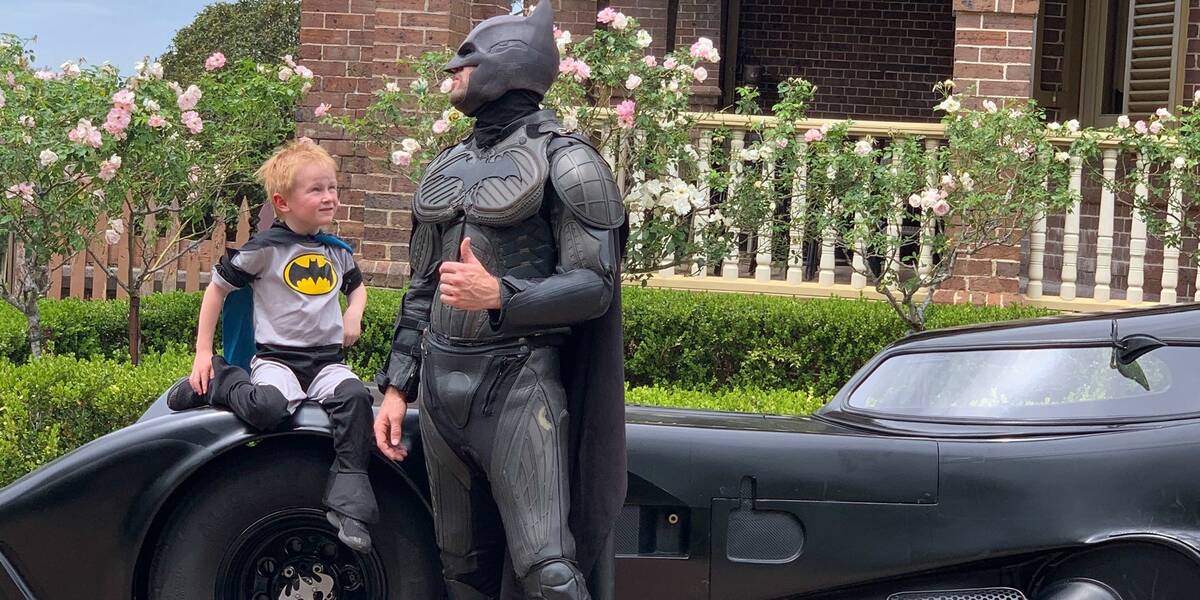 I just want to say how grateful and thankful the whole family are for the experience. I know it was Rory's wish but all four of us were made to feel very special and we can't say thank you enough for that.

Rory's mum

Gemma
Make a life-changing difference
There are so many ways you can help seriously ill kids like Rory experience a wish.