Rocco's PAW Patrol Adventure
Rocco absolutely adores watching PAW Patrol, and wished for a real-life adventure with PAW Patrol pups.
Background
Meet Rocco
Rocco's childhood has not been like other five-year-olds.
At just 20 months old, he was diagnosed with Acute Lymphoblastic Leukemia, making the first few years of his life incredibly tough for both him and his family.
Rocco's illness meant he had to move away from his extended family and friends to be closer to the hospital. With a high risk of infection, he spent much of his treatment in isolation and away from public spaces, so he's never really been able to explore and go on adventures like other kids do.
Despite his condition, Rocco loves to help people and wants to be a vet when he's older so he can look after animals.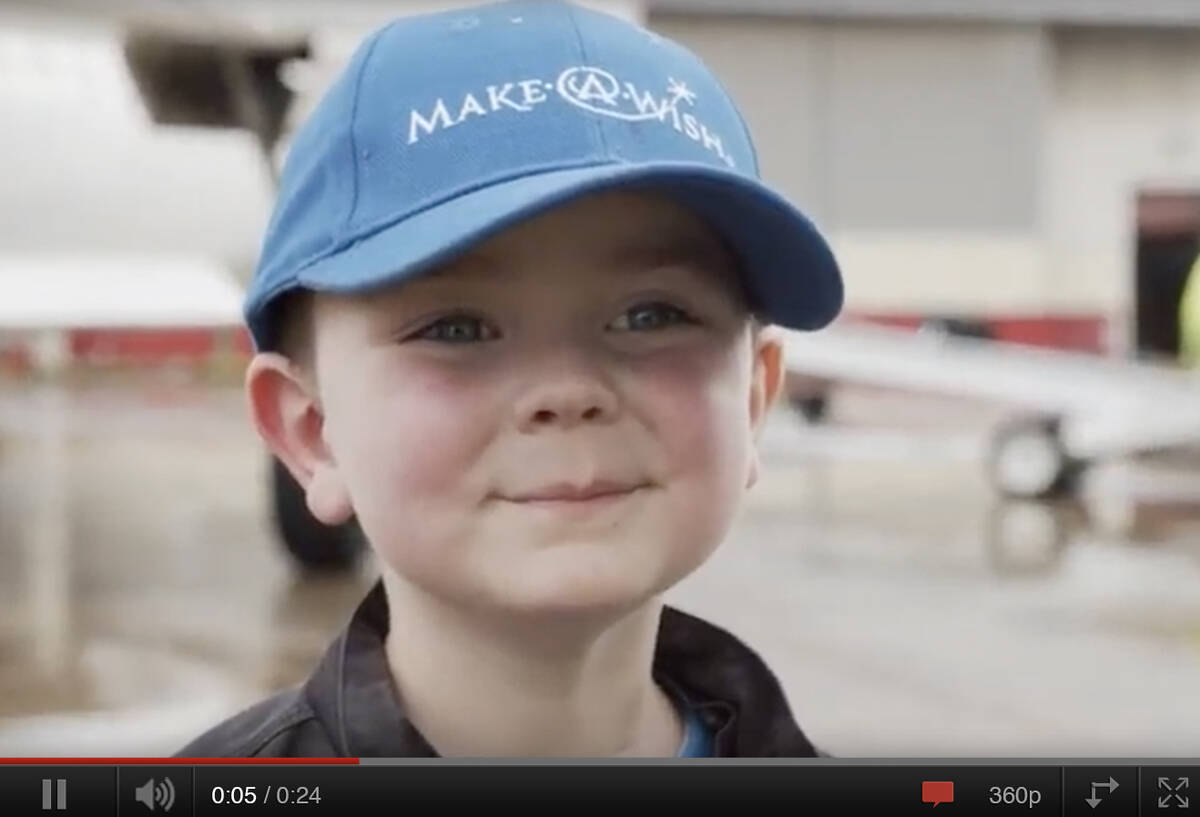 His wish
A PAWfect wish
Rocco also loves watching PAW Patrol, so it was no surprise his wish was to go an adventure with all his favourite characters from the show!
For the uninitiated, the animated series focuses on a boy named Ryder who leads a pack of search and rescue dogs known as the PAW Patrol. Each pup has specific skills based on a real-life profession - such as a firefighter, a police officer, a pilot and a construction dog - and they work together on missions to protect their local community of Adventure Bay.
Thanks to some very special friends, including Fire & Rescue NSW, the NSW Police Force, production company Spin Master and Nickelodeon - we just knew we could make Rocco's wish come true.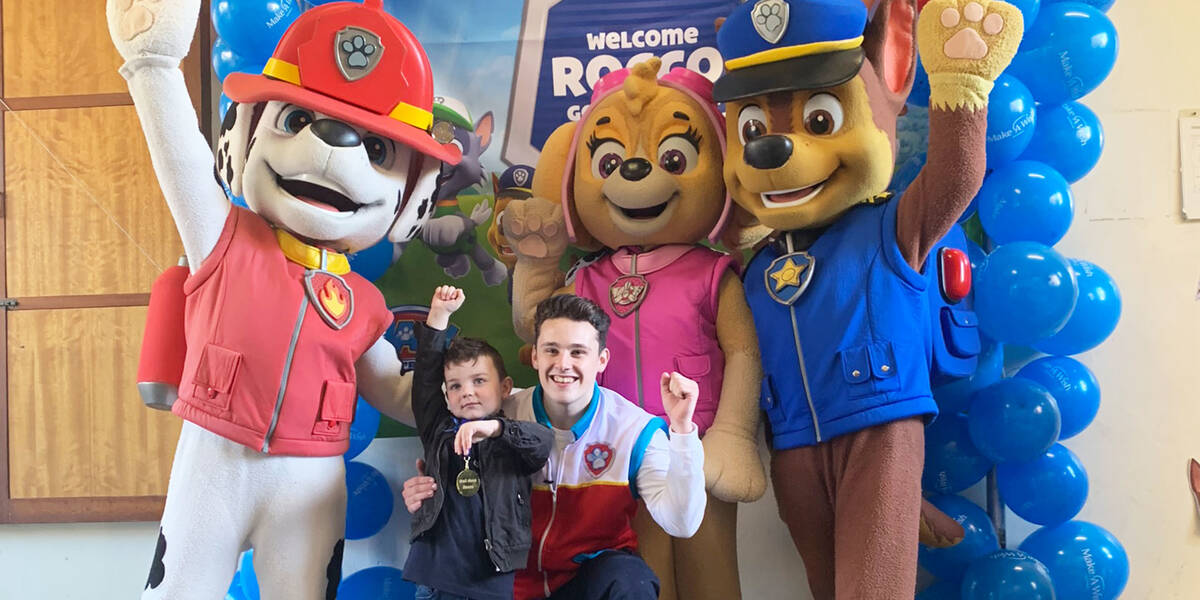 A wish gives families a chance to be normal, to have some fun and have something to look forward to. There's so much worry and stress... it just gives you that little bit of hope and inspiration.

Rocco's mum, Alecia - on why the wish was so important for Rocco and the whole family
Wish Day
Bringing Rocco's wish to life
Wishes like Rocco's don't happen without community support, and over many months, the Make-A-Wish team worked closely with a number of people to bring Rocco's incredible wish to life.
In particular, we'd like to acknowledge teams from Fire & Rescue NSW, the NSW Police Force, production company Spin Master, Nickelodeon, Qantas, Channel 7 and a host of other amazing people who made Rocco's impossible wish happen.
Rocco's wish day involved hopping in the police helicopter and going on a search for Rubble the dog. Rocco's mum Alecia said all went well.
"It's beyond our dreams, let alone Rocco's dreams," she said.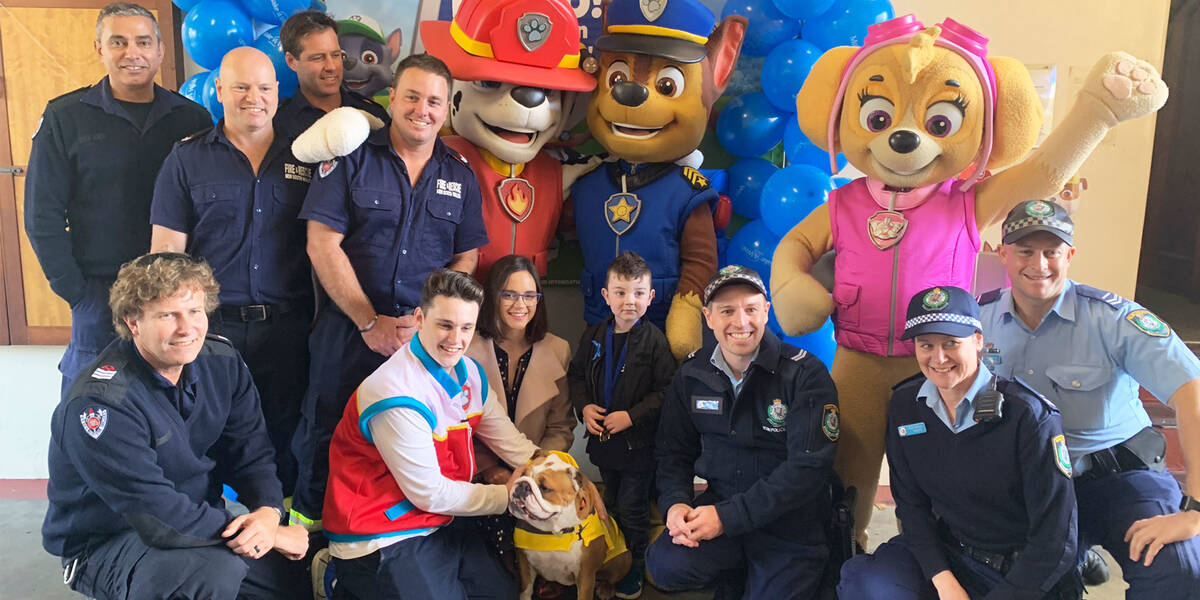 Make a life-changing difference today
The Wish Journey
How a wish comes to life
Make-A-Wish volunteers visit each child to capture their greatest wish, getting to the heart of what kids truly want and why. This profound insight is part of what makes Make-A-Wish unique, giving children full creative control and helping to shape their entire Wish Journey.
Back at Make-A-Wish HQ, we partner with families, volunteers and medical teams to design the ultimate wish experience - and start rallying our partners and supporters to help make it happen.
In the lead up to the wish, we take each child on a journey designed to build excitement and provide a welcome distraction from medical treatment. Anticipation can be incredibly powerful, helping to calm, distract and inspire sick kids at a time they need it most.
When the moment finally arrives, children get to experience their greatest wish come true - it's everything they've imagined and more. Pinch yourself, and don't forget to take a breath and enjoy every precious moment!
Wish impact studies show that a child's wish lives on, long after the moment. A wish gives more than just hope – with an incredible and lasting effect on the lives of sick kids, their families and wider communities.
Want to sign up to receive our newsletter?
It's just like, our news, in a letter, for you.