The crime-fighter in the clouds
Benjamin got to be a policeman for the day before brain cancer took him away prematurely from mum Meredith and their family.
Background
The long hug goodbye
During the final hours of his life, mum Meredith wanted to hold her son one more time. Little Benjamin's body had been ravaged by a brain tumour which had spread to his spine.
He had been too sore to be held by his mum for months. He didn't want to be hugged or touched at all.
But as he was fading away in his palliative care bed, Meredith picked up Benjamin. She wanted to hold him tight and say some words to him.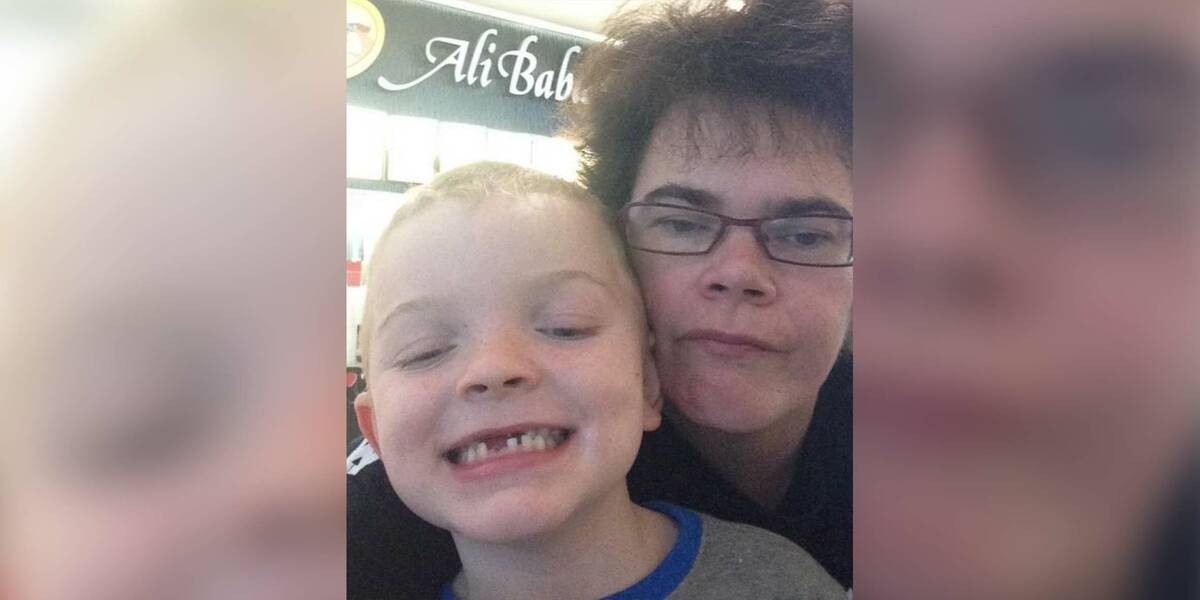 Ben, aged 6, was not only son to Meredith and Shane and brother to Emma and Cody. He was also a certified police solo trike rider after Make-A-Wish had granted his urgent wish a few weeks earlier to be a policeman for the day.
"I remember I was hugging him, it was a big hug, and saying 'you can go and catch the criminals in the clouds'," Meredith said.
"I said 'you don't have to be brave anymore, mummy will look after everyone, but when you need to go you can go and catch the bad guys upstairs'."
Medical journey
Diagnosis does not come quickly
The first signs Benjamin were unwell were late in 2015. On Christmas Day he was lethargic and wanted to go back to bed.
"What 6-year-old on Christmas Day wants to sleep and doesn't want to play with his new toys," Meredith said.
Meredith had been concerned for a while, taking Benjamin to GPs and hospitals for a few months.
Frustratingly, she said Benjamin was not diagnosed with anything.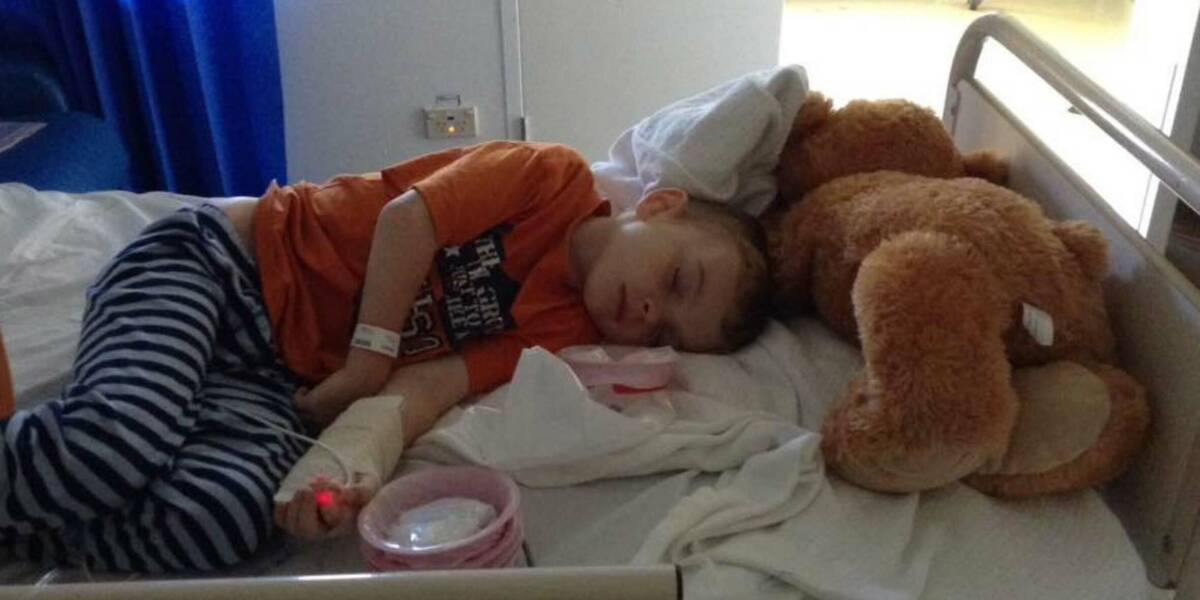 Troubling symptoms, including fatigue and vomiting, continued until a visit to a gastroenterologist in February 2016, unlocked a door Meredith wasn't expecting.
The gastroenterologist suspected the problem might be found in Benjamin's brain.
At about 6 pm on February 9, following a scan, Meredith was told Benjamin had a massive brain tumour.

Bleak prognosis
In and out of surgery
Over the next two weeks, Benjamin would be in and out of surgery.
First, he had a cardiac arrest. Meredith suspects they lost her little boy a couple of times on the operating table.
Benjamin was then in a medically induced coma in ICU. The next day he had another procedure.
Then on a Friday, they removed 80pc of his tumour in major brain surgery.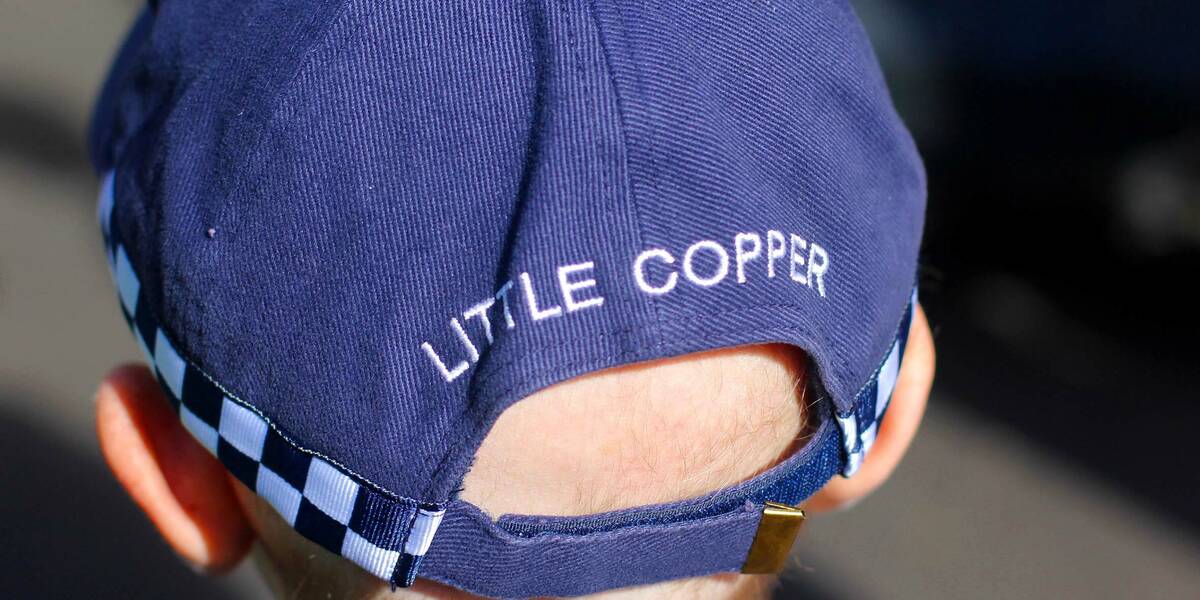 The surgeon told Meredith that to take any more of the tumour out would risk the quality of Benjamin's life.
A week later, Benjamin had more surgery on his head.
Further bad news followed shortly after. Doctors told Meredith her son had Stage 4 glioblastoma multiforme, an aggressive brain cancer. They had already referred Benjamin to palliative care.

Optimism builds
'We are going to beat this'
Doctors told Meredith and Benjamin's dad Shane there was a less than 10 per cent chance their son would survive.
But Meredith refused to give up. She had the attitude that statistics were not always right. And her little boy would prove the medical experts wrong.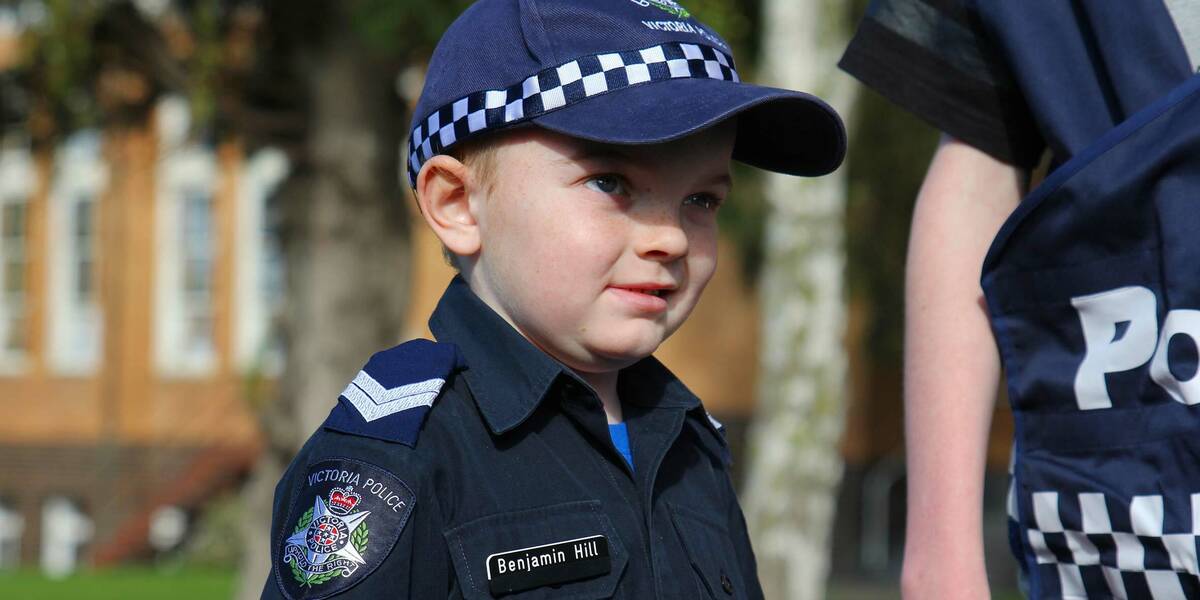 "I had no reason not to believe," she said.
"I kept thinking about my mother, who shouldn't be here; she would have been dead 30 years ago with ovarian cancer.
"I was like 'nup, we are going to beat this'."
Wish origins
Police solo rider the aim
Make-A-Wish entered Benjamin's life in April 2016. WishForce members Donna and Darcie visited Benjamin's place to ask him what he would like for his wish.
Darcie remembers a very shy boy. She also recalls Benjamin drawing a motorbike and talking about police officers.
"We discovered he would like to be a police solo rider," Darcie said.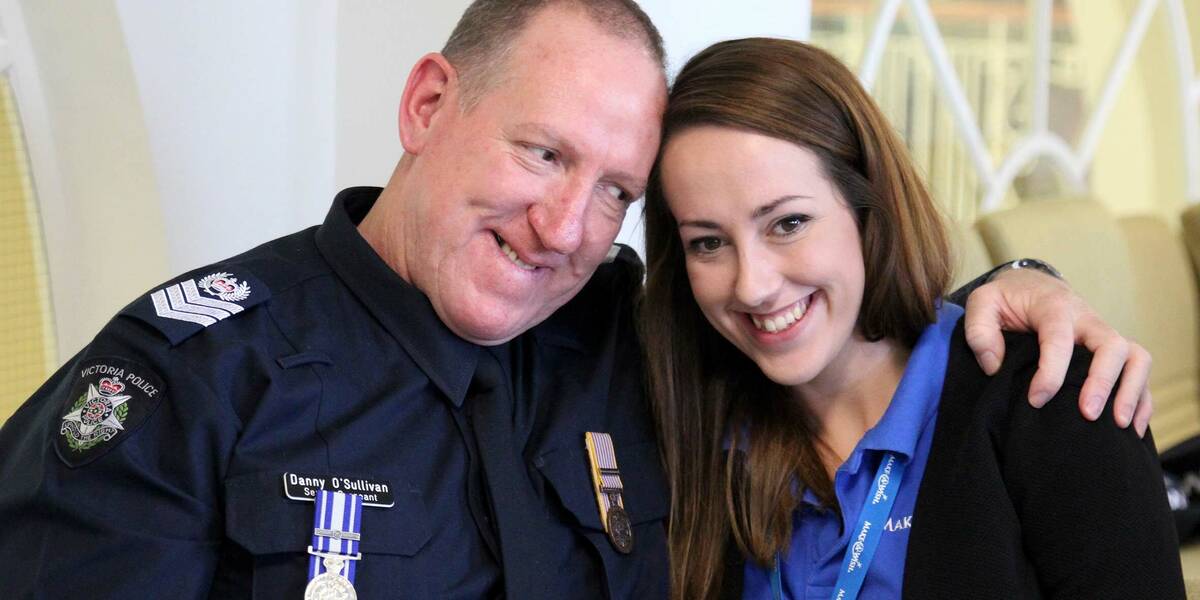 "I have a few police officers in my family. So I contacted my uncle who has been a police officer for over 35 years and said 'what do you think we could do with this'?".
Meredith could see at that first meeting with the WishForce that the wish would lift Benjamin's spirits.
"When Darcie had mentioned that her uncle was at the academy, Benjamin's face just lit up," Meredith said.
"And from there morphed this magical day, this magical weekend."

Wish weekend
Benjamin tosses wheelchair away
In May, weeks before he would pass away, Benjamin had his wish weekend.
Benjamin and his family spent a weekend at The Langham hotel in Melbourne. Meredith said staying in the lavish hotel was the first of many memorable experiences throughout the weekend.
"He was so excited," Meredith said. "We checked into the room the day before the wish day and went out for a nice dinner. We had two rooms at The Langham with these deep baths, and Benjamin had a bubble bath and had Coco Pops in the bath."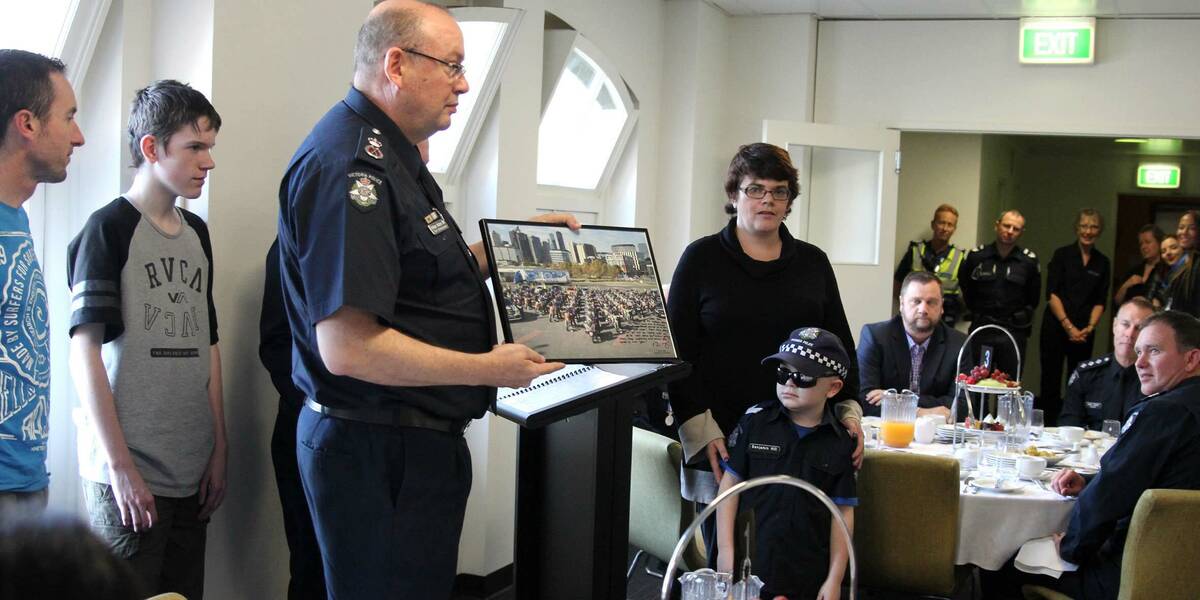 On the day of the wish, Benjamin expected to be picked up by the limousine Make-A-Wish had at the family's disposal for the weekend.
Darcie said Benjamin was waiting with her and fellow WishForce member Donna for the limousine.

"But then my (policeman) uncle called and said 'don't let him get in the limo'," Darcie said.
"I said 'why', and he said 'because we have a police car coming for him'."
Benjamin made a conscious decision to discard his wheelchair for the day, despite the immense pain he was in.
"He said to me 'police don't have wheelchairs'," Meredith said.

Benjamin was officially sworn in as a police motor trike officer. He had a group photo taken with all the police at the academy and was served fish and chips in the police café by Chief Commissioner Graeme Ashton.
"They (the police) just covered us in kindness," Meredith said.
"Benjamin just said it was awesome. He said 'I'm a policeman. I have got my police badge. I'm a policeman mummy. I have been to police school'."
On a high
The power of a wish
For the five months from when he was diagnosed with a brain tumour until his death, cancer was part of Benjamin and his family's life.
But for the wish weekend, it was almost as if the tumour wasn't there.
"It was like for those two days the illness was gone," Meredith said.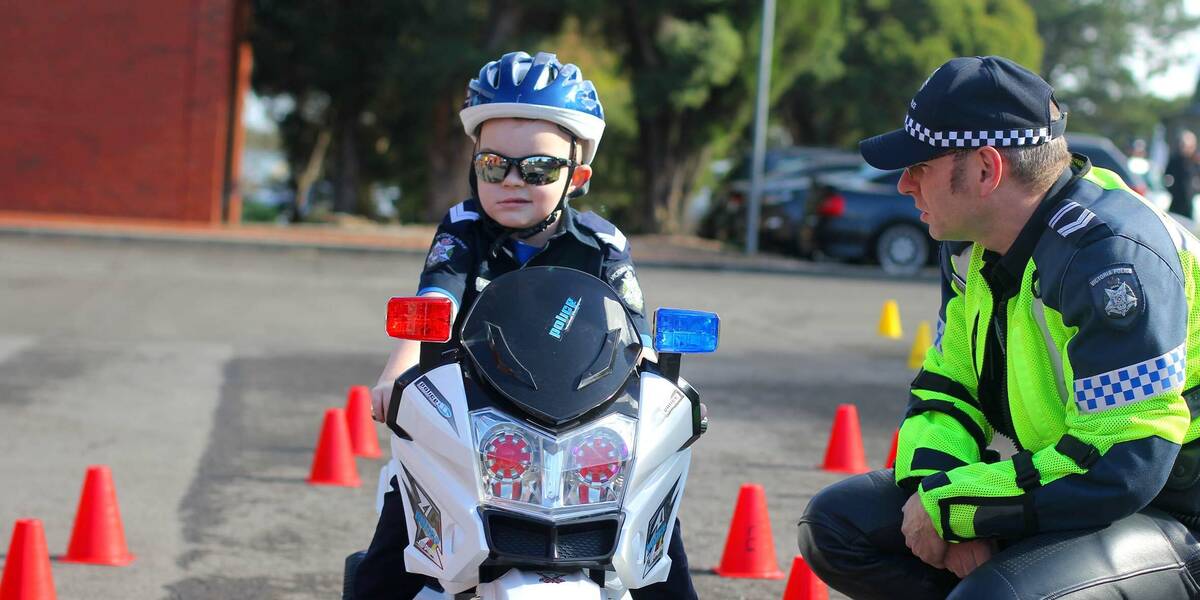 "For that weekend, apart from giving the medications I had to give him, the cancer was gone, and we were having fun.
"We were staying in a fancy hotel and having all this fun stuff happen that we could never make happen. For that weekend we could pretend (the tumour was gone)."
Meredith said when she spoke to others about Make-A-Wish, she uses the word 'magic'.
"I talk about the magic of a wish," she said. "You forget about the doctors, you forget about the illness, you forget about all the bad stuff because all this wonderful stuff is surrounding you. And you don't feel so alone."
Passing
'The pain was gone'
One night in July 2016, Benjamin had a stroke at home. His family had intended his last moments be at the Very Special Kids palliative centre.
But when the ambulance arrived, it was touch-and-go whether he would get there in time.
Meredith, knowing how much Benjamin loved emergency services, was content if he passed in the ambulance.
But her much-loved boy did make it to Very Special Kids.
He arrived at 12.45 am and the female paramedic who took them there was in tears. Meredith put her arms around her and thanked her for getting Benjamin to the centre in time.
"I said 'kids get cancer and kids do pass, and that's probably what's going to happen any time now, but you got us to a place of safety and refuge'," Meredith said.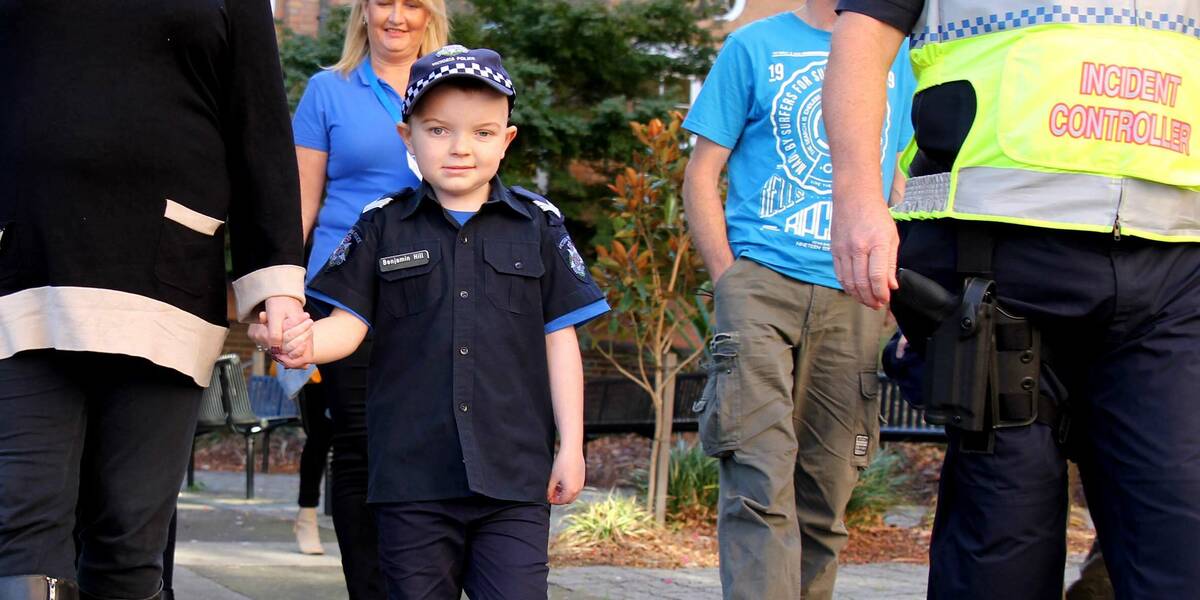 A couple of hours later, Meredith put her arms around Benjamin for what would be the last time.
"I got to hold him and hug him for about 20 minutes before he started stirring and they said he's started to feel the pain," she said.
About 7 am, after Benjamin vomited a couple of times, Meredith took a couple of steps outside his room to get some help to clean up.
When she returned, he had passed away.
"The pain that was etched in his face for so, so long … it was gone, and he looked relaxed," Meredith said.
Benjamin's funeral involved many of the police who were part of his wish day. They organised a police escort from the chapel to the crematorium.
WishForce volunteer Darcie said it was moving to see the police so willingly involved in the funeral.
"I was devastated though; he'd done nothing wrong in the world," Darcie said. "I couldn't help but think, why does this happen? But his mum came up and said he had the best day of his life thanks to Make-A-Wish."
Memories
Meredith's promise to Benjamin
During his illness, Meredith described the tumour to Benjamin as a "yucky black balloon" in his head.
She said she owed it to him to raise awareness for childhood brain tumours and lobby for better health care systems.

"I promised him that I was going to do everything I can to make people know about the balloons in kids' heads."

Meredith occasionally picks up photos from Benjamin's wish day. She also stays at The Langham, where she says she can still feel Benjamin.
"He was only here for a short time, but he lived life to the fullest," Meredith said.
"He was meant to be here. And his story was meant to be heard.
"I have got a six-and-a-half-year hole in my heart that will never be filled. I am going to miss him every day until the time comes when I am with him again."
I remember I was hugging him, it was a big hug, and saying 'you can go and catch the criminals in the clouds'

Meredith

Benjamin's mum
The Urgent Wish Appeal
Help us raise $120,000 before 31 October for 34 kids who urgently need their wishes to come true. ​