Manny meets Barry Du Bois
Manny has gone through two years of chemotherapy and its nasty side-effects to fight lymphoma. As he sat in his bed on some of those bad days, he loved watching the team from The Living Room. Thanks to generous donors and supporters like you, Manny's wish to meet the hosts of The Living Room came true. This is his story.
Background
Meet Manny
Holidaying in Canada, Ben and Debbie got the news all parents dread. Their son Manny, 8, had been taken to hospital back home in South Australia and they were told he probably had cancer.
Debbie and Ben rushed back to Australia to learn Manny had a cancerous growth in his chest, which doctors diagnosed as lymphoma.
She remembers walking into his hospital room and seeing him vomiting.
"I sat next to him and told him it's ok and put my arm around him," Debbie said.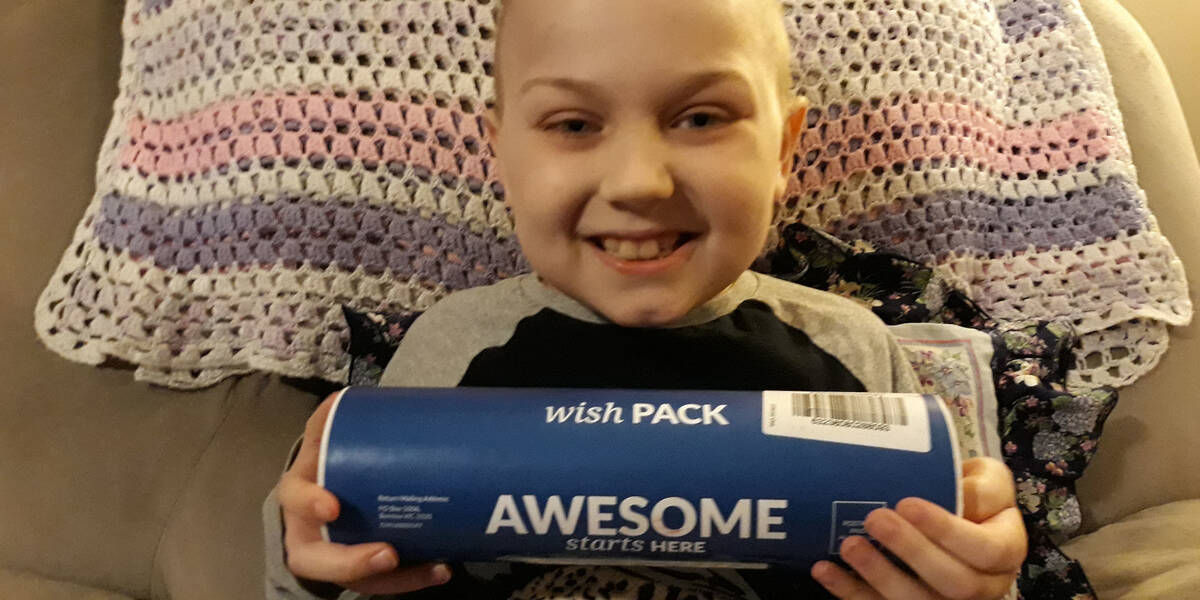 I have said to people a lot that if I could swap places with him I would but you just can't. Watching your child go through it, I always said I would rather it be me.

Debbie

Manny's mum
Debbie said Manny had read all the books and played all the PlayStation games he could while recovering either in hospital or at home, so they both started watching television.
Manny was drawn to The Living Room where he saw host Dr Chris Brown with a quokka. But then he noticed co-host Barry Du Bois come on one day with no hair.
"Manny asked why Barry had no hair and I said 'well, Barry has been through his own battle with cancer and it has come back and he's having chemotherapy'," Debbie said.
"And Manny said 'Barry is so brave to be on TV with no hair'.
"He just had a connection with Dr Chris and Barry."
So it was settled, Manny's wish was to meet Barry and all the team from The Living Room.
Wish day
A trip to remember
Manny had never been on a plane before but Qantas ensured it would be a trip to remember, inviting Manny into the cockpit to meet the pilots.
He then went in a limousine and stopped for photos with the Sydney Harbour Bridge and Opera House in the background.
But the highlight was going to the Channel 10 studios for The Living Room.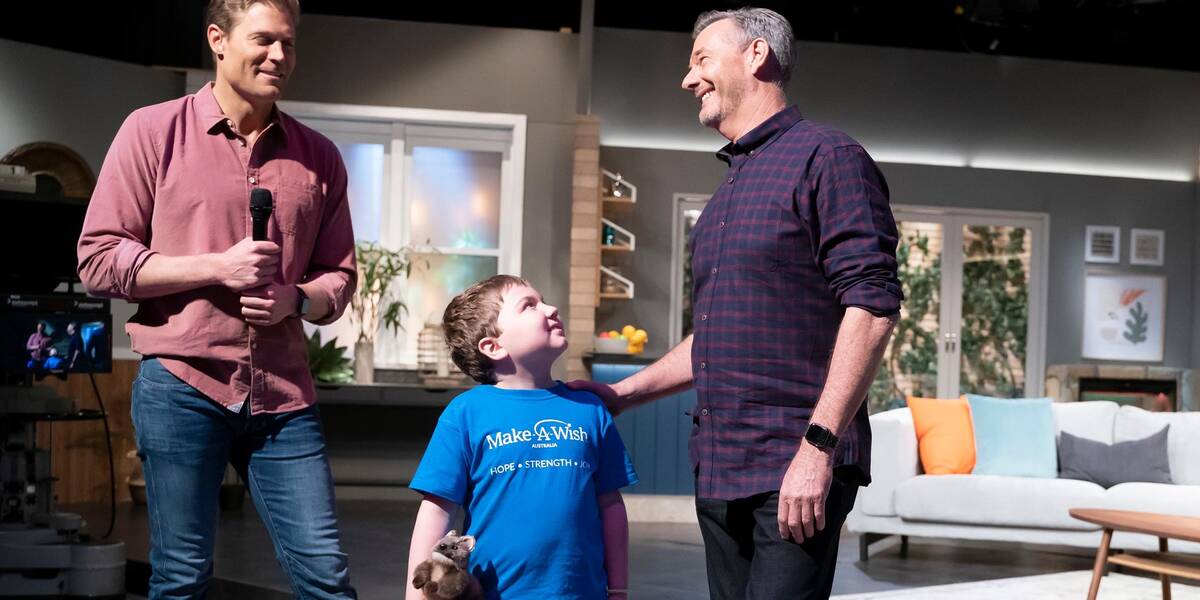 "The Living Room guys were genuinely lovely," Debbie said.
"They came down to our seats and asked what our other children's names were and Barry took time to have photos with Manny and our other children.
"He even gave me a big hug at the end.
"Barry got very emotional, I think he can't imagine a child going through treatment."
Debbie said for the day The Living Room team told Manny he was the fifth co-host.
Wish Effect
An unforgettable day
Debbie said Manny would be talking about his wish forever. She said from the start when Make-A-Wish volunteers gave him a wish pack to the end of his wish trip, the whole experience had lifted Manny's spirits.
"He's our hero. He's amazing," Debbie said.
"Not only going through all this but the fact he still manages to smile. He thinks of the other children he has met – he says 'they are worse off than me'.
"He's always thinking of others. He prayed for Barry when he knew he had cancer again. He's just a caring kid."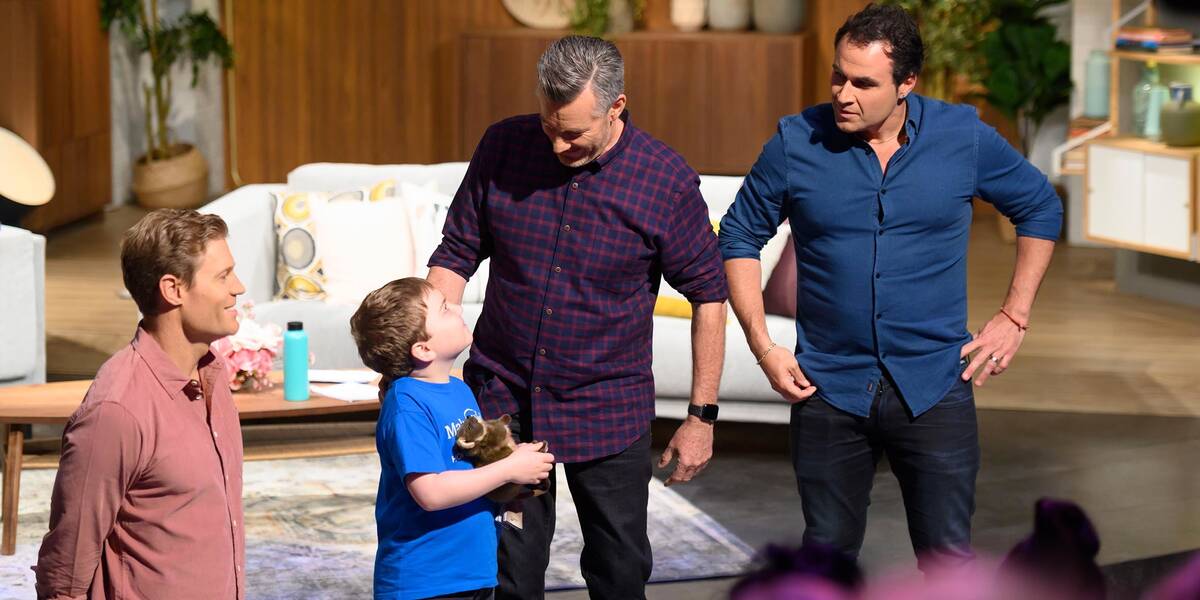 We need to make up a photo book of all the memories and in particular the wish day. He will remember it forever. For Manny it was always about making connections with people.

Debbie

Manny's mum
You can make the impossible possible
Despite being one of Australia's top 20 most trusted charities, we don't receive government funding. Please give what you can - every dollar counts.
The Wish Journey
How a wish comes to life
Make-A-Wish volunteers visit each child to capture their greatest wish, getting to the heart of what kids truly want and why. This profound insight is part of what makes Make-A-Wish unique, giving children full creative control and helping to shape their entire Wish Journey.
Back at Make-A-Wish HQ, we partner with families, volunteers and medical teams to design the ultimate wish experience - and start rallying our partners and supporters to help make it happen.
In the lead up to the wish, we take each child on a journey designed to build excitement and provide a welcome distraction from medical treatment. Anticipation can be incredibly powerful, helping to calm, distract and inspire sick kids at a time they need it most.
When the moment finally arrives, children get to experience their greatest wish come true - it's everything they've imagined and more. Pinch yourself, and don't forget to take a breath and enjoy every precious moment!
Wish impact studies show that a child's wish lives on, long after the moment. A wish gives more than just hope – with an incredible and lasting effect on the lives of sick kids, their families and wider communities.