A puppy for brave Daniel
Brave Dan has a new furry best friend! Thanks to the generosity of donors like you, Daniel's wish came true to have a puppy.
Background
Mystery illness
Wish mum Tahlia had never heard of mitochondrial disease tango 2 mutation. Nor had Google. She had little information to go on when her son Daniel was diagnosed with the disease in 2018.
Tahlia had noticed some things amiss with her little boy since he was one year old. Countless visits to doctors and paediatricians failed to get to the bottom of the problem.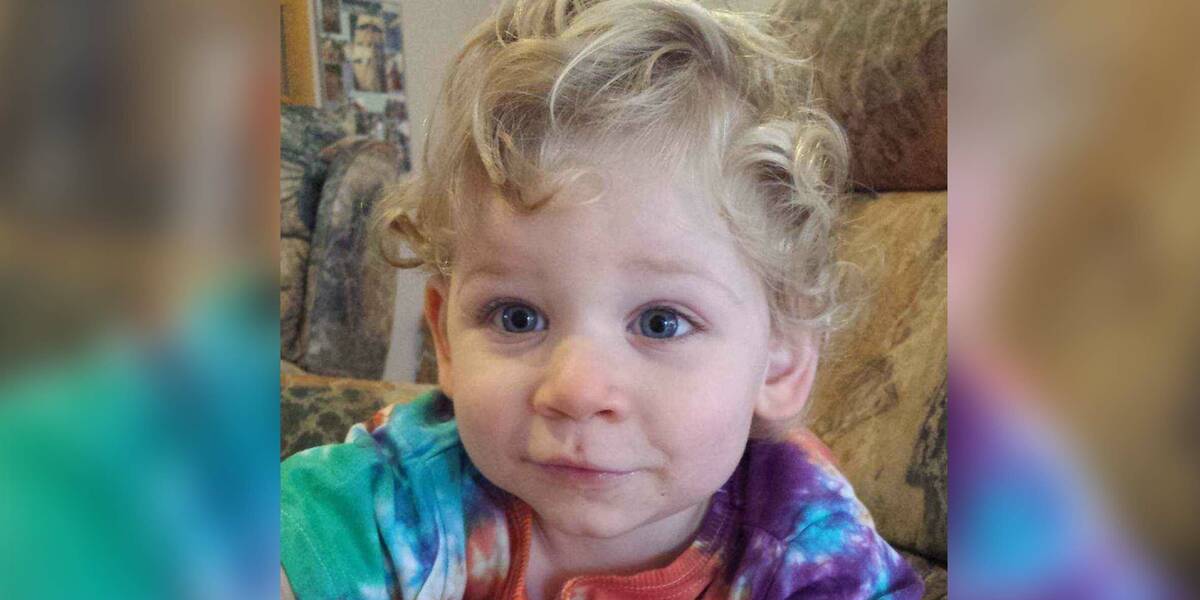 "It was very frustrating," Tahlia said. "We didn't really meet anyone willing to look further than anyone else had."
The breakthrough came after an accident at home. Tahlia was picking Daniel up and put her back out.
Shortly after she was in a local GP's office who "ended up taking an interest" and referred her to a paediatrician who ultimately made the diagnosis.
"If you Googled it there was barely anything on the internet," Tahlia said.
"It was a little bit scary, considering it is so life-threatening."
Journey
Smiling through the pain
Daniel is partially non-verbal, but the main impact the mitochondrial has is on his organs and muscles. If Daniel doesn't eat nutritionally and avoid fatigue, the disease can be triggered.
"When Daniel doesn't have enough food in the day he can get very fatigued, and it can affect his liver and kidneys," Tahlia said.
"His muscle tissues can pretty much atrophy completely. So that causes muscle breakdown. And because the heart is a muscle, the heart begins to break down too."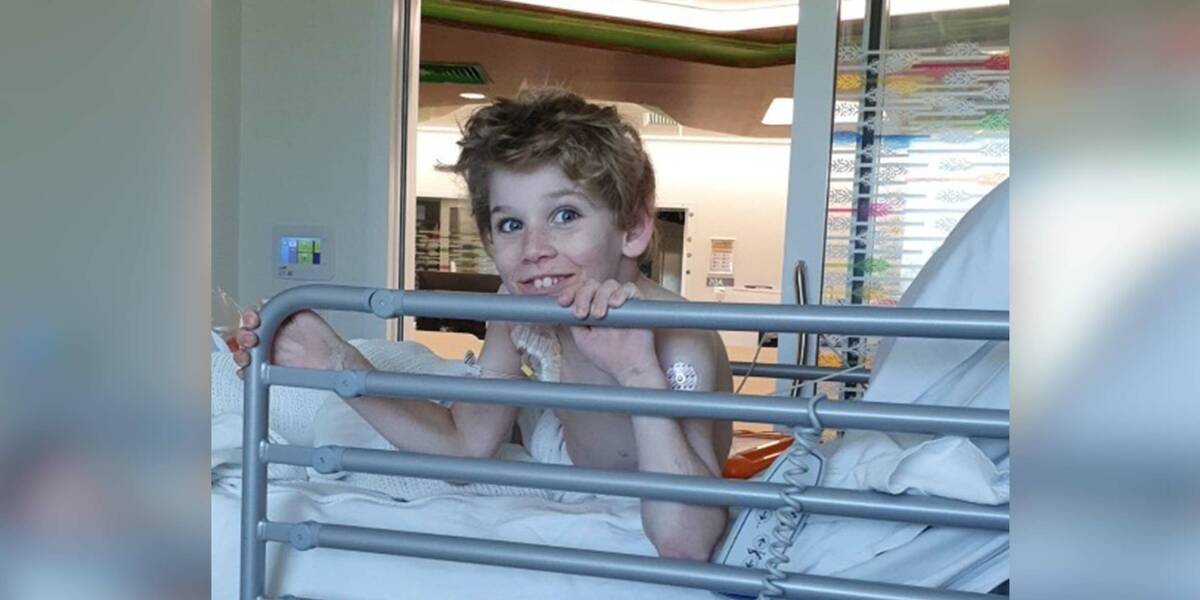 The most challenging time for Daniel and his family was last year when he spent over a month in ICU – including Christmas and New Year's – because of heart failure.
Tahlia said Daniel, now 8, had shown remarkable bravery to get through all his medical and hospital visits."If you look at him while he's going through all this stuff you wouldn't see a child that's miserable and unhappy," she said.
"He's always a very happy kid, whether he's in a hospital or not. It's not often you see him without a smile."
Daniel's Wish
A puppy tops the list
Tahlia remembers clearly the day Make-A-Wish confirmed Daniel's wish for a puppy would be coming true."It was actually quite overwhelming when we got the acceptance letter," she said.
"Because we didn't think we were going to get it. It's just such a huge thing to get this sort of opportunity. A privilege."
Daniel has trouble with anxiety, especially sleeping at night, so Tahlia thought a puppy to become his new best friend might be the solution they were searching for.
"It was the easiest wish to make, it was at the top of our list," she said.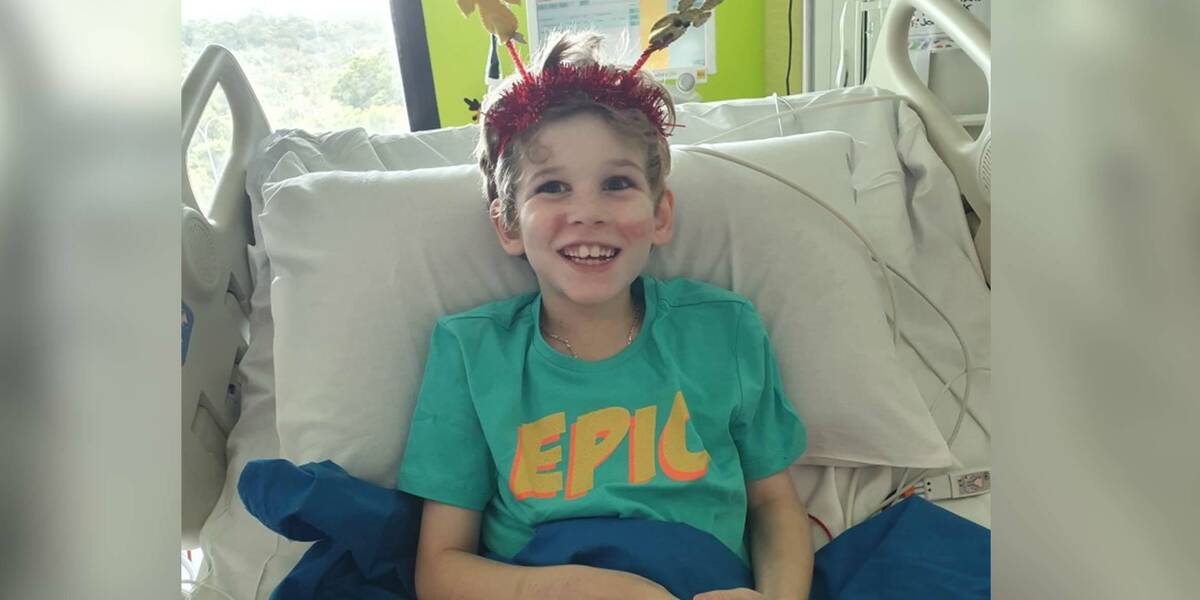 The wish
Meeting his new best friend
On the day Daniel would meet his puppy, Tahlia and her partner Jordan made a 5 hour round drive to pick up pup Lunar. Daniel was waiting at home with his nanna, constantly peering through the front window to see if his new mate had arrived.
When Tahlia and Jordan pulled into the driveway, Daniel couldn't contain his excitement.
"We took her out the back through the garage door and popped her on the grass, and we brought Dan out," Tahlia said.
"When he gets really excited he flaps his hands, so he was doing that. It was very cute. He was very happy but also very overwhelmed."
That first night, Lunar slept with Daniel in his bed.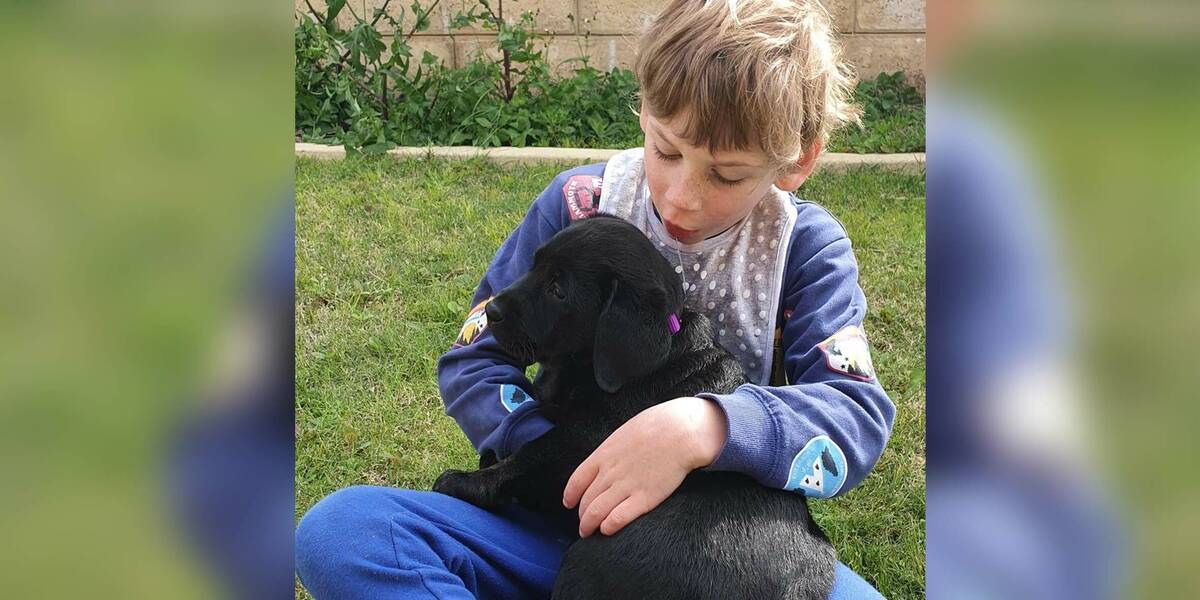 Tahlia said they planned to have Lunar trained so she would eventually realise when Daniel needed medical help. "We want her to know what is his normal and what is not normal. And then at night time if something happens, a medical emergency, she's able to notify us," she said.
"I definitely think it's going to help him quite a lot with his anxiety. It's quite severe when he's not with my partner or me.
"We hope he won't be so anxious to be away from me because he's got a friend. Someone to be with, to protect him."
This is going to have a huge impact on our life. It's very rare that he's not happy, but he's even more happy now if that was even possible!

Tahlia

mum to wish child Daniel, 7, Mitochondrial Disease - Tango 2 Mutation
Make wishes come true
Despite being one of Australia's top 20 most trusted charities, we don't receive government funding for our wish program. Please give what you can - every dollar counts.
The Wish Journey
How a wish comes to life
Make-A-Wish volunteers visit each child to capture their greatest wish, getting to the heart of what kids truly want and why. This profound insight is part of what makes Make-A-Wish unique, giving children full creative control and helping to shape their entire Wish Journey.
Back at Make-A-Wish HQ, we partner with families, volunteers and medical teams to design the ultimate wish experience - and start rallying our partners and supporters to help make it happen.
In the lead up to the wish, we take each child on a journey designed to build excitement and provide a welcome distraction from medical treatment. Anticipation can be incredibly powerful, helping to calm, distract and inspire sick kids at a time they need it most.
When the moment finally arrives, children get to experience their greatest wish come true - it's everything they've imagined and more. Pinch yourself, and don't forget to take a breath and enjoy every precious moment!
Wish impact studies show that a child's wish lives on, long after the moment. A wish gives more than just hope – with an incredible and lasting effect on the lives of sick kids, their families and wider communities.