Charlie's own security guard
Charlie's muscles are deteriorating all the time and he wished for his own robot. Thanks to the generosity of donors like you, Charlie's wish to have a robot to guard his bedroom came true.
Background
Diagnosis comes late
Wish mum Kristy's journey to finding out her son Charlie had Duchenne Muscular Dystrophy was far from conventional.
Typically children are diagnosed between ages 2 and 5 but there was little to indicate Charlie had the condition.
A teacher noticed he had a "funny running style" and Charlie's parents observed he was struggling doing some physical things.
GPs thought there was nothing to worry about. When Charlie found it hard to eat because his muscles were tiring, he began choking on his food and Kristy "saved his life a number of times". However, Charlie learned to eat by swallowing water afterwards to wash the food down.
The family were content until one November night at a local park with friends.
A lady approached Kristy and asked if Charlie, then aged 8, had Duchenne. Kristy had never heard of the word, initially saying "my son's name is not Duchenne".
But the seed was planted and after some time on Google later that night, Kristy's worst fears were confirmed by a neurologist less than a week later.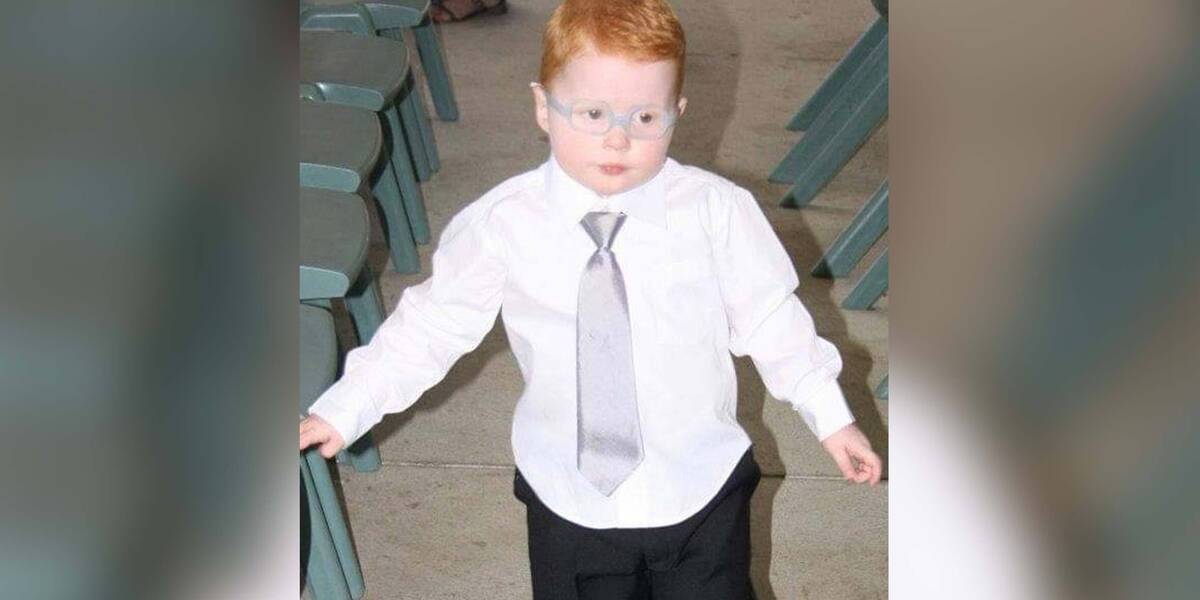 Prognosis
Challenges for 'beautiful boy'
The diagnosis was a relief for Kristy and husband Barry.
Getting the diagnosis four or so years later than other kids typically would was "a blissful period" for the family as Charlie had been able to do things he otherwise would have been held back from.
"But then there was that pure dread that my son has a life-limiting condition," Kristy said.
"Our lives changed instantly overnight.
"It's hard when given birth to this beautiful healthy little boy, then watch him deteriorate. Something he may be able to do today he can't do tomorrow. It's just that quick."
Charlie has a mobility scooter and will soon have his own wheelchair. The boy whose aim was always to run as fast as he can, still plays footy with mates. They allow him to throw the ball and they don't tackle him.
"He's hoping his new wheelchair will go pretty fast," Kristy said.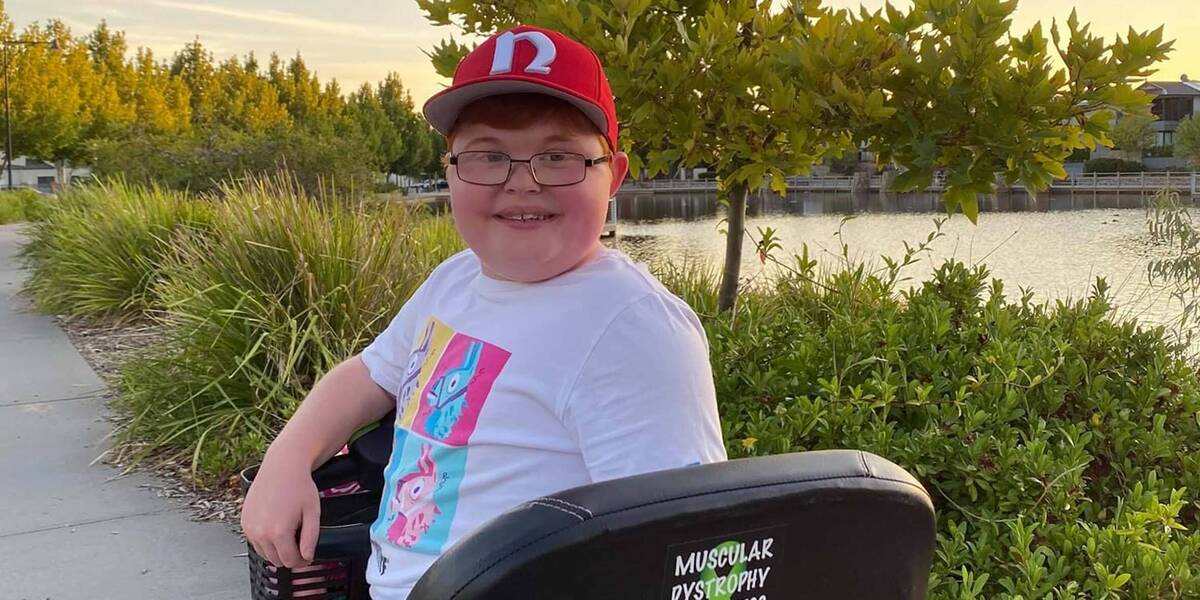 Wish anticipation
Scientists lend a hand
Charlie's wish was born out of a desire most young children with siblings can relate to. He wanted to keep his younger sister Khloe out of his bedroom.
"My wish was to make a robot, with the help of a scientist," Charlie said about his robot bodyguard.
Kristy said her two children love each other but as with most siblings, fall out now and then.
"She is such a huge help to Charlie, she helps put his shoes on and dresses him," Kristy said.
"She is such a beautiful girl but they just have this love/hate relationship sometimes."
Charlie drew up a sketch of the robot and a host of people from different companies and backgrounds volunteered their time to turn the robot into a reality.
Based at the Woodside Karda Robotics Lab in Perth, where one of the team was employed, they worked tirelessly over two years on Charlie's Reconnaissance, Exploration and Protection Robot (CREAPR).
They completed the robot and handed Charlie his own licence card to operate his new friend.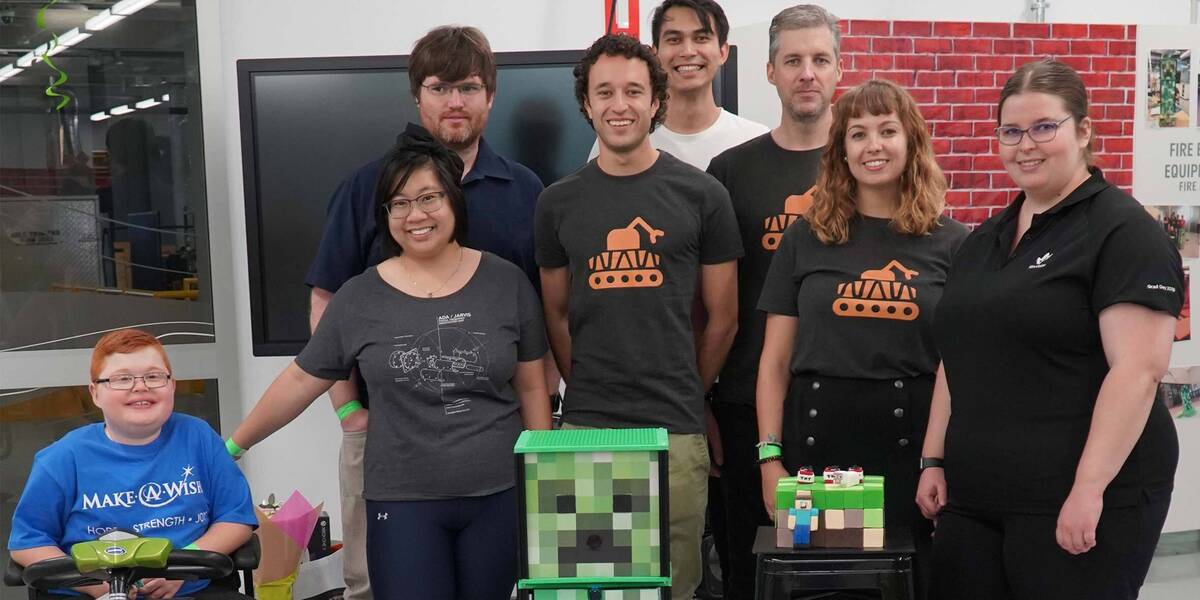 The wish
Charlie gets his robot
Charlie was playing with LEGO the morning his robot arrived. There was a knock at the door and Charlie eyes lit up when the door opened and he saw his robot on the front step.
Straight away Charlie took the IPAD which controls the robot and headed to the garage to test it out.
Kristy said knowing the robot was coming for two years had helped Charlie during his almost-weekly medical appointments.
"He is very special. No 11-year-old should have to go through what he does. He's very clever and he's so mature," she said.
"He was quite overwhelmed. His wish day is something he is going to remember for the rest of his life."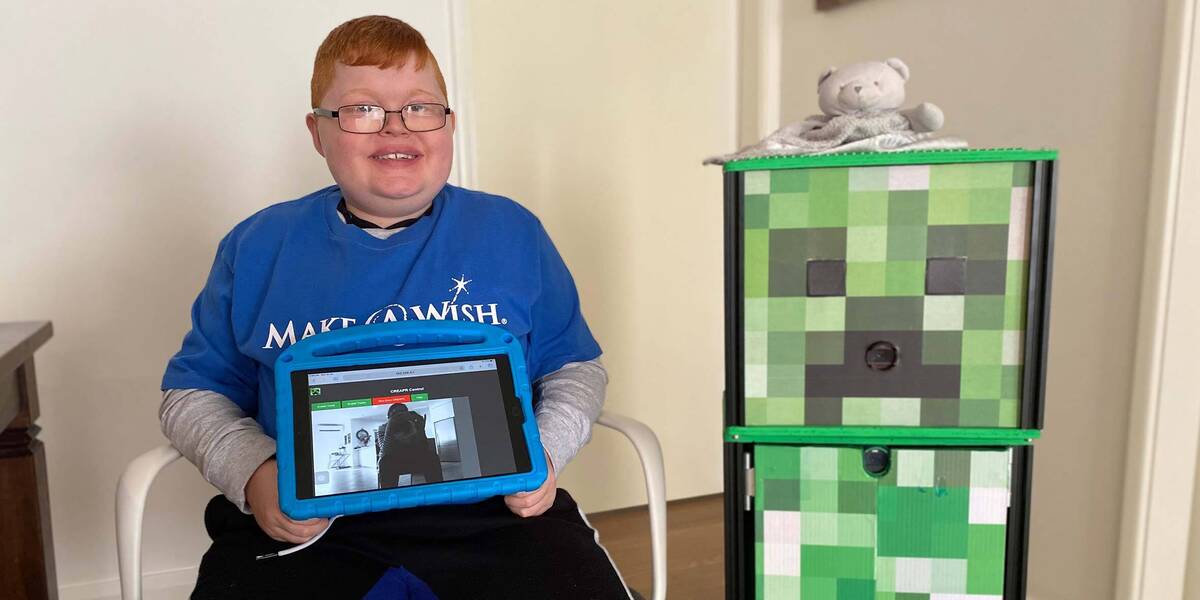 Thank you, Make-A-Wish supporters!
In these uncertain times, we'd like to thank you, our amazing supporters who make a difference to families and wish kids like Charlie. We couldn't do what we do without people like you.

His wish day is something he is going to remember for the rest of his life

Kristy

mum to wish child Charlie, 11, Duchenne Muscular Dystrophy
Make wishes come true
Despite being one of Australia's top 20 most trusted charities, we don't receive government funding. Please give what you can - every dollar counts.
The Wish Journey
How a wish comes to life
Make-A-Wish volunteers visit each child to capture their greatest wish, getting to the heart of what kids truly want and why. This profound insight is part of what makes Make-A-Wish unique, giving children full creative control and helping to shape their entire Wish Journey.
Back at Make-A-Wish HQ, we partner with families, volunteers and medical teams to design the ultimate wish experience - and start rallying our partners and supporters to help make it happen.
In the lead up to the wish, we take each child on a journey designed to build excitement and provide a welcome distraction from medical treatment. Anticipation can be incredibly powerful, helping to calm, distract and inspire sick kids at a time they need it most.
When the moment finally arrives, children get to experience their greatest wish come true - it's everything they've imagined and more. Pinch yourself, and don't forget to take a breath and enjoy every precious moment!
Wish impact studies show that a child's wish lives on, long after the moment. A wish gives more than just hope – with an incredible and lasting effect on the lives of sick kids, their families and wider communities.