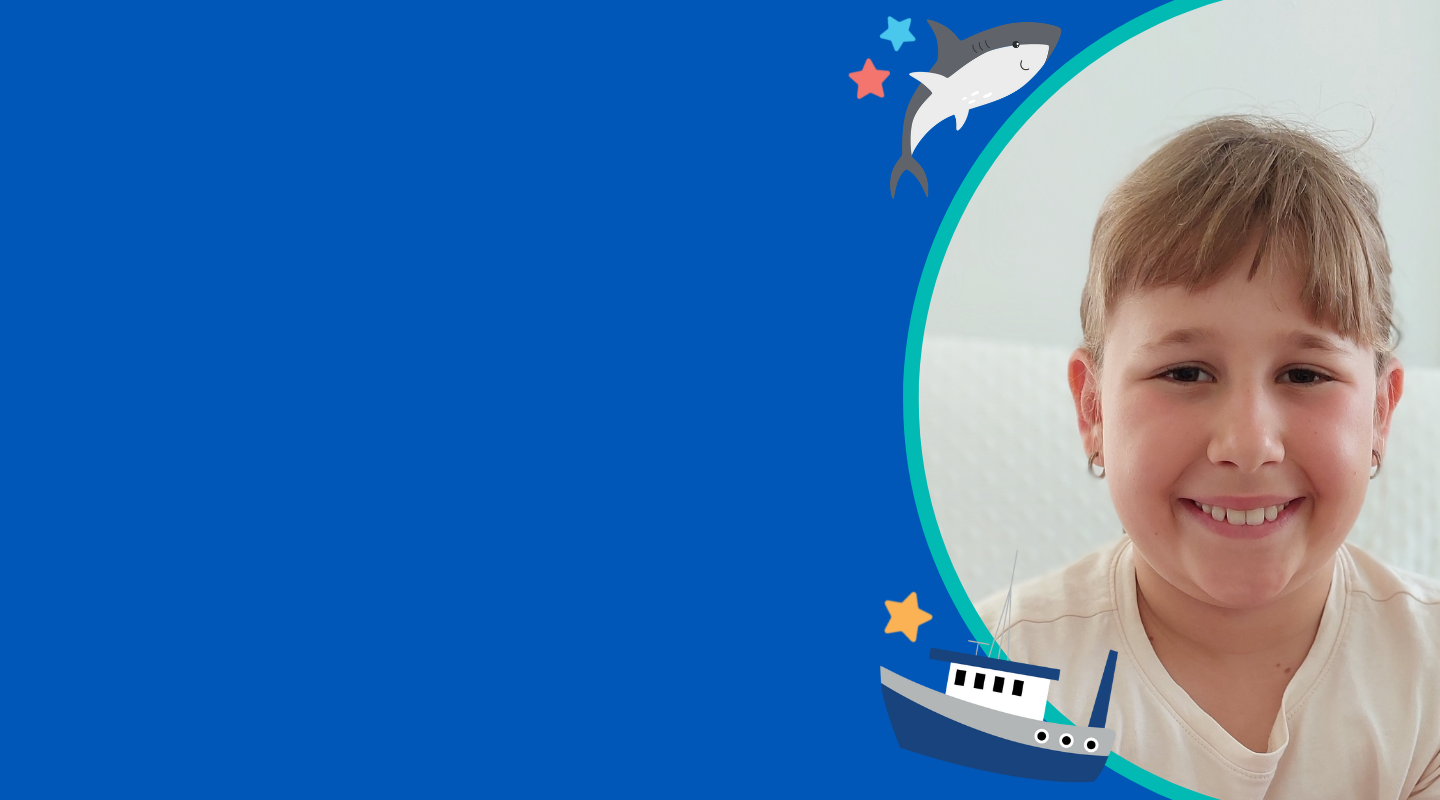 Help Natalia dive into her future
Natalia has spent years on very uncertain waters. But now, at last, it looks like the storm has passed.
A calm, bright future stretches out in front of her. And today, you can help her dive right in – literally.

Make a gift today to give critically ill kids like Natalia the unforgettable experience of a wish.
Natalia's story
Navigating uncertain waters
Ten-year-old Natalia loves reading and telling stories. She also loves the water – which will make sense when you hear about her wish.

"She's a mermaid," says her mum, Janka. But back when Natalia was three and a half, she found herself on very uncertain waters.
"She used to have episodes of fevers," says Janka. "The doctors would say, 'It's viral. It's normal.' But it went on too much for my liking. You just know when something is wrong – mother's instinct."
Janka insisted that Natalia had some blood tests done. They hadn't been home from the clinic for very long when the phone rang. It was the doctor.
"She said, 'Pack your bags because I got a phone call from the laboratory. Natalia has leukaemia.'"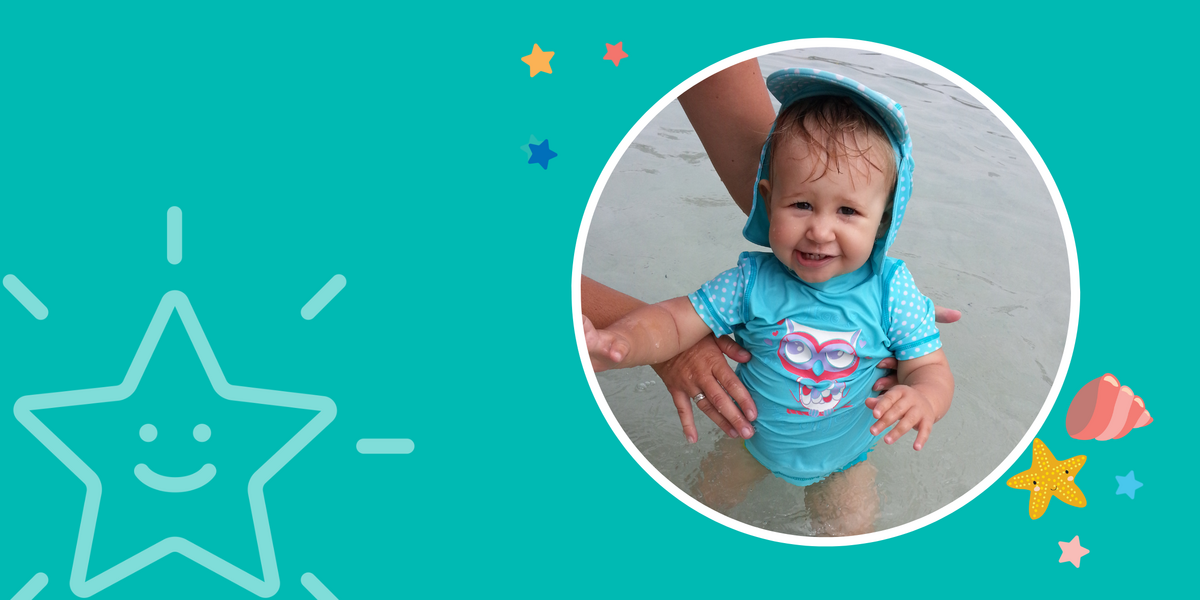 When I heard the diagnosis, I don't even know what I was thinking. I had to get my head around it quickly and tell myself, 'It is what it is. We just have to get through it and follow whatever they tell us.

Janka

Natalia's mum
Everything changes in an instant
After more tests, Natalia was officially diagnosed with Acute Lymphoblastic Leukaemia. She needed treatment immediately. A special tube called a 'port-a-cath', or 'port' was inserted into her chest to deliver the chemotherapy drugs.
It's an incredibly scary procedure for a little child of just three and a half.
For the first round of treatment, Natalia needed to spend a week in the hospital over Christmas. She was able to go back home on Boxing Day – but within 24 hours, the port got infected.
"She was in so much pain," says Janka, "It was pain unlike anything she'd ever known."
Natalia was rushed back to hospital for another fortnight. The family was devastated.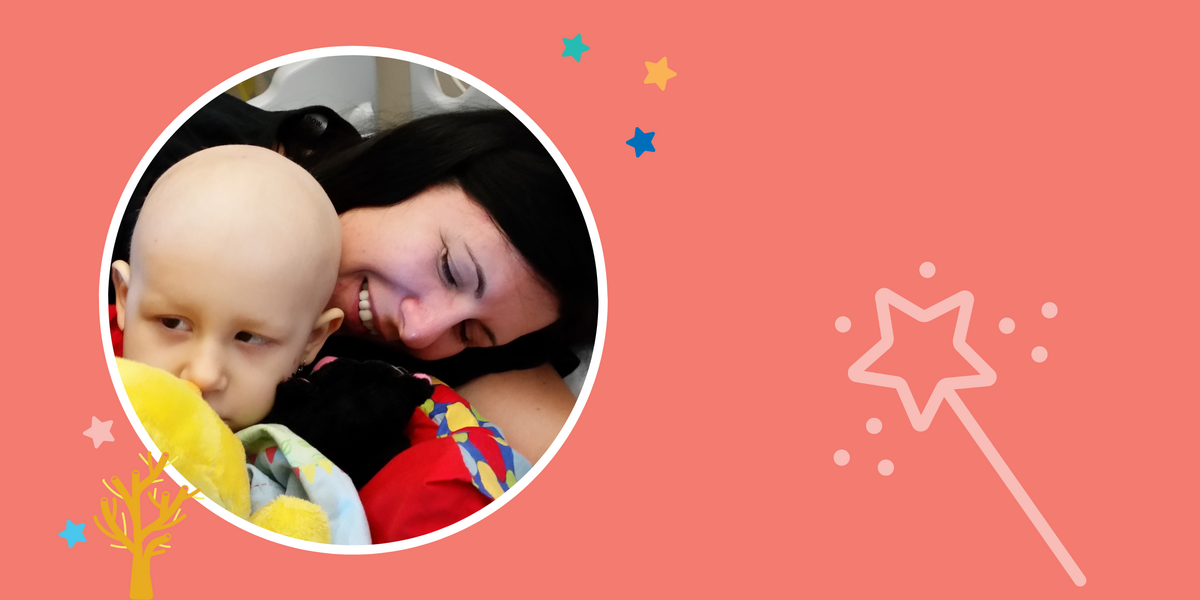 You're on a steep learning curve, with the different medical procedures and chemotherapy treatments. Plus, there's the whole day-to-day life aspect of it. You have to adjust so quickly with your job, your family, everything changes in an instant.

Cal

Natalia's dad
Donate Today
Your support is needed
It can be hard to imagine how any family can cope with the stress and uncertainty of critical illness. But this is an experience shared by all the critically ill children and their families currently waiting for a wish. Right now, there's over 900 of them.
And that number is growing all the time. Every single month in 2022, we received an average of 48 new wish applications. That means that for every child who has a wish come true, two more are just starting their Wish Journey.
Looking ahead this year, that demand is set to continue. The only way to grant more wishes in 2023, is with more funds.
Please will you donate today and help raise urgently needed funds for children like Natalia?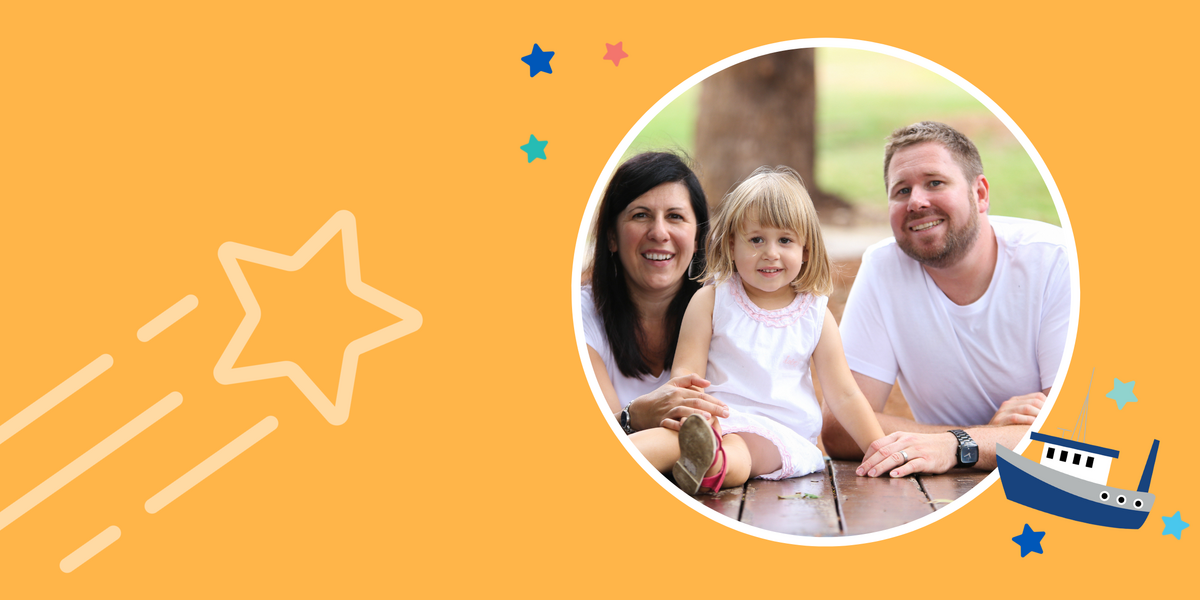 Treatment takes a toll on families
For Natalia, she faced 12 months of intensive chemotherapy.
"The hardest moment for me," says Janka, "was when the nurses were struggling to take a blood sample from Natalia. They were pricking and poking her, trying to get blood, but they couldn't."
It must have been scary for everyone – Janka and Cal seeing their little one so vulnerable, Natalia not knowing what was happening.
And there was one moment that sticks out in Cal's mind. "She had a severe anaphylaxis reaction to one of the chemotherapy drugs," he says. "The nurses had to do something I'd never seen before – hit the emergency button in the ward."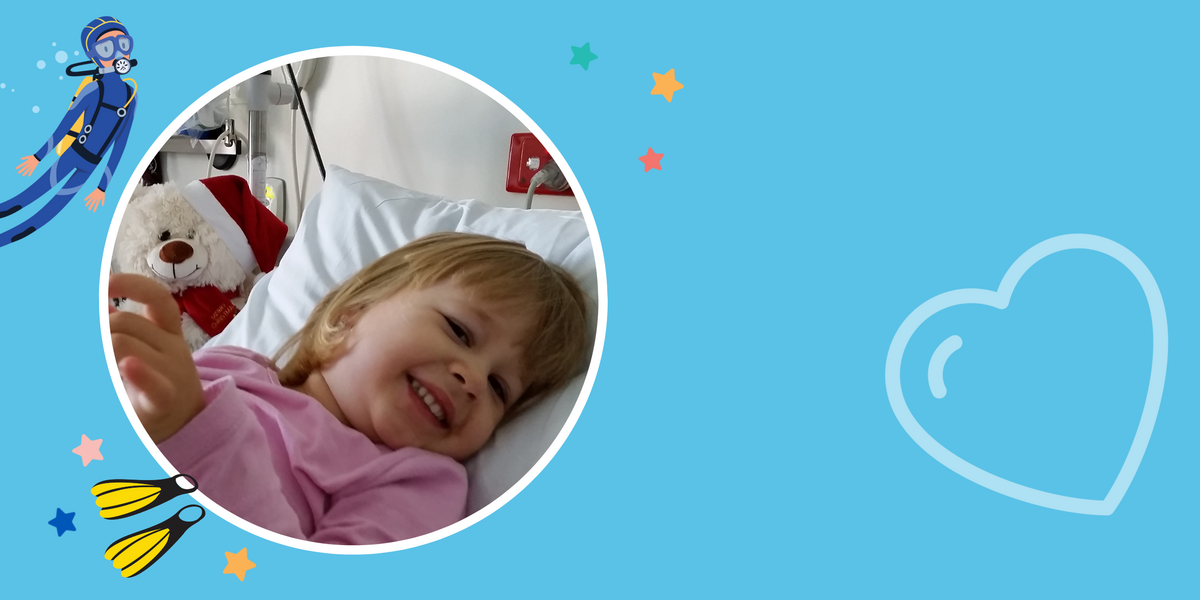 Cal recalls that moment in the hospital, "It was our child there in danger. Within a minute, a dozen ICU nurses and doctors came to take control of a life threatening situation. After it was resolved, I stepped outside the ward for a moment. You're hit with the reality of how serious the treatment is and what the complications are."
Thankfully, Natalia's leukaemia responded to this serious treatment. After 12 months of intensive chemotherapy, Natalia went on to 'maintenance' therapy – a milder form of chemotherapy, for 18 months, to keep the leukaemia from coming back.
But life was still far from normal. Natalia had regular hospital appointments, and she often came down with serious infections because the chemotherapy treatment weakened her immune system, meaning she had to spend even more time in hospital.
Time and again, she needed to stay in isolation for her own safety – disrupting her schooling and making it impossible for her grandparents to visit from overseas.
A very unique wish
Now at last, Natalia is in remission and at ten years old, she is the perfect age for her wish. She will appreciate every moment and remember it forever.
And Natalia has made a very unusual wish – but it perfectly sums up who she is.
"She's very clever and curious and loves books about animals," says Janka. "That's probably where she got her passion for sharks."
Knowing that Natalia loves swimming, you can see why she's made this wish – to go diving (in the safety of a cage) with Great White Sharks.
There's no better wish for this little mermaid, who is passionate about marine conservation.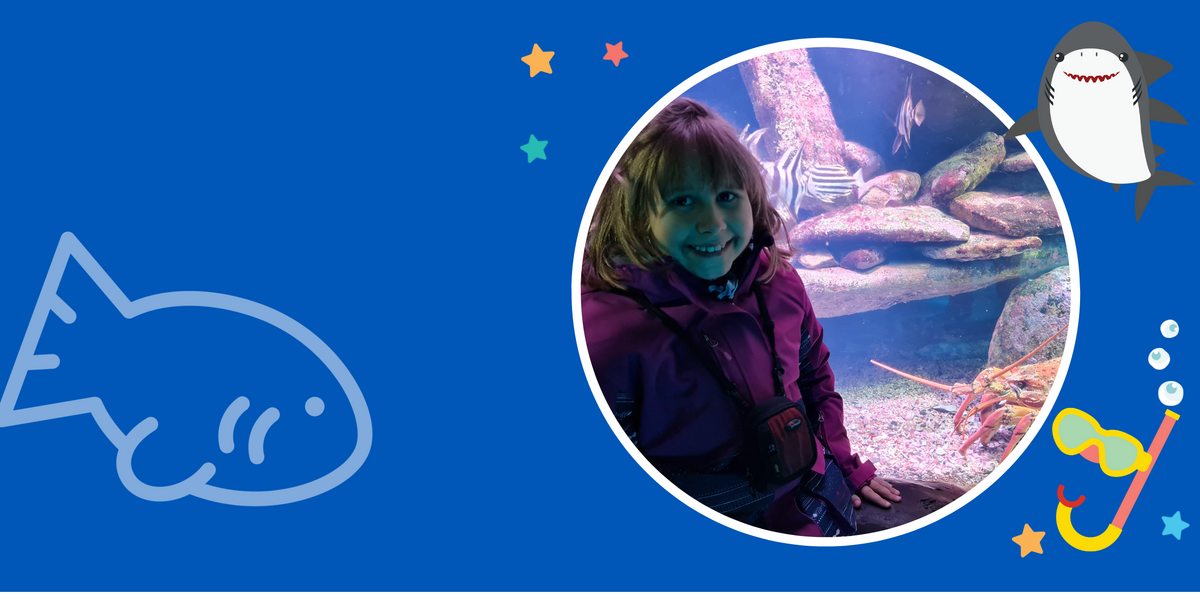 Natalia and her family will travel from their home in Brisbane to Port Lincoln. They're going to spend a few days exploring the coast and visiting the famous Shark Museum before heading out to sea.
They will drop anchor at the Hopkins Islands for snorkelling with Sea Lions. Then it's off to the Neptune Islands to go diving (in the safety of a cage) with Great White Sharks.
It will be a truly memorable experience. And the impact of the wish will continue long after the family are back onshore.
"Natalia is very much for the conservation of threatened species like sharks," says Janka. "When she grows up, she would like to be involved in marine life."
Her wish can be the start of something bigger – she can keep going and become that marine biologist and make a difference in lives, of not just sharks but humans too.

Janka

Natalia's mum
Please give today
Natalia is waiting for her wish right now – along with 901 critically ill children. That number is set to grow throughout 2023, as we expect to receive nearly 50 new applications every single month.
We need your support today to ensure more wishes come true in the months ahead.
Please, give a generous gift today give children like Natalia the unforgettable experience of a wish.
Going on a deep sea expedition will help Natalia see that anything is possible – that's what wishes can do. And it's what you can do today – providing lasting joy after years of turmoil, offering hope and possibility stretching into the horizon.
Please donate today to grant wishes like Natalia's and help her take a big dive into her future.