Become a Volunteer
Discover the life-changing difference you can make to seriously ill kids when you volunteer

Why Volunteer?
Our volunteers give their time, skills and energy to help bring wishes to life for a variety of reasons.
★ Because they want to have an impact and feel an alignment with our vision, mission and values
★ To create life-long friendships and a sense of belonging to both a local and a global network
★ To develop new skills or gain work-related experiences

★ To build emotional resilience, wellbeing and self esteem
★ As a way to give back and help others in the local community
★ And importantly, to be inspired and have fun!
When you volunteer with Make-A-Wish, we'll take you on an unforgettable volunteering journey - whatever your reason, explore our opportunities and get involved today.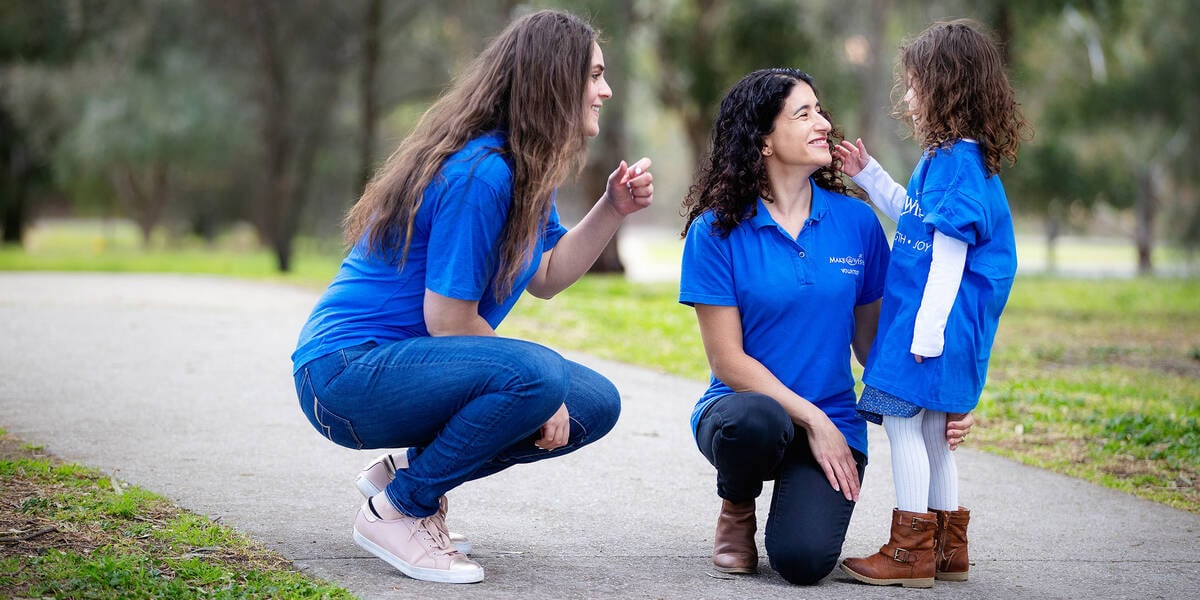 We have wonderful volunteers all around Australia, but right now there are a few communities where we need a bit more help. Do you live in any of the below towns? If you do, we would love to hear from you! Click apply now or check out the seek roles below.
Central Coast
Port Macquarie
Albury-Wodonga
Goulburn Valley (Shepparton)
Logan & Redland
Ipswich
Moreton Bay North
Moreton Bay South
Townsville
Toowoomba
Rockhampton & Gladstone
Not from any of the above regions?
That's okay! We have volunteer branches all over Australia that are always needing more help. Here's the list of all our other volunteer branches. If you live in any of these regions and would like to join in the fun, please apply now!
Albury-Wodonga
Canberra
Central Sydney
Newcastle
Port Macquarie
South West Sydney
Sydney North
Sydney South
Wagga Wagga and Surrounds
Western Sydney
Wollongong
Ballarat
Bayside
Bendigo
Cardinia-Casey
East Gippsland
Geelong
Gippsland
Goulburn
Goulburn Valley
Melbourne
Mildura
Mornington Peninsula
Northern Melbourne
Wangaratta
Western Melbourne
Brisbane City North
Brisbane City South
Moreton Bay North
Moreton Bay South
Logan & Redland
Ipswich
Bundaberg
Cairns
Toowoomba
Townsville
Sunshine Coast
Gold Coast
Rockhampton & Gladstone
Mackay
Adelaide Central
Adelaide North
Adelaide South
Barossa Valley
Mt Gambier
Port Pirie
Riverland
Yorke Peninsula
Albany
Peel & South West
Perth Branch (Central)
Perth Branch (North)
Perth Branch (South)
Alice Springs
Darwin
Devonport
Launceston
Hobart
Explore volunteer opportunities
There are many different ways to lend your time and skills to help make wishes come true. Find out more about our volunteers and the types of roles available.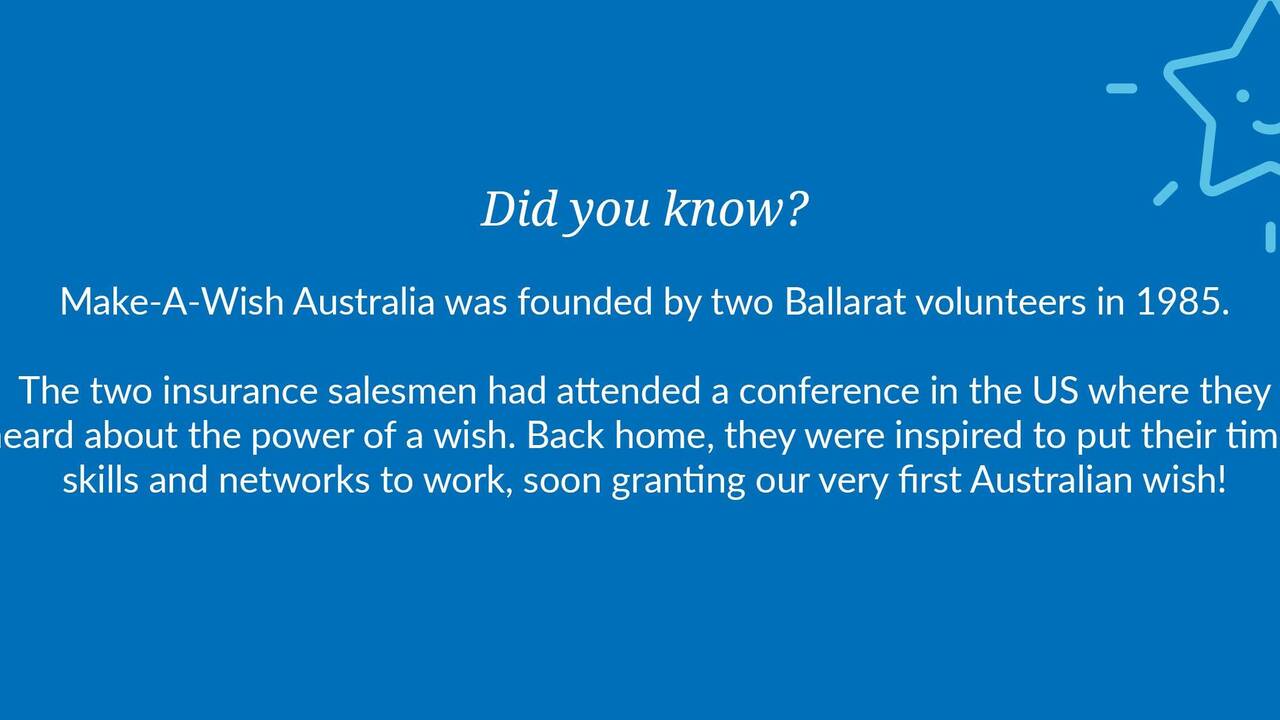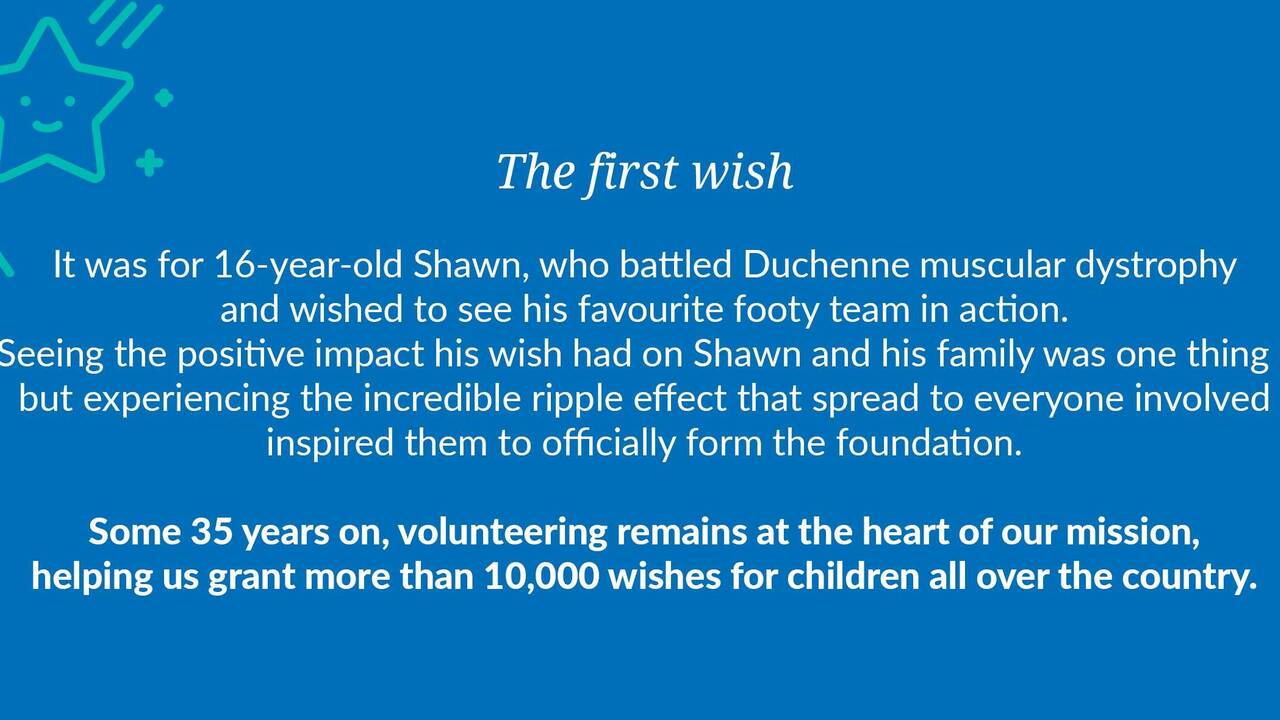 You may be thinking - well, exactly how much work does a wish involve? And that's a very reasonable question!
At Make-A-Wish Australia, when we receive an application for a child to be granted a wish, that child starts what we call A Wish Journey. There are five stages in every Wish Journey.
Although wishes are a big part of what we do, there are many other things you may find yourself involved in. Things like branch meetings, fundraising events, and community events. Whatever you really enjoy doing - do that!
This is where you come in. Once you have done your wish training you and another volunteer/s will meet with the child either in person or via zoom (as we're still doing zoom under some circumstances due to covid) and determine what their wish might be.
This is where you get to know the wish child, find out all about their wish idea and what they are picturing.
Sometimes this is really simple - the child knows exactly what their wish is!
And sometimes, it takes a few visits to really understand what they might wish for and why.
Once a child's wish is captured, you'll fill in a wish report with all the details and send it to us here at Wish HQ! Each wish has a designated wish team who will go through everything you have captured from the wish child and work alongside you to make the magic of a wish happen.
Once a child finds out their wish is approved, the fun begins – this is the part where we keep the child excited and eagerly anticipating their wish whilst they wait! Depending on the wish, the anticipation part of the Journey may be relatively short or long. You can let your imagination and creativity run wild here and really make this an exciting journey for them - and of course your HQ wish coordinator is always there to help with ideas.
Yay! The wish is happening! It might be a holiday to see their favourite animal, it might be a unicorn party....or anything else they dreamed up! Sometimes you'll be needed for the wish day, and other times, maybe not, depending on where the wish is happening! Many wishes have a wish presentation when the wish is coming true so you get to be part of bringing the wish to life for the wish child.
This is the last stage of the child's Wish Journey. We know wishes have a lasting impact on our families. In this stage we gather some feedback from the wish family and from yourself. And voila...
Congratulations, you've completed a wish journey!
Volunteering FAQs
We are a vibrant, diverse and inclusive organisation, and encourage volunteers of all backgrounds, skills and life experiences to get involved!
Volunteers generally need to be 18 years or older
The minimum age for event helpers is 16 years*
The minimum age for work experience students is 15 years*
You'll also need an email address and ability to access our online Community platform for volunteer communications and training.

Make-A-Wish Australia is proud to be a child-safe organisation and we value community, integrity, innovation, impact and most importantly, we put wish children first. Our volunteer onboarding process includes background checks to ensure all volunteers share our commitment to child safety.

*Please note due to COVID-19, the event helper and student volunteer programs are currently not available.
Our volunteers can support Make-A-Wish in various ways including:

Branch volunteers - getting active in your local community, working with local wish families, and participating in awareness and fundraising activities
Event volunteers - getting involved in more of an ad-hoc way, often for a single shift or day, during a local Make-A-Wish event (ie. fun run)*
Corporate volunteering - our program for businesses looking to inspire teams and give back, as part of their CSR agenda
Office volunteers, work experience students and more*

See Volunteering Opportunities for more info about these roles and other ways you can get involved.
*Please note due to COVID-19, the event helper and student volunteer programs are currently not available.
No - there's no special skills required for most volunteer roles. All we ask is that you have a genuine commitment to making a difference, and empathy for wish children and their families.
You'll also need an email address and ability to access our online Community platform for volunteer communications and training.
Any prior administrative, event management, fundraising, PR or project management skills are a bonus - and you'll pick up lots of new skills along the way.
For volunteers involved with wish granting, it's important that you enjoy and can communicate well with children, young people and their families. Make-A-Wish provides training and support to help you do this.
The time you commit to volunteer with us is entirely up to you! Most of our volunteers balance their Make-A-Wish role around family, work and social commitments.
To get an idea of the effort involved with different volunteer role types, please check out our Volunteer stories.
Please note, we ask branch volunteers to commit for a minimum of 12 months and attend their monthly branch meetings, where possible. Any extra time you give through the year will depend on your individual interests, the branch fundraising calendar and local wish family requirements.
Whatever way you choose to help - we are grateful for your commitment and support in making wishes come true.
It's quick and easy to apply - from this page, simply hit 'Apply now' and complete the online Expression of Interest form. Let us know who you are and the types of volunteering opportunities you're interested in!

Our Volunteer Programmes team will be in touch to advise next steps for the type of opportunity you've expressed interest in.
Please note, for non-branch volunteers, it can take some time before an opportunity comes up that matches your profile.
Yes - as a charity committed to children's safety and wellbeing, we follow a rigorous recruitment process, ensuring we place the right people in the right roles.
For example, successful Branch volunteer applications can expect the following as part of our onboarding process:
An interview (or conversation) with us
Reference checks with two referees
A National Police Check
A state-based Working with Children Check

In short, yes! All new volunteers participate in local orientation activities, with additional online training and mentoring for branch volunteers as you get 'wish-ready'.
All branch volunteers have access to the Community, a dedicated online platform where you can find the latest news, training and support, and connect with other #WishForce volunteers around Australia.
Leadership training and face-to-face workshops are also offered annually for branch volunteers in key leadership positions (for example, Branch Presidents and Wish Granting Coordinators).
At Make-A-Wish, the large majority of our volunteers (around one thousand of them!) come on board as a branch volunteer.
Branch volunteers get together monthly to plan local fundraising campaigns and coordinate wishes for local families:

Capturing a child's unique wish and bringing it to life through all stages of the Wish Journey.
Supporting local fundraising and events, from fun runs and sausage sizzles to gala balls and bake-offs.
Raising awareness and support in the local community, helping drive our reach and impact to achieve our mission.
Each branch also has a range of elected leadership roles (for example, President and Vice President, Wish Granting Coordinator, Fundraising Coordinator and Volunteer Care Coordinator).
ACT
NSW
Sydney (multiple branches)
Coffs Harbour
Dubbo
Goulburn
Newcastle
Port Macquarie
Wagga Wagga & Surrounds
Wollongong
NT
QLD

Brisbane (multiple branches)
Bundaberg
Cairns
Fraser Coast
Gladstone
Gold Coast
Mackay
Rockhampton
Sunshine Coast
Toowoomba
Townsville
SA
Adelaide
Barossa Valley
Mt Gambier
Naracoorte & Disctricts
Port Lincoln
Port Pirie
Riverland
Yorke Peninsula
TAS
Burnie
Devonport
Hobart
Launceston
VIC
Albury-Wodonga
Ballarat
Bayside
Bendigo
Cardinia-Casey
Gippsland (multiple branches)
Geelong
Goulburn Valley
Melbourne (multiple branches)
Mildura
Mornington Peninsula
Wangaratta
WA
Albany
Mandurah-Rockingham
Perth