The wish built with LEGO
Living with two serious conditions, Zachary turned to LEGO for fun and to build up his motor skills. Thanks to generous supporters like you, his wish to visit LEGOLAND in Melbourne came true.
Background
Meet Zachary
Once a month, Zachary, 6, goes to the hospital to have a big needle inserted into a port in his chest for six hours.
After his treatment, the tape used to keep the needle in place is ripped off. It hurts.
He hates these hospital visits and doesn't understand why when he feels okay going into hospital that he should feel miserable and in pain when he comes out.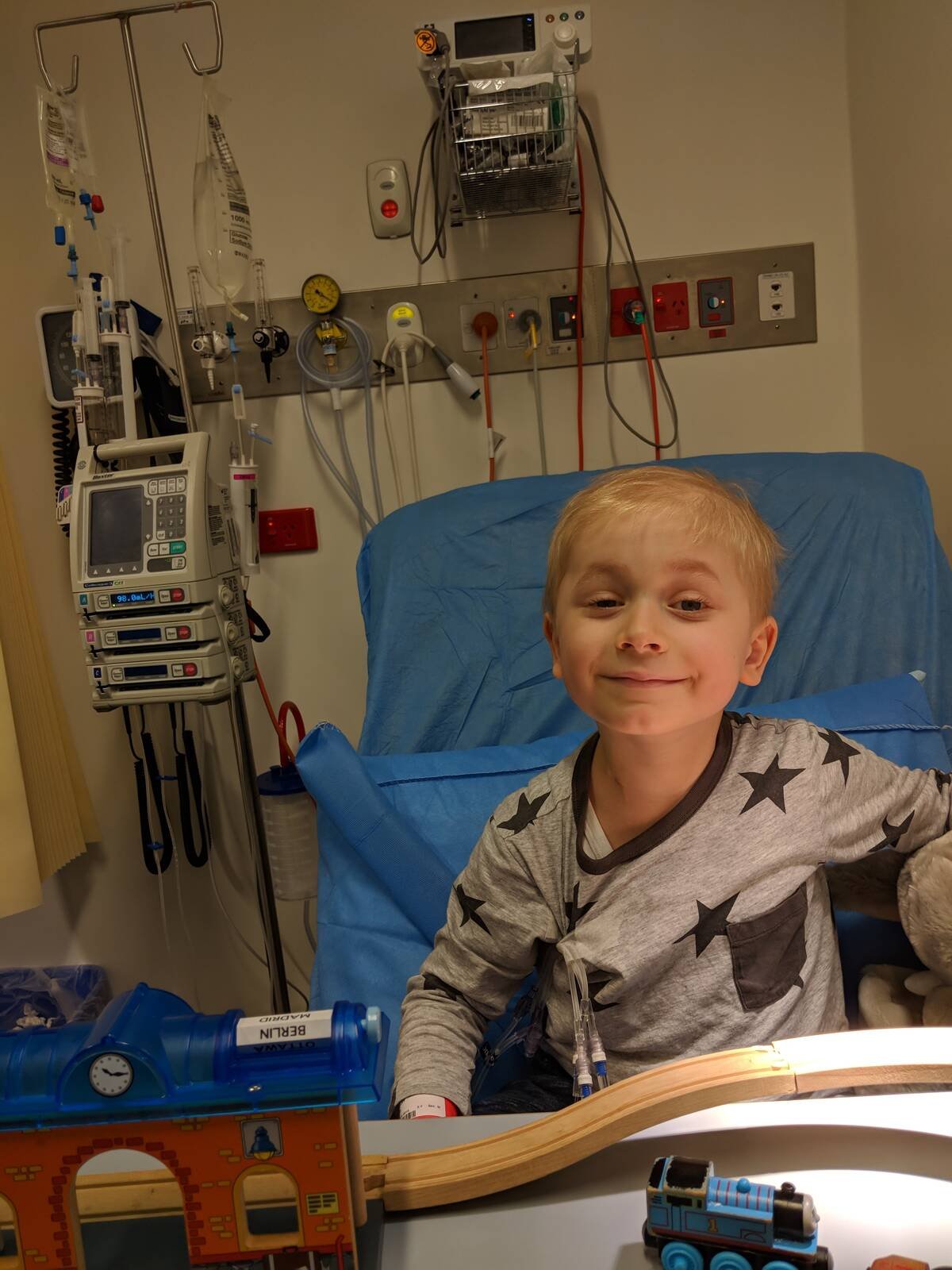 Zachary is living with Opsoclonus-myoclonus syndrome (OMS), a rare disorder that affects the nervous system. It's believed there are only three children in Australia with OMS.
Wish mum Diana said Zachary's OMS was discovered when he was 5. And when in hospital it was also found he had neuroblastoma, which is a cancerous tumour.
"He got OMS through neuroblastoma. I am actually blessed he has OMS because otherwise we probably wouldn't have known he had neuroblastoma," Diana said.
Chemotherapy destroyed 95 percent of Zachary's tumours, and he is now in remission. But he still lives with OMS. Initially, the OMS affected Zachary's speech and ability to stand. Now the condition – and the drugs he takes to treat it – affects his moods.
Pre-wish
Pencil moment a milestone
Zachary's OMS is debilitating. Diana said he's not able to run around with kids his age because he has a port permanently in his chest.
"You can't be a normal kid. It also plays on your emotions. He's on oral steroids monthly, and they make you quite aggressive," she said.
"He has a drug to calm him down, but while the drug is doing its job, Zachary still gets so angry. Every time he gets stressed, it aggravates his OMS.
"He says to me 'why do I have to be like this?'
"But Zachary also has the emotional intelligence of a 12 year old even though he's 6 turning 7. He has insight; he doesn't like the OMS and wants it to go away."

Make a life-changing difference
There are so many ways you can help seriously ill kids like Zachary experience a wish.
Diana said when Zachary became an outpatient, he began to think about what he would like for his wish.
Just like other wish kids, Zachary's wish pack included a drawing activity to complete, to help him visualise his wish and express it to his wish team.
With his motor skills impacted by his illness, Zachary initially rejected the idea of drawing.
But one afternoon, he started drawing. The drawing was of LEGOLAND.
"He said 'do you reckon Make-A-Wish will take my application' and I said 'yes, this is the first time you have picked up a pencil since you were diagnosed'," Diana said.
"It was such a milestone for him."
I wish to visit Legoland in Melbourne.

Zachary, 6

neuroblastoma and OMS
The wish
Zach's Melbourne discoveries
Zachary couldn't wait for his wish trip to the LEGOLAND Discovery Centre in Melbourne; it kept him positive and looking towards the future.
Lego had played a part in his medical journey, with doctors encouraging him to build things to help his fine motor skills improve.
"We were so surprised that when we got to the discovery centre that we thought the number of people there would overwhelm Zachary, but it didn't," Diana said.

"The staff understood his condition – they said 'we have kids like this here before'. They were just fantastic. They gave him a lot of one-on-one time. He loved the earthquake table; things go everywhere!"
Diana said one of the other highlights of their trip to Melbourne was spending time at the Cat Café in the CBD. She said the cats were more affectionate than the family cat, 12 year old Schmoo.
At LEGOLAND it was almost like he was in his own bubble. It actually was like a switch had been flicked.

Diana

Zachary's mum
Wish effect
LEGO the best medicine
Diana said with Zachary's medical journey ongoing, the memories from his Melbourne trip would help him during his tough times.
"It will definitely stay with him," she said.
"He talks about the cat café a lot. He brings it up with his teacher. He didn't want to leave the café."
Diana said LEGOLAND was also a positive experience for him.
"He's dying to go back to LEGOLAND. He loves Melbourne, he loves the food and culture," Diana said.
"Lego has always been his medicine."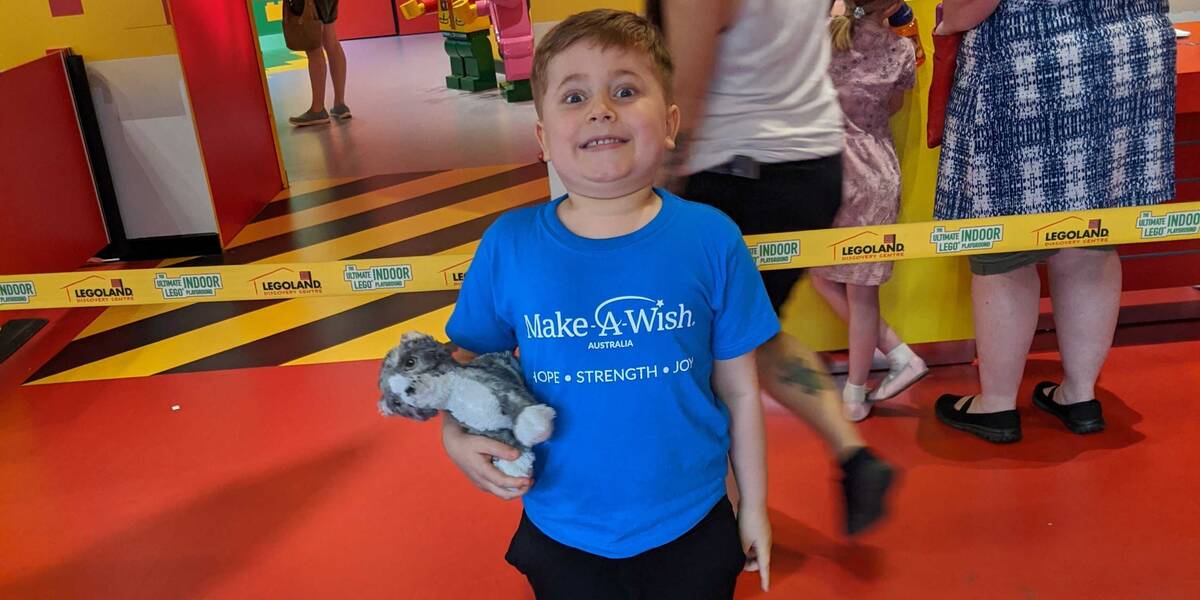 You can make the impossible possible
Despite being one of Australia's top 20 most trusted charities, we don't receive government funding. Please give what you can - every dollar counts.
The Wish Journey
How a wish comes to life
Make-A-Wish volunteers visit each child to capture their greatest wish, getting to the heart of what kids truly want and why. This profound insight is part of what makes Make-A-Wish unique, giving children full creative control and helping to shape their entire Wish Journey.
Back at Make-A-Wish HQ, we partner with families, volunteers and medical teams to design the ultimate wish experience - and start rallying our partners and supporters to help make it happen.
In the lead up to the wish, we take each child on a journey designed to build excitement and provide a welcome distraction from medical treatment. Anticipation can be incredibly powerful, helping to calm, distract and inspire sick kids at a time they need it most.
When the moment finally arrives, children get to experience their greatest wish come true - it's everything they've imagined and more. Pinch yourself, and don't forget to take a breath and enjoy every precious moment!
Wish impact studies show that a child's wish lives on, long after the moment. A wish gives more than just hope – with an incredible and lasting effect on the lives of sick kids, their families and wider communities.