Thomas is never Ghan forget his wish
Wish wonderment
Hogwarts experience for Thomas
As Thomas's wish to travel on the Hogwarts Express, aka The Ghan, came true, there were two words he kept repeating over the three-night trip.
"He just kept looking at everything on the train and saying 'oh gosh'," mum Theresa said.
Thomas's cabin was converted to make it look straight out of a Harry Potter movie.
"The problem was that he liked his cabin so much that he didn't want to come out of it," Theresa said.
"I said to him just as a joke 'you can sleep in with dad tonight, and I'll sleep in here' because it was so magical, and he waved his wand and said, 'no mum, get out it's mine'. He was just enjoying his cabin so much."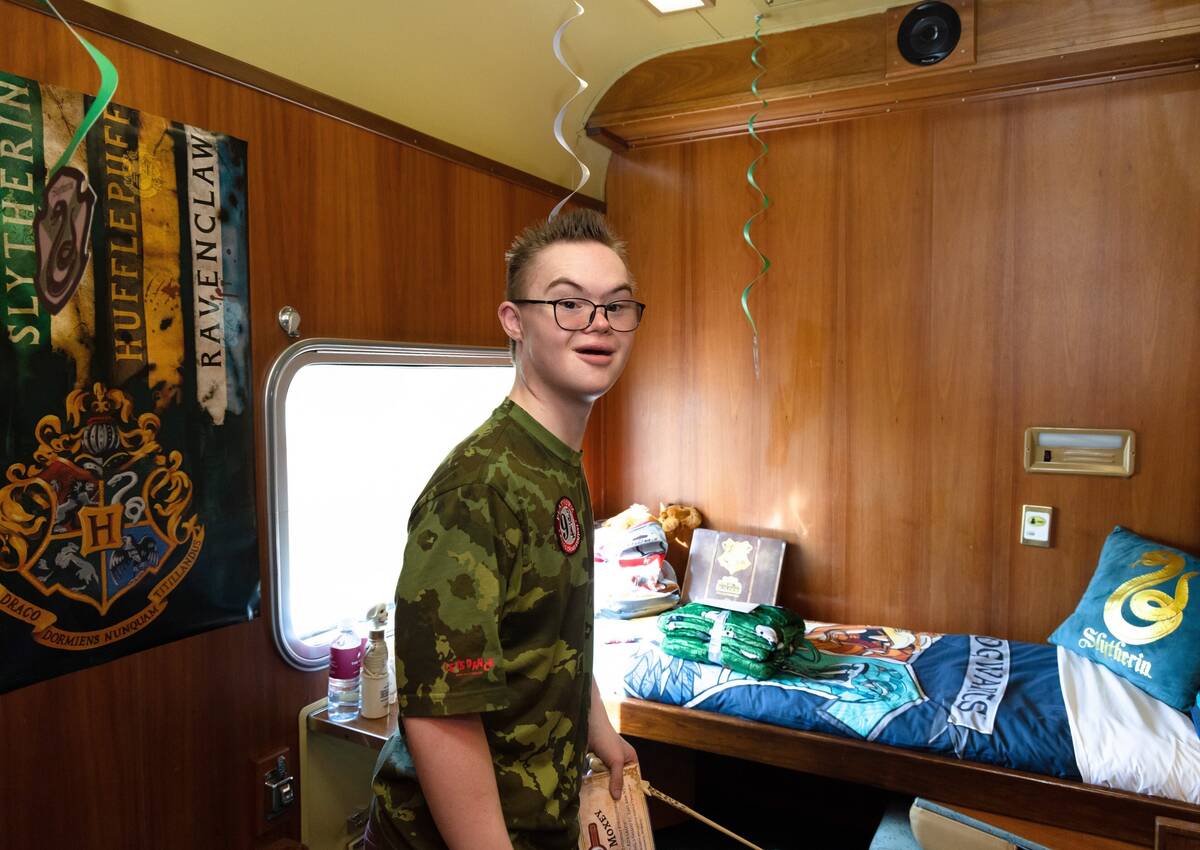 The problem was that he liked his cabin so much that he didn't want to come out of it

Theresa, Thomas's mum
Bumpy start
Tough road for Thomas
Thomas's parents knew that something wasn't quite right when he was born. Their "cute and adorable" baby was diagnosed with Down syndrome.
Thomas also had a heart defect and required open heart surgery when he was only nine months old.
Various surgeries followed before parents Theresa and Vincent received the news in 2016 that rocked their world. They were told Thomas had acute lymphoblastic leukaemia.
Theresa said Thomas had two and half years of chemotherapy but remained resilient through the treatment.
"He took it all in his stride," she said.
"Every Wednesday in hospital, they would inject the chemo into his spine, and he would need a general anaesthetic, and when they would come to get him, he would go 'c'mon boys, let's do it!'."
Thomas has been in remission for three years, enabling him to put his medical journey aside and focus on his Make-A-Wish journey!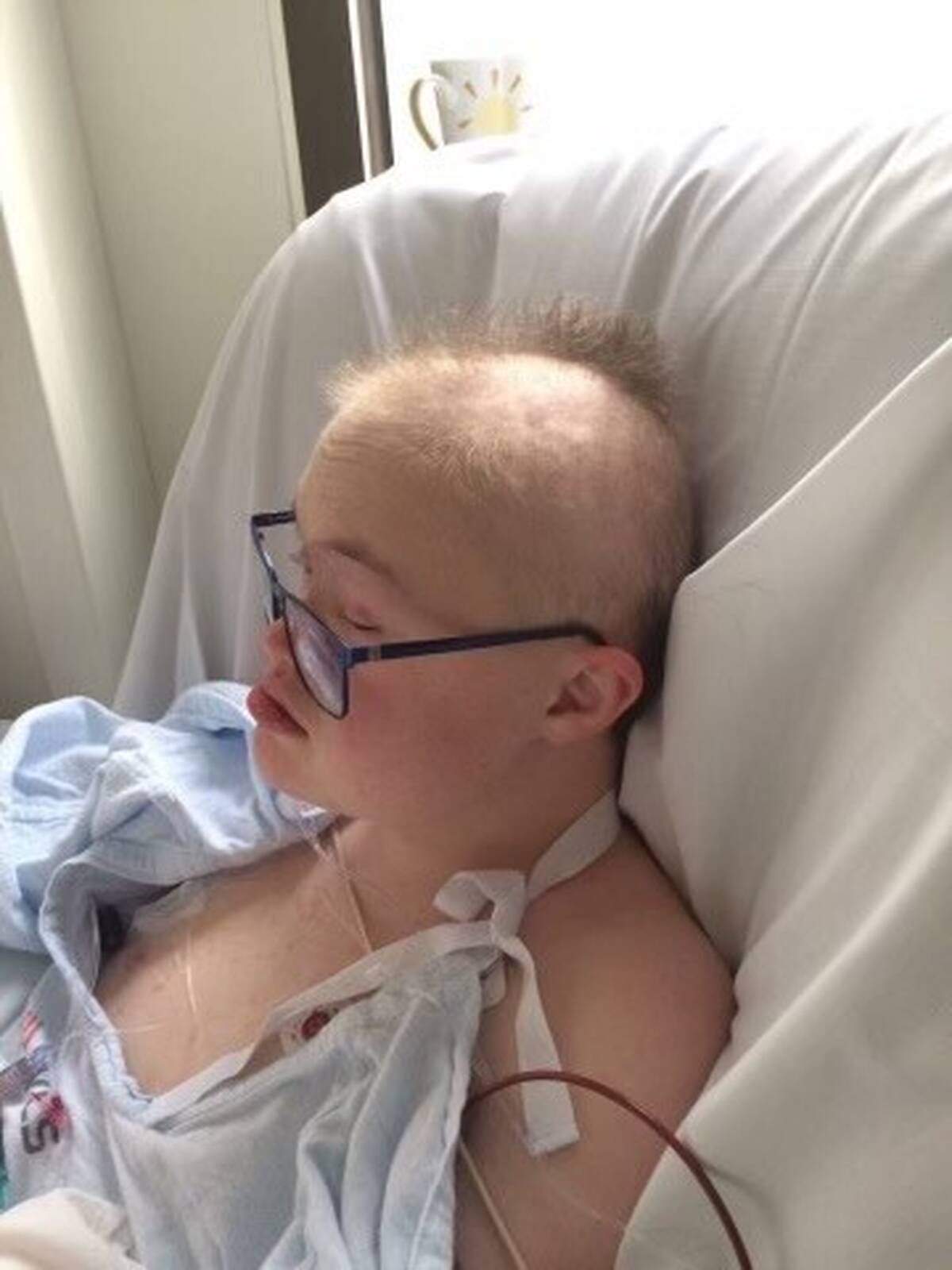 He took it all in his stride.

Theresa, Thomas's mum
Wish trip
All aboard in Darwin!
COVID put the brakes on Thomas's wish until recently when he and his parents flew from Melbourne to Darwin for his train wish.
A few days before jumping on the plane, Thomas was visited by the WishForce. Two Make-A-Wish volunteers dressed as witches presented Thomas with his tickets and a wand.
Once in Darwin, Thomas visited some crocodiles and prepared for the day he had been waiting for: riding his own Hogwarts Express!
With the help of Journey Beyond, Make-A-Wish filled Thomas's cabin jam-packed full of Harry Potter-themed pyjamas, linen, posters, cushions and even crockery.
Thomas had access to his very own range of Harry Potter treats along the journey, including Chocolate Wands, Bertie Bott's Every Flavour Beans and Chocolate Frogs.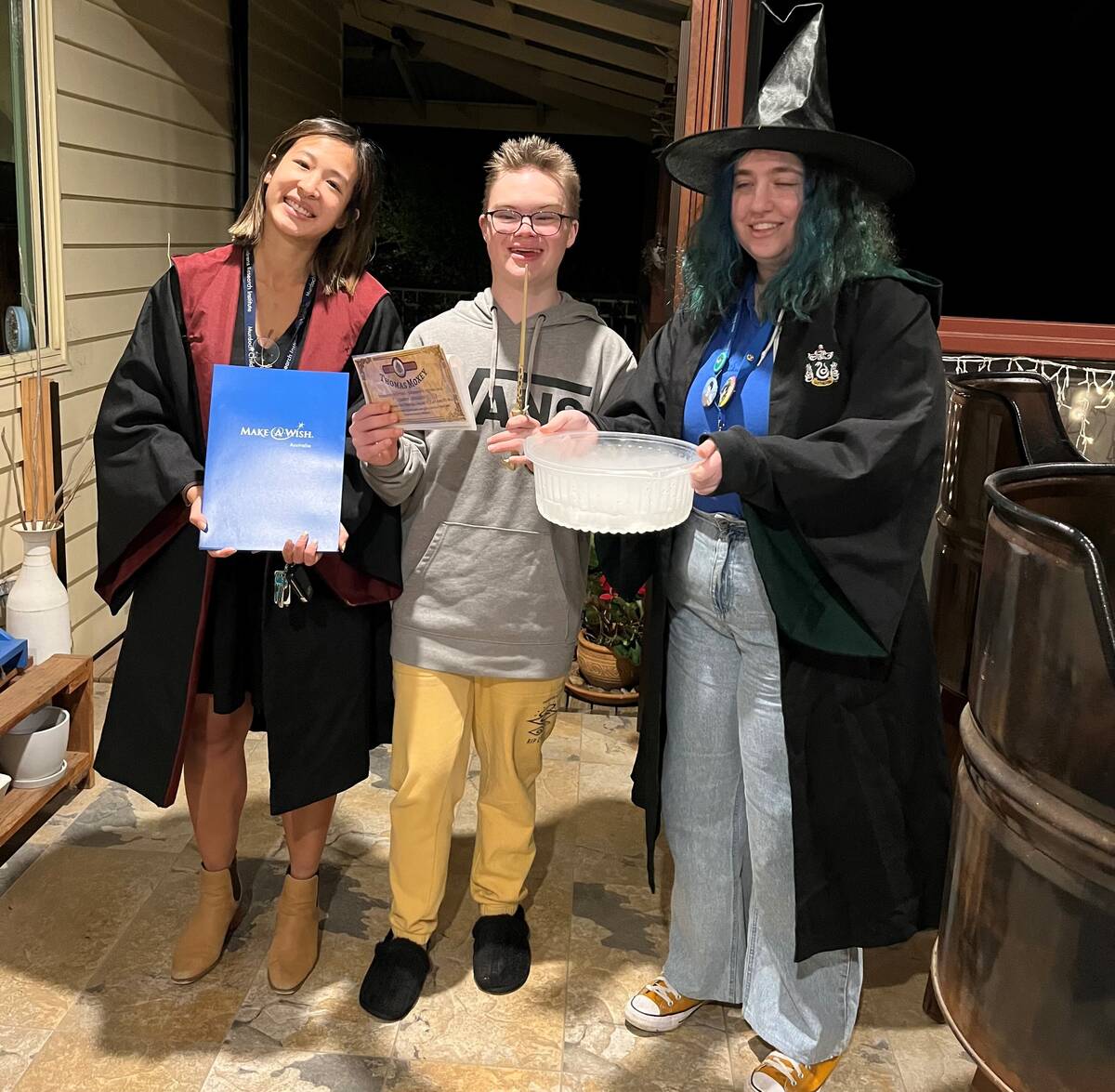 We had so many presents from Make-A-Wish and The Ghan and were squashing them all in his suitcase

Theresa, Thomas's mum
Wish Effect
Kindness makes impact on family
Theresa described the wish trip as something she, Vincent and Thomas would never forget.
She said there was so much effort made for Thomas right from the start at the train station in Darwin.
"The station was full of people dressed in character, balloons everywhere, and everyone clapped as we walked along the platform – it was very emotional," she said.
"Everyone came together with Make-A-Wish to make the wish possible.
"I was very humbled and had to keep swallowing hard, so I didn't make a fool of myself – I was tearing up all the time. Just the kindness of Make-A-Wish and The Ghan, and how nice people were to us."
Make wishes come true
Please give what you can - every dollar counts.
The Wish Journey
How a wish comes to life
Make-A-Wish volunteers visit each child to capture their greatest wish, getting to the heart of what kids truly want and why. This profound insight is part of what makes Make-A-Wish unique, giving children full creative control and helping to shape their entire Wish Journey.
Back at Make-A-Wish HQ, we partner with families, volunteers and medical teams to design the ultimate wish experience - and start rallying our partners and supporters to help make it happen.
In the lead up to the wish, we take each child on a journey designed to build excitement and provide a welcome distraction from medical treatment. Anticipation can be incredibly powerful, helping to calm, distract and inspire sick kids at a time they need it most.
When the moment finally arrives, children get to experience their greatest wish come true - it's everything they've imagined and more. Pinch yourself, and don't forget to take a breath and enjoy every precious moment!
Wish impact studies show that a child's wish lives on, long after the moment. A wish gives more than just hope – with an incredible and lasting effect on the lives of sick kids, their families and wider communities.