When Harry met 'darling' Phoebe
Phoebe's wish was always heading in one direction. She wanted to meet pop superstar Harry Styles!
Resilience
'Keep your head up high'
For most of her 20 years, Phoebe has just wanted people to see what she sees when she looks into the mirror.
Phoebe doesn't see the cystic hygroma facial tumour she was born with.
"I don't see the tumour when I look in the mirror," Phoebe said.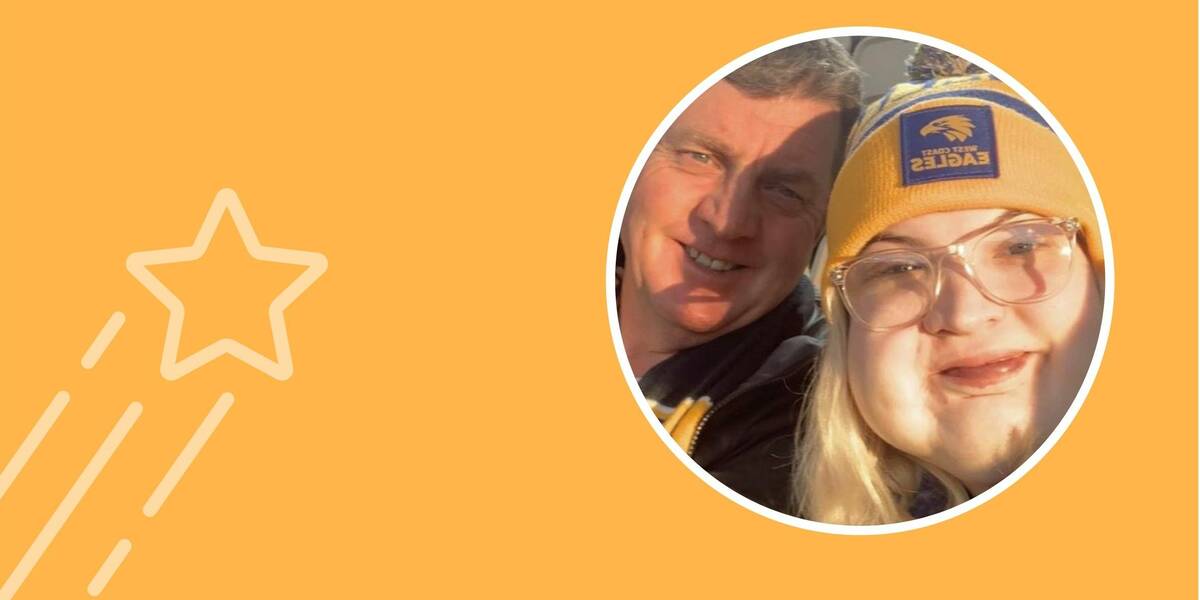 "I was born with it, so I've never known any different, so I just see myself.
"My life is no different to anyone else's. I think that's what I struggled a lot with … being treated so differently when in reality I wasn't different to anyone else. Yes, maybe physically but not mentally or emotionally."
Unfortunately, others did see Phoebe's tumour. Throughout high school, except for the later years, she was called names.
Phoebe pushed past the name-calling and the whispers, often leaning on her dad for support.
"My dad has been my main support system all of my life," she said.
"He always drilled into me 'yes, it sucks, but there's nothing we can do to change it, so you've got to make the best of a bad situation'. He said it doesn't matter what other people think, and you can't do anything to change that anyway.
"He's pretty much told me to keep my head up high and hold myself to a high standard. The main thing that matters is what I think of myself."
Treatment
Dozen surgeries in her first year
Phoebe's facial malformation was noticeable as soon as she was born. The fluid-filled cysts were hanging down from her neck in the hospital.
She had a total of 12 surgeries in her first year.
These included a trach tube insertion and, later, removal and the repair of her cleft palate.
At age four, Phoebe had corrective eye surgery.
As she has grown up, she's been constantly in the hospital to treat infections and to try and reduce the size of her tumours.
In 2018, Phoebe received a much-needed boost when Make-A-Wish arranged her wish to meet the pop star, Harry Styles. Phoebe had listened to Harry's debut album on repeat during a stint in ICU.
She still remembers the phone call like it was yesterday, confirming the wish.
"Make-A-Wish's Denise called me, and I was like 'hello', and she was like 'it's Denise, it's happening!'," Phoebe said.
"I pretty much just screamed and burst into tears."
Wish day
Phoebe meets humble star
Phoebe chose her older cousin Kait to join her, meeting Harry Styles backstage at his concert.
Kait said when Harry turned up, Phoebe was in the bathroom.
"And then Phoebe came back, opened the door and realised it was him and literally said 'what the heck' and then walked back into the bathroom to compose herself a little bit," Kait remembered.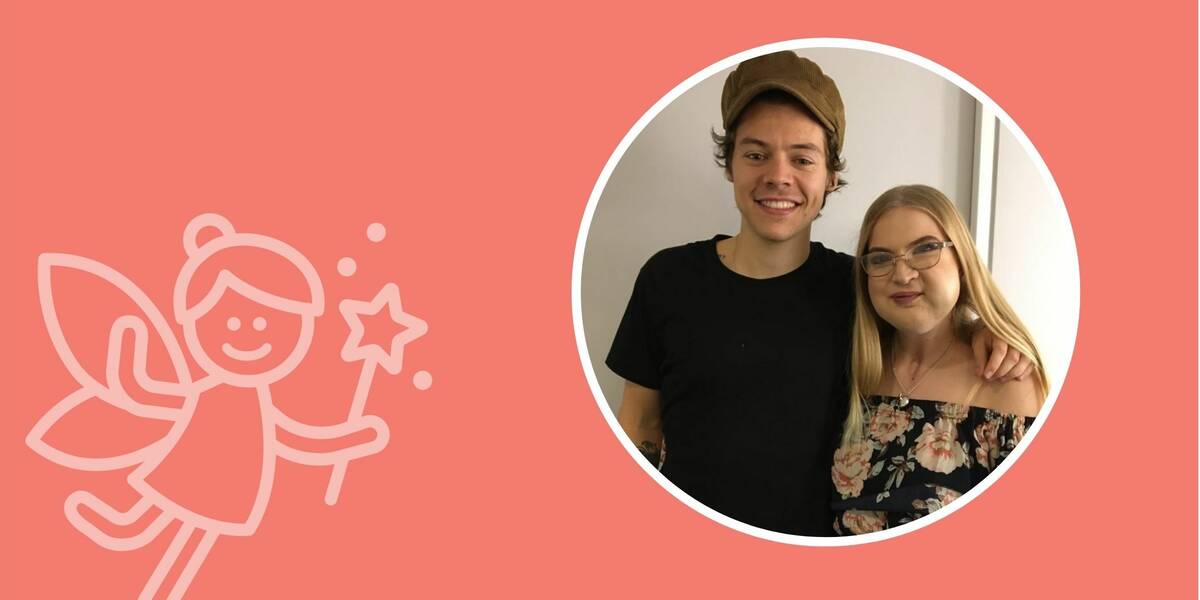 "But when she returned, she didn't stop talking; she was so excited. It meant everything to her. I mean, Harry Styles is her idol.
"She was on a high for the next month."
Phoebe described Harry as humble.
"I think what was really lovely was that he was so excited to meet me," she said.
"He was just so amazing, saying, 'I have heard so much about you. I first heard about you about six months ago and have been really excited to meet you. I'm so happy we got to do this'."
To cap off her night, Harry signed a poster for Phoebe. It read 'To my darling Phoebe thank you for coming to the show, all my love always Harry'.
Positivity
Phoebe inspires others
In 2021, Phoebe's life is full of good things.
"There's nothing that I can't do that anybody else can do," she said.
"I have a full-time job (as a pharmacy assistant), I have a boyfriend, I go to the gym."
Her cousin Kait said Phoebe inspired others around her.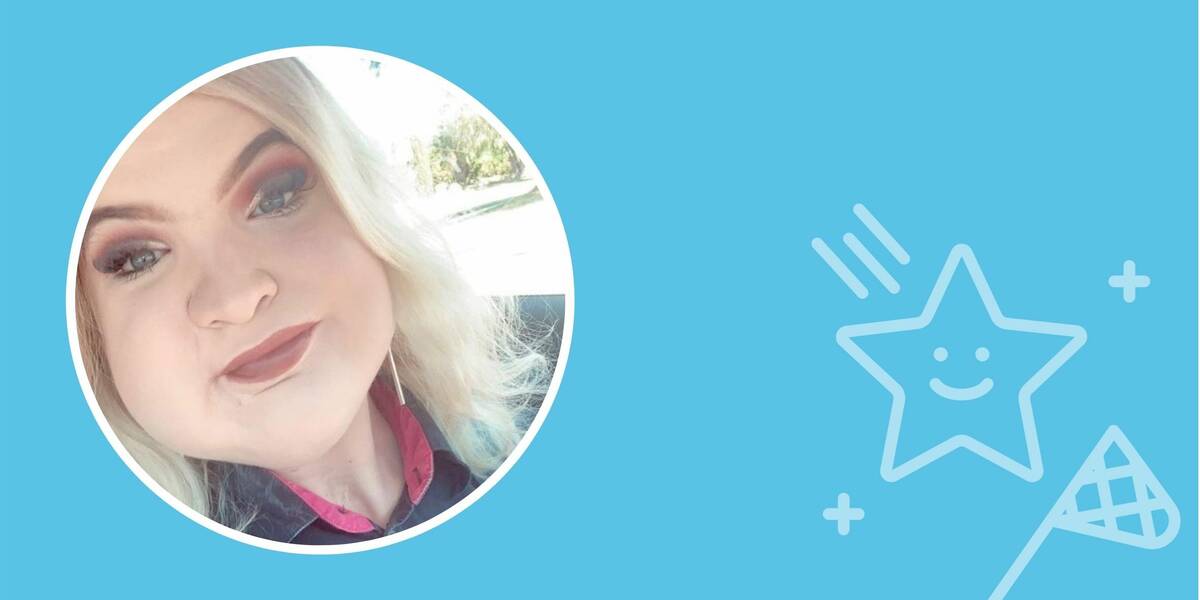 "She is so strong; anything that came up against her, she just pushed through and fought through it all," Kait said.
"I knew she would be awesome whatever she decided to do. She is so loving and caring. The sky is the limit with Phoebe."
Phoebe is also a Make-A-Wish Ambassador, spreading the word about the power of wishes.
"It is just so important to give back," she said.
"The charity did so much for me, and I just want people to see how much of an excellent charity it is and how life-changing the wishes are for sick kids.
"I can't even put into words how incredible my wish was. Every kid who deserves a wish should be able to experience one."
I just want people to see how life-changing the wishes are for sick kids

Phoebe

Cystic Hygroma facial tumour
Make wishes come true
Please give what you can - every dollar counts.
The Wish Journey
How a wish comes to life
Make-A-Wish volunteers visit each child to capture their greatest wish, getting to the heart of what kids truly want and why. This profound insight is part of what makes Make-A-Wish unique, giving children full creative control and helping to shape their entire Wish Journey.
Back at Make-A-Wish HQ, we partner with families, volunteers and medical teams to design the ultimate wish experience - and start rallying our partners and supporters to help make it happen.
In the lead up to the wish, we take each child on a journey designed to build excitement and provide a welcome distraction from medical treatment. Anticipation can be incredibly powerful, helping to calm, distract and inspire sick kids at a time they need it most.
When the moment finally arrives, children get to experience their greatest wish come true - it's everything they've imagined and more. Pinch yourself, and don't forget to take a breath and enjoy every precious moment!
Wish impact studies show that a child's wish lives on, long after the moment. A wish gives more than just hope – with an incredible and lasting effect on the lives of sick kids, their families and wider communities.