The Wish dad and his soothing songs for Livi
Wish dad Mike Bell goes above and beyond for daughter Livi and Make-A-Wish
Therapy
Mike the music-maker
When his daughter Livi is upset or wanting to drift off to sleep, Wish dad Mike picks up one of his guitars.
Mike played in a band as a teenager, but the crowds are long gone. Now, it's just he, Livi and Taylor Swift, ABBA or other up-tempo music.
"If Liv is upset, Mike plays the guitar to her for a while, and it instantly helps her to wind down," Wish mum Fiona said.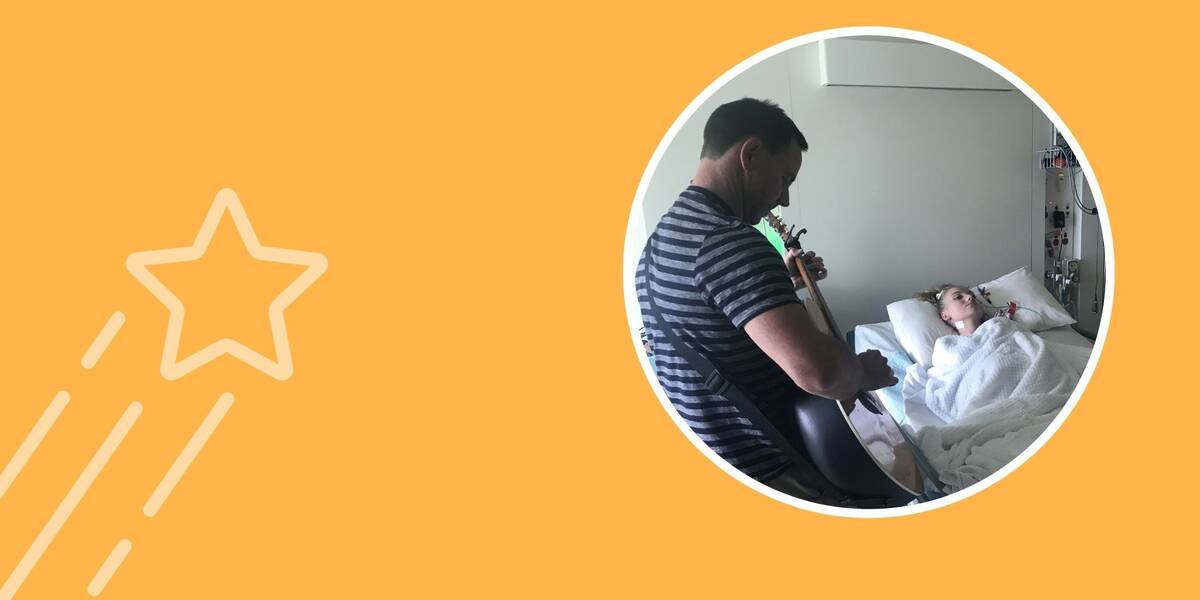 "It means so much to me; it takes a huge load off having a partner so involved with Livi. I can't imagine trying to care for her without that support."
Mike said he'd written some songs with Livi, including one about Maple, the puppy Livi got for her wish in 2019.
"She's my sounding board," Mike said. "The one about Maple we play a bit, and her eyes will light up to that one.
"I haven't played in a band for a long, long time. But I think Livi thinks I'm a rock star … and that's the main thing."
Medical journey
Ups and downs for parents
Livi was diagnosed as a three-year-old with Rett syndrome, a rare neurological condition.
Other conditions emerged later, including epilepsy and cerebral palsy. Livi, who is now 17, has had many operations. The most notable was to fix a curvature of her spine.
"Livi has no speech and requires full-time care," mum Fiona said. "It's like looking after a quadriplegic."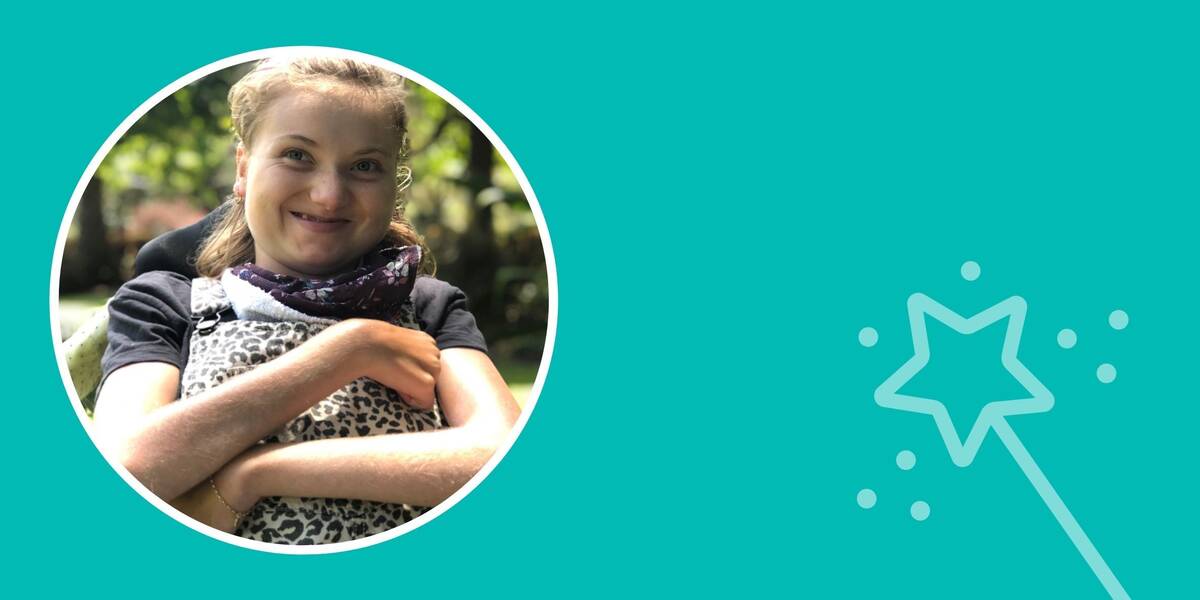 "It has been a rollercoaster, lots of up and downs.
"Mike and I lean heavily on each other. We always look out to see if one of us is struggling, and the other will step in.
"Mike's been incredible; he's always been proactive and is very hands-on with Liv; they have a strong bond and a special connection."
Puppy vibes
Maple makes a difference
Liv's wish for a cavoodle puppy came true in 2019.
Fiona said it was a "rocky time with medical stuff" leading up to the arrival of puppy Maple.
"It all happened at a time we really needed it," she said.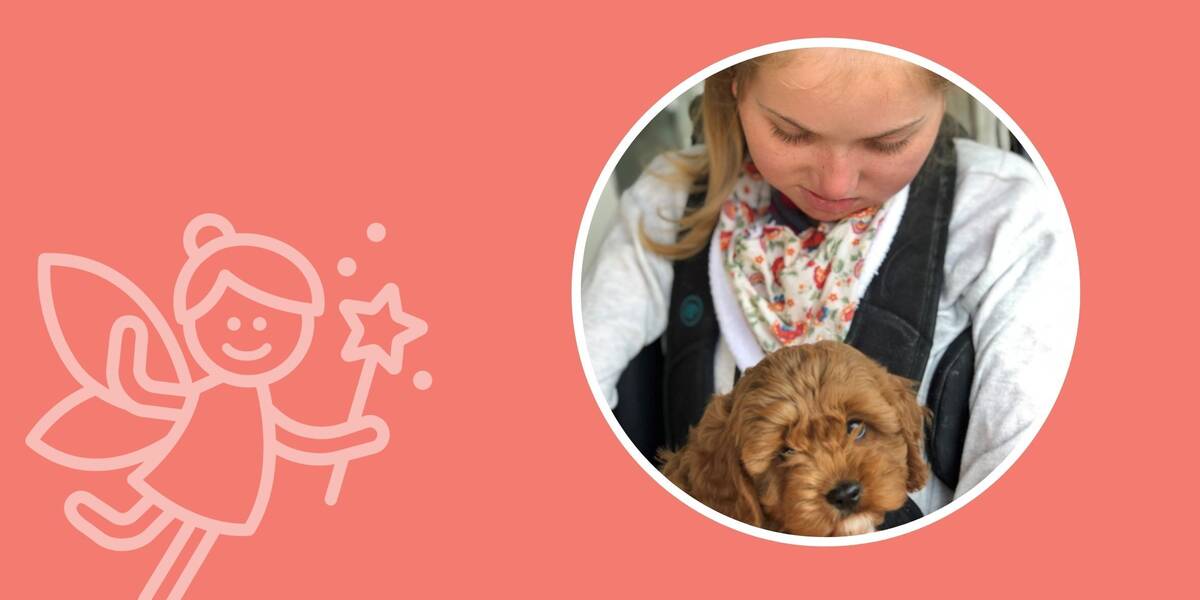 "Make-A-Wish was just incredibly supportive and made it fun for all of us; the whole family was involved.
"Livi was made to feel like she was really special.
"In the lead up to Maple arriving, Make-A-Wish sent little parcels in the mail and photos of her which kept us really excited. We are so grateful. Nobody wants their child to be eligible for a wish, but it's certainly something beautiful to look forward to."
Fiona said Maple and Livi had developed a strong bond.
"Maple sits on Livi's knees for hours if we let her," Fiona said. "Every night, she jumps on Livi's bed, snuggles up next to her and waits until Livi's asleep before she comes out.
"If Livi's upset or feeling a bit agitated, then popping Maple on her knee or going for a walk with Maple will usually help her feel better."
Giving back
Mike says thank you through bike ride
Fiona and Mike have been keen to stay involved with Make-A-Wish since Livi's wish. They found the perfect opportunity through Bays' Wish, a five-day bike ride covering 700km and raising money for Make-A-Wish to grant wishes.
Mike jumped on his bike to take part in the 2021 ride.
"It was a way for us to say thank you," Fiona said. "Thank you for making Livi the centre of attention and giving us this beautiful puppy which we wouldn't have been able to get otherwise."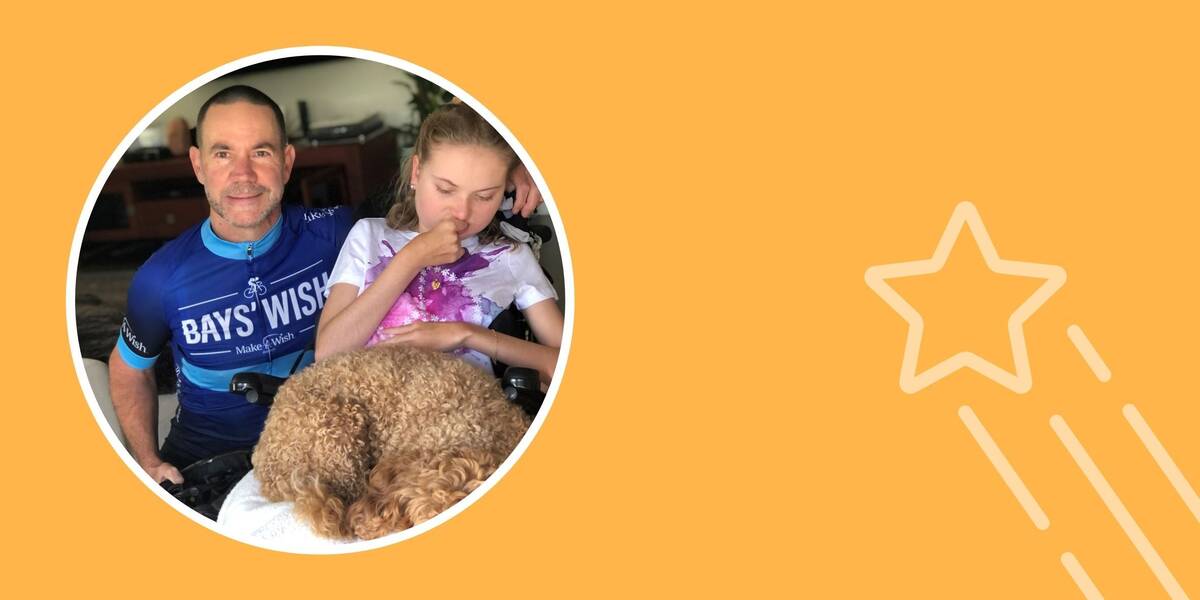 Mike had never done a bike ride lasting five consecutive days but said the relationship between Make-A-Wish and Livi was the catalyst for pushing himself during the ride.
"Some of the days we rode were pretty stressful, particularly for social riders like myself," Mike said. "On the days where I was really tired, I'd start to reminisce about Livi and why I was doing the ride, and then I'd refocus and want to keep going.
"In the end, the ride was just overwhelming and such a great experience."
Ride For Wishes
Ride for Wishes - In Memory of Bailey Fuller - returns in 2022 after a challenging and rewarding 2021 ride.
Starting and finishing in Albury, the 'parcours' traverses Victoria to head into the stunning high country of the Victorian Alps before heading home to Albury.
With just 30 places available, don't miss out on this unique and inspirational event.
Mike's been incredible; he's always been proactive and is very hands-on with Liv; they have a strong bond and a special connection

Fiona, mother of Livi

Rett syndrome
The Wish Journey
How a wish comes to life
Make-A-Wish volunteers visit each child to capture their greatest wish, getting to the heart of what kids truly want and why. This profound insight is part of what makes Make-A-Wish unique, giving children full creative control and helping to shape their entire Wish Journey.
Back at Make-A-Wish HQ, we partner with families, volunteers and medical teams to design the ultimate wish experience - and start rallying our partners and supporters to help make it happen.
In the lead up to the wish, we take each child on a journey designed to build excitement and provide a welcome distraction from medical treatment. Anticipation can be incredibly powerful, helping to calm, distract and inspire sick kids at a time they need it most.
When the moment finally arrives, children get to experience their greatest wish come true - it's everything they've imagined and more. Pinch yourself, and don't forget to take a breath and enjoy every precious moment!
Wish impact studies show that a child's wish lives on, long after the moment. A wish gives more than just hope – with an incredible and lasting effect on the lives of sick kids, their families and wider communities.