Jaymie and Asher set to create new memories
Puppy power helped Jaymie get through her challenging medical journey.
Healthy teen
Diagnosis stuns family
Sport-loving Jaymie was the last person Wish parents Sharon and Bart thought would ever get cancer.
Jaymie was a 13-year-old who played football, netball and took part in athletics and cross country.
"She was such a fit kid at that stage," Sharon remembered. "She had won a cross country at high school, she had won the athletics championship, and she was probably the fittest I had ever seen her.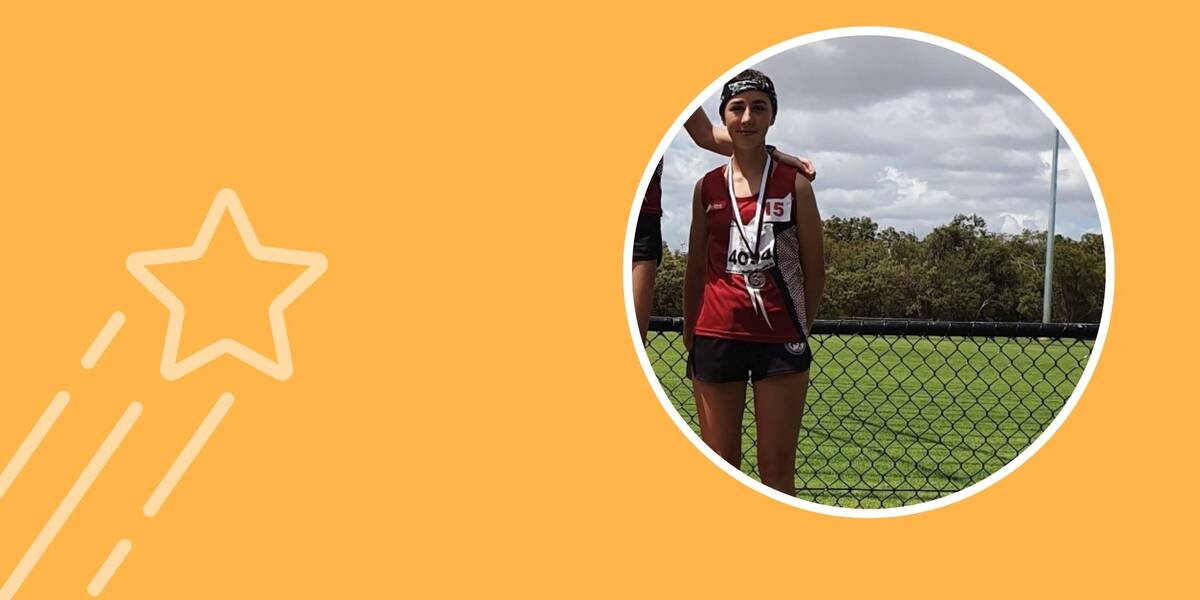 "Then, all of a sudden, you're in a cancer ward at a children's hospital."
The first sign something was amiss with Jaymie was on a family holiday when Jaymie was curled up on the floor with severe stomach pains.
When the family returned home, Jaymie had a CT scan, and doctors told Sharon and Bart their daughter had Burkitt lymphoma.
Medical journey
One day at a time for Jaymie
Doctors gave Jaymie intensive chemotherapy treatment after discovering masses in two different parts of her body.
Jaymie lost her hair, missed her friends and couldn't participate in the various sports she loves.
While her parents struggled, Jaymie remained resilient through every step of her medical journey.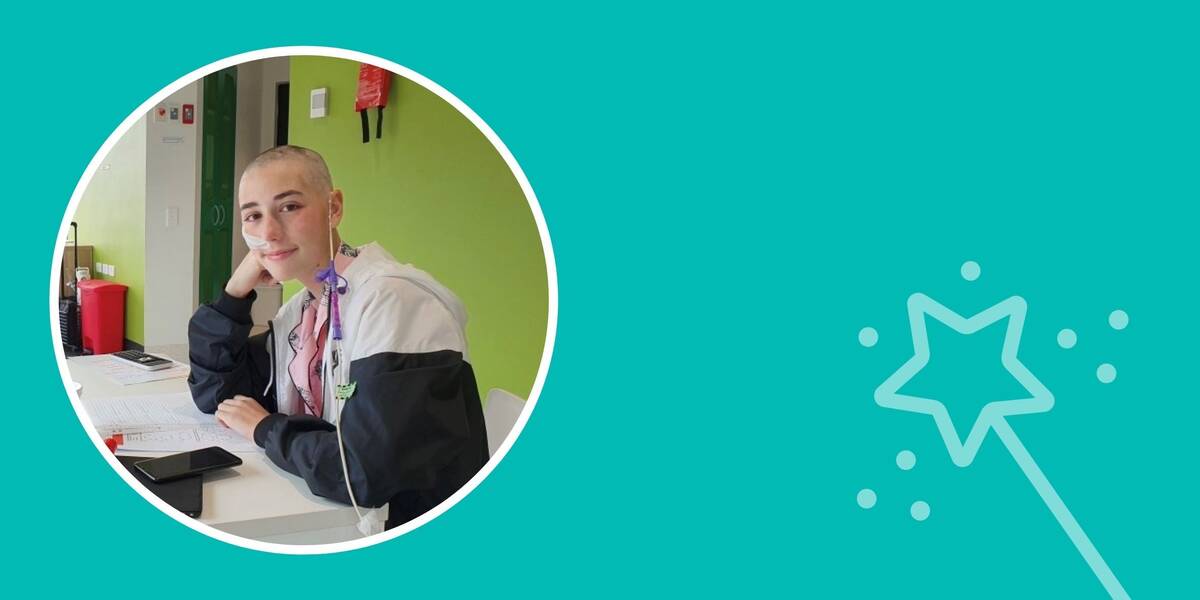 "It's a credit to her; she was brilliant," Sharon said.
Jaymie, who is now 15, said she found it hard going from being so active to being confined to bed for long periods.
"I just took it one day at a time and didn't think about tomorrow," she said.
"I just thought about getting through today, and then we could deal with what happens tomorrow."
Puppy joy
'Momentous occasion' when wish confirmed
Jaymie's family's dog Bowie passed away in recent years, so Jaymie wished for a puppy to fill the void.
But not just any puppy, Jayme was fixed on a blue merle Australian shepherd.
"Jaymie started looking at this breed and had snapped on her Instagram account probably a thousand and one photos of blue merles," Sharon said.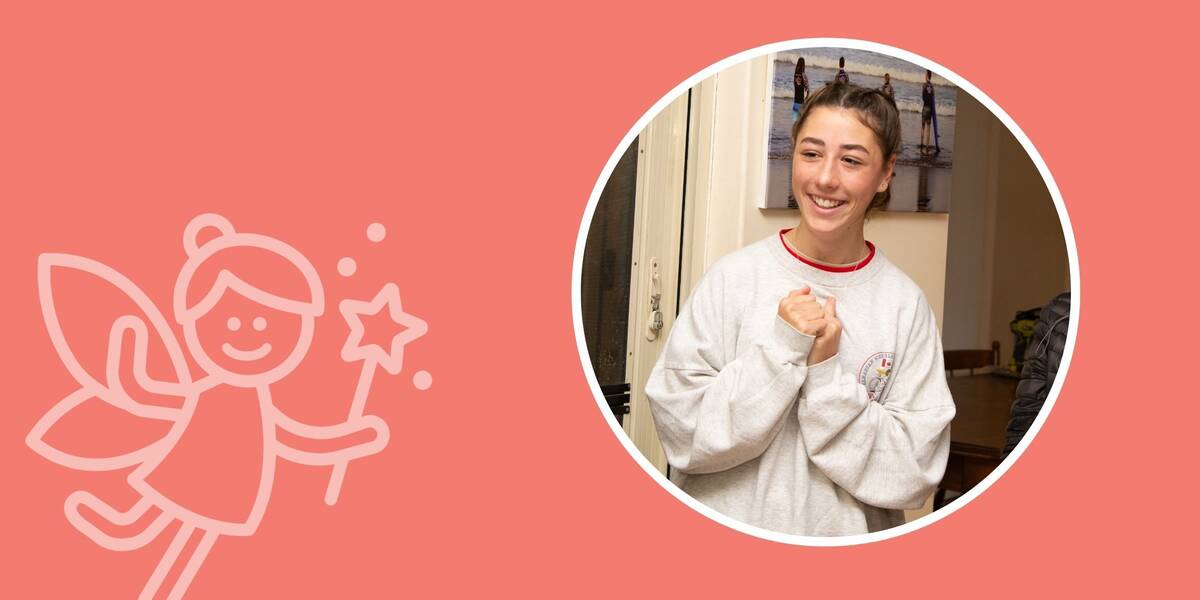 The day Jaymie's wish was confirmed, she was on a boat with her family seeing whale sharks.
"I happened to pull my phone out of my pocket and saw a message come through," Sharon said.
"Jaymie saw the look on my face, and she said 'mum what is it, what is it' and I said 'oh my goodness Jaymie guess what' and her eyes filled with tears immediately and she was jumping up and down like an excited teenager does.
"It was such a momentous, memorable occasion."
Wish day
Special little one joins family
On her wish day, Jaymie got up and dressed early in the morning. About 20 minutes from her home, little Asher was waiting for his new family.
"When we got there and saw him, I think we all had tears in our eyes; it was very, very special," Sharon said.
"As a parent, you just want to see your kid healthy and happy and content. And I know her and little Asher are going to have a beautiful bond. He's a lucky puppy because he's going to be loved unconditionally and beautifully."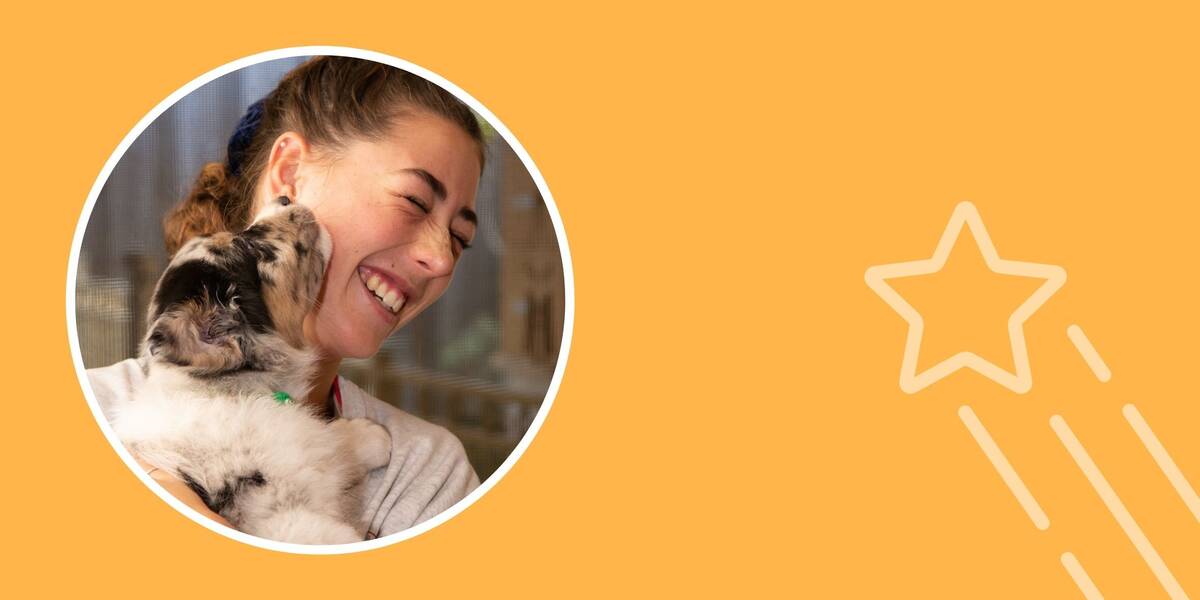 Jaymie, who was elated Asher had piercing blue eyes, said she planned to take him for lots of walks down to a nearby river and play with him in the water.
"We are going to create lots of memories with him," Jaymie said.
"When I was in the hospital, the wish was the one thing that really kind of helped on those darker days.
"To be able to think once I get out of the hospital, I've got something to look forward to.
"And now we have got to this point with little Asher, we couldn't be happier. It's kind of a nice thing to say it was all worth it, getting through it and all the medication was worth this little one."
As a parent, you just want to see your kid healthy and happy and content. And I know her and little Asher are going to have a beautiful bond.

Sharon, mother of Jaymie

Burkitt lymphoma
Make wishes come true
Please give what you can - every dollar counts.
The Wish Journey
How a wish comes to life
Make-A-Wish volunteers visit each child to capture their greatest wish, getting to the heart of what kids truly want and why. This profound insight is part of what makes Make-A-Wish unique, giving children full creative control and helping to shape their entire Wish Journey.
Back at Make-A-Wish HQ, we partner with families, volunteers and medical teams to design the ultimate wish experience - and start rallying our partners and supporters to help make it happen.
In the lead up to the wish, we take each child on a journey designed to build excitement and provide a welcome distraction from medical treatment. Anticipation can be incredibly powerful, helping to calm, distract and inspire sick kids at a time they need it most.
When the moment finally arrives, children get to experience their greatest wish come true - it's everything they've imagined and more. Pinch yourself, and don't forget to take a breath and enjoy every precious moment!
Wish impact studies show that a child's wish lives on, long after the moment. A wish gives more than just hope – with an incredible and lasting effect on the lives of sick kids, their families and wider communities.