The brave girl with half a heart
Hannah was born with half a heart but with tenacity and an infectious smile she keeps kicking goals.
Bub's bumpy start
Meet Hannah
Hannah is the little girl born with half a heart. Yet she's also full of heart and courage, having overcome four open-heart surgeries in just 7 years.
Wish mum Emma first learned something was wrong with Hannah's heart during pregnancy. A pericardial effusion – which is excess fluid surrounding the heart – meant Emma's baby could be stillborn or born struggling to breathe.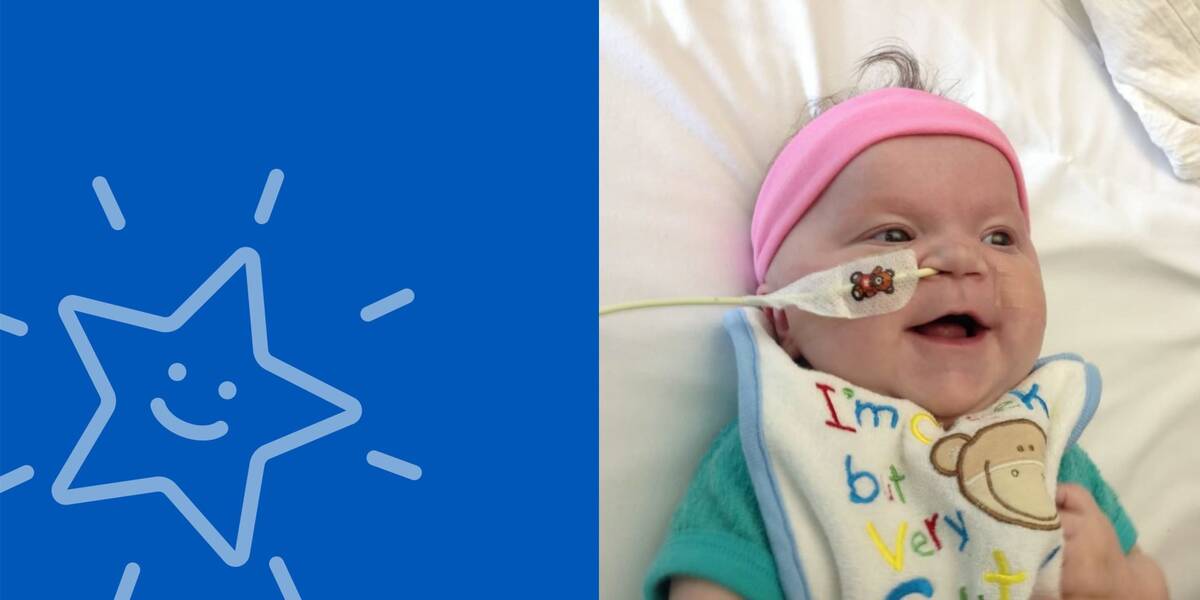 Some 20 doctors were in the delivery room the day Hannah was born, and she was whisked off to The Royal Children's Hospital within hours.
"When she was about six or seven hours old, they drained the fluid out," Emma said.
"There was about 100ml of fluid – you can imagine a tiny baby, that's a lot of fluid putting pressure on the heart and lungs.
"They had to do it straight away; otherwise, she wouldn't have survived."
Background
Setbacks and surgeries
Hannah was diagnosed with hypoplastic left heart syndrome – which meant the left side of her heart literally didn't form - and she required three open heart surgeries in her first year.
The first open-heart surgery at 36 hours of age went well, but there was a serious setback a couple of days later.
"After the operation, they leave the baby's chest open for a couple of days in case anything goes wrong, so they can quickly go in again. In the Intensive Care Unit, they went to sew it up. But something happened, and she went into cardiac arrest," Emma said.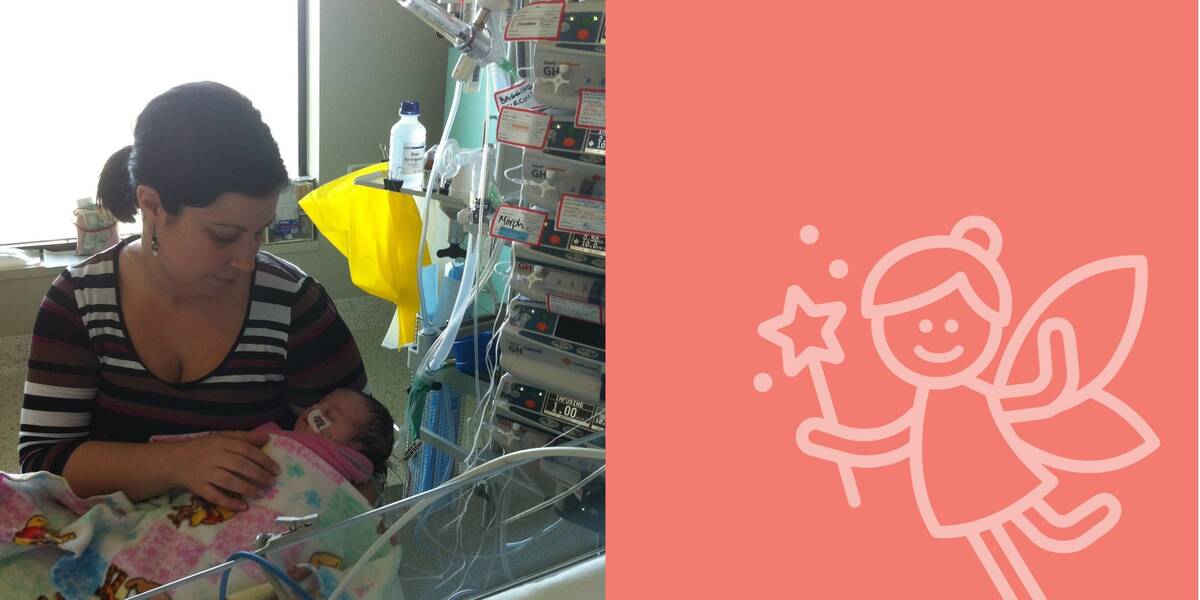 I don't know how long they worked on her, probably 10 to 15 minutes. She had to go back onto the bypass machine because her heart had done so much work. That was terrifying. It was probably one of the worst days of my life.

Emma

Hannah's mum
As Hannah was in intensive care for her early weeks, her mum couldn't hold her.
"The first time we got to hold her, she was 18 or 19 days old. I got a photo (see right), and when I look at it now I just get goosebumps," Emma said.
"There were cords everywhere, and she was still on oxygen. It was an awkward first hold, but it was just the most amazing thing - it was well worth the wait."
After 155 days in hospital, Hannah finally came home. But her challenges weren't over, and as she grew, her parents noticed Hannah's development was slow.
In 2017, aged 5, Hannah was diagnosed with the rare Ayme-Gripp syndrome, which means she can't hear or speak, is vision-impaired and has an intellectual disability.
Help wishes come true
More than 800 seriously ill kids like Hannah are waiting for their wish
Girl with a curl
The Hurricane sweeping people away
Family and friends have affectionately named Hannah, 'Hurricane Hannah'.
"She's always on the go, never stops," Emma said.
"She's gorgeous; she's very happy and very cheeky. She's also strong-willed, it's her way or the highway."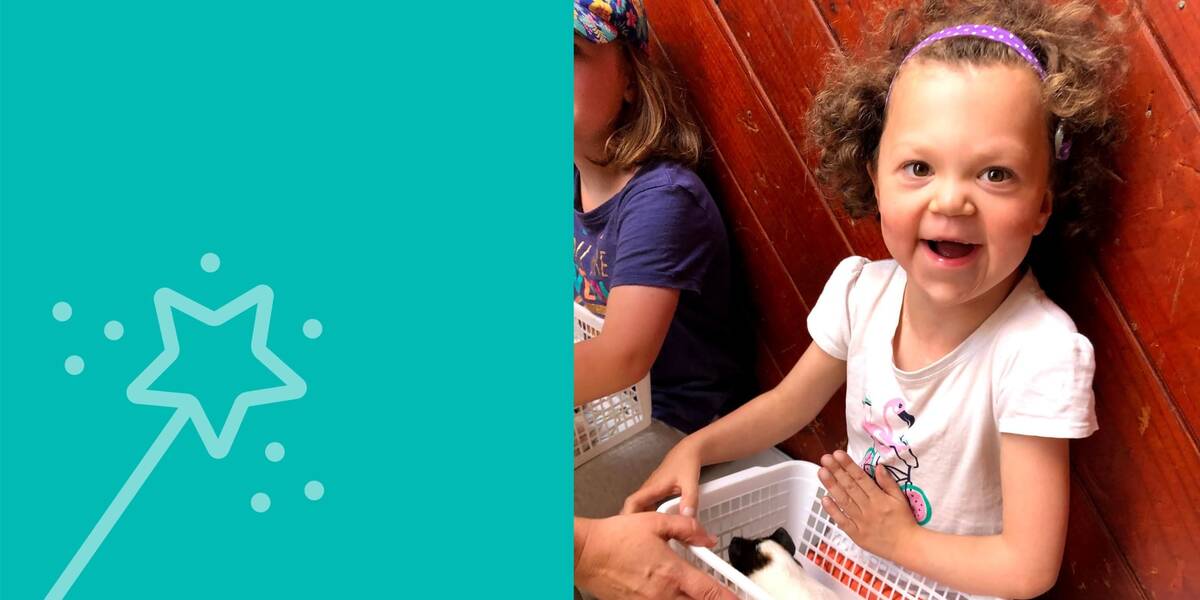 Emma said Hannah was also smart, despite her learning difficulties.
"We teach her basic sign language, you show her a sign and repeat it, and she'll do it," Emma said.
"She has been strong since she was born. It's impossible not to be strong and brave to get through what she has."
Emma said Hannah was an "absolute firecracker" and her family wouldn't be the same without her. "Sometimes you get thrown a lot (in life), but seven years on she's kicking goals," she said.
"Everyone who meets her remembers her, that smile. She's a very determined little kid. People don't forget Hannah very quickly."
I wish to visit Vivid Sydney

Hannah, 7

hypoplastic left heart syndrome and Ayme-Gripp syndrome
Wish anticipation
Light wish gives family some hope
Hannah's wish is to go to Sydney to see the world's largest festival of light, music and ideas, called Vivid Sydney.
"She loves anything with lights," Emma said.
"Her school has a sensory room, and she loves that."
Hannah's wish is one of many wishes currently on hold, with the May-June 2020 Vivid festival postponed due to COVID-19.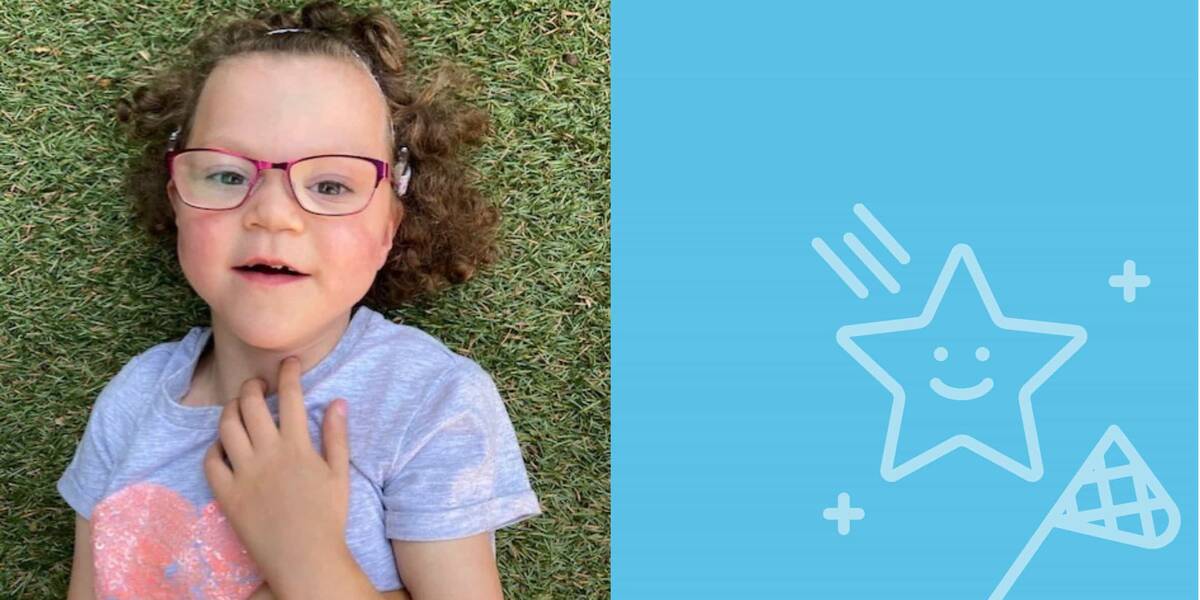 Emma said the family fully understood the delay, especially since Hannah has a higher risk of infection than other kids due to her heart condition.
"She is obviously at risk, so the best place for us to be is here at home," she said.
Emma said Make-A-Wish was helping to create wish anticipation for the family, including a package of sensory toys that "you shake, drop and they light up".
"The volunteers have been amazing," Emma said.
"It'll be exciting and a bit nervous when we do go on the wish.
"Most of it will be exciting because it will be a surprise for Hannah.
"It's something we can look back on and say 'this is what we did', and Make-A-Wish made it happen."
With more than 800 kids like Hannah counting on us right now, your support is needed more than ever to keep their hope alive.
Just having a family holiday. It's something we can look back on and say 'this is what we did' and Make-A-Wish made it happen

Emma

Hannah's mum
You can make the impossible possible
Despite being one of Australia's most trusted charities, we don't receive government funding. Please give what you can - every dollar counts.
The Wish Journey
How a wish comes to life
Make-A-Wish volunteers visit each child to capture their greatest wish, getting to the heart of what kids truly want and why. This profound insight is part of what makes Make-A-Wish unique, giving children full creative control and helping to shape their entire Wish Journey.
Back at Make-A-Wish HQ, we partner with families, volunteers and medical teams to design the ultimate wish experience - and start rallying our partners and supporters to help make it happen.
In the lead up to the wish, we take each child on a journey designed to build excitement and provide a welcome distraction from medical treatment. Anticipation can be incredibly powerful, helping to calm, distract and inspire sick kids at a time they need it most.
When the moment finally arrives, children get to experience their greatest wish come true - it's everything they've imagined and more. Pinch yourself, and don't forget to take a breath and enjoy every precious moment!
Wish impact studies show that a child's wish lives on, long after the moment. A wish gives more than just hope – with an incredible and lasting effect on the lives of sick kids, their families and wider communities.