Carmelo all smiles after puppy wish
While he was being treated for a brain tumour, Carmelo couldn't stop thinking about having his own cavoodle puppy. Thanks to our supporters like you, Carmelo's wish came true.
Unveiling
Surprise addition to family
It was a smile seven years in the making.
Carmelo's father Nat slowly ushered his 7-year-old son into the kitchen. His wish for a cavoodle puppy was about to come true.
"We wanted it to be a surprise so we kept it a secret," Carmelo's mum Daniela said.

"We brought the puppy inside while Carmelo was in his bedroom.
"Then Nat called out to him, 'Come into the kitchen; there's something here for you!' Carmelo immediately jumped up and asked, 'Is it a dog?' He was just so excited when he saw the puppy. He said it was the best thing that's ever happened to him."
Diagnosis
Scan delivers bad news
Carmelo's medical journey started late in 2020 when he began feeling unwell over a few weeks. He had blurred vision and kept losing his balance.
After a few trips to the local children's hospital, Daniela felt something serious was wrong and asked the doctors to scan Carmelo's brain.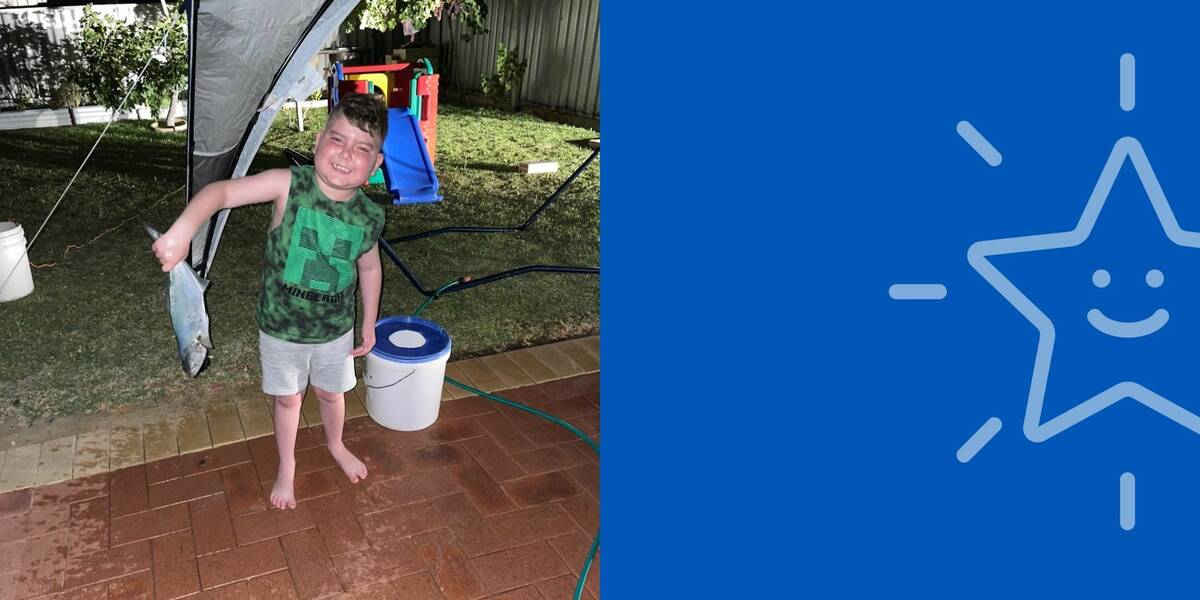 "They agreed, and did an MRI scan in the morning. That evening, we got the bad news," Daniela recalled.
Carmelo was diagnosed with an inoperable brain tumour.
"I had a feeling because they took a really long time to do the scan and when they pull you aside and take you into another room … you know there's something wrong," a tearful Daniela remembered.
Treatment
Progress was slow
Carmelo soon began radiation to treat his tumour.
He had to miss the last term of school and forget about seeing friends, playing soccer, and fishing with his dad; all the things he loved.
Within weeks the radiation started to work, but the side effects took a toll on Carmelo.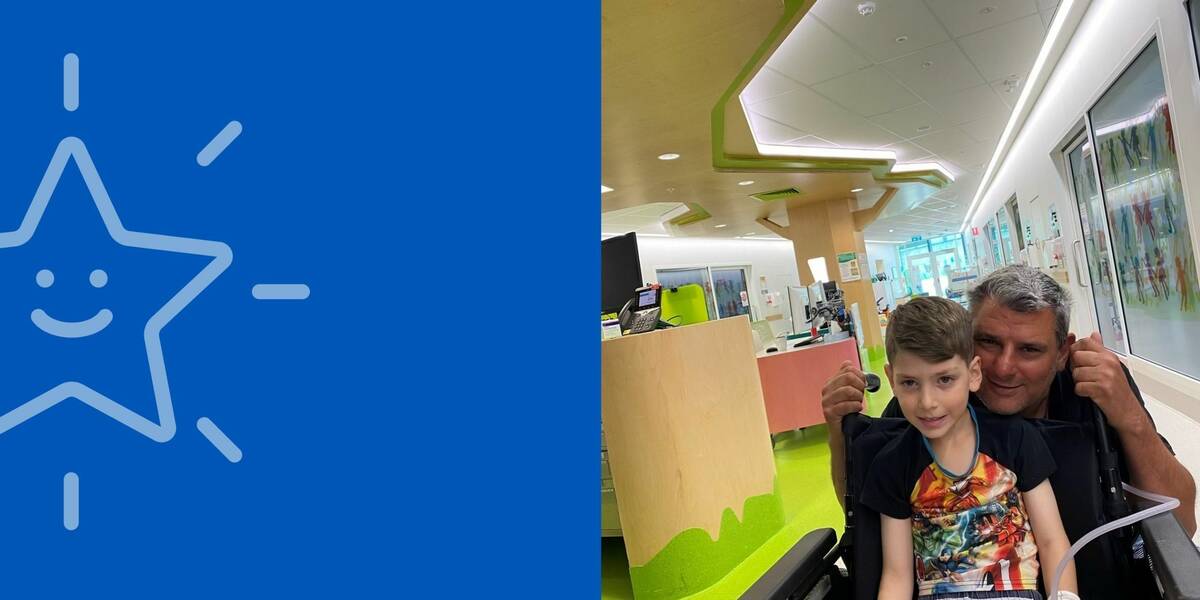 He left the hospital in a wheelchair, unable to walk. But, slowly, improvement came.
While Carmelo will require ongoing medical treatment, he is starting to return to his usual happy self.
"At first, you could tell he was feeling depressed, but now he's getting back to being the Carmelo we know," Daniela said.
"He has always been a happy boy. Always mucking around, telling jokes."
Wish planning
Cavoodle on his mind
Helping Carmelo through the dark times was Make-A-Wish.
Make-A-Wish volunteer and WishForce champion Monique couldn't meet Carmelo face-to-face because of COVID-19, so she arranged a Zoom meeting.
"I remember a beautiful boy sitting on his mum's lap and he was very, very animated," Monique said.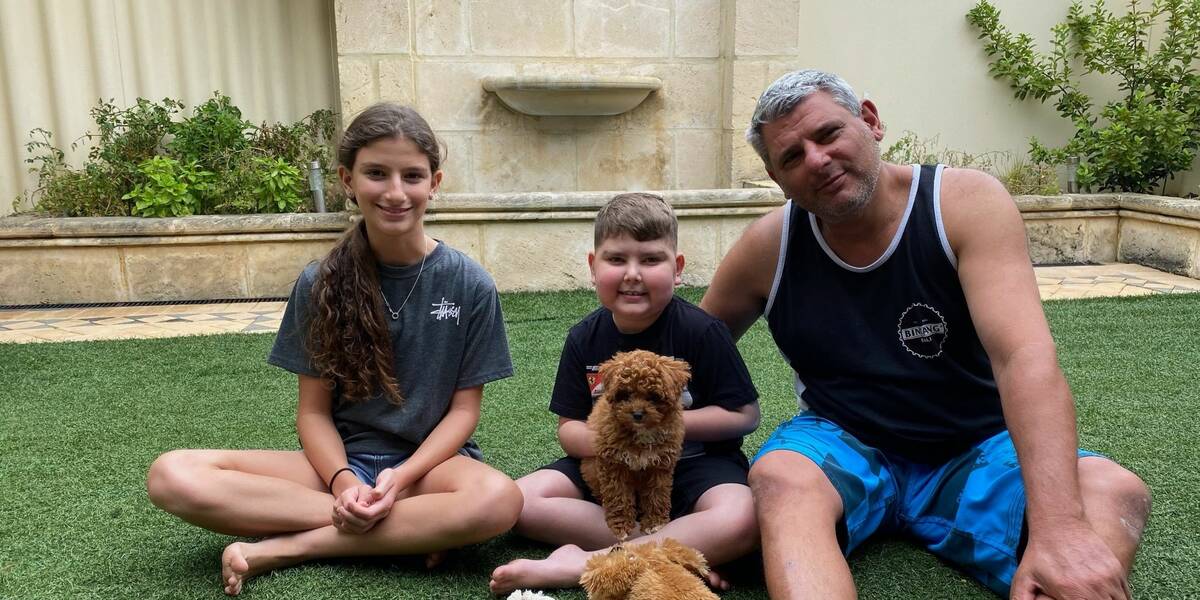 Carmelo's wish was classified as urgent because of his medical condition. So the WishForce moved quickly.
"He knew exactly what he wanted. A little toy cavoodle," Monique said.
"Carmelo had played with his cousin's cavoodle puppy named Bella, and she loved him.
"And even though Carmelo's family had never really wanted a puppy before then, when they saw how much Bella lifted him, it was the turning point for them."
Monique remembers Carmelo had something he wanted to say before the Zoom meeting ended.
"It was a question. He asked , 'When would I get the puppy?' and I explained about breeders and the waiting time to find the puppy he wanted, which was male and a certain colour," Monique said.
"He thought about this and then he said, 'I don't mind if it's a girl and a different colour'."
Happy pair
Carmelo loves Milo in the morning
Daniela said Carmelo told her that he loves his puppy, which he named Milo.
Carmelo rises early each day to take care of his new buddy.
"He gets up early now, about 6am, to take Milo outside and feed him," Daniela said.
"When he gets up in the morning, he always has a smile on his face.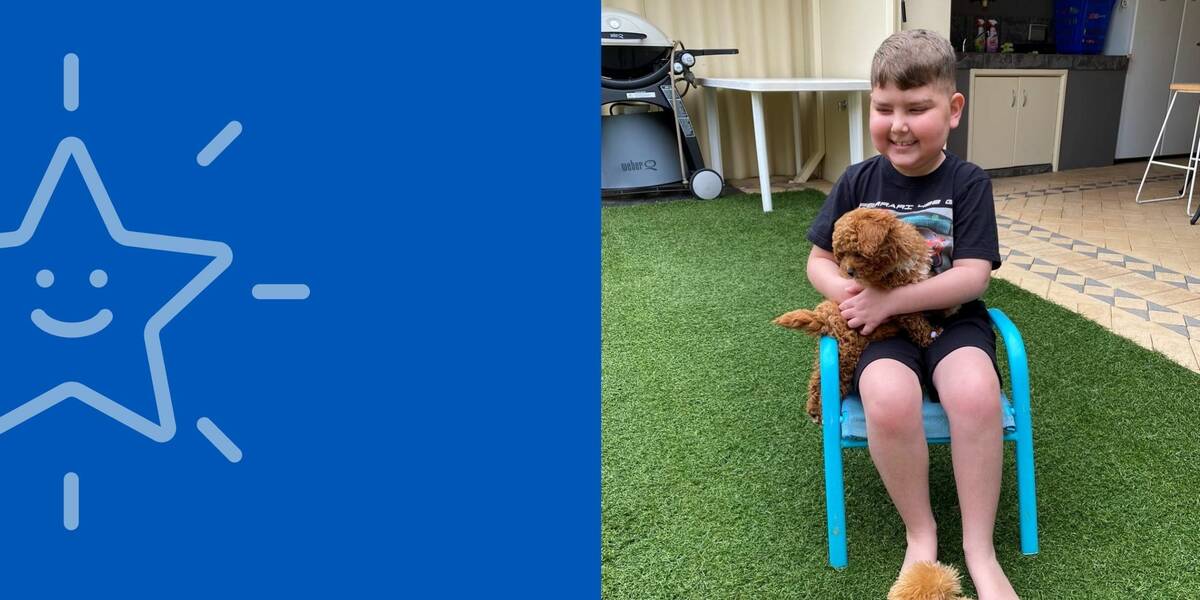 "And at night time, Carmelo will lay on the floor with his head on the couch and Milo will sleep next to him."
Daniela said Milo will play an essential role as Carmelo's medical journey continues.

"When he's not feeling so good, they sit on the floor together and watch TV," Daniela said.
"It's just a beautiful and amazing thing that Make-A-Wish has done for my son. Because there's no way we would've been able to get this puppy on our own.
"You can see he's a lot happier now.
"I just want to thank Make-A-Wish and the breeder for making Carmelo a priority and all the people who donate and make it possible for wishes to happen."
At night time, Carmelo will lay on the floor with his head on the couch and Milo will sleep next to him

Daniela, mother of Carmelo

brain tumour
You can make wishes come true
Please give what you can - every dollar counts.
The Wish Journey
How a wish comes to life
Make-A-Wish volunteers visit each child to capture their greatest wish, getting to the heart of what kids truly want and why. This profound insight is part of what makes Make-A-Wish unique, giving children full creative control and helping to shape their entire Wish Journey.
Back at Make-A-Wish HQ, we partner with families, volunteers and medical teams to design the ultimate wish experience - and start rallying our partners and supporters to help make it happen.
In the lead up to the wish, we take each child on a journey designed to build excitement and provide a welcome distraction from medical treatment. Anticipation can be incredibly powerful, helping to calm, distract and inspire sick kids at a time they need it most.
When the moment finally arrives, children get to experience their greatest wish come true - it's everything they've imagined and more. Pinch yourself, and don't forget to take a breath and enjoy every precious moment!
Wish impact studies show that a child's wish lives on, long after the moment. A wish gives more than just hope – with an incredible and lasting effect on the lives of sick kids, their families and wider communities.
Want to sign up to receive our newsletter?
It's just like, our news, in a letter, for you.