Finally, Ailish can breathe easy
To mark our 35 years of life-changing wishes, meet Ailish Ryan. She's the little girl born with cystic fibrosis who showed resilience and courage beyond her years.
Background
Determination shines through at early stage
Liz and Jaimie Ryan remember the day their baby girl was diagnosed with cystic fibrosis as one of the worst days of their lives. Doctors told them newborn Ailish might not survive.
But the Ryans would not give up.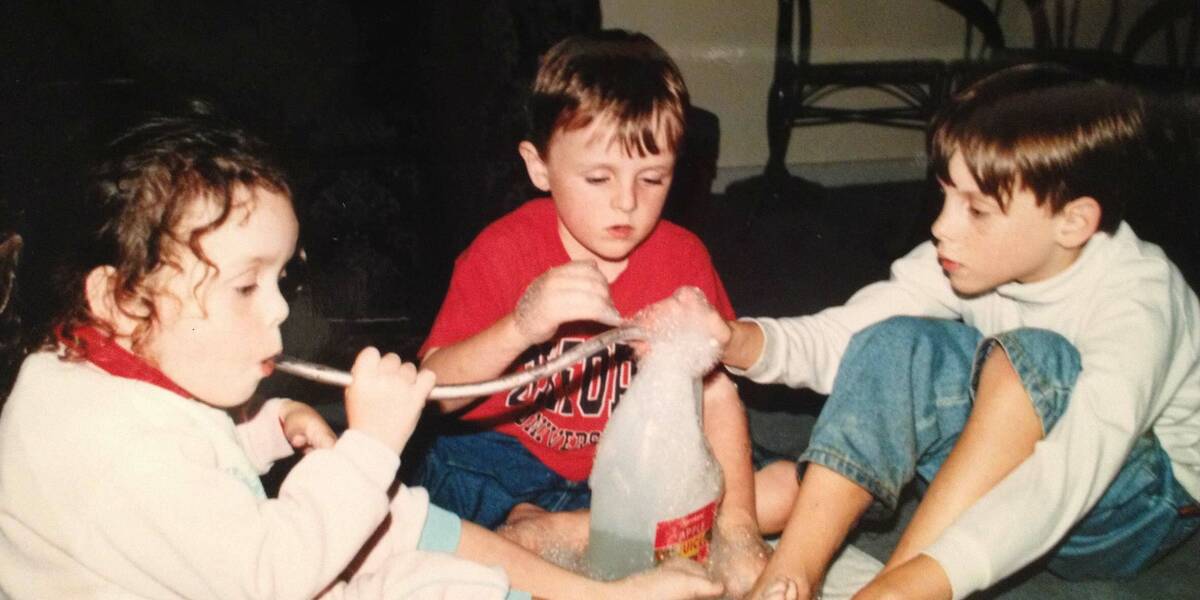 "We were desperate," Liz said. "We were praying to God, 'don't let her go' and thinking it will be all right, we will figure this out." As her tiny baby fought for life, Liz had a confronting conversation with one of the intensive care doctors.
"I was saying, 'I just want her to live' and he said words to the effect of 'If she lives, your life will change in a not so good way. It will be such a difficult life for you, your family and her'," Liz said.
"And I said to him 'look, we are a very close family', and he said, 'the trauma will keep going and going' and I was thinking, what is he trying to tell me? In his way, he was trying to let me know how tough it would be. And sure enough, it was."
Ailish spent her first three months of life in intensive care, needing several operations on her stomach and fighting constant infections.
"The first few years were tough," Liz said, "but Ailish's determination shone through right from the beginning, and we knew she was going to be a fighter."
Medical journey
'Like breathing through a straw'
Ailish went from a beautiful little toddler with gorgeous eyes, curly hair and a captivating smile to a pretty little girl starting school. But her medical problems didn't go away. There was a daily process to "clear all the gunk out of my lungs", Ailish, now 25, said. Nebulisers, physiotherapists and antibiotics were all part of her daily life.
While her friends would go on family trips during the holidays, Ailish remembers going to the hospital for a "tune-up".

"I would often spend school holidays in the hospital; it was like a tune-up. I would receive two weeks of IV antibiotics, do lots of exercises and clear my lungs as much as possible to get healthy for the next school term," Ailish said.
Liz remembers when Ailish, as an innocent child, assumed her cystic fibrosis would one day disappear. "When she was about 11 she said to me 'mummy you know how I am starting high school next year, does that mean my cystic fibrosis will go away because I'm grown up?"

While Liz was stoic, she tried her best to shield Ailish from the harsh reality that her life may be short. "There used to be bus stop ads about cystic fibrosis, saying things like 'don't let this be their last breath'. I would say 'Ailish look at that lovely house over there' just to try and divert her attention," she said.
"I couldn't cope with the conversation, trying to explain to her that 'yes you have an incurable disease and you will die a young adult'. It was just too hard to do that." Eventually, those conversations did take place, and Ailish realised how severe her breathing challenges were. She would describe it as "like breathing through a straw".
"I pretty much lived my life not planning, not expecting to have a future. I didn't think about a career, didn't put a lot of thought into it because I wasn't sure I would get there," Ailish said.
Ailish's wish
White Christmas wish
While Ailish didn't dream about her future, she was able to make a wish. At about age 10, she was visited by Make-A-Wish volunteers and asked to think about a wish. Ailish said Make-A-Wish made her feel like they could make anything in the world possible for her.
Her first idea was for a horse. But with only a small garden at home, Liz and Jaimie breathed a sighed of relief when Ailish's wish took another direction.
Ailish had always liked the idea of a White Christmas, so the wheels were put in motion for a Canadian family holiday in 2005.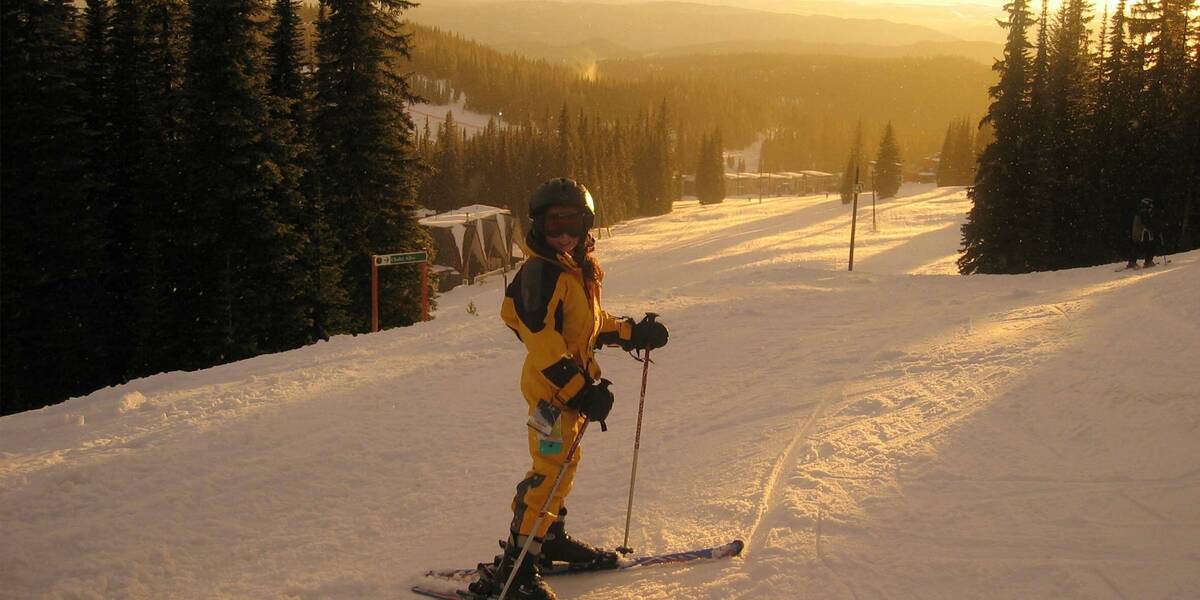 Make-A-Wish meticulously planned the trip around Ailish feeling important: her name was on all the reservations at restaurants and hotels.
"The highlight was skiing every day," Ailish said. "There was one café where we would have hot chocolate; it was like a Christmas movie. It was the most amazing holiday ever.

"It meant a lot to have a nice break and a little acknowledgement that things weren't that easy. My family and I often reminisce about it, and how good a time we had. It's not easily forgotten. It was a highlight in all our lives."
A decoration that sat atop a hotel Christmas tree came back with the Ryans, and is still put on their tree every December.
Back in hospital
'She was on the way out'
Following her incredible wish, Ailish's condition continued to get worse during her teenage years. Her breathing was still bad, and she had battles with her eyesight.

By the time she was 23 in early 2019, Ailish's lung capacity had slipped to only 17 or 18 per cent.
"She was on death's door," Liz said. "She was skin and bones, she couldn't eat, and she was on the way out."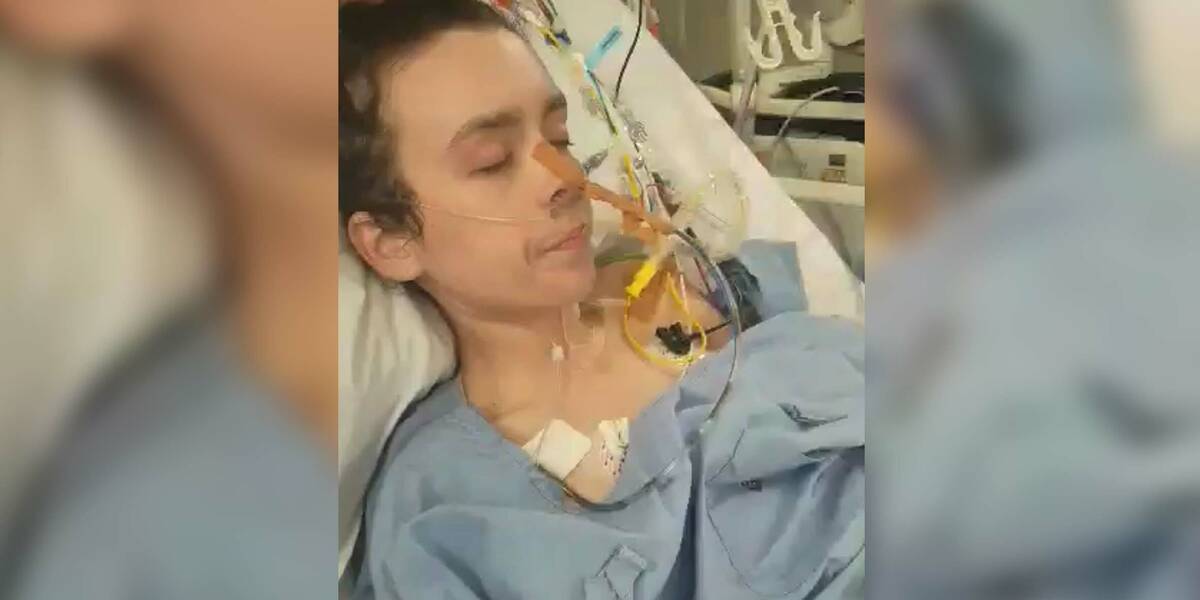 Ailish was placed on the waiting list for a double lung transplant. Fortunately, Ailish only had to wait six weeks before the call came telling her to go to the hospital.
It was 3 or 4 am, and Ailish and her partner Luke were staying in a hotel overlooking Sydney's Vivid Festival. Ailish had wanted to see the festival but knew she'd be unable to walk around easily. Luke booked the room "with massive windows" so they could experience the bright lights in style and comfort.
After she ended the brief phone conversation telling her to go to the hospital, Ailish said she and Luke "hugged and cried in each other's arms". Across town, Liz and Jaimie also hugged and said "this is it" before heading to pick up their daughter.
"When she saw us, Ailish broke down crying and said 'mum I don't want to do this, I'm scared, I might not live'," Liz said.
"I said 'darling you are going to do this, you're going to be fine. I was so scared, but I just hugged her and told her we were going to all be there waiting for her. But it was very hard."
Ailish was gowned up and given a hospital bed, but then had an agonising wait until her new lungs arrived. While waiting, she asked her parents and two brothers to come in, one at a time. "She was more or less saying goodbye in case she didn't come back. In case things went wrong," Liz said.
After saying their goodbyes, Liz, Jaimie and Ailish's brothers sat in the waiting room holding their breath, while Ailish continued to wait for the operation which would give her back her breath.
Joy returns
Life looks up for Ailish
Ailish, now 25, has made a remarkably smooth recovery from her double lung transplant. As well as new lungs, she recently started a new job. Liz said she hadn't seen Ailish as happy for ten years.
"The best part of it was a few weeks after the transplant – she was hungry. That was one of the most joyful things for me," Liz said.
"Now we also hear her singing upstairs in the shower sometimes. And we think 'wow that is our daughter and she is alive'."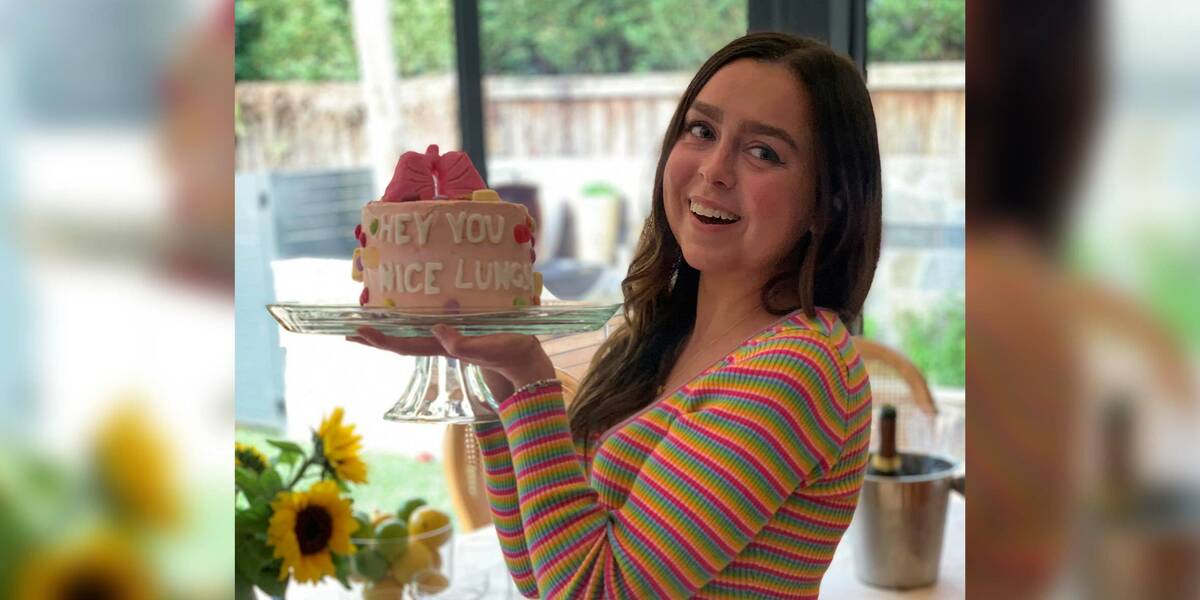 Ailish celebrated her first 'lung-aversary' this year. With COVID-19 restrictions in place, a small group of family and friends came to mark the occasion. Her friend made a cake decorated with the words 'Hey you nice lungs' in icing.
Ailish said the celebration was a chance to thank those who had stood by her during the hard times, but at some point during the afternoon, her thoughts shifted to the unknown donor who'd saved her life. "It was a really happy day, however you can't help but think that same date will probably be a really tragic, hard day for another family," Ailish said.
"It's quite bittersweet. I am really thankful they made that decision on that day. I just hope I am doing them proud."
Cystic fibrosis is a genetic condition, affecting one in every 2,500 births in Australia. Lung transplants do not give people with cystic fibrosis a 'normal' life expectancy, but they can extend and improve the quality of life.
In Australia today, the latest medical guidelines suggest more than 9,500 children have a life-threatening illness*, while thousands more are born or diagnosed with serious illnesses each year.
We need your help to keep wishes coming true for kids like Ailish who a living with any number of critical health conditions. Please give what you can today.
Now we also hear her singing upstairs in the shower sometimes. And we think 'wow that is our daughter and she is alive'

Liz, Ailish's mum
Make-A-Wish Australia stopped granting overseas travel wishes in 2015.
Make wishes come true
Please give what you can - every dollar counts.
The Wish Journey
How a wish comes to life
Make-A-Wish volunteers visit each child to capture their greatest wish, getting to the heart of what kids truly want and why. This profound insight is part of what makes Make-A-Wish unique, giving children full creative control and helping to shape their entire Wish Journey.
Back at Make-A-Wish HQ, we partner with families, volunteers and medical teams to design the ultimate wish experience - and start rallying our partners and supporters to help make it happen.
In the lead up to the wish, we take each child on a journey designed to build excitement and provide a welcome distraction from medical treatment. Anticipation can be incredibly powerful, helping to calm, distract and inspire sick kids at a time they need it most.
When the moment finally arrives, children get to experience their greatest wish come true - it's everything they've imagined and more. Pinch yourself, and don't forget to take a breath and enjoy every precious moment!
Wish impact studies show that a child's wish lives on, long after the moment. A wish gives more than just hope – with an incredible and lasting effect on the lives of sick kids, their families and wider communities.
Sign up for inspirational stories
Delivered straight to your inbox once a month