The music man who sings for wishes
Hayden Ashton left a high-flying job as a real estate executive behind, picked up a guitar and started playing gigs in regional caravan parks to raise money for Make-A-Wish
Wish family
Chance meeting spurs Hayden on
It was a hug Hayden Ashton didn't see coming.
Hayden had left his life as a real estate salesman behind and was in the reception area of a caravan park in NSW.
He told the park owners he was playing free music gigs at caravan parks to raise money for Make-A-Wish.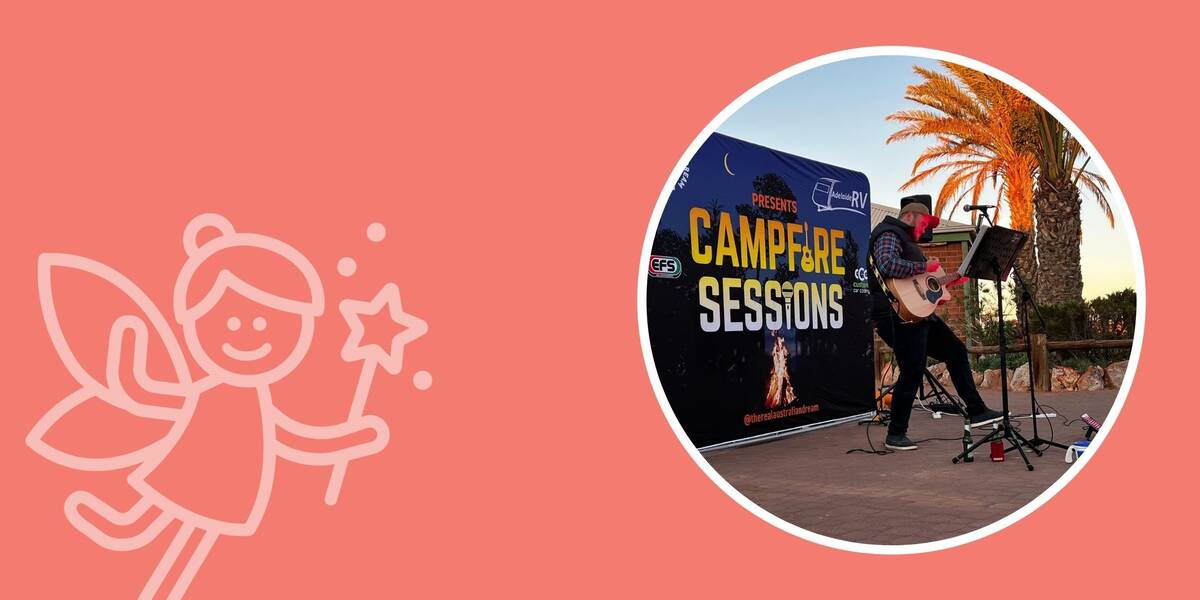 "They were sitting back quietly and listening," Hayden recalls. "There was something different about them.
"Then the wife just jumped at me to give me a big hug.
"Their daughter had a double lung transplant early in her life, and Make-A-Wish sent her on a wish to Sydney to see a musical."
Hayden hadn't planned to pull his guitar out and play a show, but the outpouring of emotion from the caravan park owners quickly changed his mind.
"They were telling me their story and crying in front of me, so within half an hour, I had the stage set up and played to a packed caravan park," he said.
"The crowd got into it, and we raised $2000.
"I still get tingly thinking about it."
Lifestyle change
Swapping money for meaning
Hayden's life changed early in 2021. Consumed with making money out of selling house and land packages on the Gold Coast, his outlook changed.
"I did not want more money; I wanted more meaning in my life," Hayden said. "I wanted to inspire people."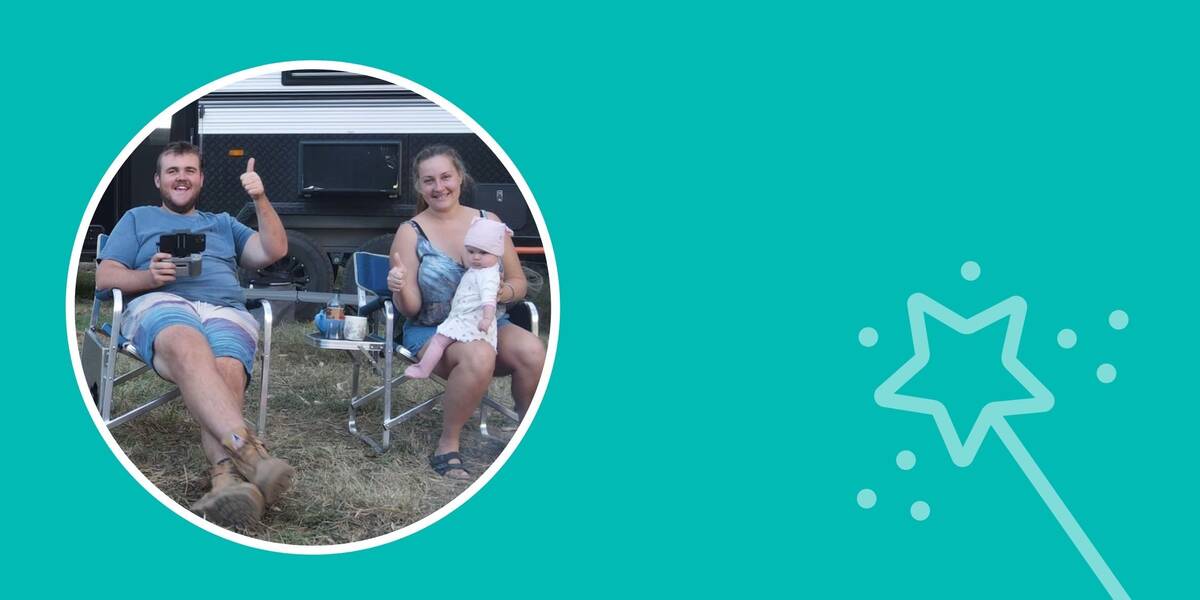 One night when he couldn't sleep, he rolled over in bed to tell his partner Amber something.
"I said to Amber 'do you want to go travelling for a couple of months?' and that was the beginning," Hayden said.
"We left within eight days with a box trailer and second-hand camping gear with no idea where we were heading.
"We experienced lousy weather, we ate two-minute noodles, we were just battling sitting under a tarp, and it would be belting down rain.
"But you couldn't wipe the smiles off our faces. We were as happy as we'd been in a long time."
Hayden sold his $100,000 fishing boat and two jet skis not long into their road trip.
Hayden said he and Amber started thinking about the importance of making the most of each day.
"We began to understand time is the most precious commodity we have, and that's where Make-A-Wish came into the picture," he said.
"Make-A-Wish is all about today, making sure that child has that memory of their wish day."
Guitar man
'I want my daughter to be proud of me'
As the kilometres started to tick over in their four-wheel drive, Hayden occasionally picked up his guitar.
He used to play for money to help him get through university, but his guitar had been largely untouched for 10 years.
One day on the road, Hayden decided to play a few songs live on Instagram.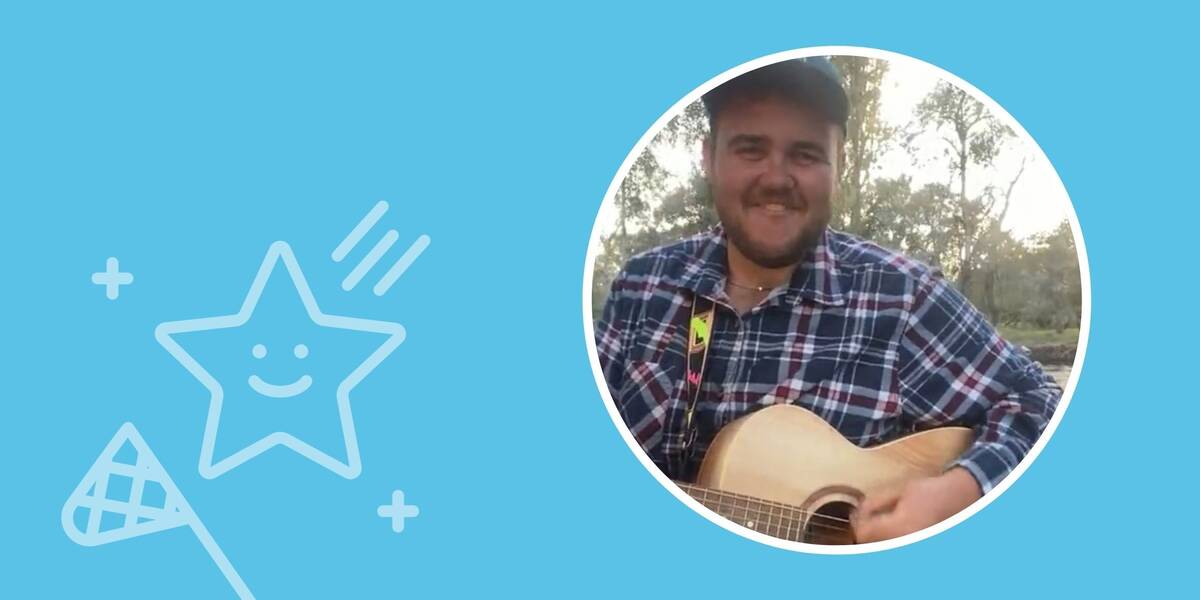 "People loved it, and next week I did it and just kept doing it, and my followers grew," Hayden said.
Soon the Real Australian Dream was born, and Hayden decided to play campfire gigs at caravan parks around Australia. He aims to play 50 shows and raise $50,000 for Make-A-Wish Australia.
"To get the ball rolling, I called as many caravan parks as I could to get it off the ground, and now 18 shows down, here we are," Hayden said.
Hayden has raised over $27,000 to date, playing shows in NSW and the Northern Territory. He is currently in the Kimberley region of Western Australia.
Hayden, 27, has no plans to slow down. In fact, he and Amber and their baby Freya could be on the road for years playing gigs and raising money.
"I don't want to sit back in 50 years and say I've wasted my life," Hayden said.
"I know what my life is now: to do something bigger and help people.
"I want my daughter to be proud of me, and when she's older, she can say, 'my dad raised thousands and thousands for sick kids'."
Follow Hayden on his website https://therealaustraliandream.com.au/ or Instagram @therealaustraliandream